Delhi, the National Capital of India, is a unique and vibrant city to live in and explore. It is a massive metropolitan area with the second-largest population after Mumbai. Getting bored from the monotonous routine is natural for everyone, especially if you belong to this highly active city and have a hectic lifestyle. Fortunately, the convenient location of Delhi provides easy access to major sightseeing places, including mountains, quaint villages, forests, and modern planned cities. There are a number of tourist places near the city where you can plan your weekend gateway from Delhi. These astounding tourist spots will serve you as the perfect weekend escapes and help you take a quick detour from routine life and refresh your mind like never before.
Here is the list of the recommended tourist places near Delhi within 100 kms for an unforgettable time:
Damdama Lake
Around 64 km away from New Delhi, Damdama Lake is one of the most popular places for picnics and short trips. Surrounded by the gorgeous Aravalli hills, this beautiful lake is home to more than 190 species of native and migratory birds. There is plenty of fun and adventurous options here to make your trip even more enjoyable and memorable. You can try trekking, cycling, camping, rock climbing, parasailing, etc. With so many recreational and adventurous activities to indulge in, Damdama Lake makes one of the most exciting weekend getaways from Delhi within 100 kms.
Sultanpur Bird Sanctuary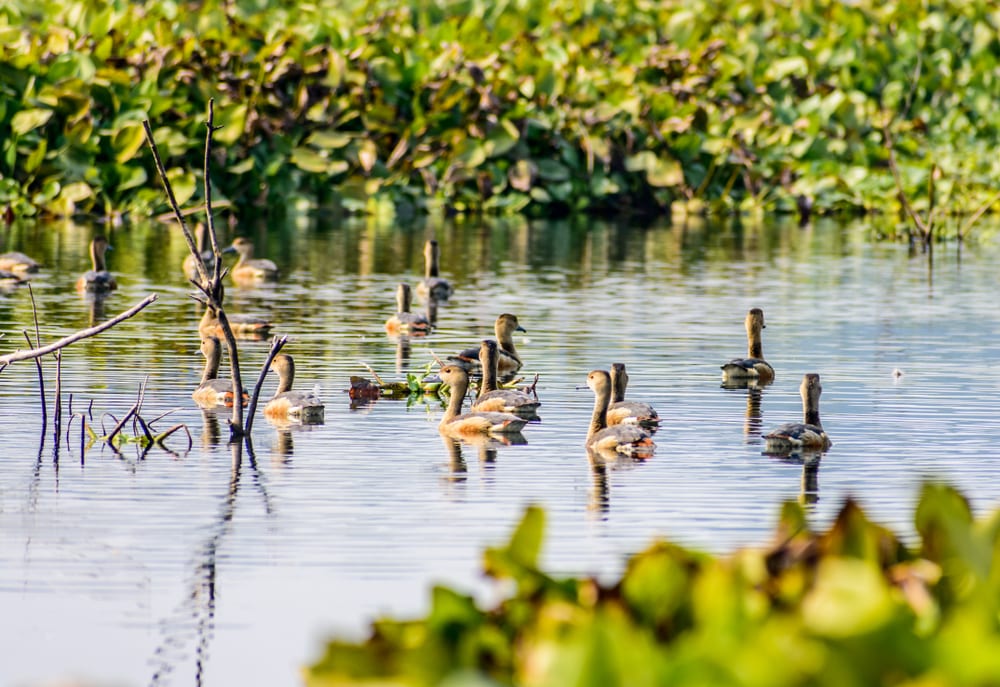 One of the most interesting tourist places near Delhi within 100 kms to plan a day trip, the Sultanpur Bird Sanctuary, is situated in Sultanpur village around 40 kilometres from Dhaula-Kuan in Delhi. This sanctuary is definitely a heaven for bird watchers and photography lovers. The Sultanpur Bird Sanctuary is home to above 250 species of birds, including resident and migratory birds. It's a place to catch a glimpse of birds like Siberian cranes, flamingo, common greenshank, white wagtail, Northern shoveller, ruff, northern pintail, rosy pelicans, yellow wagtail, and more. Here, you will also get the opportunity to capture some memorable clicks of surrounding views and beautiful birds.
Manesar
One of the best places to visit near Delhi within 100 kms, Manesar has lush greenery, laid-back surroundings, and a picturesque aura to help you enjoy a relaxed weekend away from the busy metropolitan life. This industrial town attracts people with its exclusive combination of modernity and traditional culture. This area also has many luxury resorts, heritage hotels, and other lodging options. With a majestic backdrop of the Aravali hills, Manesar is a go-to destination for those who seek a perfect weekend getaway filled with tranquility. If you are on a trip to this fastest-growing urban center, make sure you head to the local market to buy gift boxes, furniture, and other fantastic wooden handicraft items.
Neemrana
An ancient historic town, Neemrana, is located in Alwar, Rajasthan. Around 122 km from Delhi, it hardly takes 3 hours to reach this beautiful place to enjoy a perfect weekend trip. The town is famous for its glorious Neemrana Fort Palace, occupied by Rajput Maharaja Prithvi Raj Chauhan. Built in 1464 AD, the fort is now transformed into one of the oldest heritage luxury hotels in Rajasthan. It is one of the best places near Delhi to enjoy activities like elephant rides, fort-trekking, and shopping.
Surajkund
One of the nearest places to visit in Delhi within 100 km, Surajkund is a big amphitheatre-shaped place known for its annual crafts festival or Surajkund International Crafts Mela. Built by Suraj Pal from the Tomar dynasty in the 10th century, Surajkund attracts visitors with its striking garden and pool called the Siddha Kund. Here, the major attractions are Surajkund Lake, one of the biggest artificial reservoirs, the Anagpur Dam, and the remains of an ancient sun temple. You can plan a full-day trip to this beautiful place in Faridabad, which is just 29 km away from Delhi. For all that it offers, it is one of the best inclusions in a Delhi honeymoon package.
Garhmukteshwar
One of the most revered cities in India, Garh Mukteshwar, is located at a distance of 121 kms from Delhi. This beautiful town is the closest point from Delhi to have a glimpse of the holy Ganges. With a peaceful atmosphere, the presence of calm waters, and divine surroundings, the beautiful river ghats of Garhmukteshwar provide visitors with a soothing experience. Located in the Hapur district of Uttar Pradesh, Garhmukteshwar is home to many beautiful temples visited by thousands of devotees and seasonal tourists every month. The blissful aura and divine experience of this holy city will make you forget the stress of daily life.
Kuchesar
A small village, situated in Bulandshahr, Uttar Pradesh, Kuchesar is famous for its Mud Fort, constructed by the Jat rulers in the 18th century. With its scenic environment and the holy Ganges just 24 Kms away, Kuchesar Mud Fort allows tourists to get the feel of an exotic India. Here, the famous Brij Ghat invites people to enjoy a day trip among the sugarcanes and Mango orchids and experience the rural lifestyle away from the chaos of city life. One of the best tourist places near Delhi within 100 kms, Kuchesar is a place where you can enjoy activities like village visits, nature walks, horse-riding, Bullock cart rides, swimming, and more. Major attractions near the Kuchesar Mud Fort include Chandi Mandir, Mukteshwar Dham, Shiv Mandir, etc.
Sohna
Set at the Aravalli hills, Sohna is located on the Delhi - Alwar Highway. One of the most interesting places near Delhi within 100 kms, Sohna is surrounded by hilly terrain and scenic beauty. It is a popular tourist spot for families due to its hot water springs. The water of the hot spring or Shiv Kund is known to be filled with several medicinal and therapeutic properties. Most people come here to take a dip in this therapeutic hot water spring and rejuvenate their tired muscles. Also, you can visit the ancient Shiva temple, built by the king of Gwalior. Here, you can also visit Sohna Hill Fort, Adventure Camp, Kamboj Ruins of Sohna, and more. If you visit Sohna in February, you will get the chance to attend the famous Sohna Car Rally that begins in Delhi and ends in Sohna.
Pratapgarh Farms
Located on the outskirts of Delhi, Pratapgarh Farms is designed with a concept of a rural setting, giving you the feel of the village lifestyle. One of the best weekend getaways from Delhi within 100 kms, Pratapgarh Farms is a unique destination to enjoy a memorable time with family and friends away from city life. The time you spend here will bring you closer to the nature, agriculture, uniqueness of customs, and rural life of India. Here, you can indulge in activities done at a farm, enjoy a tractor ride through the lush green fields, participate in pottery and painting sessions and play a variety of old-world games such as kite flying, gulee danda, pethoo, etc. It is a unique place to experience the village charm near Delhi.
Apart from exploring these nearby places, you can also plan to visit the best hill stations near Delhi within 100 kms. These weekend getaways from Delhi offer mesmerizing views and a serene environment to help you enjoy your trip to the fullest.
With numerous options for a weekend getaway, you can easily find a perfect spot to respite from everyday life. While choosing an exclusive Delhi tour package, make sure to include these places!