"Has the wedding venue been finalized?", "What is the menu for the wedding day?", "Have the invitations been sent out?", "Are the wedding clothes ready?", "Who's taking care of decorations?", "Is the guest list final?"... So many questions for that one big day which will change your lives forever! Let me get this straight; planning a wedding is no easy task. As someone who's in the middle of planning her own wedding, I am well aware of the time, energy and efforts it takes to manage and organize an event of this scale! There are so many things to consider in any wedding - venue, food, accommodation, decoration, clothes, gifts, jewellery and of course, the budget. And, what if its a destination wedding?
The basics remain the same but here the most important factor is the destination itself. It all comes down the destination that is selected by the couple for their ceremony. The entire ball game changes since destination weddings also come with the added responsibility of flying out your close relatives and friends to celebrate with you. It means planning the entire resort or hotel for your wedding party so that your wedding festivities remain exclusive.
Generally, 2-3 days or sometimes even an entire week is combined with the main wedding day to form a wedding celebration that is filled with fun, adventures, activities, rituals, functions, love and pure happiness. To make this destination wedding dream a reality and to help you select some of the best wedding locations for your big day, we have come up with a list of popular wedding destinations around the world (5 - World & 5 - India) that will help you narrow down your choices.
Read on and tell us in the comments below if you planned a destination wedding yourself if you attended one or were a part of the destination wedding party, anywhere in the world. Take notes, get ideas and plan ahead for the happiest day of your life!
1.) Tuscany, Italy – 'Under the Tuscan Sun' Wedding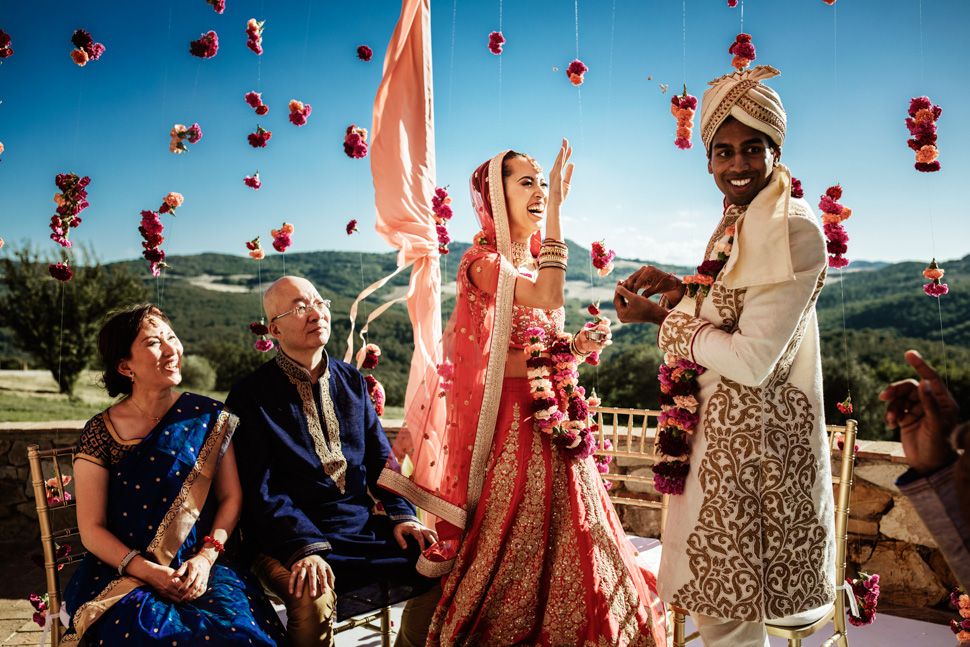 Imagine lush green verdant landscapes, majestic villas, rolling vineyards, rugged mountains and exquisite Renaissance culture and you know you have landed in Tuscany! This region in central Italy ticks all the right boxes when it comes to a dreamy and romantic venue for an intimate or an extravagant wedding. Indian couples have been drawn to this location (now more than ever!) ever since celebrity couple, Virat Kohli & Anushka Sharma selected Borgo Finocchie, an 800-year-old heritage villa in heavenly Tuscany for their nuptials last year. Tuscany's heart belongs to Florence, a prominent centre for Renaissance art and architecture in the country. Getting married here would actually mean being a part of the eloquent history and culture of this remarkable town! So, what are you waiting for? Stock up your wine bars with exquisite Chianti and promise to love each other forever at sunny Tuscany!
Best Season to Visit:
The best season to get married in Tuscany is from mid-May to end of September when the region experiences longest periods of natural daylight. This will be ideal for organizing weddings at outdoor venues and perfect for alfresco-style dining. Interestingly enough, June is the month of Juno, the Roman goddess of marriage!
Suggested Wedding Venues:
The spectacular Chianti (wine) region

Certaldo

Cortona

San Gimignano

Monteriggioni

Montepulciano

Montalcino

Siena

Volterra

Arezzo and Florence
2.) Hua Hin, Thailand – The Fun Beach Wedding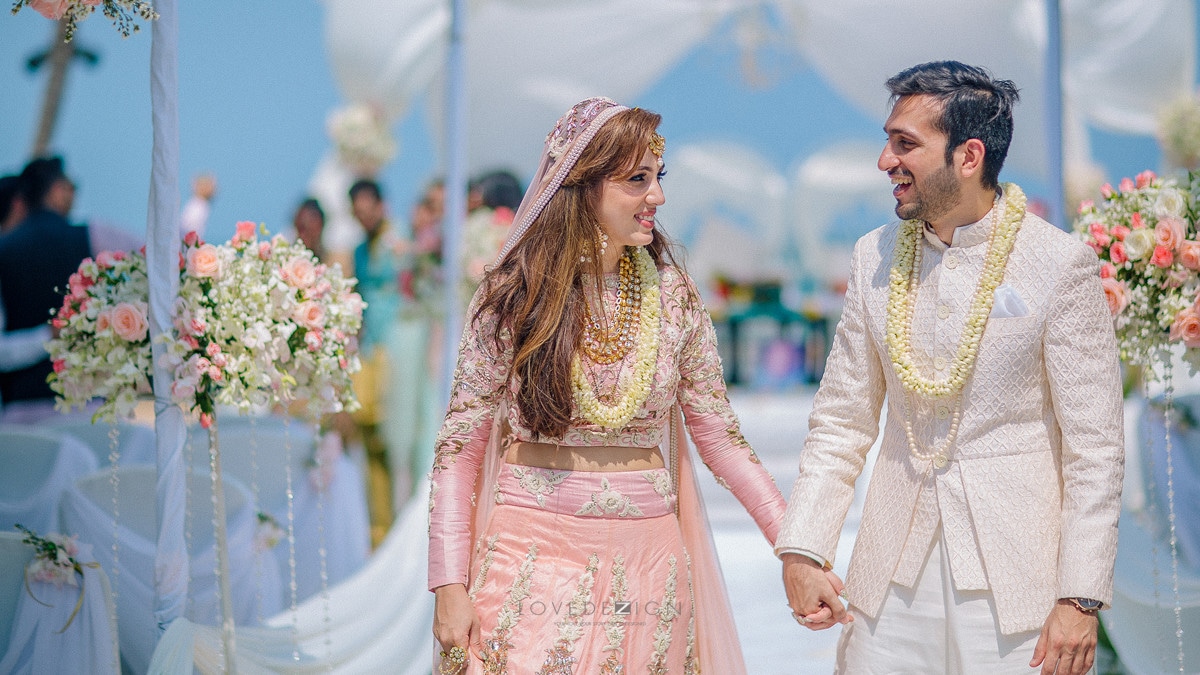 A seaside resort town that is on its way to becoming the destination wedding capital of Thailand! Hua Hin is located on the southern coast along the Gulf of Thailand with a bevvy of luxurious hotels and resorts that offer exquisite services and accommodation for a destination wedding. Hua Hin developed rapidly from a quiet fishing village to a teeming bustling landscape in the 1920s after the Thai royal family built their summer palaces in this region.
Located at a distance of about 200 km away from the capital city of Bangkok, Hua Hin is also a popular weekend destination favoured by locals and tourists alike. Close proximity to the beach, exotic locales, fashion outlets, international cuisines, excellent accommodation facilities, lively markets and an overall charming ambience have helped sky-rocket the tourism and destination wedding prospects of this quaint yet remarkable resort town. Due to its closer-to-home appeal and unique mix of sea and city, Hua Hin is one of the most favoured wedding destinations in Thailand for Indian couples!
Best Season to Visit:
Being a seaside town, Hua Hin faces a tropical climate throughout the year. However, November to February is relatively cooler which is why it is the ideal season to plan a destination wedding in Hua Hin. November to February is also the prime wedding season in India which is why organizing a wedding celebration around the same time in Hua Hin would be simply perfect.
Suggested Wedding Venues:
Sheraton Hua Hin Resort & Spa

Dusit Thani Hua Hin

Anantara Hua Hin Resort

Wora Bura Hua Hin Resort & Spa

Hilton Hua Hin Resort & Spa

SO Sofitel Hua Hin

Hua Hin Marriott Resort & Spa

Aleenta Hua Hin Resort & Spa
3.) Bali, Indonesia – The Blissful Wedding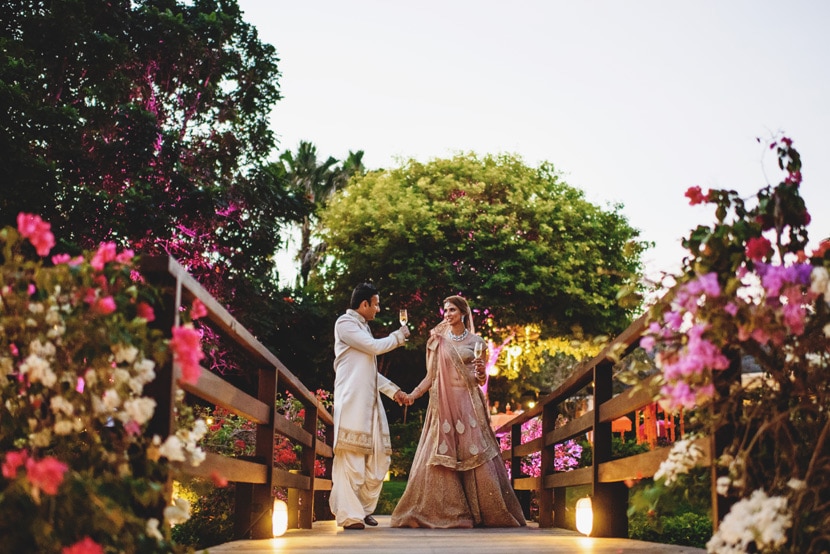 A wedding is a union of two loving souls in the presence of God and what better location than the Island of Gods to commit to a lifelong of love and happiness with each other? Bali is indeed a peaceful destination with breathtaking beaches, pristine nature and heavenly landscapes that can provide a picturesque backdrop for your wedding rituals. Imagine a ceremony along the azure blue waters of Kuta or fall in love under the lush green canopy of the Ubud jungles; get married on elephant-back or literally walk-on-water as you say your 'I Dos' on a reflecting pool!
Bali has something to offer to every kind of dreamer; No doubt, a destination wedding here will not just fulfil your most romantic fantasies but will also be the most memorable event of your life. Tourist-friendly hotels & resorts, exemplary services, affordable prices, host of incredible vendors and finally, mesmerizing views of the never-ending ocean and breathtaking rice terraces, go on to make Bali the most sought-after wedding destination today!
Best Season to Visit:
May to October is considered to be the best season to get married in Bali! This is because Bali experiences relatively dry and pleasant weather during these months as compared to the rainy months from November to April. During the dry season, it is also possible to opt for outdoor wedding venues and beach locations. It is also important to note that, this is the peak tourist season for Bali, therefore, it is imperative to plan and organize wedding details, well-in-advance!
Suggested Wedding Venues:
Ayana Resort & Spa

Banyan Tree Ungasan Resort

Bulgari Resort

Four Seasons Resort Sayan,

Elephant Safari Park,

Sofitel Bali Nusa Dua Beach Resort,

Ungasan Clifftop Resort,

Alila Villas Uluwatu,

Eco Paradise Bambu Indah,

The Edge

Seseh Beach Villas
Again, these are only a few of the many amazing wedding locations that you can find on the 'Island of Gods'! At the end of the day, pick a wedding venue that you both prefer, that fits your budget and the one that makes you go, 'Yes, this is it'!
4.) Oman, Middle East – The Beautifully Rugged Wedding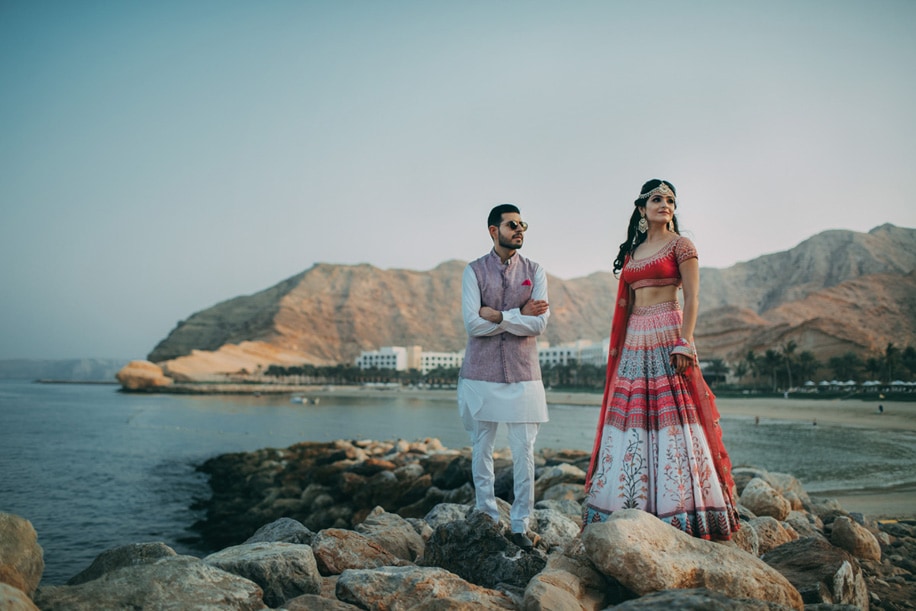 The Sultanate of Oman is the perfect answer to all your destination wedding woes! Sandy beaches, stunning rock formations, rugged mountains, wind-blown deserts and refreshingly green oases, all conspire together to make this beautiful country, the 'Jewel of Arabia'. With spectacular landscapes, rich Arabic heritage and outstanding hospitality to its advantage, Oman is the hot favourite of Indian couples when they choose a location for their destination wedding.
Close proximity to India, lenient visa rules for Indians, strong roots of Indian immigrants already living in the country and influences of Indian culture in many aspects of daily life are some of the prominent reasons why it is easy to plan and organize a destination wedding in Oman! Luxury hotels and resorts are now well-equipped to the increasing demands of the wedding industry and surpass expectations while organizing and sourcing various raw materials and wedding related products. For a beach wedding with an authentic Arabic charm or a ceremony amidst rugged cliffs and beautiful oases, pick Oman as your wedding destination right away!
Best Season to Visit:
Summers are extreme in Oman with scorching heat and dry weather that is simply not conducive for any event! The weather starts getting pleasant around October and stays at its best all through November and December, right up to April. The winter season, therefore, is the perfect time to plan your wedding soiree and organize your fairytale winter wedding in the Sultanate of Oman.
Suggested Wedding Venues:
The beaches of Salalah, deserts of Sharqiyah and the mountains of Al Hajar are picture-perfect landscapes to say your, "I Do's".
Shangri-La Barr Al Jissah Resort & Spa

Al Bustan Palace Hotel

Shangri-La Al Husn Resort & Spa

Kempinski Hotel Muscat

Grand Hyatt Muscat

Anantara Al Jabal Al Akhdar
5.) Cancun, Mexico – The Beach Party Wedding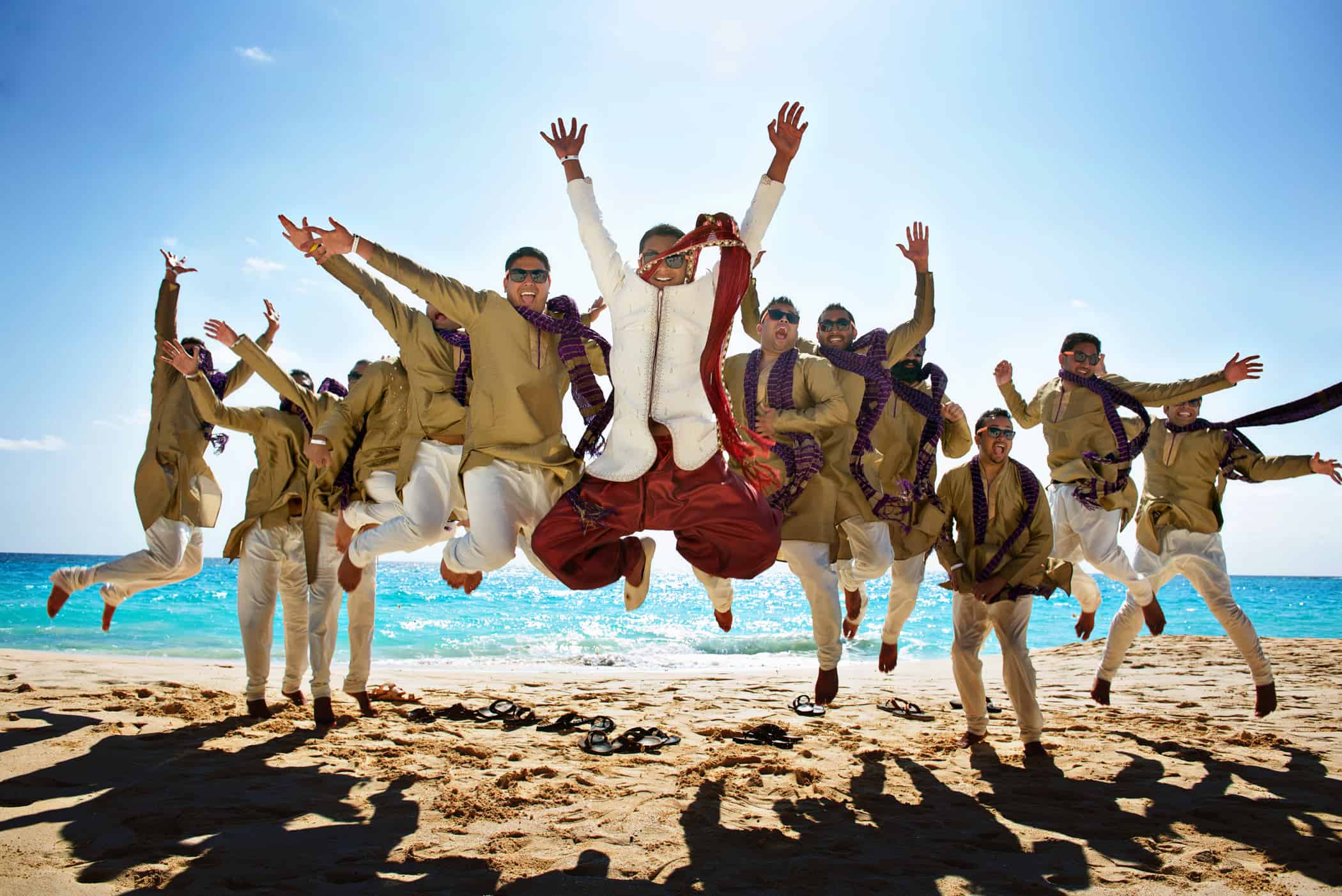 Is it really worth travelling halfway across the world for a wedding? Well, if the destination is as spectacular as Cancun in Mexico, then every penny spent in organizing a destination wedding at this gorgeous seaside beach town is worth it! Welcome to the party hotspot of Mexico - a happening vibrant city along the Caribbean Sea that boasts of beautiful beaches (and sunsets obviously!), underwater caves, sparkling blue waters, ancient Mayan ruins and splendid monuments. The beach city has become popular in recent years as more and more couples are opting for this picture-perfect getaway that has the ability to create fantastic and memorable moments like no other destination.
Imagine a wedding party filled with excursions to historic Mayan ruins, aquatic adventures in the second largest reef in the world - Maya Reef, shopping at luxurious boutiques and all this, topped by a ceremony taking place on the pristine white sands of this Mexican paradise! Could a romantic celebration get any better? Cancun, Mexico is where romance meets adventure and pure natural beauty meets pure love! So, grab hold of your loved ones and head to this Caribbean paradise of beach parties and splendid destination weddings...
Best Season to Visit:
You are in luck because Cancun enjoys pleasant and warm weather throughout the year; so do most of the beach-side towns in Mexico! Even then, the rainy season occurs from June to late October where it typically rains only for an hour or two. Being an off-season for tourists, hotels and resorts offer lesser rates as compared to the high season. The best time for a Cancun wedding could be from November to April when the weather is perfect with clear blue skies and absolutely no hint of rains. Although being the peak tourist season, hotel prices tend to be higher! The smart thing to do is, plan in advance to take advantage of special offers and early bird discounts from hotels.
Suggested Wedding Venues:
The Ritz Carlton

Hard Rock Hotel

Grand Oasis Cancun Resort

The Grand at Moon Palace

Beach Palace Hotel

Paradisus by Melia Cancun

Dreams Riviera

Le Blanc Spa Resort
---
Enough about the world, how about India? Surely, there are many destinations in our wonderful country that fulfil the wedding expectations of couples! And the answer is a resounding 'YES'... There are stunning locations around the country that are simply waiting to give you the fairytale wedding that you have always dreamt of! Here are 5 wedding destinations in India that you should definitely consider for planning your perfect destination wedding...
1.) Udaipur – The Regal Wedding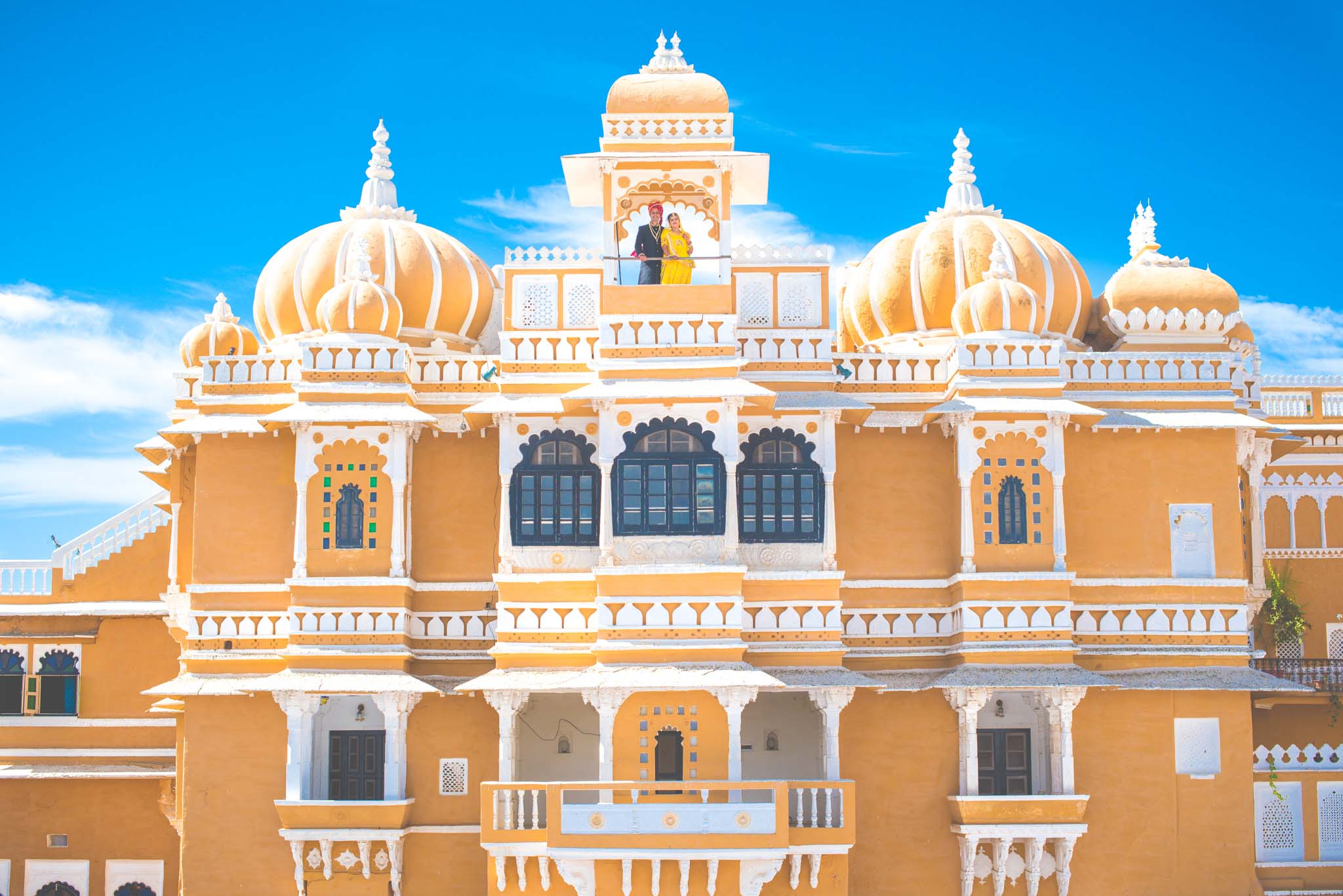 The 'City of Lakes' leaves no stone unturned when it comes to planning a destination wedding! With opulent palaces and incredible wedding venues that enamour your senses right away, Udaipur sets a benchmark for a true blue classic regal wedding. The city takes you back in time and lets you enjoy the finer things in life when it presents you with exquisite Rajput themed-decor, display of royal ethnic culture and delectable Rajasthani cuisine that leaves every individual wanting for more! It only adds to the glamour and enigma of Udaipur that it is one of the most popular tourist destinations of the country, hosting millions of visitors from around the world.
Many come for the tourist attractions but most stay for the amazing culture and feel good vibe of this city! The quality of services, outstanding hospitality, royal setting and the rustic charm of this old heritage city, is what attracts Indian couples towards this beautiful destination. The choice of several luxury venues and magnificent palaces along with the aesthetic beauty and natural splendour of this city makes it one of the most popular wedding destination in India.
Best Season to Visit:
Winter season is the best time to plan a wedding in Udaipur! The months from October to March are pleasant and perfect to commit your lifelong love to each other. This is also the peak tourist season in Udaipur as well as the peak wedding season in India which is why the earlier you plan and book, the better are your chances of having a smooth and hassle-free destination wedding. Summers from April to June bring about high temperatures and you would certainly not want to sweat profusely while having your 'Pheras' now, would you?
Suggested Wedding Venues:
Udaipur is a treasure trove of remarkable wedding venues and each place that you pick will be like a rare gem that you find in a collection of many exquisite jewels. Some of the best and popular wedding venues for a royalty-like experience are:
The Oberoi Udaivilas

Taj Lake Palace

Jagmandir Island Palace

Chunda Palace

RAAS Devigarh

Lalit Laxmi Niwas Palace

Hotel Fateh Garh

The Ananta

Udaipur City Palace
---
Also Read: A Perfect Wedding Destination For The Queen In You!
---
2.) Nashik – The Vineyard Wedding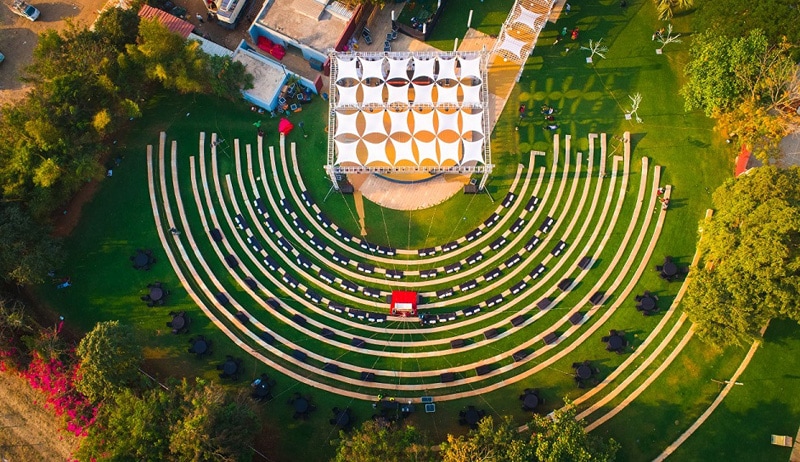 Could there be a better location than the 'Wine Capital of India' to host and celebrate one of the most amazing events of your life? Located about 170 km away from Mumbai, Nashik - the home of vineyards and the perfect place to unwind with a glass of wine is easily one of the best locations to get married in India. With picture-perfect grape vineyards that serve as the setting for your wedding nuptials and a celebratory wine feast that is guaranteed to form an integral part of the celebration, Nashik vineyards are the perfect excuse to have your very own wine-themed wedding! Having a vineyard as a wedding location has its own perks too!
There are a host of activities such as grape stomping, wine tasting, guided winery tours, wine-themed games that can be arranged along with the wedding festivities to amp up the fun quotient of your wedding. Igatpuri, a small hill-town located near Nashik also serves as a brilliant wedding location with its verdant landscapes and breathtaking natural setting. Winery weddings are on the rise steadily and with so many grape vineyards popping up around Nashik, the city is on its way to becoming 'the ideal wedding escape' from Mumbai. Sometimes, the best occasions in life are best enjoyed with a glass of wine and what better venue than a vineyard to embark on a new life together with your special someone!
Best Season to Visit:
Winter wins the race here too! The cooler months from October to March are the most preferred when it comes to planning a wedding at Nashik. The weather remains cool and comfortable throughout the season enabling people to enjoy the wedding festivities wholeheartedly. January to March is also the harvest season for the grape vineyards in Nashik. You will also be able to include the fun activity of wine stomping as part of your wedding shenanigans!
Suggested Wedding Venues:
Amphitheatre at Sula Vineyards

Soma Wine Village

The Gateway Hotel

Savana Lake Resort

Tropical Retreat

Dew Drops Boutique Retreat

Manas Resort

Rainforest Resort

Rudra Farms
3.) Hyderabad – The Royal Wedding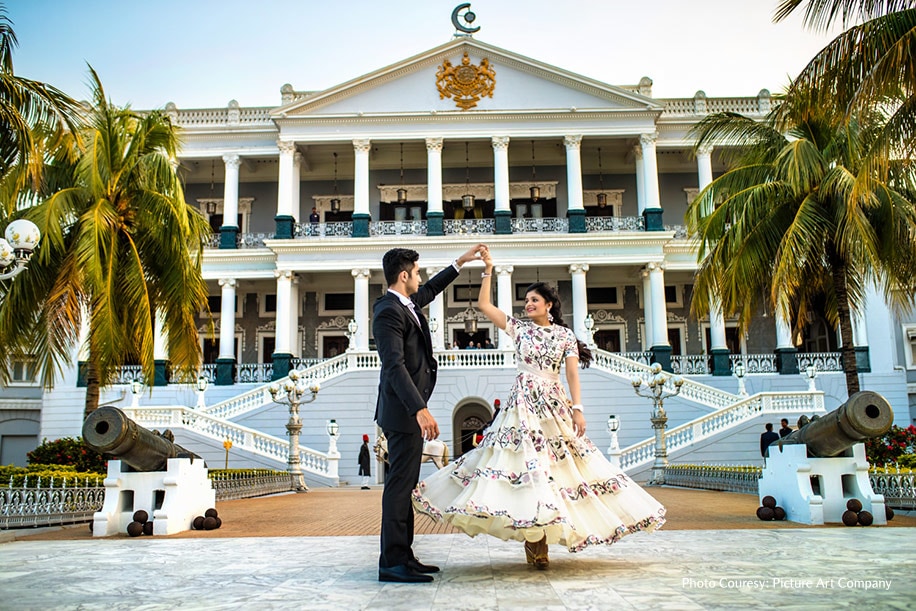 As royal as it gets! The City of Nizams is the perfect way to indulge in a royal luxurious wedding. Something that is fit for kings and queens. Hyderabad is filled with heritage forts, exquisite palace complexes. Also, it is endorsed with 5-star luxury hotels and the largest film city complex in the world (Ramoji Film City). Indeed, Hyderabad spoils you with the choicest of wedding venues that you can opt for. Hyderabad is also known as 'City of Pearls'. Hyderabad in recent years has emerged as one of the most advanced and technologically progressive cities in India. No wonder, this has resulted in the growth of infrastructure, tourism, entertainment and hospitality businesses in the city!
This means a more diverse choice of venues and wedding locations for couples willing to plan and execute their destination wedding in Hyderabad. Take, for example, the unique and one-of-a-kind Ramoji Film City! A world of action, drama, romance and adventure with splendid movie sets and some amazing natural as well as artificial attractions. The film city is full of theme parks, recreation activities, adventure activities, amusement parks, food courts and experiences filled with pure entertainment. How awesome would it be, if all this could be a part and parcel of your wedding festivities? And all this can only be possible in the Hi-Tech City of Hyderabad!
Best Season to Visit:
To plan and organize a destination wedding is no mean feat! When you consider all the aspects of planning a wedding (a destination wedding no less!) that takes place in a city or country that you are unfamiliar with, it becomes all the more important to review the location, facilities, expenses and most importantly, the weather in that place during the wedding. If you have zeroed down on Hyderabad as your location, then the winter season from November to February is the ideal time to have your wedding here!
Suggested Wedding Venues:
Taj Falaknuma Palace

Ramoji Film City

Chowmahalla Palace

Taj Krishna

Taj Deccan

Pragati Resort

The Park Hyderabad

Novotel Hyderabad Airport

Leonia Resort

Aalankrita Resort
4.) Shimla Manali – The Mountain Wedding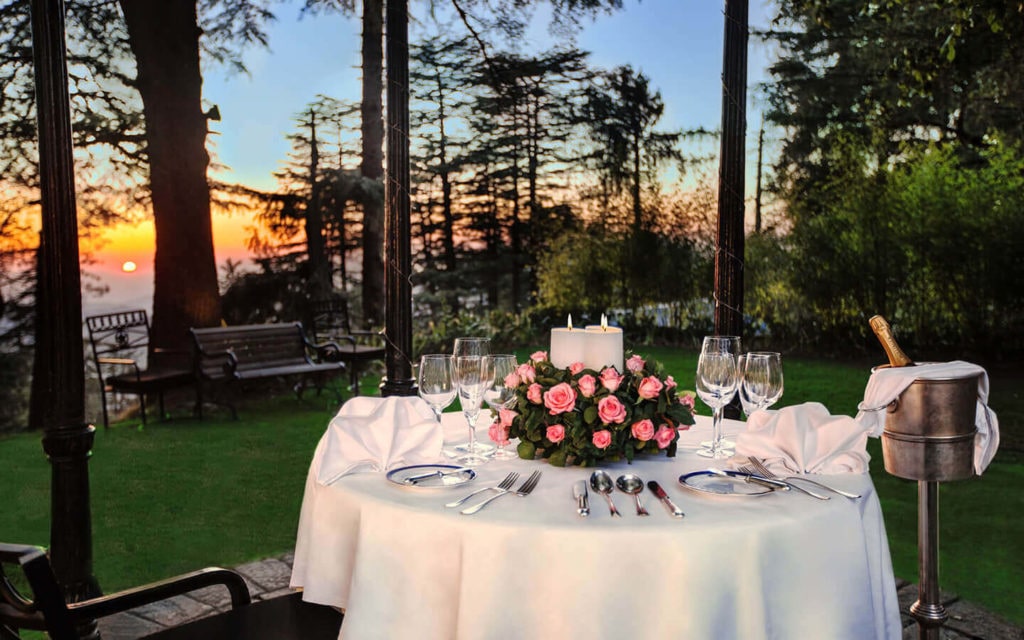 The mountains are calling! But this time, they are inviting you to celebrate your wedding. A wedding amidst the picture-perfect landscapes of the hills and valleys of the Himalayas. Shimla Manali is the most preferred tourist destination of India. It is also one of the most popular wedding destinations. Most couples choose for their nuptials. What could be more perfect than the blissful mountains? And the clear blue skies? Along with the lush greenery of the hill stations? Sounds like a perfect recipe to soothe the mind, body and soul.
Add to that some colourful blooming flowers, soaring pines & deodars, fresh white snow and the company of your loving family & friends and you have for yourself the perfect wedding party! The hill stations of Shimla Manali can also be that much-needed break. The one that people require from their daily lives. And what better occasion than a wedding to escape to the mountains? A far better reason to revel in the festivities of the happy couple.
There are stunning luxury hotels and spa resorts here. They go out of their way to ensure that couples and their families have the most memorable experience of their lives. Being located at an altitude has never come in the way of these destinations. Even in the case of providing a complete and wholesome wedding experience to their guests. In fact, all the hotels and resorts at these high-altitude hill stations are well-resourced and well-equipped to cater to wedding parties. May it be big or small. So, next time you find yourself being drawn to these mountains, do not think twice! Just make your way to these hill stations!
Best Season to Visit:
Summer and winter are both perfect seasons to plan a destination wedding in Shimla or Manali! Being hill-stations, the climate remains cool even in summers. This means you can book that outdoor venue with the scenic backdrop of the lofty mountains. Your guests will mingle in the pleasant weather, guaranteed. Winters are cold with temperatures ranging from comfortably cool to freezing cold. They are often with the added attraction of snowfall. Ideally, most couples wouldn't prefer these conditions for a wedding... but if you are looking for a white wedding, these places will surprise you. Especially if you don't mind some adventures in the snow... then winter in Manali could be the perfect escape to celebrate your wedding! (just remember to pack in lots of woollens).
Suggested Wedding Venues:
ManuAllaya - The Resort Spa in the Himalayas

Moksha Himalaya Resort & Spa

Span Resort & Spa

Wildflower Hall Shimla

The Oberoi Cecil

Woodville Palace Hotel

Clarkes Hotel

Royal Tulip Luxury Resort
5.) Goa – The All-Time Classic Wedding!
Even a bad day at Goa is better than a good day anywhere else! I don't know who came up with that, but whoever it is, is definitely a huge fan of Goa. You can never go wrong with this ultimate beach destination of India. For ages, Goa has proved to be the most popular vacation escape. Above all, it has been the go-to beach destination for anyone in India. It is a favourite among domestic and foreign travellers. Thereby, it is not surprising that Goa was one of the first destinations that people preferred to get married. The laid back atmosphere, beautiful sandy beaches, palm-fringed coastlines, swaying coconut trees... Portuguese-influenced culture and finally, the lip-smacking Goan cuisine were all responsible for the success of Goa as a wedding destination.
A host of luxury hotels, spa retreats, resorts and boutique hotels identified this opportunity a long time back. And thereby, made Goa their permanent home. Even today, the beach culture at Goa is thriving. It is one of the first few destinations to get fully booked during the peak wedding season (November to February). If you are looking for a comforting option that is not too far away from home... Also if it still can fit the criteria of an exotic location... Which can offer picturesque views and at-par services... Then look no further! Goa is the place you have been looking for!
Best Season to Visit:
This perfect beach destination is best enjoyed during the winter! The months from November to March are ideal for planning and enjoying your beach wedding at Goa. The weather is beautiful and balmy with cool sea breezes making the atmosphere even more enjoyable and party-worthy! Avoid summers and monsoons for weddings in Goa (if possible)! Why you ask? Well, think about it! If you can't enjoy the beach at your wedding... All because of the extreme heat or heavy rains... Then what's the point of selecting Goa as your wedding location, right? Your best bet for an all-time classic beach wedding in Goa is during the winters!
Suggested Wedding Venues:
Taj Fort Aguada Beach Resort

Holiday Inn Resort

The Lalit Golf & Spa Resort

The Leela Goa

Alila Diwa Goa

The Zuri White Sands

Grand Hyatt Goa

Planet Hollywood Beach Resort

Kenilworth Beach Resort & Spa

Goa Marriott Resort & Spa

Ramada Caravela Beach Resort
This overview of wedding destinations in India and around the world that will help you select your perfect place. Now, it is time to set the next part of your wedding plan in motion! Zero down on your favourite location and select your place for your big day. Although, if you want to avoid the hassle of organizing everything, seek the help of wedding planners and organizers. Always remember to book in advance; the earlier you book, the better it is for you. It will help to avail some early bird discounts and mainly, to get the wedding venue that you desire. There will be no settling for the venue... settling for the only one left on your dates!
At the end of the day, remember to keep calm. And most importantly, enjoy the big day with your significant other. After all, it is the most important day of your lives and one that will be cherished and remembered by you and your partner forever...