Pondicherry Tour Packages
The French Riviera of the East awaits you!
Pondicherry, officially known as Puducherry, is one of the seven Union Territories of India. This former French colony is a perfect amalgamation of the traditional Indian sensibilities and French architecture, making it a delightful escape that offers the best of both worlds. The streets of the French Quarter of Pondicherry, more commonly known as White Town, are dotted with charming mustard-yellow colonial structures with bougainvillea-laden walls. These are interspersed with cosy cafes and chic boutiques that offer delectable French cuisine and beverages. Simply strolling down these streets can give the traveller an insight into the fairy-tale charm of Pondicherry.
Topped with authentic French bakeries, bohemian stores and cobble-stoned paths that are delightful for a leisurely stroll or bicycle ride, Pondicherry has a lot to offer. So head on down to this dream town of the Indian Coast to visit the famous Auroville or just read a book in one of the quaint cafes.We, at Veena World, offer the best Pondicherry tour packages at the best prices; so head out and explore the boulevards and rues (the French word for streets) of Pondicherry which takes you down to the gorgeous seaside promenade, where the Bay of Bengal playfully splashes the shores of the famous Rock beach.
Pondicherry Travel Packages
| Pondicherry Packages | Day/Night | Price |
| --- | --- | --- |
| The Great Indian Peninsula Road Trip | 50 Days | ₹2,50,000 |
| Pondicherry Escape | 4 Days | ₹29,000 |
| Highlights of South India | 8 Days | ₹69,000 |
3 Pondicherry Holiday Packages
Showing 1-3 packages from 3 packages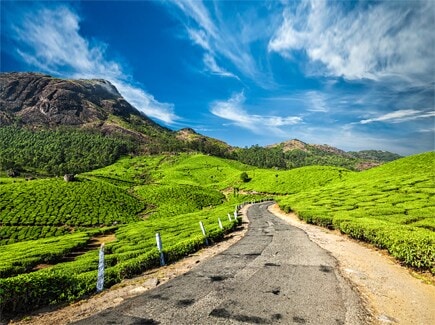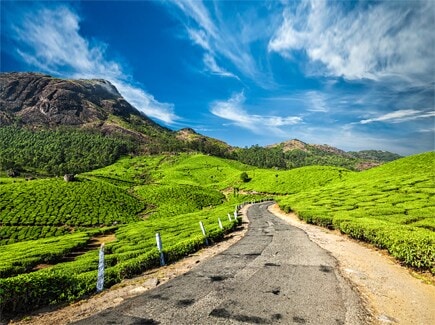 The Great Indian Peninsula Road Trip
SUPER DEAL PRICE
Starts from
per person on twin sharing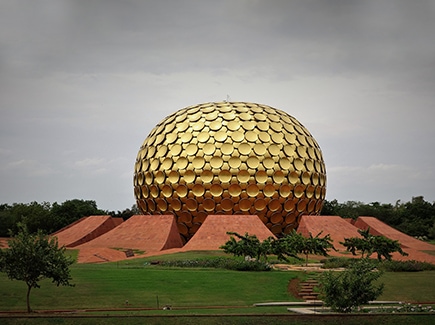 Starts from
per person on twin sharing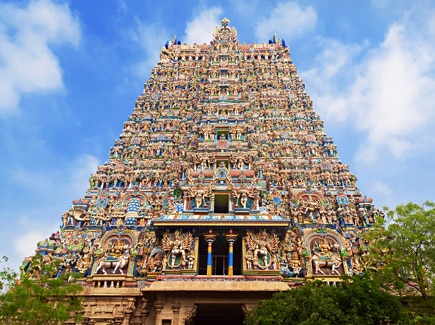 Starts from
per person on twin sharing
Our trips have touched hearts globally
what our happy travelers are saying
Pondicherry Mahabalipuram

"It was our first tour with Veena World. It was a great experience and we hope for even better exper...

Read More

Narayan

Travelled in Feb, 2023

Pondicherry Mahabalipuram

"Very good experience. Tour manager Shreyas Sawant 's service was excellent. Took very good care of u...

Read More

Meena

Travelled in Feb, 2023

Pondicherry Mahabalipuram

"STPM230123/A - Pondicherry Mahabalipuram : Our tour to Pondicherry was well planned and executed. Ho...

Read More

Pooja

Travelled in Jan, 2023

Cultural Tamil Nadu

"It was excellent experience to go on Tamilnadu Cultural Tour from 15th to 26th January 2023, with Ve...

Read More

Narendra

Travelled in Jan, 2023

Pondicherry Mahabalipuram

"Feedback: Tour Code - STPM261222 : Hi Veena World, Thank you for making our recent trip to Pondic...

Read More

Sharayu

Travelled in Dec, 2022
Pondicherry Frequently Asked Questions
We help you prepare for your trip and ensure an effortless and enjoyable travel experience.
One of the seven union territories of India, Pondicherry promises visitors a peaceful and serene beach holiday, away from the crowds. The reasons behind the popularity of Pondicherry tour packages include its beautiful white-sand beaches with crystal clear waters, the spiritual experience of Sri Aurobindo Ashram, which was founded in 1926, the unique lifestyle of Auroville, the amazing South Indian as well as French dishes, and the plethora of adventure sports, like scuba diving. Even today, Pondicherry showcases unique French architecture and ambience, with numerous old churches from its colonial past, French road signs, restaurants, and even French-speaking locals. Pondicherry offers tourists the perfect vacation, which is why it is so famous all across the world.
A three-day trip to Pondicherry should be enough for you to explore and experience everything that this French colonial settlement has to offer. In three days, you will be able to visit the many churches of Pondicherry, enjoy leisurely walks on the calm and beautiful beaches, try your hand at scuba diving or paragliding, stroll through the streets of the French colony, and enjoy some amazing food. How many days you spend at this peaceful destination depend on you and the kind of vacation you are planning. Pondicherry has so much to offer that you will not have a dull moment even if you spend an entire week, or more, here.
Yes. Whether you are looking for customised solo trips or honeymoon packages to Pondicherry, you can plan your vacation with Veena World, where you have complete control over the entire plan. From choosing the type of accommodation you wish to stay at and the number of days for your trip to including your preferred tourist spots and planning your day-to-day itinerary, you can customise every aspect of your tour package and plan the perfect vacation, your way!
Yes. You can book your family holiday or honeymoon package to Pondicherry without worrying, as COVID restrictions have been eased and Pondicherry is now open for travellers. However, carrying a negative RT-PCR report or final vaccination certificate (having received both doses of the COVID-19 vaccine) is a must for travellers. All establishments and transport in Pondicherry are at the moment allowed to function at a 50% capacity and wearing masks and maintaining social distancing is mandatory.
Please read the latest destination-wise travel guidelines here. Since these guidelines are subject to change, we would recommend you to check our Travel Guidelines page every time before you travel so that you are in the know-how about the latest changes.
Goa and Pondicherry are both popular beach destinations in India, famous for their scenic beauty, pristine beaches, and abundance of water sports and activities. Both destinations have their own unique charm and the one that you would like best depends on the type of vacation you are planning. If you are travelling with friends, family, or even solo, and want to party, dance, enjoy water activities, and shop around for souvenirs, then Goa is where you should head. But if you are looking for a calm and relaxing vacation in the lap of nature, Pondicherry might interest you more. You can explore our range of holiday packages for a trip to Pondicherry or to Goa for an exemplary vacation, but make sure you research both destinations before you decide where you want to go.
Pondicherry is not a very expensive place, and you can plan a luxurious trip or an amazing budget vacation to Pondicherry with ease. From accommodation to food, Pondicherry has something for everyone, regardless of their budget. When you book your family tour package for Pondicherry with Veena World, you can make it as indulgent as you want or as budget-friendly as possible. You can also customise your tour package according to your preferences for an amazing and worry-free experience in Pondicherry.
The best things that Pondicherry has to offer visitors are not those that come with a hefty price tag. Just enjoying the serenity of the region, indulging in the colonial vibe, moonlit walks on pristine beaches, exploring ancient churches and temples, and strolling through the lanes of this quaint destination are just some of the activities that won't cost you, which you can consider adding to the itinerary of your Pondicherry sightseeing package. Apart from the simple pleasures and serenity, it is very easy to plan a budget trip to Pondicherry. The city has accommodation options, restaurants, shopping areas, and much more, ranging from opulent to pocket-friendly, to ensure there's something for everyone, even if they are on a budget. With Veena World, you can customise your sightseeing package to Pondicherry according to your preferences and ensure you can enjoy an amazing budget-friendly trip.
The original name of this union territory was Putucceri, which was derived from the Tamil language, where Putu means new and ceri refers to a village. When the region was colonised by the French, its name was changed to Pondicherry, which was the English version of the name. To showcase and reflect upon the indigenous history of the region, on 20th September 2006, the government of the union territory officially changed the name to 'Puducherry' from Pondicherry. Sightseeing packages to Puducherry offer you the chance to explore this deep and rich history of the place, offering a unique perspective into the region's culture.
Yes. Even if you are booking a local tour package to Pondicherry for a solo trip, you do not have to worry. The city is completely safe for travellers as long as you too travel responsibly. You should of course take basic safety precautions as you travel, but you can rest assured that you will have the best time of your life on your solo trip. Pondicherry's serene environs and picturesque destinations offer the perfect backdrop for solo travellers to spend quality time with themselves.
One of the most popular destinations for a honeymoon in India, Pondicherry has a number of scenic and quaint spots that you can add to your itinerary. Also known as the French Capital of India, Pondicherry is a picturesque city with a number of beautiful, beaches with crystal clear waters and remnants of a French colonial past. Some of the best places to visit in Pondicherry include:
● Paradise Beach
● Sri Aurobindo Ashram
● Eglise De Notre Dame Des Anges
● Rock Beach
● French War Memorial
● Ousteri Lake
● Chunnambar Boathouse
● Arikamedu
You can explore the wide range of holiday packages at Veena World to find one that includes all the amazing tourist spots that you'd like to visit on your trip.
Get to know more about Pondicherry before booking your tour packages
Pondicherry, unlike the hustle and bustle found in big cities, is a quiet little town on the southern coast of India. With the quaint colonial heritage buildings, the unambiguous French connection, the spiritual sceneries, the tree-lined boulevards, the endless stretches of unspoilt virgin beaches and backwaters, a trip to Pondicherry is nothing less than divine. You can also find a surprising choice of restaurants that serve a melange of cuisines and provide a heady mix of experiences that draws travellers from near and far to the city. Our Pondicherry travel packages at the best prices are perfect if you want to take the pace of life down by a few notches.
With all that the beautiful town of Pondy has to offer, booking from our Pondicherry tour packages will be one of the best ways to spend your time at this brilliant destination. The cost of the Pondicherry tour package you choose will, of course, depend on the destinations you wish to cover, the amount of time you wish to spend, and so on.
Introduction: About the place
Puducherry, being the capital of the Union Territory of Puducherry, comprises of four coastal regions, namely Puducherry, Karaikal, Mahe, and Yanam. The most prominent spoken language is Tamil, though Telugu, Malayalam, English, and French are spoken by an appreciable number of people. Also, the majority of the population is Hindu with a considerable number of Christians and Muslims. Jains, Sikhs, and Buddhists are comparatively fewer in number. Puducherry, as acknowledged by visitors, has a distinct spiritual vibration. Stories of resident sages have filtered down throughout its history from the earliest of days. The vibe is a blend of spiritual aura, colonial heritage, Tamil culture, and the cosmopolitan flair of many nationalities in a small but varied town. This inherent ambience of Pondy becomes most evident in the oldest parts of the town which flank the seashore boulevard. Our competitively priced trip packages to Pondicherry ensure that you can enjoy this very vibe that the city offers. The colonial buildings, some of which date back to the 18th century, stretch along a grid of clean straight streets which house the French institutions, Restaurants, Boutiques, Hotels, Guest Houses, private homes, and also include the sprawling premises of the famous Sri Aurobindo Ashram. Visitors here are greeted by mellow hues of cream, yellow, pink and grey compound walls which are interspersed by flamboyant bougainvillea bursting over gates and walls of courtyards. Our Pondicherry sightseeing packages give you a fair idea of how the city flaunts its ambience.
Experience: Culture/Why Visit
Have you ever experienced a place that takes you centuries back in time? With the French legacy preserved in the city's French Quarter and streets that line with trees and colonial villas, Pondy is a romantic yet mirthful getaway. Explore one of our Pondicherry honeymoon packages to make the most of what the city has to offer. Puducherry is a city with a dual personality that encourages you to believe that you are in a different land altogether. It is one of the warmest and most welcoming places in the whole of India. Even the nickname "Pondy" signifies the feeling of belonging, a feeling that most associate with when they go home.
Things to do
There is a long list of things you can do in Pondicherry. Few of the places you must visit are:
1. Beaches
The beaches of Pondicherry add grandeur to the city. While the early morning serenity takes your breath away; the radiance of glimmering streets with fun, food, and frolic in the evening will hypnotize you with its charm. Unlike all the other beaches in India, beaches at Pondy are pretty clean and well kept.
2. Aurobindo Ashram
Are you in a quest to find peace and tranquillity? If yes, you must head to the ashram for the spiritual experience of a lifetime. There are a number of guesthouses that are run by the ashram. However, as they are primarily for the guests of the ashram, it might be difficult to find accommodation there without any prior notice.
3. Cuisine
The cuisine found in Pondy is a perfect blend of cultures. Thanks to the city's chequered history, you can find a bustling culinary scene here with restaurants serving fare from around the world. Along with traditional south Indian delicacies and mouth-watering seafood, you could also experiment with your palate with authentic French cuisine and drool over the numerous bakeries.
4. Churches
Pondicherry has been home to several churches. The structure and architecture of the churches in Pondy give them a definite French feel. Situated on the south boulevard, The Basilica of Sacred Heart of Jesus is an oriental specimen of Gothic architecture built in the year 1895. Try to attend a Christian wedding here; you'll thank us later.
5. Old Lighthouse
One of the most famous landmarks in Pondy is the Old Lighthouse that was constructed in 1836. Though not operational today, it still remains a very interesting tourist attraction.
6. Water Sports
If you are into water sports, you are going to love it here! Activities like scuba diving, snorkelling, parasailing, boating, canoeing, and kayaking can all be experienced in Pondicherry.
7. Arikamedu
Get a glimpse of the Roman culture that remains in the ruins of Arikamedu. It was formerly a major port for trading with Roman traders and was believed to be the only town that had its ties with Rome.
8. Auroville
Saunter over to the enchanting city of Dawn, Auroville. People from across the globe build the Auroville, a universal, non-religious township and an international community that's dedicated to peace, harmony, sustainable living, and 'divine consciousness'. The idea, based on the vision of Sri Aurobindo and The Mother, was to help realise the good old human unity. Experience the serenity of Pondy with our Pondicherry tour packages.
9. Wildlife: Bird watching at Ousteri Lake
This century-old manmade lake, situated about 10 kms from the town of Pondicherry, has been recognized as one of the important wetlands of Asia by the IUCN. The 390-hectare lake supports a variety of flora & fauna and provides a home to avifauna as well as migratory birds during summers & winters. The French-flavoured coastal city of Pondicherry is a blend of food, dual culture, and loads of fun. Book one of our Pondicherry travel packages to enjoy your holiday in this beautiful city.
Best time to visit
Pondicherry has a warm climate in general, hence the months from October to March are considered as an ideal time to visit. However, the town offers different charms in different seasons. Here's a monthly breakup of Pondicherry's climatic conditions to help you plan your Pondy trip during the "right" season:
October to February:
These months make up for the winter season in Pondicherry. It is during this time when the climate makes for a perfect sightseeing tour, beach fun, and water sports. Explore from our Pondicherry sightseeing packages and enjoy the city during your winter break. You can make do with light woollens as the temperature doesn't usually go below 17°C here.
March to June:
Even at its hottest during these summer months, the highest temperature doesn't go beyond 41°C. However, the scarce crowd makes it a good time to enjoy a peaceful vacation in this little town. You can also partake in the water activities as there is less number of people swarming the beach.
July to September:
These months account for the monsoon season in Pondicherry. The town typically receives heavy to light rainfall every year but those who love to soak in the rain, this is the best time to let your hair down and experience the lush-green landscape that Pondicherry offers. In the month of August, Sri Aurobindo's birthday celebrations make it the perfect time to enjoy the city at its vibrant best.