Ramoji Tour Packages
Situated in Hyderabad, Ramoji Film City is known to be one of the largest studios in the world. A lot of people take up the Ramoji Film City tour to enjoy the entertainment it houses within its vicinity
Hyderabad is one of the famous South-Indian cities for a lot of reasons, be it the popular and delicious chicken-65 or the famous masterpiece "Charminar." For several reasons, people have started putting this city in their bucket list. Hyderabad was once the only global centre where trading of a large diamond, natural pearls and emerald took place. Due to this, it got its name as the "City of Pearls."
Since 1996, a lot of people have visited the famous Ramoji Film City. It is known to be one of the largest film cities in the world. People who visit Hyderabad also get Ramoji Film City tour to double their enjoyment during their trip to the capital city of Andhra Pradesh. The city is spread over 2500 acres and is known to house almost 50 film units at the same time. Ramoji is situated approximately 28 km away from Hyderabad. The film city is listed in the Guinness Book as well. Check out the Ramoji Film City holiday package online to get the exact price for your entire trip. So, put on your travel boots and head to Ramoji to get a unique experience.
Ramoji Travel Packages
| Ramoji Packages | Day/Night | Price |
| --- | --- | --- |
| Hyderabad Srisailam Ramoji City | 6 Days | ₹47,000 |
1 Ramoji Holiday Packages
Showing 1-1 packages from 1 packages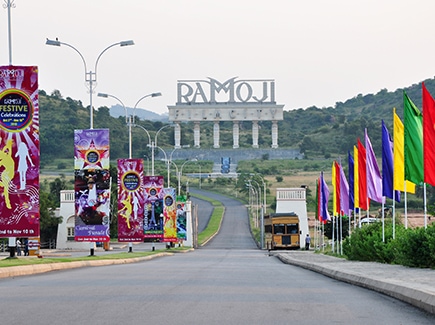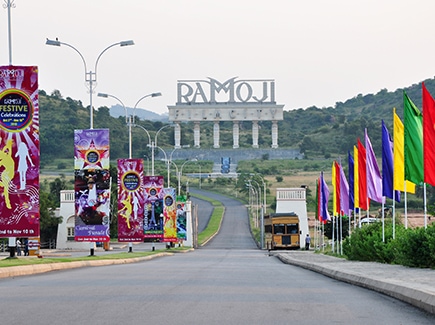 SUPER DEAL PRICE
(16 Dec 2023)

Last 6 Seats

Starts from

per person on twin sharing

from ₹2,776/month
Veena World tour reviews
What are you waiting for? Chalo Bag Bharo Nikal Pado!
Get to know more about Ramoji before booking your tour packages
One of the major attractions of Hyderabad is a place that is situated about 28 km away and is known as Ramoji Film City. The place not just serves the adventure seekers, but also hosts weddings. You can check the Ramoji Film City honeymoon package price if you are considering Hyderabad as your honeymoon destination. Best packages for Ramoji Film City are available online that include accommodation, food, and access to the fiesta. To keep the visitors entertained, there are a number of theme parks within the vicinity of Ramoji that can be explored. You can also indulge in adventure activities such as "SAHAS" here. In this arena, you can enjoy driving all-terrain vehicles for having a delightful experience.
Experience Ramoji Film City
Ramoji Film City tour is one of the best things that people prefer to experience when they visit Hyderabad. Although you can find a lot of other enthralling and enticing things to do, exploration is always high on the priority list for the majority of the people. And at a place like this where you have 2500 acres to explore, you might not consider anything over this. It is fun, enjoyable and interesting to check out every bit of Ramoji Film City. From adventurous sports to the iconic sets of Bollywood movies, you have a lot on your plate when you visit here.
Things to do in Ramoji Film City
Be sure to include all the activities and places to visit while getting your Ramoji Film City holiday package online. Here are a few things that you should not miss out on to include in your Ramoji Film City tour itinerary:
If you are an avid nature lover, then you are going to love the studio tour because the major part of this tour covers visiting gardens that are situated all around the film city. The tour includes the popular Japanese Garden, Angel's Fountain Garden, Mughal Garden, Askari Garden, Sun Fountain Garden, and more. These gardens will give you a wondering sightseeing experience. There are a lot of mesmerizing landscapes having distinctive features of their own. All these together will add up to make your Ramoji Film City sightseeing a memorable experience.
A lot of skilled artists and actors put their efforts to showcase their true potential through live shows. As a visitor, you will have a lot of options to be a part of live shows like such as the Dome Theatre Shows, Wild West Stunt Shows, Spirit of Ramoji, and a few more. Most of them start from dusk so once you finish the Ramoji sightseeing, you can head out to the show spot and enjoy.
Ramoji Film City is also a paradise for food lovers. With a wide variety of options, you would definitely want to try their best delicacies on your Ramoji Film City tour. So, do not forget to relish your taste buds with their best cuisines.
Best Time to Visit Ramoji Film City
As Ramoji is situated near Hyderabad, the best time to visit the film city will be between October and March, as during this time, the temperature stays cooler. Except for these months, you are going to find the climate of the city warm and damp. So, planning your visit during winters would be best.