Pachmarhi Tour Packages
Take a break from life as the 'Queen of Satpura' beckons you forth to bask in the tranquility as it transports you straight into the lap of nature.
Pachmarhi is a charming hill station located in the Indian state of Madhya Pradesh. In 1857, this hill station was discovered by Captain James Forsyth of the British Army. Lying at an elevation of 1100 m, this town sits beautifully amidst the Satpura range and is full of beautiful greenery. Pachmarhi tours are especially popular for the enthralling natural beauty and the splendor that the small hilly town has to offer.
When you book Pachmarhi packages for your vacation, you can visit many intriguing hilltop caves and enjoy panoramic views of the surrounding town from the incredible vantage points that can be found in Pachmarhi.
In addition to ancient caves, Pachmarhi also houses a myriad of attractive monuments, beautiful forests, and waterfalls. The sheer number of awe-inspiring tourism sites at this hill station makes booking a Pachmarhi tour package online at Veena World a prudent move for any vacationer looking for a good time.
Pachmarhi Travel Packages
| Pachmarhi Packages | Day/Night | Price |
| --- | --- | --- |
| All of Madhya Pradesh | 17 Days | ₹95,000 |
1 Pachmarhi Holiday Packages
Showing 1-1 packages from 1 packages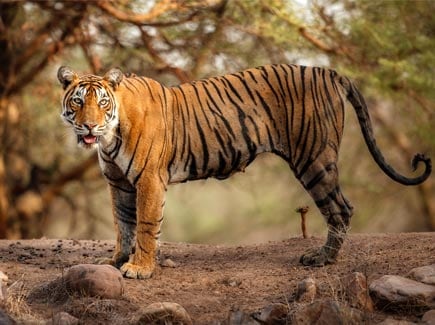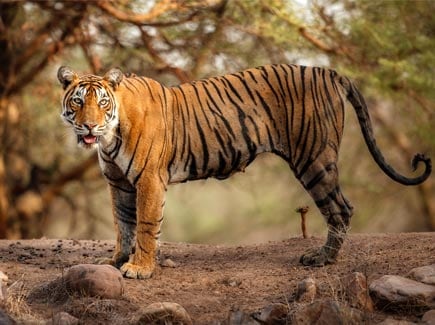 SUPER DEAL PRICE
Starts from
per person on twin sharing
Veena World tour reviews
What are you waiting for? Chalo Bag Bharo Nikal Pado!
All of Madhya Pradesh

"Feedback for our tour manager:Trip code MPAM090223/A Dear Sir, Madam I am writing this email spec...

Read More

Shailaja

Travelled in Feb, 2023

All of Madhya Pradesh

"MP Tour - 15 days. : The tour was a great experience and enjoyed a lot. All the arrangements done by...

Read More

Arun

Travelled in Feb, 2022

All of Madhya Pradesh

": TOUR MPAL26022 Was tooo good,we enjoyed it thoroughly, got to see all the said places in a good wa...

Read More

Mamta

Travelled in Feb, 2022

All of Madhya Pradesh

": ***** I enjoyed the tour very much,it was very good,food was good,all the stay was good ,on the wh...

Read More

Yashna

Travelled in Feb, 2022

All of Madhya Pradesh

": Hello Veena World This is Mrs Rama Ambe &Mr Ramesh Ambe from Pune Yesterday we completed our Sampu...

Read More

Rama

Travelled in Feb, 2022
Get to know more about Pachmarhi before booking your tour packages
At Veena World, you can find some amazing Pachmarhi package deals at great costs online to visit this serene destination. These Pachmarhi tour packages will enable you to explore the various key attractions during your Pachmarhi trip at the most affordable prices.
An Introduction to Pachmarhi
Pachmarhi is a tranquil hill station in Madhya Pradesh, surrounded by the lofty hills of the Satpura range. The landscape of this town is largely characterized by deep ravines, large jungles, and rugged hills. With the right Pachmarhi holiday packages, you can visit and explore this verdant jewel of the hills and experience a breathtaking amalgamation of nature's beauty and some significant historical wonders.
The Experience
Even the history of this town has quite a fateful story, something you will come to know of while exploring this place with a Pachmarhi sightseeing package. It was during the freedom struggle of India when the queen of Jhansi had called for mutiny, that a group of soldiers led by Captain James Forsyth was sent to the dense Satpura jungles in an effort to quell the impending rebellion. After this band of soldiers had been walking for a while, Captain Forsyth chanced upon a saucer-shaped plateau at an elevation of about 2000 feet above sea level. This was the region that was then developed into the hill station that is today known as Pachmarhi. In older times, this hill station used to be a sanatorium for the British troops posted in the central provinces of the country.
Pachmarhi gets its name from the Hindi words, "Panch" (five) and "Marhi" (caves). According to some legends, the caves in Pachmarhi were built by the five Pandava brothers during their thirteen years of exile. Pachmarhi is currently home to many indigenous tribes, including the Gond, Korku, and Bharia tribes.
Being a popular tourist retreat there are several options available in Pachmarhi tour packages and prices, so you should not find it difficult to book a holiday that fits your budget and plans perfectly. People often come to the town drawn by the urge to see enchanting cave paintings, some of which are estimated to be about 10,000 years old. Pachmarhi is quite rich in flora and fauna as well and houses several mammal species, including wild boars, leopards, tigers, and muntjac deer. Due to the enchanting natural beauty of this region, several well-known movies have also been shot here.
Things to Do in Pachmarhi
When you book your Pachmarhi tour package, you will have the chance to explore several of the intriguing attractions in Pachmarhi. To help you choose the right Pachmarhi tour package, here are some of the top spots in the town, which you can add to your itinerary:
Pandav Gufa:

There are five distinct rock-cut temples in Pachmarhi that are popularly known as Pandav Gufas or caves. According to certain mythological tales, it is believed that the Pandavas took shelter in these caves during their exile, and hence are popular tourist sites. Archaeological evidence, on the other hand, claims that these caves were constructed by Buddhist monks sometime during the 1st century BC. Regardless of their origin, the caves are a must-visit destination for all visitors on Pachmarhi tours.

Handi Khoh:

A popular element of most Pachmarhi tours; this is a deep ravine that has a depth of about 300 ft. Handi Khoh is located in the beautiful Pachmarhi forest region, and has a rugged cliff surrounding it. This tourist site is extremely popular for its marvelous natural beauty.

Rajendragiri Sunset Point:

This captivating sunset point has been named after the former Indian president, Dr. Rajendra Prasad, who used to be quite a frequent visitor to this site. The Rajendragiri Sunset Point is famed for offering awe-inspiring and panoramic views of Panchmarhi. Viewing the sunrise or sunset from this site is a breathtaking experience.

Priyadarshini Point:

A key element of Pachmarhi packages, this site offers a beautiful view of the whole Pachmarhi valley. Captain Forsyth essentially discovered Pachmarhi from this very spot. Priyadarshini Point would be another ideal place to witness the sunset against the regal Satpura Range.

Gupt Mahadev Temple:

This is a 40 feet long cave that features a Shiva lingam. The entrance to the Gupt Mahadev Temple is an extremely narrow path, which can be passed by eight people at a time. This path leads to the 'Bade Mahadev' that is featured here. At the entrance of the cave, you can also find an enshrined idol of Lord Hanuman. This auspicious temple is regarded as being an important element of any Pachmarhi tour itinerary.

Jatashankar:

This natural cave is a Hindu shrine located in the northern part of Pachmarhi. Jatashankar lies in a deep ravine, with large boulders perched just above it. This cave is famed for featuring stalagmites, which are revered as naturally formed lingams. Jatashankar caves are incredibly popular among both tourists and pilgrims and are covered by many Pachmarhi sightseeing packages. There are two beautiful spring-fed ponds near these caves as well.
The Best Time to Visit Pachmarhi
Pachmarhi tours can be booked at just about any time of the year as the town tends to enjoy comfortable and pleasant weather throughout. The climate is generally mild and temperate, and quite pleasant. The summer season is quite pleasant, which is followed by moderate showers during the monsoon months. During the monsoons, the weather in Pachmarhi is extremely enjoyable.
Here is a better insight on the weather conditions prevalent at this hill station, so you can choose your Pachmarhi holiday packages online for a time that suits you best:
Summers (March-June):

During these months, the temperature ranges from 22° to 35° C, making it a good time to visit. While the days are typically warmer than the nights, the heat is quite minimal and not uncomfortable for exploring. The prevailing weather during a day largely depends on the winds and humidity levels. The region is also prone to occasional rain showers and gentle breezes during the summer months and can be the right time to plan a Pachmarhi trip.

Monsoons (July-September):

The Pachmarhi region typically receives moderate rainfall during the monsoons, and the weather remains quite pleasant. The temperature tends to range from 20° to 28° C, with an average rainfall of about 785 mm. The monsoons and even the post-monsoon period can be good for making a plan for a Pachmarhi tour, as you would find the town covered with beautiful mist, with clouds dotting the skies.

Winters (October-February):

The ambiance is extremely lovely in Pachmarhi during the early winter. The temperature here may drop down to as low as 4° C in December and January.