Road Trips Packages
There is nothing more exciting than hitting the road towards an unexplored destination. Count on us to turn your road trip tour into memorable affairs.
Road trips are a wonderful way to travel in groups and spend quality time with your family and friends while being in complete control of the budget and itinerary as you bask in the beautiful sights along the way.
Planning road trip holidays in India, especially group tours, is getting better and better by the day with the constantly growing road infrastructure that's decreasing travel times and adding to the traveller's delight! Thanks to the Government of India, that's not something to be worried about when you plan your next road trip in India. With high-speed highways, under the Bharat Jodo Abhiyan, stretching from Kashmir in the North till Kanyakumari in the South, and from Gujarat in the West to Arunachal Pradesh in the East, the National Highways of India stand tall to serve you well. The other side of the coin is our country's diverse landscape which means every road trip experience is distinct.
Let's elevate your road trip experiences as you actively explore new places and cultures, and build a ton of memories and connections that will last a lifetime. Plan your next road trip tour with Veena World and check out our curated range of India road trip packages and deals on group tours to enjoy your journeys like never before.
Road Trips Packages Travel Packages
| Road Trips Packages | Day/Night | Price |
| --- | --- | --- |
| Gujarat to Guwahati Road Trip | 30 Days | ₹1,50,000 |
| The Great Indian Peninsula Road Trip | 50 Days | ₹2,50,000 |
2 Road Trips Packages Holiday Packages
Showing 1-2 packages from 2 packages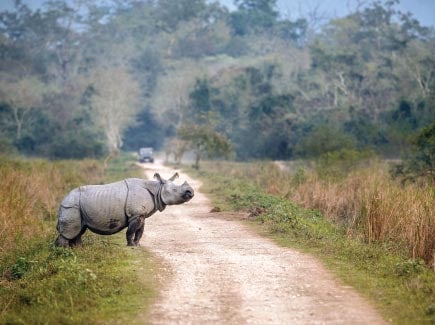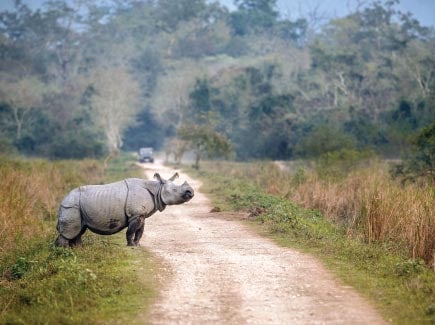 Gujarat to Guwahati Road Trip
SUPER DEAL PRICE
Starts from
per person on twin sharing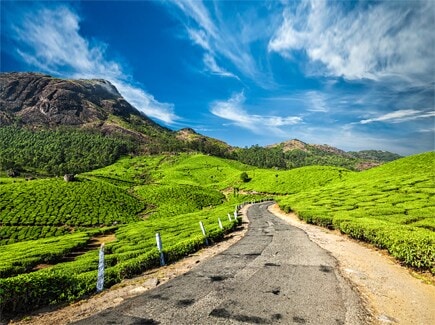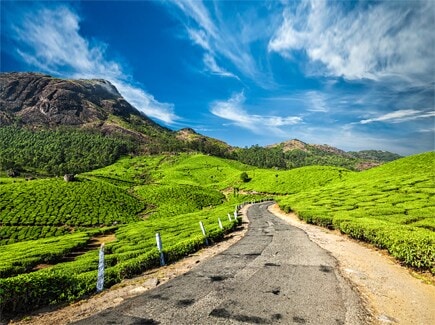 The Great Indian Peninsula Road Trip
SUPER DEAL PRICE
Starts from
per person on twin sharing
Take Road Trips in India
In an expansive country like India where the dialect, attire and culture, all change with every 100 Km, one thing you should always expect on a road trip package is exposure to the diverse colours and philosophies of life. The exhilaration of a road trip is enhanced with every passing village, new societies and new people, having their own customs and lifestyle.
You can take a trip through the snow-capped mountains to witness the phenomenal sunset and sunrise views to the pristine beaches to experience the calm waters of several seas, explore the massive coastline of India along the Western and Eastern Ghats or the many beautiful valleys that have received global acclamation. From free-flowing rivers to huge waterfalls, nature-rich National Parks and Wildlife Sanctuaries to the calm backwaters, there is nothing that won't make you watch in awe while on a road trip package holiday through this beautiful country.
When on the Road, Find Yourself
A road trip holiday helps you discover things about yourself you may never have realised from the comfort of your home. They take you through diverse plains, spanning multiple states and offer you the opportunity to become a small part of those societies, explore their way of life and carry it with yourself. From exploring the numerous World Heritage Sites which tourists visit from all over the world, to the magnificent forts and palaces that tell the tales of days gone by, visiting places where great world leaders devoted their life to create history and where some of the greatest artists the modern world has ever seen were born, each place has a story to tell, which you ultimately carry with yourself.
And who knows, maybe you end up discovering something new about yourself on your quest through one of such places. That's the beauty of road trips. When you travel without the haste to reach the destination through any means possible, and rather indulge in a slow and unplanned, fun and self-reflecting road trip, every minute into the journey feels like a moment to remember.
The 'High Five' Aspects of Road Trips in India
While on a road trip tour, there is a myriad of things that one can expect that are sure to take the journey's experience a notch higher. Here are a few things that you should expect while travelling by road in India:
India is a vast country where the weather varies dramatically. When the southern tip of the country might be experiencing hot and humid tropical climatic conditions, the north would be receiving heavy snowfall. While the heart of the country usually experiences warmer days, the eastern and western states get stretched monsoons.
There is never a dearth of things to buy in India. Each stat has its own speciality in terms of food, clothes and artistic objects that are unique to that place. With the change in culture after every few Kms, the best things to buy also change.
As with the cultural changes, also expect to try new and different things on your road trip. This includes trying regional specialities such as dance forms, enjoying special tourist activities such as the Shikara ride in Kashmir and Gandola ride in Sikkim, and meeting new people. Travelling by road allows you to take detours through the smaller villages and unexplored areas, away from the hustle and bustle, and experience the real cultures of the people that live there.
One of the best things about taking a road trip tour in India is that it is extremely budget-friendly. The cost of a road trip will vary as per your requirements in terms of places to stay and distance to cover. Rest assured as there are a plethora of places that you can explore while keeping the travel budget in check!
Taking a road trip through the states of India is highly convenient and hassle-free. Wherever you go, you can always find a decent place to stay, good food to eat and usually you are never too far away from a picture-worthy spot.
Planning a Road Trip with Veena World
Planning a road trip with Veena World comes with a host of advantages. We help you organise your dream vacation with a vast experience of domestic tourism as well as an extensive network of expert associates in India. From picking the most popular and offbeat destinations to scheduling accommodations, Veena World takes care of all your needs. You can also benefit from the experienced and knowledgeable local guides as well as our Tour Managers that help you design the best all-inclusive tours especially for you.
Plan your next road trip with Veena World and take advantage of our new road trip package ideas as well as the exciting deals that will make every road trip an experience to cherish.