Morocco Tour Packages
Nothing less than a soothing oasis on a hot and unforgiving desert; only, Morocco is a lot more spectacular!
Morocco tours offer visitors a spectrum of colours, Roman and Islamic cultures, ancient cities, timeless traditions, majestic mountains, and a desert kissing its feet. The cost of Morocco honeymoon packages from India is completely justified with the varied experiences the destination has to offer. For centuries, Morocco has charmed and inspired artists, writers, and travelers to book their own Morocco holiday packages online to come and be a part of uncovering its many secrets. No wonder so many places in Morocco are counted among the world's top tourist destinations which make Morocco tour packages so popular.
Nomadic at heart but cosmopolitan in perspective, its imperial capital cities and quaint towns and villages are a riot of colours, chaos, age-old souks, and magnificent forts; even the hospitality that you experience on Morocco tours brings together the best of African and Arabic cultures. If you are in a mood to experience the famed hospitality on a Morocco tour package, Veena World can help you. With a range of some of the greatest cost-effectively priced online Morocco tour packages from India, you can plan a trip to this famed destination with ease. Browse the Morocco vacation packages online for price and cost-related information and you can conveniently book the one that suits your needs the best. Book your Morocco packages from India and get ready for endless cups of mint tea and the warm Moroccan hospitality for your next vacation.
Morocco Travel Packages
| Morocco Packages | Day/Night | Price |
| --- | --- | --- |
| Best of Morocco | 8 Days | ₹1,85,000 |
| Spain Portugal Morocco | 13 Days | ₹2,90,000 |
3 Morocco Holiday Packages
Showing 1-3 packages from 3 packages
3 departures available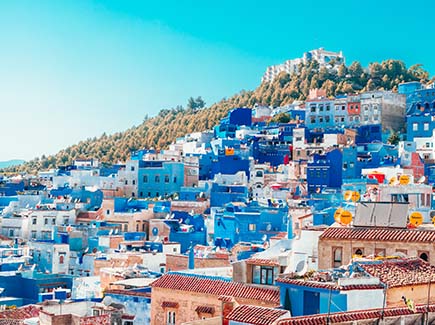 SUPER DEAL PRICE
₹1,85,000
per person on twin sharing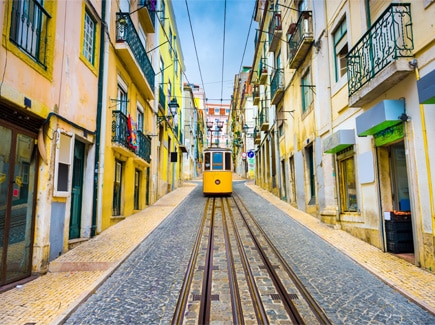 SUPER DEAL PRICE
₹2,90,000
per person on twin sharing
Chefchaouen
Marrakesh
Rabat
Fátima
Sintra
Algeciras
Costa Del Sol
Marbella
Toledo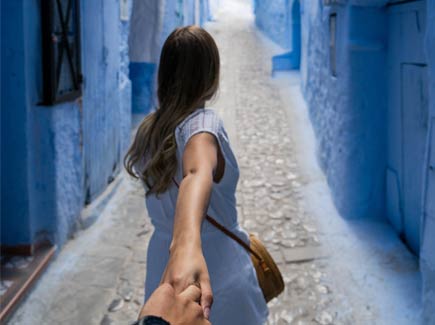 Get to know more about Morocco before booking your tour packages
Morocco is a unitary constitutional monarchy with an elected parliament, located in the Maghreb region of North Africa. The foundation of the state was laid by Idris I in 788 AD and since then, Morocco has been ruled by several dynasties and imperial powers. The notable dynasties that ruled Morocco were the Saadi and Alaoulite and the imperial powers that ruled here were the French and the Spanish. This unique amalgamation of different cultures makes Morocco tours particularly fascinating.
This country is located by the coast of the Atlantic Ocean that reaches past the Strait of Gibraltar into the Mediterranean Sea. It is bordered by Spain, Algeria, and Mauritiana. Morocco enjoys a variety of landscapes, from the oceans to the mountains, from the desert to coastlines and this is another reason behind the popularity of Morocco holiday packages. The predominant religion in Morocco is Islam which is followed by 99% of the population. Although Morocco's official languages are Arabic and Berber, many people speak a variety of Arabic dialects, collectively known as Darija. French is also spoken widely in the region.
Experience Morocco
Morocco tours take you the land of ancient cities and small kasbahs, of traditional souks and spectacular forts, of sloping dunes and ski resorts, of chaotic bazaars to haggling shopkeepers, and glitz and glamour of Casablanca to the tranquillity of the Sahara. Centuries of foreign rule and being at the cusp of African and Arabic cultures, Morocco holiday packages are characterized by the diversity showcased by the people, beliefs, traditions, and even the landscape; and all these together make for enchanting Morocco vacation packages to enjoy with your friends and family. It is of the most important historical sites in the world so much so that the country boasts of nine UNESCO World Heritage Sites that are an important part of any Morocco honeymoon packages that you may book. Although Morocco identifies with a conservative religion, it is quite broad-minded in its approach and this is something that can be witnessed in the warm hospitality that you can experience when you visit the place on your Morocco tour package. Morocco honeymoon packages from India are also quite popular online as Morocco offers newlyweds the option to enjoy a fairy tale honeymoon, surrounded by history and culture! The Morocco holiday packages from India designed by Veena World take into account all these beautiful aspects of this stunning destination.
Things to Do in Morocco
Morocco sightseeing is an experience that stimulates a mosaic where each aspect of the place's culture, heritage, and tradition comes together to create a jaw-dropping masterpiece.
When booking your online Morocco travel packages, here are some places of interest that you can consider including in your itinerary:
Marrakesh Medina:
On Morocco tours, Marrakesh is a destination that sums up the inherent vibe of Morocco. As you enter Marrakesh from Djemma el-Fna Square, you will be bowled over by the frantic activities that everybody seems to be engaged in. Exploring the place takes you back centuries when you see the local craftsmen creating beautiful artwork using age-old techniques as the storytellers and fortune-tellers ply their trade. You will be glad to have booked Morocco travel packages for your vacation when you take a ride on a horse-drawn carriage, explore the bazaars and souks, get entertained by the snake charmers and street artists, and just soak up the spectacular sight of the sun going down as you watch the city change its garb for the night. Beyond the walled centre lies the cosmopolitan facet of the city. The Medina Souks bring out the most striking colours and splash them upon wares like handmade rugs, scarves, and other fabrics that decorate every space. With the right Morocco holiday packages, you can travel to Babouche Souk, which is known for shoes, Chouari Souk for carpentry, El-Attarine Souk for perfumes, and Cherratine Souk for leather goods. The Guéliz and Hivernage districts are known for luxury shopping boutiques amidst a contemporary architecture. Most people don't equate Morocco with skiing and snowboarding and this is what makes the snow-clad slopes of the Atlas Mountains such an alluring attraction on Morocco tour packages from India. For the adventure seekers, climbing the Jebel Toubkal, ATV rides and jet skiing at Lake Lalla Takerkoust, or the many rope adventures at Toubkal National Park make for exciting Morocco tours. Do not forget to visit the 12th century Koutoubia Mosque as it is Marrakesh's most famous landmark and is built in the Almohad architectural style.
Hasan II Mosque at Casablanca:
The Hasan II Mosque is the largest mosque in Africa and stands out for its grandiose design set against the backdrop of the ocean. It is a must-visit on Morocco sightseeing tours. Built to commemorate King Hasan II's 60th birthday, it took 10,000 artisans to complete the two-hectare site. Known for its ornate design, towering minarets, intricate zellige tile work, and stunning mosaics, the design credit goes to French architect, Michel Pinseau. Although this is a religious building, it is a modern reminder of contemporary Morocco.
Fes el Bali:
This is another of Morocco's imperial capitals. Fes is where you would find the authentic vibe of what Morocco is. Buildings of all shapes and sizes, coloured in the most beautiful hues, an old door here, a glass painted window there, you will never have enough photographs of this place. Fes is the soul of Morocco, which is a must-add destination for your Morocco vacation packages.
Yves St Laurent Museum:
This is an absolute must stop for all fashion lovers on a Morocco holiday package from India. This museum showcases the finest and the most elaborate haute couture collection of the legendary French designer's work that spans 40 years.
Chefchaouen:
Any visitor on a Morocco tour package will fall instantly in love with Chefchaouen's quaint blue buildings that are quite pleasing to the eye. It also a great Morocco honeymoon package destination as you can enjoy a leisurely walk along the maze of alleys and streets with your significant other.
Volubilis:
Get transported to the Roman times when you visit the ruins of the Roman city of Volubilis. It is a beautifully preserved UNESCO World Heritage site. If you are a history lover, you should add this in your Morocco package from India. Although these are ruins, they are quite poetically romantic and can be included in Morocco honeymoon packages for some great memories.
Best Time to Visit Morocco
Morocco experiences extreme temperatures with the summers being quite hot and the winters being cold and snowy. The best time to plan a trip to Morocco would be during the spring season (mid-March to May) or autumn (September to October). However, if you can brave the heat, you can also get some great deals for packages to Morocco.