Kumbhalgarh Tour Packages
With the solicitously inviting slogan of "Padhaaro Mhare Desh" that literally translates to, "Alight into my country", the land of kings awaits in its solemnity, welcoming visitors to experience its truly unique concept of hospitality, steeped in traditions fit for royals
The idea of visiting Rajasthan will definitely flood your mind with a myriad of images that you've probably collected over the years from hearing others' travel stories or fantasies or even from the television – the imposing and iconic silhouette of a Rajput fortress witnessing a battle of honour, the blood and sweat still etched on the walls or the cheerful tinkling noise of anklets running through the ornate corridors of a magnificent palace of glass by the lake, and forbidden tales of Rajput-Mughal romance.
Yes, a visit to Rajasthan will feel like it just emerged out of your dream. Of the many fortresses to visit and marvel, is the spectacular Kumbhalgarh Fort, now declared as a World Heritage Site by the UNESCO situated at a distance of 82 kilometres away from Rajasthan's beautiful lake city Udaipur. Kumbhalgarh packages for sightseeing include the 360 Jain and Hindu temples enclosed within this rather well-preserved historical fort complex as well. The marvellous fort is built atop a hill and the perimeter walls, if measured, extend up to 36 kilometres, making it one of the largest fortresses in the world, and the second-largest in India after the famous Chittorgarh Fort.
Kumbhalgarh Travel Packages
| Kumbhalgarh Packages | Day/Night | Price |
| --- | --- | --- |
| All of Rajasthan | 15 Days | ₹75,000 |
1 Kumbhalgarh Holiday Packages
Showing 1-1 packages from 1 packages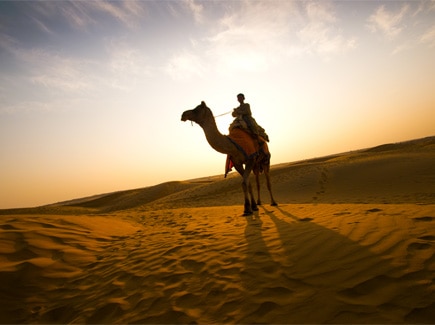 SUPER DEAL PRICE
Starts from
per person on twin sharing
Veena World tour reviews
What are you waiting for? Chalo Bag Bharo Nikal Pado!
Udaipur Kumbhalgarh Jawai

"Our Tour Manager was Ganesh Dighe. He was totally good and Cooperative. Our stay at Hotel Kumbha Res...

Read More

Meena

Travelled in Aug, 2023

Udaipur Kumbhalgarh Jawai

"RJKU280823/A : We really are fortunate enough to travel with Veena World on above date and experien...

Read More

Subhash

Travelled in Aug, 2023

All of Rajasthan

"All of Rajasthan (*****/A) - regarding. : Dear Veena World, I want to take a moment to express my ...

Read More

Bhagwan

Travelled in Mar, 2023

All of Rajasthan

"We thoroughly enjoyed 15 days tour of Rajasthan with veena world. Special thanks to Manoj and Swapn...

Read More

Dilip

Travelled in Feb, 2023

All of Rajasthan

"Beautifully conducted tour. Manoj and Swapnil are very good tour managers. Enjoyed the tour. Nothing...

Read More

Kalindi

Travelled in Feb, 2023
Kumbhalgarh Frequently Asked Questions
We help you prepare for your trip and ensure an effortless and enjoyable travel experience.
Kumbhalgarh is a town in Udaipur that is popular among tourists for many reasons. For one, it is home to the second largest fort in India, the Kumbhalgarh Fort, which depicts the beautiful amalgamation of Delhi Sultanate and Rajput architecture in the best light. Apart from Kumbhalgarh Fort, you can explore Badal Mahal, Neelkanth Mahadev Temple, Kumbhalgarh Wildlife Sanctuary, and Ganga Govardhan Museum with our Kumbhalgarh tour package. With so many places to explore, Kumbhalgarh has become a popular tourist destination.
Since Kumbhalgarh is located in Rajasthan, the weather conditions can be hot and dry during the summer months. Considering this, it is recommended to visit during the winter months of October to February. This will help you explore the Kumbhalgarh Fort and other tourist attractions in pleasant weather. Veena World offers Kumbhalgarh packages to this town all year round. If you want to visit it according to your preferences, you can do so without any hassles.
The easiest way to plan your Kumbhalgarh trip would be to book a Kumbhalgarh or Udaipur package from Veena World. There's a lot to explore in and around Udaipur which includes Kumbhalgarh Fort. We at Veena World will look after your travel itinerary and all the arrangements, such as transportation to tourist destinations, meals, etc. All you need to do is enjoy your trip.
Yes, the light and sound show at the Kumbhalgarh Fort is open to the public all year round. It is organised at the premises from 7 pm to 8 pm daily. Our Kumbhalgarh holiday packages ensure that our travellers get to attend this light and sound because it is simply spectacular. A lot of interesting facts are shared in this event that will allow the travellers to appreciate the beauty of this fort all the more.
Yes, Veena World does offer its customers customised Kumbhalgarh holidays. Our travel experts ensure travellers can enjoy a personalised experience. Simply get in touch with our representative to customise your itinerary based on your preferences and budget. Our ultimate goal is to offer a high grade of customer service and travel experience.
Kumbhalgarh Fort is open for visitors from 9 am to 6 pm. Its entry fee is INR 10 for Indian nationals and INR 200 for foreigners. Kumbhalgarh Fort is a part of our exclusive Rajasthan tour package. You can also get your package customised according to your preferences if you want to visit other nearby locations such as Udaipur, Bikaner, Jodhpur, etc.
Since Kumbhalgarh is about 100 kilometres from Udaipur, a non-stop road trip takes almost 2 hours. So you must go towards National Highway 27 towards Bhanpura to reach Kumbhalgarh. But if you want to avoid the tolls, you can take the Maharana Pratap Marg route, which will help you get to Kumbhalgarh faster. However, we recommend booking one of Veena World's Rajasthan tour packages, and you can easily visit the Kambhalgarh Fort from Udaipur city via road without any hassles.
One of the ways to travel to Kumbhalgarh in Rajasthan is by train. It is both comfortable and economical. The major cities of Rajasthan are well-connected via the rail network. Also, Rajasthan has 20 national highways if you want to go on a road trip. NH-8 runs through Ajmer, Jaipur, Chittorgarh and Udaipur. If you wish to visit Kumbhalgarh Fort, you can go from Udaipur, which is 100 km away from the fort. Or the simplest way would be booking our Rajasthan package that includes the Udaipur and Kumbhalgarh Fort tours.
Our Kumbhalgarh tour packages include a visit to the Kumbhalgarh Wildlife Sanctuary. This wildlife sanctuary is only 98 km away from Udaipur. It is located near the Kumbhalgarh Fort, so you can hire a private taxi or rental car or take a bus from Udaipur. Kumbhalgarh Wildlife Sanctuary is famous for various wildlife species and is home to some spectacular endangered animal species.
Kumbhalgarh Fort is a tourist attraction, and thus, there are many hotels in the vicinity that offer best-in-class accommodation and hospitality. To make it easier, you may book a Kumbhalgarh package, and our travel experts will take care of the rest, which includes the accommodation as well. Our travel itineraries include the best hotels to stay in. So, you can contact our travel experts and book your stay at some of the best hotels near Kumbhalgarh Fort.
Get to know more about Kumbhalgarh before booking your tour packages
Kumbhalgarh features a massive fort sits imperiously over the hill, overlooking the quaint little town, the name of which emerged from the fort itself. There are over 360 temples built within the walls of the fortress. The history of this area as a fortified town can be traced back to the 6th Century when King Samprati, a Mauryavanshi descendant of the great Emperor Ashoka, built fortifications marking the boundaries of the kingdom. Later, when Rajputs started ruling over the region, Rana Kumbha of Mewar, then erected the present-day fort atop the original fort, and from him, the fort got its name; a village of the same name grew around the fort that later achieved town status. Basically, the fort here is the town's prime attraction. Since the time the first fort was built, it has been a very strategic location between Mewar and Marwar.
Learn more about the history of this impressive Rajput-built fortress town with our special cost-effectively priced Udaipur Kumbhalgarh packages available online.
Surrounding the fortress is the Kumbhalgarh Wildlife Sanctuary that extends across approximately 600 square kilometres in the middle of the Aravalli hills. If you're lucky and visit on a good day, you'll be able to see the sand dunes of the Thar Desert from atop the fort. With our special online Kumbhalgarh tour package, you will be able to explore this quiet little town and its stock of soul-enriching treasures, while also getting to explore the teeming wildlife at this serene forest park.
Experience Kumbhalgarh
A Kumbhalgarh tour is usually included in our cost-effectively priced Kumbhalgarh Holiday package options, with the town being at a figurative stone throw away from Rajasthan's beautiful lake city, Udaipur. Apart from being the strategic location of this historic fort that is now a World Heritage Site, there is plenty of culture and history you definitely need to learn about in Kumbhalgarh. It would normally take you more than a week to get an insight into the town's past and present. It wouldn't cost you any extra, but yes, you can gain a lot just by a mere visit that comes with our online Kumbhalgarh holiday packages, at amazing prices!
Things to do at Kumbhalgarh
1. The Kumbhalgarh Fort:
Perched at a height of 1900 metres, the Kumbhalgarh Fort was built by Rana Kumbha, the leader of the Sisodia clan of the Mewar Rajputs in the 15th century. A highlight of a Kumbhalgarh tour package, it is a UNESCO World Heritage site for being the second largest fort in India and being one of the longest wall structures in the world, extending up to 32kms. This fortress never fails to impress a visitor who is allowed to climb to the top and watch distant sand dunes of the Thar Desert.
2. Kumbhalgarh Wildlife Sanctuary:
Surrounded on all sides by the Aravalli hills in the district of Rajsamand, the Kumbhalgarh Wildlife Sanctuary is a dense hilly forest covering the entire region. Initially an open hunting ground for the Royal family members, the parkland inhabits varied wildlife forms, such as tigers, leopards, bears, wolves, deer, chinkaras, and almost 200 species of birds. One can choose between a jungle safari, riding a horse or trekking through the winding hilly trails of this wilderness, which is included in our special Kumbhalgarh tour available online.
3. Badal Mahal:
Situated within the fort, this is a famous Kumbhalgarh sightseeing place. The Badal Mahal or "Cloud Palace" is a grand palatial complex, located at the highest point of the spectacular hilly fortification. It is a two-storeyed building majorly featuring opulent architectural ideas of the Mewar Royals. The building is best known for the two separate sections for gentlemen and ladies, namely, Mardana and Zanana, respectively. The palace is renowned for the spectacular view you get from the top.
4. Neelkanth Mahadeo Temple:
The Neelkanth Mahadeo Temple is one dedicated to Lord Shiva, situated very close to the Fort and is one of the best destinations for sightseeing in Kumbhalgarh. The foundation stone to this temple is known to have been laid as far back as the 15th Century. Today, the temple consists of a beautiful and tranquil complex with an inner sanctum as well as an open platform for conduction of religious rituals and sacrificial holy fire offerings.
5. Lakhola Tank:
This is an impressive linear water reservoir constructed by Rana Lakha and it lies within the fort complex. It is 5 kilometres long and 200 to 100 metres wide. It has a depth of 60 ft presently. Visit this tank for some waterside recreational time, free of cost. Your Kumbhalgarh package will most likely cover a trip to the tank.


Best time to visit Kumbhalgarh
The best time to book a Kumbhalgarh tour package is during the winter months or towards late autumn or early spring since it is situated quite near to the Thar Desert, summer is scorching here and might hamper you from enjoying your Kumbhalgarh package. Overall, the best months to visit Rajasthan are from November to February. However, you may book the Udaipur Kumbhalgarh package between the months of September to March as well.