Tamil Nadu Tour Packages
Witness the perfect blend of history and beauty as you visit Tamil Nadu, a region of rich culture and heritage.
Tamil Nadu is the southern-most state in India, and there is so much to experience in this land of beauty and history that the popularity of tourism in Tamil Nadu is rather self-explanatory. Each experience that Tamil Nadu Tourism has to offer is unique in its own way, right from the culture to the cuisine and the traditions of the region. From mountains to beaches, Tamil Nadu Tourism has it all! With stunning golden beaches stretching across the state of Tamil Nadu, and a massive part of the towering eastern ghats of India being housed here, Tamil Nadu vacation packages are truly suitable for all kinds of travelers.
Tamil Nadu Tourism lets you explore the longest beach in India, Marina Beach, and the Nilgiri ranges that offer some of the most breath-taking views. Even witnessing the southern-most point of the Indian subcontinent makes for a major component of Tamil Nadu Tourism. Besides the abundant natural beauty, with a cost-effectively priced Tamil Nadu travel package, you can experience a land that is rich in heritage, which has been a part of the regional culture for several centuries. The numerous temples and religious destinations that you can explore with your Tamil Nadu holiday packages provide a window into the legendary history of the region.
Tamil Nadu Travel Packages
| Tamil Nadu Packages | Day/Night | Price |
| --- | --- | --- |
| Pondicherry Mahabalipuram | 5 Days | ₹40,000 |
| Ooty Kodai Coimbatore | 8 Days | ₹50,000 |
| Cultural Tamilnadu | 12 Days | ₹65,000 |
3 tamil nadu Holiday Packages
Showing 1-3 packages from 3 packages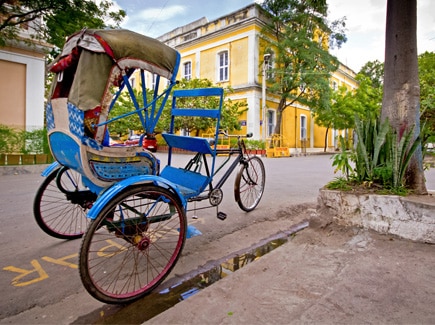 SUPER DEAL PRICE
₹40,000
per person on twin sharing
Chennai
Chidambaram
Mahabalipuram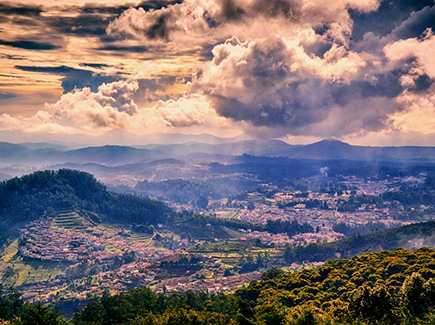 SUPER DEAL PRICE
₹50,000
per person on twin sharing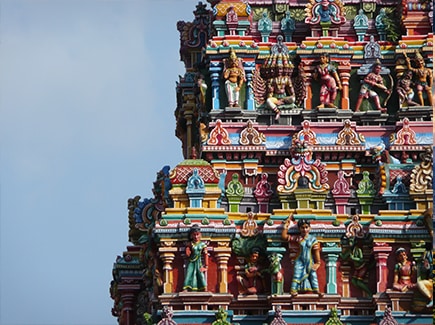 SUPER DEAL PRICE
₹65,000
per person on twin sharing
Chennai
Chettinad
Chidambaram
Velankanni
Our trips have touched hearts globally
what our happy travelers are saying
Pondicherry Mahabalipuram
Last week Me and my son went to Kanchipuram & Pondicherry tour through Veena World, experience was fabulous. We enjoyed a lot, it was small group of 7 persons but all enjoyed, would like to give special thanks to Akshay Meher who was our tour guide is a very sincere, sensible and a perfect tour guide. We all enjoyed and now planning for our next tour only and only with Veena World. I will recommend this to all my family friends and office colleges. Keep it up Veena World. Regards D. A. Pandit General Manager-Sales Ion Exchange (India) Ltd.
Dattatray
Pondicherry Mahabalipuram
My once in a lifetime experience. Satish Jadhav was a truly enthusiastic tour manager. I have never experienced any Tour manager like him. He was always with us, guiding us, taking care of us, entertaining us, and giving us knowledge right from beginning to end of our journey from Mumbai.
Rajesh
Women's Special Pondicherry Mahabalipuram
Pondicherry Tour 24/11/21 women's special : Dear Concern, This is the formal email regarding the feedback of Women's special tour for Pondicherry held on 24th November 21. It was great experience with Veena world as well as with Mr. Harshal. Mr.Harshal was very kind and helpful throughout tour. Thank you so much Veena world and Mr. Harshal for such great experience. Thanks and regards Pooja Halde
Pooja
Pondicherry Mahabalipuram
The arrangement was very good. Everything was smooth and there was a perfect balance of time for sightseeing and relaxing. Mr Harshal was always ready to help and made sure that we were comfortable and had s great time ..
Medha
Get to know more about Tamil Nadu before booking your tour packages
Tamil Nadu tourism packages have a lot to offer, making it the perfect destination for various kinds of travelers. From Tamil Nadu honeymoon packages to religious tours, the state is a very popular travel destination. For a beach lover, there are stretches of golden sand beaches all across the eastern shore of the state, where one can indulge in a relaxing and calming experience. For the adventure and thrill-seekers, the great Eastern Ghats and the Nilgiri mountain ranges are best suited. Then there are the budget tour packages for a vacation in Tamil Nadu that offer the perfect backpacker's experience to travelers. And for the people seeking spiritualism, Tamil Nadu holiday packages also showcase awe-inspiring architecture and holy structures that were built by the forefathers of the great Dravidian people. The temples of Tamil Nadu are sheer marvels in regard to their architecture, considering the age they were built in. This is one of the reasons why destinations such as Rameshwaram, Kanchipuram, and Thanjavur must not be missed at any cost on your Tamil Nadu trip packages.
The region, rich in natural beauty and culture, is home to several unique destinations within and near the state boundaries, one of which is Pondicherry, a union territory bordered by Tamil Nadu, which is fondly referred to as 'little France'. Coffee plantations are another aspect of Tamil Nadu that has assimilated itself completely with the traditional Tamil household. In Tamil Nadu, one will find a fresh cup of 'Filter Kapi' no matter where they go on their Tamil Nadu honeymoon packages.
Owing to the natural beauty and the amazing weather, the hill stations of Tamil Nadu are famous honeymoon destinations as well. There are several Tamil Nadu honeymoon packages that provide you with a priceless experience. Popular destinations such as Ooty and Kodaikanal are highly sought after in the region among honeymooners.
Veena World offers a variety of Tamil Nadu tourism packages online that you can choose from based on your preferences.
Tamil Nadu is located at the southern edge of the Indian subcontinent. Nestled between the grand valleys of the eastern ghats and the majestic Bay of Bengal, Tamil Nadu is a perfect destination for travelers of all kinds. There is something for everybody in this southern state of India.
The history of Tamil Nadu is what truly brings out its true character. With strong roots in the Dravidian civilization and culture, the empires in the history of Tamil Nadu have flourished for centuries, building several monuments and structures marking their grandeur.
While booking one of the Tamil Nadu tourism packages for your next vacation, you will come across several of these grand monuments that were built during the rule of several empires. The Pallava, Chola, and the Pandayan Dynasties are accredited as being the earliest kingdoms of the region. Each was highly advanced in their culture and society. The Pandayan Empire is said to have had extensive diplomatic connections with most parts of the Indian sub-continent, even extending as far as the Roman Empire.
Apart from the cultural and natural beauty, Tamil Nadu experiences a diverse range of climates. In the affordably priced Tamil Nadu tourism packages, the plenty of hill stations in the Eastern Ghats offer cool and calm destinations for one to unwind. The eastern shore of Tamil Nadu, on the other hand, is studded with destinations like Chennai and Puducherry, which house extended golden sand beaches that allow one to behold the best of sunrises.
One can opt for Tamil Nadu trip packages online, which will be the best way to travel to the region in a pre-planned manner. There are also several Tamil Nadu honeymoon packages with varying prices and costs listed online at Veena World for you to choose from.
Experience Tamil Nadu
Tamil Nadu is a state famous for many things; such as the great temples from the historic Pallava and Chola periods, serene beaches overlooking the deep blues of the Bay of Bengal, the exquisite coffee plantations, and Kanchipuram silk saris. In Tamil Nadu tour packages, the list of interesting destinations to visit is virtually endless, with each place providing a unique experience in itself.
Widely famous for the majestic temples, the state attracts a huge number of tourists and travelers each year with Tamil Nadu holiday packages. There are also several Tamil Nadu temple tour packages available that take you to destinations such as Rameshwaram, Kanyakumari, Kanchipuram, and many more. Some of the temples in Tamil Nadu were constructed as early as the 6th century.
Tamil Nadu is packed with a unique culture, right from its culinary delicacies to traditional attires, which showcase a heavy Dravidian influence. The grand architecture that can be witnessed today is only a shadow of the glory that Tamil Nadu once held.
An integral part of the Tamil Nadu sightseeing experience is the centuries-old temples and pilgrim sites in the state that have stood witness to the years of glory and grandeur of the region. The monumental architecture that you can witness in this holy land is just one of the reasons to book Tamil Nadu travel packages for your next vacations. The unique culture and heritage of Tamil Nadu is an enticing factor that attracts tourists from all over the world to book affordably priced Tamil Nadu travel packages. Right from the cuisine to the traditional garb, the culture of Tamil Nadu is an experience in itself.
You can check out the list of Tamil Nadu tourism packages at Veena World to choose one that is most suitable for you. Choose from Veena World's collection of specially curated Tamil Nadu trip packages online for the perfect itinerary!
Things to Do in Tamil Nadu
There is plenty to do in this Indian state of temples and natural beauty. Here's a list of the best Tamil Nadu sightseeing destinations to visit on your next vacations:
Kanchipuram: Kanchipuram is one of the old towns of Tamil Nadu and is home to some of the oldest temples in the state, making it a pivotal destination in Tamil Nadu temple tour packages. Temples such as the Kamakshi Amman Temple and the Kailasanathar Temple are widely famed throughout the world and were constructed in the ancient Pallava and Chola periods. Kanchipuram is also famous for its silk production with 'Kanchipuram silk' saris being highly sought-after.
Ooty: Ooty is one of the most famous hill stations in India and is known as the 'Queen of the Nilgiris'. Located at an altitude of 2240 meters, Ooty or Udagamandalam enjoys cool weather throughout the year. The history of Ooty is strongly influenced by it being the summer capital of the East India Company in the south. Famous for its long winding roads, acres of tea estates spread across the hills, and the absolutely breath-taking views of Nilgiri that it offers, visiting Ooty is a phenomenal experience altogether. Being the beautiful paradise that it is, Ooty is a popular choice among honeymooners, and there are several Tamil Nadu honeymoon packages that can take you here.
Rameshwaram: Rameshwaram is one of the holiest places for people of the Hindu faith. The Ramanathaswami Temple in Rameshwaram is a temple dedicated to Lord Shiva, and as per legends, is located where the revered Lord Sri Ram prayed to the all-powerful deity. The Ramanathaswami temple, which is an integral part of Tamil Nadu sightseeing, is also famous for having the longest corridor in the world, built with a total of 1212 pillars. The Agniteertham is also famous for its holy waters, where pilgrims perform traditional poojas for their ancestors. Located on an island off the shore of continental India, Rameshwaram is a sight to behold for all. The destination is part of most Tamil Nadu temple tour packages due to its legendary status.
Kanyakumari: Kanyakumari is located in the southern-most part of Tamil Nadu, nestled among the Eastern Ghats and cradled by the Indian Ocean towards the south. It is a widely popular tourist destination and has a great Buddha statue, which is an amazing destination for sightseeing and experiencing phenomenal sunsets. Although located at the extreme south, Kanyakumari is well-connected, and one can expect to visit this wonderful town with budget tour packages in Tamil Nadu.
Best Time to Visit Tamil Nadu
Tamil Nadu, much like the rest of South India, gets extremely hot during the summer season, and thus it is best to visit the state during the winters. The months from November to February are a good time to book your Tamil Nadu vacation packages, when the climate is relatively cooler, allowing one to explore all parts of the beautiful state with ease.