Thanjavur Tour Packages
Art, religion, and architecture are some of the tenets of a growing and progressive civilization, and Thanjavur, with its temples, in Tamil Nadu is a stellar example of the same.
Once the capital of the great Chola empire, this destination has marked its place prominently with the numerous structurally and aesthetically brilliant Thanjavur temples. It is a major pilgrimage destination in South India with pilgrims flocking from all over the world, which speaks a lot for the popularity of our cost-effectively priced Thanjavur tour packages available online. Thanjavur cannot really be described as only a temple city, as grand palaces, a library, an art gallery, parks, and churches all add to the adventure of exploring the city with affordably priced online Thanjavur tour packages. Thanjavur tourism leaves visitors to the place spoilt for choice with a wide array of things to do in and around this ancient city. For the most suitable tour to Thanjavur at the right price, you can explore Veena World's customized and specially curated Thanjavur tour packages. From the Brihadeeswara Temple in Thanjavur to the Shwartz Church, you can choose Thanjavur tourism packages based on the cost and the itinerary being offered for a trip that will help you create memories for a lifetime.
Thanjavur Travel Packages
| Thanjavur Packages | Day/Night | Price |
| --- | --- | --- |
| Cultural Tamil Nadu | 12 Days | ₹79,000 |
| Highlights of South India | 8 Days | ₹69,000 |
2 Thanjavur Holiday Packages
Showing 1-2 packages from 2 packages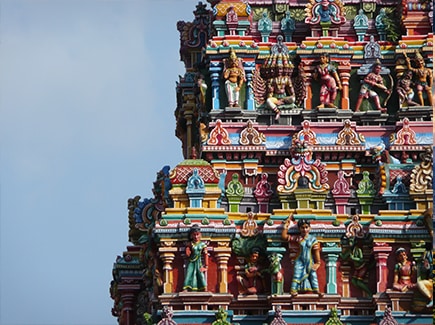 SUPER DEAL PRICE
Starts from
per person on twin sharing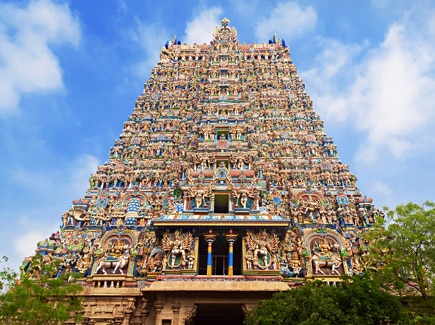 Starts from
per person on twin sharing
Veena World tour reviews
What are you waiting for? Chalo Bag Bharo Nikal Pado!
Cultural Tamil Nadu

"Tamilnadu Temple Tour - Feb- March 2023 : Dear Sir My wife and myself were part of the wonderful TN...

Read More

Mallika

Travelled in Feb, 2023

Cultural Tamil Nadu

"It was excellent experience to go on Tamilnadu Cultural Tour from 15th to 26th January 2023, with Ve...

Read More

Narendra

Travelled in Jan, 2023

Cultural Tamil Nadu

"so far. Vimesh is very knowledgeable, explains everything in detail. Never misses even a single poin...

Read More

Dipti

Travelled in Dec, 2022

Cultural Tamil Nadu

"One of the best tour that I've done so far. Very well managed by Vimesh and Sumit. We started as str...

Read More

Ushma

Travelled in Dec, 2022

Cultural Tamil Nadu

"Really, we all had a quality time and enjoyed every moment to the fullest extent. Hospitality , Ca...

Read More

Rajendra

Travelled in Dec, 2022
Get to know more about Thanjavur before booking your tour packages
Thanjavur tourism takes you to a city that has come to be known for housing one of the best specimens of the building and structural prowess of the Chola dynasty – The Thanjavur Brihadeeswara Temple – and has also given the Indian civilization the intricate beauty of Tanjore paintings. It is believed that the city may have derived its name from a Mutharayar king, 'Thananjay' or 'Dhananjaya'. Legend also has it that 'Thanjavur' takes after 'Tanjan' who was an asura who was killed here. The Thanjavur district is also known as the granary of South India, as, owing to the fertile lands, Thanjavur also has one of the largest paddy cultivations in southern India, which has also played quite a role in helping increase the popularity of Thanjavur tourism packages. Do not forget to touch upon the myriad aspects of this mystery land on your Thanjavur tour.
Experience Thanjavur
Thanjavur Tourism revolves a lot around the art and culture that is prevalent in the region. The culture that you can witness with your Thanjavur sightseeing packages brings forth a traditional legacy and seamlessly amalgamates it into the modern era. Even the festivals may be considered as major tourist attractions of Thanjavur as they are celebrated with a lot of vigour and enthusiasm. The Natyanjali Dance Festival and Carnatic Classical Musical Festival are the most notable celebrations that you can experience with the right sightseeing package to Thanjavur and witness the unique culture of the area
Things to Do in Thanjavur
There are many places to visit in Thanjavur which are of great importance. Here is a list of some of the most famous places in Thanjavur to help make planning your tour of Thanjavur easy:
The Thanjavur Brihadeeswara Temple:
The Brihadeeswara Temple in Thanjavur is also known as Rajarajeshvara after the king who built it. This intricately carved temple is a UNESCO World Heritage Site and is a magnificently overwhelming structure. The city has become somewhat synonymous with this architectural marvel. Dedicated to Lord Shiva, this temple in Thanjavur has been described by historian Percy Brown as 'a landmark in the evolution of building art in South India'. It was built in the 11th century AD by the great Chola king, Raja Raja Chola. The stone structure has hundreds of lingams carved into it. The inner sanctum of the temple has beautiful depictions of the Chola and Nayak reigns in the form of wall paintings. Although the original structure included a gopura, a huge tower, inscriptions, murals, and sculptures, much of the artwork was lost during the course of history. This Thanjavur temple now stands amidst fortified walls that were added later on. Take a moment to savour the brilliance of this place, a stellar example of Dravidian architecture. If you plan to visit this place around Mahashivaratri, you may witness the Brahan Natyanjali dance festival, a confluence of dancers from all over the country, which makes this a good time to book your Thanjavur tour packages as well.
Thanjavur Maratha Palace:
This palace complex is known locally as Aranmanai and is the official residence of the Bhonsle family. The Bhonsle family ruled Tanjore (old name for Thanjavur) from 1674 to 1855. This is a palace of epic proportions and a standing testimony to the opulence of the families that owned it. Forming an important part of most Thanjavur sightseeing packages, the palace complex consists of the Sadar Mahal Palace, the queen's courtyard, and the Durbar Hall. It also houses The Royal Palace Museum that boasts of spectacular artworks and inscriptions of a bygone era. Protected by towering walls, the palace has splendidly decorated rooms, never-ending corridors, walls and ceilings adorned with beautiful fresco paintings, and a spectacular display of stucco works and carvings. This museum, along with the Raja Serfoji Memorial Hall, is housed inside the Sadar Mahal Palace. In addition to these, the royal family's Chandra Mauleeshwarar Temple, Thanjavur, is also located inside the complex.
Saraswathi Mahal Library:
This library is no ordinary library, just as Thanjavur is more than a temple city. It takes on huge significance as not only is it one of the oldest libraries in Asia, but also prides itself as the preserver and protector of rare manuscripts and books. This library, located inside the Thanjavur palace complex, has a collection of rare palm-leaf manuscripts and papers written in Tamil and Sanskrit. These manuscripts cover a wide spectrum of topics, from literature to medicine. In addition to these, the library also has a collection of many Marathi and Telugu manuscripts. What started as a private library for the kings has now blossomed into an important site of historical knowledge and learning.
Gangaikonda Cholapuram:
Not just the Brihadeeswara Temple, but even the Gangaikonda Cholapuram has been declared as a UNESCO World Heritage Site. This temple is a fine example of the Chola Dynasty's vision in terms of structural brilliance. The rulers of this dynasty were patrons of art and architecture and that is quite evident in these architectural marvels from the time. The name - Gangaikonda Cholapuram means the town of the Chola who took over Ganga (water from Ganga) or who defeated the kings near Ganga. This temple, built by the Chola king Rajendra Chola, has marked its place as a site of prime value in the annals of Tamil history.
Airavateshwara Temple:
It wouldn't be wrong to assume that Thanjavur's favourite deity is Lord Shiva, with numerous temples having been built in his honour. The Airavateshwara Temple is located in Darasuram and is named after Lord Shiva's white elephant, known as Airavata. Sage Durvasa had cursed Airavata and to get rid of the curse, Airavata prayed fervently to his saviour, Lord Shiva, here. Another legend traces the roots of this temple as being the place where the lord of death-Yama, prayed to Lord Shiva.
Schwartz Church:
Thanjavur is not just home to the numerous temples of note but has several other points of attraction as well. This church was constructed by the Maratha King Serfoji II in 1779 as homage to the Danish Christian missionary, Friedrich Schwartz. At the request of Maratha King Serfoji II, an Italian sculptor, John Flaxman, sculpted a white marble statue bearing the images of King Serfoji II and Father Schwartz. The installation depicts the death of Father Schwartz, giving his last blessings to the king.
Sivaganga Park:
Right next to Schwartz Church is Sivaganga Park. This garden lies within the Vijayanagar Fort. The sight of this garden is a joy to behold as it has been maintained perfectly. A square tank built in the 16th century is located inside the premises and is still in use. It serves as a recreational space and is a popular picnic spot. Among the popular attractions of this park are a toy train, a zoo as well as boating facilities. The park is open on all days between 9 am and 6 pm.
Phoompuhar Art Gallery:
To be in the midst of exploring with your Thanjavur tourism packages and not indulge your senses with some Tanjore paintings would be a mistake. The Phoompuhar Art Gallery not only exhibits but also sells a wide range of Tanjore paintings, murals, idols, etc.
Best Time to Visit Thanjavur
The summers (March-May) in Thanjavur could be very hot and dry but you can avail some great prices for Thanjavur tour packages at Veena World during this time. The best time to explore Thanjavur would be the winter season (December-February). The temperatures are moderate and quite conducive for a Thanjavur trip.