Hyderabad Tour Packages
Culture at its precipice, tradition in its roots, and sights that tell stories – you'll love visiting Hyderabad!
Hyderabad, the Land of the Nizams, is today one of India's fastest-growing cities, with the most recent launch of the Hyderabad Metro. Known as the City of Pearls during the erstwhile colonial era, Hyderabad was the opulent seat of power of the Nizams that ruled over this princely state. Existing today as the capital city of the newly formed Telangana state and the de jure capital of Andhra Pradesh, a city tour of Hyderabad lets one witness and explore the perfect blend of deeply traditional Nizami heritage and the modern hubbub created by the spunky new IT hubs developed here.
There is a distinct old-world charm about the city despite the rapid urbanization and you can feel it as you visit the numerous historical monuments, famous temples, mosques, parks and lakes here on a cost-effectively priced Hyderabad city tour. For a more upbeat Hyderabad trip for your vacation, you should also include discovering fun trivia about popular Tollywood films and Telugu actors on your visit to Hyderabad's Film City. Our Hyderabad tour packages and special Hyderabad honeymoon packages will leave you with enough time to explore the city's contemporary delights as you visit the wide variety of general entertainment avenues of the city, especially the restaurants and nightclubs in Hyderabad's flashiest neighbourhoods.
Hyderabad Travel Packages
| Hyderabad Packages | Day/Night | Price |
| --- | --- | --- |
| Hyderabad Ramoji City | 4 Days | ₹33,000 |
| Kashmir to Kanyakumari Road Trip | 40 Days | ₹2,00,000 |
| Hyderabad Getaway | 4 Days | ₹20,000 |
3 Hyderabad Holiday Packages
Showing 1-3 packages from 3 packages
3 departures available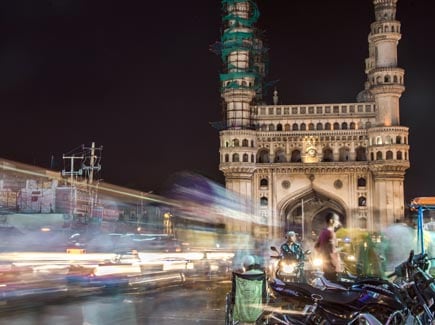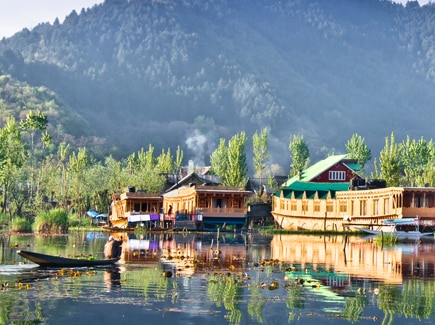 SUPER DEAL PRICE
₹2,00,000
per person on twin sharing
Bhedaghat
Gulmarg
Jhansi
Kurukshetra
Madurai
Mathura
Orchha
Panipat
Vrindavan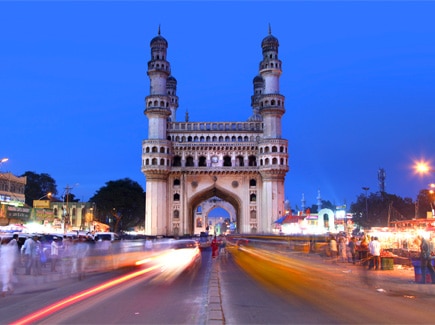 STARTS FROM
₹20,000
per person on twin sharing
Our trips have touched hearts globally
what our happy travelers are saying
Hyderabad Ramoji City

": नमस्ते आपका हैद्राबाद टुर बहुत अच्छा लगा, टुर मॅनेजर राहुल गोरगे और सुरज सावंत ने बहुत अच्छे से...

Read More

Vasanti

Travelled in Jan, 2023

Hyderabad Ramoji City

"STHY070123 Ramoji tour : Hi, It was a great experience to travel with Veena World for the first tim...

Read More

Monika

Travelled in Jan, 2023

Hyderabad Ramoji City

Aditya

Travelled in Dec, 2022

Hyderabad Ramoji City

"It was overall Nice exprience. 1st two days were quite boring but third day @ Ramoji was a fantabul...

Read More

Divika

Travelled in Dec, 2022

Hyderabad Ramoji City

"No Snack Pack , No complementary travel bag or side pouch given by veena world team which is most di...

Read More

Prasad

Travelled in Nov, 2022
Get to know more about Hyderabad before booking your tour packages
Hyderabad started its sojourn in the year 1591 AD when Sultan Muhammad Quli Qutb Shah of the Qutb Shahi dynasty of the Golconda sultanate laid the foundation for the city around the majestic Charminar Mosque. This part of the city still persists as the Old Walled City of Hyderabad amidst the bustling metropolis. Quli Qutb Shah named the new city, Bhagnagar, as a tribute to his muse, a dancer called Bhagmati. It is also rumoured that the courtesan later converted to Islam and adopted the name Hydar Mahal, thus giving Hyderabad its current name. Strategically located on the banks of the Musi River, a tributary of the Krishna, Hyderabad is one of the largest cities in southern India, making a huge impact on the nation's economy. Today you will find many Hyderabad Tour packages online that will take you on a trip through the city's timeless heritage amidst the city's vibrant modern ambience, but the cost-effectively priced online Hyderabad city tour packages by Veena World will cater to your interests specifically, whether you want a wholesome cultural vacation or an upbeat Hyderabad trip highlighting the distinct gems stored with the city's perimeters.
Experience Hyderabad
Hyderabad, the City of Nizams isn't very much different from Lucknow, the City of the Nawabs, at least not culturally. If you're a fan of Indian food, it is impossible for you to have missed the connection these two cities share through their distinct and iconic forms of biryani. 'Hyderabadi' culinary culture is a unique blend of Mughlai delicacies like Nihari, Haleem, and Kababs, with accompaniments like Mirch Salan, Sheermal, and Kulfi and the South Indian staples such as Dosa, Vada, Idli, Rasam, and Sambar. Apart from delighting the foodie in you, Hyderabad, with its varied collection of historical monuments and sightseeing places provides the perfected backdrop for satiating your wanderlust.
Things to Do in Hyderabad
Without any further delay, check out the places to visit, and interesting things to do in and around the city with one of our Hyderabad city tour packages:
1. Golconda Fort:

The Golconda Fort located some distance to the west of Hyderabad and marks the former capital and seat of power of the Qutb Shahi dynasty before the foundation stone of Hyderabad was laid. Today, the fortification exists as ruined remains of the original fort of mud extending across a substantial area of land. Here you can explore its stock of lore from the time period when both the Golconda Sultanate and Mughals had control over the fort. This colossal structure requires some curious exploration in the right frame of mind as you will be climbing through a significant number of stairs and corridors. Hence it is advisable you do it with a guided city tour of Hyderabad.

2. The Charminar:

There is nothing about Hyderabad that creates an iconic image in your mind if it's not the Charminar! In fact, the city of Hyderabad developed around this landmark mosque. The iconic mosque has stood through the entirety of Hyderabad's history since the 1500s, keeping its exemplary Indo-Persian architecture and crafty sculptures intact until recent restoration projects were run on it to return this monument to its original glory. Visit the Charminar, which is an integral part of Indian cultural heritage, with our Hyderabad tour packages.

3. Falaknuma Palace Hotel:

Today, a luxurious 5-star hotel under the banner of the Taj Group of Hotels in India, the Falaknuma Palace used to be the erstwhile residence of the Prime Minister of the Princely state of Hyderabad under the Nizami rule. Literally meaning 'reflection of the sky', this palace is located atop a hill from where you will get magnificent views of the entire city. The price of staying here, even for a night, is quite high, and there is no direct access open to the general public other than to the fine dining restaurant run by Taj. However, you may book one of the Hyderabad tour packages that focus on Nizam Palaces to explore this place in its entirety.

4. Chowmahalla Palace:

The Chowamahalla or Chowmahallah Palace is the 200-year-old palace that served as the official residence of Hyderabadi Nizams. Turned into a museum, showcasing as well as preserving the Nizami way of life, their treasures, their pride and heritage, with items such as antique furniture, cars, art collections, photos, and clothes. Our Hyderabad tour packages make sure that you get to visit this beautiful and grand Chowmahalla Palace and can spend some quality time here to understand the kind of passionate lifestyle that was led by the erstwhile royalty of Hyderabad.

5. Salar Jung Museum:

Situated on the banks of the Musi River, this is one of the largest museums in India, a must-visit on any Hyderabad trip. The museum contains within its walls, a most extensive collection of arts and historical artefacts such as Nizami furniture paintings, sculptures, carvings, ceramics, textiles, carpets, and clocks among others, collected by the family of the Salar Jung Nawabs. It started out as Nawab Mir Yousuf Ali Khan a.k.a. Salar Jung the Third, who served as the Prime Minister of Hyderabad collected artefacts from across the world and started this museum.

6. Hussain Sagar Lake:

This is a large manmade tank in Hyderabad that geographically separates the city from its suburb of "Secunderabad" which was once a city. The lake was built in 1563 by Ibrahim Quli Qutb Shah and was designed by Hazrat Hussain Shah Wali, who gave the lake its present name. In the middle of the lake, there is a small rocky island, known as Gibraltar Rock, upon which a 32-ft tall monolithic statue of Gautam Buddha was erected in 1992. The lake is a huge water body and makes for a beautiful outdoor location for low-cost recreational visits. Visit Hyderabad with our Honeymoon packages and witness this beautiful heart-shaped lake in the middle of the city.






Best time to visit Hyderabad
Falling in the tropical region of the Deccan Plateau, Hyderabad is a city that sees hot climates through a large part of the year, especially making the weather outdoors unbearable during the summer months. Hence, it is advisable for you to book your Hyderabad honeymoon packages for October to late February or early March. However, you could also visit this spectacular Deccan city during the month of July-August for a monsoon special Hyderabad tour. Check out our Hyderabad sightseeing packages to be taken on an extensive tour of city's rare and hidden delights.