Lachung Tour Packages
Enjoy a beautiful reprieve, surrounded by majestic mountains that lay across Northern Sikkim, as you gave around at the snow-clad mountains and gushing waterfalls that shimmer across Lachung.
Located on the eastern edge of India, Lachung is a beautiful destination that lies at the northern borders of Sikkim. This is a picturesque mountain village and is located at the place where the river streams of the Lachung and the Lachen meet. Lachung translates to 'a small mountain', and although the town is situated at a high altitude of 8600 ft, it is surrounded by gargantuan Himalayan peaks which do in comparison make the place feel a little outsized.
Sparkling streams flow around the town, with a number of them culminating into some of the most spectacular waterfalls you have ever seen. When it comes to Lachung sightseeing, there is plenty to see and experience at this destination. Exquisite handicrafts, apple orchards, and the serene Lachung monastery that stands against a splendid snowy mountain as its backdrop are some of the key attractions of Lachung Tourism that you can explore on your trip. If you are looking for a cost-effectively priced Lachen Lachung package tour online, then Veena World can help you. Here, you can find a variety of Lachung tour packages that can help you plan a perfect vacation at this far-flung destination. While Veena World takes care of arranging a comfortable hotel, conveyance, as well as expert tour guides, all of which will be included in your Lachung Lachen package tour cost, you can concentrate on having a wholesome experience.
Lachung Travel Packages
| Lachung Packages | Day/Night | Price |
| --- | --- | --- |
| Sikkim Darjeeling Gangtok | 9 Days | ₹75,000 |
| Sikkim Darjeeling Gangtok - Pune | 9 Days | ₹78,000 |
| All of Sikkim | 10 Days | ₹80,000 |
3 Lachung Holiday Packages
Showing 1-3 packages from 3 packages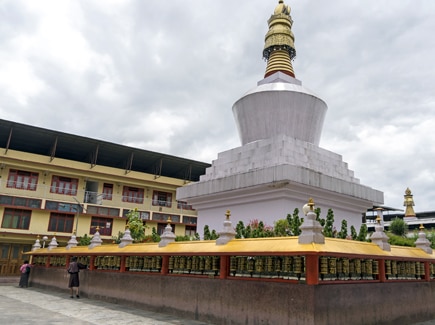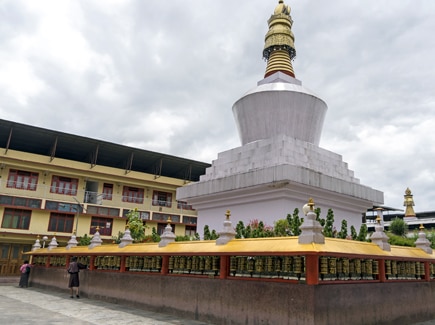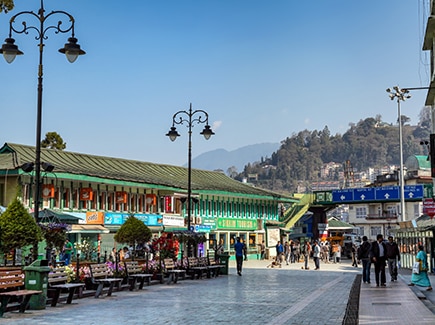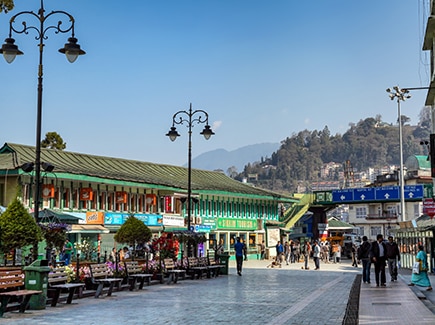 Veena World tour reviews
What are you waiting for? Chalo Bag Bharo Nikal Pado!
Lachung Frequently Asked Questions
We help you prepare for your trip and ensure an effortless and enjoyable travel experience.
Yes, at Veena World, we can help you customize your Lachung holiday as per your preferences and requirement. There are a ton of things to do in and around this mountain village. You can head to Chopta Valley for a serene view of the mountains; have a breathtaking view of waterfalls and a mesmerizing sightseeing tour of fruit orchids in the region. There are many hidden gems located in this district. With a Veena World customized holiday, you have complete control over your everyday itinerary and the number of days you choose as the duration of the trip. Speak to our travel experts to know what all you can witness during Lachung sightseeing and customize your holiday accordingly.
Yes, a group tour plan is a good option to travel and visit Lachung with family or friends. Make beautiful travel memories when you head out to this underrated tourist attraction as a group. On the way, you can visit the seven sister waterfalls on the road that leads to Yumthang Valley. Travelling with like-minded people while exploring this unique destination that has a distinct culture is best done with a Lachung-Lachen tour package. The cost of the package can be checked on the website or clarified by connecting with our travel experts.
Lachung is one of the key attractions to explore when you visit Sikkim. The district has a variety of places to explore. Start with the famous Yumthang Valley which is known for its serene view of sunset and sunrise. It is also known as the "Valley of Flowers" as the Shingba Rhododendron Sanctuary is home to more than 250+ flower species blooming between the autumn season till pre-monsoon. The district also has a lake on the mountain top and sits at 5400 metres – "Gurudongmar Lake", the sparkling view of it is sure to mesmerize you. All these places are well-planned and integrated into the Lachen-Lachung tour package by Veena World.
Each tourist destination has a peak time based on the ideal weather when the temperature/atmosphere is pleasant. Usually, tourists visit Lachung throughout the year. That being said, the best time happens to be between October and June as the temperature stays between 10°c to 16°c. You get an option to visit mountains all covered with snow and post-February, it is time for autumn when the beauty of this territory comes to the fore. It is highly recommended to opt for a Lachung tour package with a well-planned itinerary to avoid any type of uncertainty in your getaway.
Any tourist heading to this hill station keeps Chopta Valley on the top of their bucket list during the Lachung tour. During summer, the valley is bathed in a stunning medley of colours thanks to the presence of beautiful alpine flowers. Further, the road heads to Bhim Nala Falls which is among the highest falls in Sikkim - the visuals make it appear like a three-step waterfall with a stunning view even from afar. Another less explored place to visit in Lachung is the "Green Lake" which sits on a mountain-top, the route of which is usually past thick forests and meadows. The effort you put to reach there is absolutely worth it!
When you visit Lachung, it is time to immerse yourself in the Sikkimese culture and the best place to experience it is the Lachung monastery. It is a small colourful structure that's full of artefacts and has a two-storey prayer hall located just alongside the Lachung River. Another sight to behold is the zero point located at Yumesamdong; it is the edge of civilization, offering an experience of stunning vistas and cool breeze. Another underrated place in this region happens to be "Thangu Valley" – it is a valley with ideally perfect temperatures all year round with winters experiencing ice-covered mountains. The peace and the aura here are rejuvenating, making it a perfect place to visit when you plan your Lachung trip.
Despite being a high-altitude district in Sikkim, Lachung is ideal for tourists throughout the year and for most of the places you visit. However, when you climb up the Zero Point which is an extremely high altitude territory, there's less oxygen in the air which might cause subtle breathing issues for infants and the elderly but is perfectly fine for healthy individuals to visit without having to worry much about this concern. Still, heavy exertion in any activity is suggested to be avoided. When you opt for a Lachung tour package, aspects like these are educated about beforehand.
Ideally, 3 to 5 days are adequate for a full-detailed run about of Lachung including sightseeing, trying local cuisines, a therapeutic visit to the seven sister waterfalls and a lot more. Further, heading to the Zero Point and exploring Gurudonmar Lake. There is a lot to explore in this northeastern state so it is suggested to book a tour package. Everything that is a must-visit will be covered so that you can enjoy your tour without thinking about what to do next.
Lachung is a popular destination to visit in Sikkim and because of its unique geography; you get a flavour of the surrounding regions. First, is the Momos – it is a Tibetan delicacy, not just in India it has expanded its base in the entire country as a perfect snack. You should also try "Thukpa", it is also a highly recommended dish in Sikkim. It is a flavourful noodle soup with origin from the eastern part of Tibet. Lastly, a very unique dish named "Gundruk" is a dish with origins in Nepal and is a staple food and a traditional delicacy that is prepared in an earthen pot. All these delicacies require time to explore and try and are highly recommended during your Lachung/Lachun tour package.
Lachung is a hill station with mountains covering it from all four sides. So, there is a variety of hotels/resorts in the locality. When you book a Lachung tour package from Veena World, rest assured about getting the finest hotels/resorts, the best daily itinerary and a stay that offers easy connectivity and wholesome views.
Get to know more about Lachung before booking your tour packages
Lachung is located close to the Tibetan border in the northeastern state of Sikkim and offers spectacular views of the towering eastern Himalayan ranges. The vivid landscapes that surround the town are complemented perfectly by the calm and serene atmosphere of this small village.
Huge numbers of tourists head towards Lachung each year to witness for themselves the surreal landscapes and sparkling streams that are woven all across the region and are an integral part of Lachung Tourism.
The handicrafts and woven rugs that are made in Lachung have made a name for themselves all over the world and are quite sought-after by the tourists that visit Lachung. Besides the astounding views of nature and shopping opportunities, there are also several places to visit in Lachung that can keep you engaged on your trip.
Travellers frequently prefer including Lachen in their Lachung tour packages, so they can get a comprehensive experience of the land of lakes, festivals, and snow-clad mountains. Lachung also serves as the perfect layover for all the adventure enthusiasts who are heading towards Yumthang meadow each year, which is an activity that you too can get included in your Lachung Lachen package tour cost.
Experience Lachung
Lachung has several tourist places that capture the essence of this curious little town rather perfectly. One of the most well-known, the Lachung Monastery, is also one of the key attractions of a Lachen Lachung tour package.
The monastery was built around the year 1880, and today is surrounded by apple orchards on all sides. Each day the evening prayers can be heard echoing in the apple orchards as the sun sets behind the towering mountains. This is a view that you simply must not miss on your Lachung Lachen package tour at any cost. When evening comes, you can head out towards the markets of Lachung for more sightseeing as you check out the local handicrafts and artworks being sold there. The rugs made in Lachung are exceptionally renowned and are crafted by skilled artists who have been involved in this trade for several generations. The other items available in the markets include handicrafts, local food, and other items. You can pick up a quirky handicraft item from one of the many shops in the market as a souvenir to remember your Lachung trip.
Things to Do in Lachung
The cost of a Lachung Lachen package is very affordable and the wonderful landscapes that you will get to experience on your Lachung trip are exceptional. Due to this, thousands of people each year flock to Lachung, to experience its splendour and magnificence first-hand. Some of the following tourist places in Lachung serve as the finest destinations in the region that you can visit on your trip:
• Lachung Monastery:

The Lachung Monastery has been in the region since the 19th century and is located amidst lush apple orchards. If you book a cost-effectively priced Lachen Lachung tour package during the months of August to November, you will get to experience the apple harvest season, which is quite the experience!

• Yumthang Pass:

Yumthang Valley is located at a distance of about 25 kilometres from Lachung. It is well-known as the Valley of flowers, as during spring season the entire valley turns into a beautiful meadow of colourful flowers that spread all across the landscape. Since the region is located close to the Indo-Sino border, you will be required to take a permit along with your Lachung Lachen package tour, the cost of which is pretty low.

• Visit the Zero Point:

The Zero point forms a major aspect of Lachung Tourism and should definitely be included in your Lachung tour package. The destination is the last post of civilization and thus is known as the Zero Point. Being a place close to the China border, a permit is required for tourists to visit here, for which a regularized price is charged. Your Lachung trip would be incomplete without a visit to the Zero Point which is a highlight for a lot of travellers; after all, it is the final frontier. After the Zero Point, there are no settlements for thousands of kilometres on the frigid Himalayan mountains.






Best Time to Visit Lachung
The town of Lachung is a tourist hotspot and thus can be visited throughout the year. The months of summer bring lush green meadows along with gushing streams of pristine water, whereas winters bring in a coat of flaky snow that covers the entire valley. The monsoons, however, are not a preferred season to go to Lachen Lachung, as the weather is unfavourable for enjoying the attractions. The monsoons also cause a lot of restrictions to be put on several outdoor activities, which Lachung is famous for.