Murudeshwar Tour Packages
Offering a rare blend of nature, culture, and adventure, Murudeshwar is just the right place for the rejuvenating trip that you've been planning for!
Sandwiched between the expansive Arabian Sea and the enchanting Western Ghats, Murudeshwar is a quaint town in Karnataka. Dotted with several ancient Hindu temples, this place not only holds great religious significance for Hindus but is also famous for its abundance of natural beauty. It is home to a number of pristine beaches, scenic waterfalls, and lush green forests. So, other than soaking in the serenity, you can also experience some amazing adventurous sports here like scuba diving, hiking, etc. to get an adrenaline rush. Or, if you are a shopaholic and love to take some part of every new place you visit with you, head out to any of the vibrant local markets in Murudeshwar and shop your heart out. In short, this beachside town has everything that one may look for in a perfect holiday destination.
If you are also planning a vacation to this fascinating town, explore our large collection of well-priced Murudeshwar tour packages. All these packages are all-inclusive, which means you don't have to spend hours planning the trip. You can simply reach out to us and choose a Murudeshwar trip package as per your specific requirements. From making travel arrangements to booking hotels, and finding tour guides to planning a day-to-day itinerary, our team of expert travel advisors will take care of everything.
Murudeshwar Travel Packages
| Murudeshwar Packages | Day/Night | Price |
| --- | --- | --- |
| Coastal Karnataka | 8 Days | ₹56,000 |
1 Murudeshwar Holiday Packages
Showing 1-1 packages from 1 packages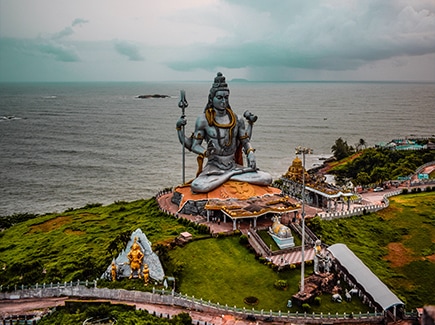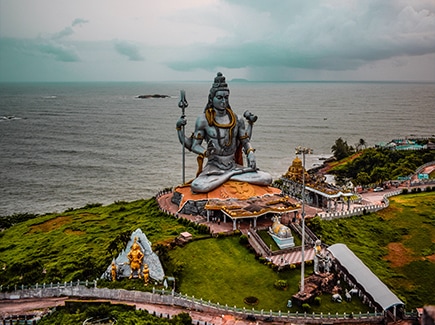 Murudeshwar is an idyllic coastal town in Uttara Kannada district in the Indian state of Karnataka. Earlier known as Mrideshwara, it was later renamed after the construction of the Shri Murudeshwar temple, which is also a famous pilgrimage site for Hindus. This town is mainly famous for being home to the world's second-tallest Shiva statue. With a staggering height of 123 feet, this majestic statue is perched atop a small hillock and enthrals a large number of visitors on a daily basis. Often referred to as the holy abode of Lord Shiva, Murudeshwar has plenty of other tourist attractions, such as the rustic Mirjan Fort, the heart-shaped Netrani Island, the scenic Apsara Konda Falls, and many more.
How to Reach
Being a famous tourist destination, Murudeshwar offers seamless connectivity to other parts of the country. Here's how you can reach this scenic coastal town:
By Road: Murudeshwar is well-connected to other nearby cities, such as Bengaluru, Mysuru, Udupi, etc., through state and national highways. There are several bus services (private and government) that operate on a regular basis. Or, you can choose to come here by car as well.
By Train: Murudeshwar Junction is the main railway station that serves this coastal town. You can easily find several trains to Murudeshwar from all the major Indian cities, such as Delhi, Mumbai, Hyderabad, etc.
By Rail: Although there is no direct flight connectivity to Murudeshwar, Mangalore is the nearest airport, with an approximate distance of 135 kilometres. You can take a flight to Mangalore and then either take a bus or hire a private taxi to reach Murudeshwar.
Must-Visit Places in Murudeshwar
Here is a list of some of the major attractions that you can include in your Murudeshwar tour package itinerary:
Murudeshwar Beach
Situated right next to the Kanduka Giri, this is one of the best beaches in Karnataka, not just in Murudeshwar. Dotted with coconut and areca groves and surrounded by hills, this scenic and clean beach enthrals tourists throughout the year. Here, you can indulge in activities like swimming, fishing, sunbathing, boating, water scooter riding, paragliding, etc. Apart from this, Murudeshwar Beach is also known for its stunning sunset views.
Mirjan Fort
Spread over an area of 4.1 hectares, Mirjan Fort is an excellent example of the glorious history of this place. This magnificent castle-like fort is believed to have been built between 1608 and 1640 A.D., on the orders of Rani Chennabhara Devi, the pepper queen of India. A couple of battles were fought in this fort in the 16th and 17th centuries. During British rule, this fort was captured and served as an armoury for the government. Years later, this beautiful structure was declared a protected monument by the Archaeological Survey of India.
Statue Park
Adorned with numerous beautiful stone sculptures, including the majestic statue of Lord Shiva, this is among the most frequented places in Murudeshwar. Overlooking the Arabian Sea, this place has a different kind of positivity that will definitely leave you fresh and energized. Another major highlight of this park is a man-made waterfall, which serves as a picnic spot for locals and tourists alike.
Netrani Island
Local sightseeing packages in Murudeshwar are bound to include this one. Neatly tucked in the shimmering Arabian Sea, Netrani Island is another major tourist attraction. This heart-shaped coral island boasts a rich variety of marine species, such as triggerfish, parrotfish, eels, butterflyfish, shrimp, etc. So, if you want to be up close to aquatic life, this is the best place you can visit. Other than this, you can also enjoy several water sports, such as scuba diving, snorkelling, etc., on this island. To reach here, you will have to take a small boat ride, which is a thrilling experience altogether.
Apsara Konda Falls
Located at a small distance of 20 kilometres from the main town, Apsara Konda Falls is a popular day picnic spot in Murudeshwar. Cascading from a height of over 50 feet to a natural pond and nestled amidst the lush green forests, this waterfall is definitely a sight to behold. If you are looking for a spot where you can simply laze around and witness the natural beauty, this is just the right place to be.
Best Time to Visit Murudeshwar
The best time to visit this beautiful town is during the winter season (from October to February). During these months, the weather remains pleasant enough for sightseeing and other outdoor activities. So, you should ideally book a Murudeshwar package around this time to explore everything that this place has to offer. Other than this, Mahashivaratri (which typically occurs in late February or early March) is a festival that is celebrated with great enthusiasm here. So, this town experiences a huge visitor influx around that time as well. Between June and September, Murudeshwar experiences heavy rainfall, so it is best to avoid planning a trip during those months.
Book the Best Murudeshwar Tour Packages with Veena World
At Veena World, you can find a wide range of well-crafted Murudeshwar tour packages. Our all-inclusive Murudeshwar tourism packages have been designed to cater to the requirements of every type of traveller. Whether you are a solo traveller exploring the world, a couple planning a romantic getaway, or want to go on a family vacation, browse all the available options and take your pick. Apart from these pre-designed Murudeshwar local sightseeing packages, we also offer an option for customised holidays, where you can plan your trip the way you want. Or, if you want to travel with other like-minded people, you can also book a group tour and explore the place.