Macao Tour Packages
Visit a destination that spells fun, entertainment, history, and adventure from the get-go!
The Macao Special Administrative Region of the People's Republic of China or simply Macao or Macao is often called the Las Vegas of China. Macao has world-class casinos, entertainment centres, gaming arcades, and a glitzy nightlife that attract millions of gaming enthusiasts and tourists from around the world to book a Macao tour package. But it would be unfair to label a Macao tour package as one with only gambling and partying activities, as there's so much more to the place. Beneath the glitz and glamour, on booking Macao holiday packages, you are treated to a unique amalgamation of Chinese and Portuguese culture and heritage.
If you are looking at online Macao packages from India, you should take a look at the several Macau vacation package deals available at Veena World. Since Macao is quite popular with honeymooners as well, Veena World has curated some of the best Macao honeymoon packages from India so you can enjoy an excellent vacation with your special one. Each of Veena World's online Macao tour packages is carefully designed to meet every price criterion. A special vacation awaits you when you choose a specially curated package from Veena World to visit this unique travel destination.
Macao Travel Packages
| Macao Packages | Day/Night | Price |
| --- | --- | --- |
| Hong Kong Macao Shenzhen | 7 Days | ₹1,60,000 |
Showing 1-1 packages from 1 packages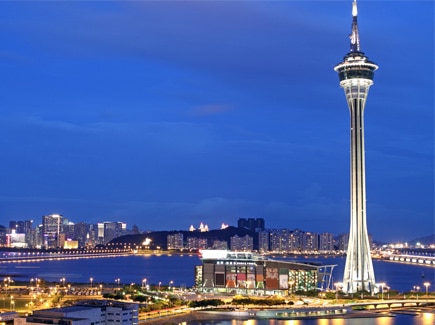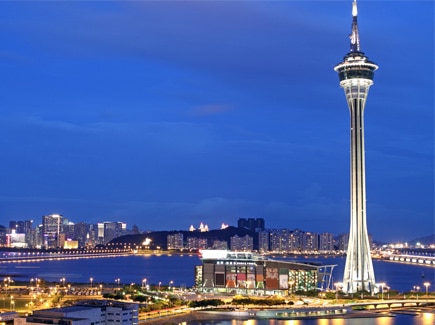 SUPER DEAL PRICE
Starts from
per person on twin sharing
Veena World tour reviews
What are you waiting for? Chalo Bag Bharo Nikal Pado!
Hong Kong Macao Singapore

""Highly thankful to Ajay for taking great care of the group throughout the trip. Enjoyed visiting th...

Read More

Seema

Travelled in May, 2019

Hong Kong Macao Shenzhen

""Just wanted to take the opportunity to thank you for arranging a wonderful Hong Kong, Macao and She...

Read More

Prasad

Travelled in Mar, 2019
Get to know more about Macao before booking your tour packages
Macau or Macao is a densely populated area that has been given the status of a special administrative region. It is located on the southern coast of China, just 60 km from Hong Kong. The Portuguese ruled Macau until 1999 after which it was transferred to China. It is an autonomously governed region, independent from mainland China.
If you thought Las Vegas brings in the most moolah from the gambling and gaming industry, you couldn't be farther from the truth. The amount of revenue that Macau earns from the gambling and gaming industry is seven times more than in Las Vegas. Over the years, this tiny state has become one of the top resort destinations for gambling tourism.
The majority of Macau's population is of Han Chinese ancestry and you will see a lot of traditional architecture as well as an overwhelming Chinese influence on the culture on your Macau tour package. The other prominent ethnicities are Fujian, Filipinos, Vietnamese, Macanese, and Portuguese. Although both Chinese and Portuguese are the official languages, Portuguese is spoken by only around 2% of the population.
Experience Macau
The Portuguese and the Chinese come from starkly different parts from of world, but in Macau, the juxtaposition of these two contrasting cultures is beautifully woven in a cultural tapestry. The people of Macau celebrate a lot of festivals, holidays, and events that celebrate these two cultures. If you have planned to book a Macau package from India for November, you could catch the Macau Grand Prix, which is like the ultimate crescendo of all the events.
Macau is more than a destination that you visit with your Macau vacation package deals to have fun at the casinos and leave. The real charm of the place lies in its deep history and a long cultural legacy. On your Macau tour package, enjoy a stroll around the peninsula to explore the many colonial ruins, each telling a story about the glorious past. The historic centre has been included in the list of China's most significant World Heritage Sites. It is a place that stays with you long after your vacation has ended.
Visitors love to shop here as Macau is a free port and the goods arriving here are exempt from customs duty. Make sure to keep some time apart for some retail therapy at the many malls here. A Macau package from India gets all the more exciting when you get to be a part of the famous party scene here. Upscale restaurants, ritzy nightclubs and lounges, luxurious gaming tables, and an intoxicating atmosphere all await you in Macau. If you are on a Macau honeymoon package from India, your partner and you will definitely have a great time.
Things to Do in Macao
Whether you are into gambling or not, Veena World has the best selection of Macau holiday packages and Macau honeymoon packages for you to choose from. Do check out their prices and costs online before booking as there are many great deals on Macau vacation packages that you can avail.
Here are some of the most famous tourist places in Macau that you can explore on your trip: -
A-Ma Temple:

This is a very important 15th-century Buddhist temple that is dedicated to the Chinese Goddess Matsu who is considered to be the goddess of seafarers and fishermen. Many believe that the name Macau originated from this temple. This temple should definitely be included in your Macau package from India as it is part of Macau's UNESCO Historic Centre. The temple is divided into six sections, namely the Gate Pavilion, Prayer Hall, Memorial Arch, Hall of Benevolence, Zhengjiao Chanlin, and Hall of Guanyin. The most striking features of this temple are the stone lions and statues of Goddess Matsu. When here, do not miss out on the spectacular scenery of the surrounding bay.

Ruins of St. Pauls:

These ruins are one of the most visited attractions on Macau honeymoon packages. Locally known as Sam Ba Sing Tzik, the ruins are the remains of the century-old Jesuit Church called the St. Paul's Cathedral, which happens to be the biggest church in East Asia. The original structure was built in the 17th century. The ornamentations, figures of Jesus and Madonna as well as displays of the devil, angels, and a Portuguese ship make the ruins a must-visit destination.

Senado Square:

Senado Square is no ordinary commercial square but is UNESCO World Heritage Site. It is a great addition to any Macau tour package as a leisurely walk around the square is quite magical. Colonial buildings, a fabulous fountain, and the rousing vibe of the place make it quite alluring to visitors. Senado Square is decked up in the finest adornments during festivals and events.

Fortaleza do Monte and the Macau Museum:

Built in the 17th century, this fortress was an important Portuguese military base under the Portuguese rule in Macau. The fortress now houses the Macau Museum which is of great importance as it showcases the pre-history and history of Macau as well as the amalgamation of Chinese, Portuguese, and Macanese cultures. The Mount Fortress Garden is a refreshing slice of greenery with a beautiful pond and with gorgeous flower beds.

AJ Hackett Macau Tower:

The observation deck in the Macau Tower provides visitors with breath-taking views of the city and is housed in the Macau Tower Convention and Entertainment Centre. There are multiple restaurants, shopping arcades, and entertainment opportunities here to be explored. And if you are feeling particularly brave, try the world's highest bungee jump at the 233-meter mark at the Macau Tower Skywalk.

Giant Panda Pavilion:

Who doesn't love the absolutely adorable pandas? You can look for Macau vacation package deals for your family and the kids to include the Grand Panda Pavilion where you can witness the pandas lazing around and being playful. Apart from the giant white pandas, there are the red pandas and several monkey species here as well.
Best Time to Visit Macao
A Macao tour package is best avoided from July to September, which is the typhoon season. The autumn and winter months (October to December) are the best times to enjoy a memorable vacation in Macao.