Portugal Tour Packages
Medieval at heart, contemporary in perspective, laid-back in its actions - Portugal is the answer to every traveller's wanderlust.
What lures millions of international tourists to book their Portugal tour packages is not a question that has a single answer. There's such a variety in the number of ways in which you can enjoy your Portugal tours that finding the right kind of Portugal travel packages, regardless of the kind of traveller you are, is not at all a hard task. For those who go weak at the knees at the sight of fairy tale castles and cobblestone streets, there's Sintra. For those who lose themselves in the brush strokes and old artefacts, there's Lisbon. For the adventure junkies, the place has mountains and cliffs. And for the beach bums, there's an 800 km long coastline that is dotted with the most bewitching beaches. Package holidays to Portugal truly have everything to offer to visitors.
If the above description is something that interests you a lot, pushing you to start planning your next vacation, head straight to Veena World! Check out the various online Portugal tour packages from India, and search based on the prices and costs involved. Veena World has an array of Portugal tour packages that are cost-effectively priced. These packages are tailor-made to ensure that you can find Portugal tours that guarantee a no-fuss travel experience and cover all the destinations that interest you.
Portugal Travel Packages
| Portugal Packages | Day/Night | Price |
| --- | --- | --- |
| Spain Portugal | 12 Days | ₹2,53,000 |
| Spain Portugal Morocco | 15 Days | ₹3,00,000 |
| Best of Portugal | 7 Days | ₹94,719 |
3 Portugal Holiday Packages
Showing 1-3 packages from 3 packages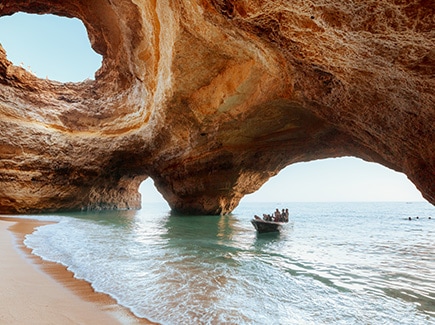 SUPER DEAL PRICE
Starts from
per person on twin sharing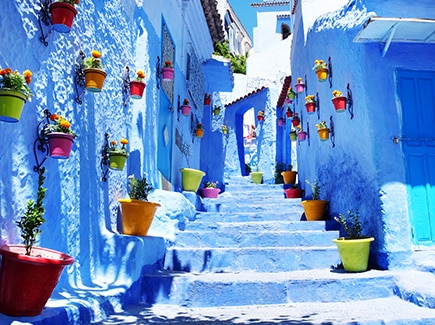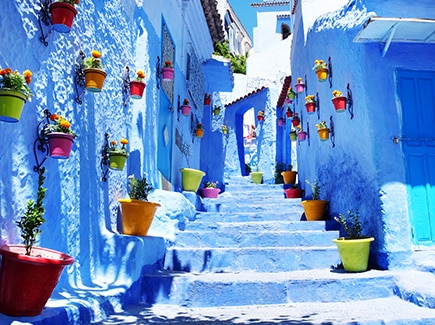 SUPER DEAL PRICE
Starts from
per person on twin sharing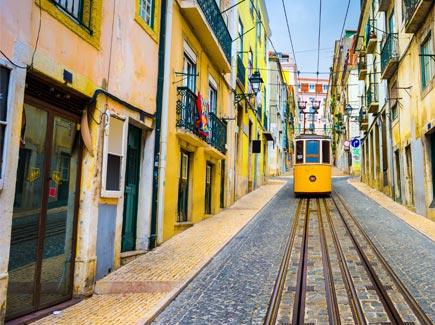 Starts from
per person on twin sharing
Veena World tour reviews
What are you waiting for? Chalo Bag Bharo Nikal Pado!
Spain Portugal Morocco

"Excellent Sapin Tour experience : Hello, It was amazing experience, About Mr Kamlesh treats gue...

Read More

Nikitabahen

Travelled in Jun, 2023

Spain Portugal Morocco

"Enjoyed the trip, Our tour guide Prashant made it very comfortable . His voice messages on whatsapp...

Read More

Savita

Travelled in May, 2023

Spain Portugal Morocco

"This is our 4th Tour with Veena World so that itself speaks of our entire satisfaction with your Tou...

Read More

Janet

Travelled in May, 2023

Spain Portugal Morocco

"Spain Portugal morroco tour : Very excellent time and people and places management by Tour Manager ...

Read More

Shrikant

Travelled in May, 2023

Spain Portugal Morocco

"EUPM110523/A/29 tour code feedback : I Amarapur Rajashekar successfully completed Spain Portugal mor...

Read More

Rajashekar

Travelled in May, 2023
Portugal Frequently Asked Questions
We help you prepare for your trip and ensure an effortless and enjoyable travel experience.
Yes, Veena World offers you the facility to customise your trip to Portugal according to your preferences. With customised holidays, you can take in the sights and sounds of Portugal at your leisure while filtering out tourist attractions you want to exclude. So, whether you are going on a solo trip or travelling with your family and friends to Portugal; a customised holiday by Veena World will help you design your trip to suit your interests, time and budget.
Planning a trip to Portugal and choosing a tour package that ticks all the right boxes involves several aspects. One of the most important factors you need to consider when choosing a Portugal tour package includes the duration of the trip you are looking at. Other important factors include tour price, itinerary, group size and transportation you would need on your entire trip. You can explore a wide range of Portugal tour packages on Veena World and choose a package after considering the above factors before choosing the most suitable one.
Yes. Portugal is in the Schengen area of Europe, which does not have a Visa-free arrangement with India. Hence, Indian tourists do need to have a Portuguese Schengen Visa before booking a vacation package to Portugal. The standard Portuguese Schengen Visa lasts up to 90 days, known as short-term Visa. Multiple-entry visas are also available in case you wish to travel regularly to the Schengen area of Europe. Furthermore, Indian nationals must apply for a Portuguese Schengen Visa in advance as Visa on arrival is not eligible for tourists coming from India. Stay updated about India to Portugal travel visa information, including the processing time, right here.
Ideally, a minimum of seven days must be set aside to explore multiple travel destinations around Portugal. Most travellers frequenting Portugal automatically choose a week-long vacation, as the duration is enough to see some of the best parts of the country, starting from endless beaches to the rugged mountains of the Serra da Estrela in Portugal. Some of the most popular destinations that you can explore on your holiday package to Portugal include Algarve, Setubal, Lisbon, Sintra and many other tourist attractions. Depending on your preferences, you can choose the most suitable holiday package to Portugal by exploring a wide range of tour packages available on Veena World.
The easiest way to plan a trip to Portugal is by choosing the right Portugal tour package from India from Veena World. Once you choose the suitable package, the next thing you need to do is pack your bags and enjoy your vacation with Veena World as your travel partner. With Veena World, all aspects of your travel, such as your travel itinerary, local transportation and tour guide, accommodation, meals and other inclusions, will be taken care of by Veena World. So, explore the various Portugal tour packages from India listed on Veena World to get started with your trip planning.
Portugal is a beautiful and diverse nation, offering a variety of mesmerising attractions, making it a perfect choice for newlywed couples. Honeymooners can start from Portugal's capital city, Lisbon. Indulge themselves in the local cuisine and explore the historic and lively neighbourhood. Then head to Porto to stroll hand in hand across Dom Luís I Bridge, get on an enjoyable boat ride along the Douro River and explore the lovely district of Ribeira. Relax with your partner in the sun-soaked beaches of the Algarve region, while for stunning views of waterfalls, wildlife and landscape, Madeira offers Levada walks. Uncover the volcanic landscape of the Azores and cherish the idyllic vibe of Evora. At Veena World, book your Portugal honeymoon packages and be ready to gather memories for a lifetime.
Portugal has everything for every type of traveller at every time of the year. In spring, you will be welcomed by luxuriant greenery and blossoming flowers, while autumn offers you harvest festivals and bright, vibrant and bold colours of autumn leaves. The summer months of June to August are perfect for beach activities but can be thronged by crowds of people. From December to February, the winter season witnesses rainfalls and cooler temperatures, which are good for indoor attractions and activities. You can also plan a trip to Portugal during the shoulder seasons of fall (September to October) and spring (April to June) when there are lesser crowds, moderate temperatures and decreased accommodation prices. Pack your bags for Portugal travel packages with Veena World for a fun-filled trip.
Definitely, there are an array of reasons that make Portugal worth visiting. From the warm hospitality of the locals, splendid landscapes, serene beaches, and rich culture to captivating history and much more can be easily witnessed in this country. From the alluring palaces of Sintra and the scenic grape plantations of Douro Valley to the remarkable coastline of Algarve, Portugal has everything a tourist can ask for. Its affordability, pleasant weather, and comfortable atmosphere make it an ideal attraction for all kinds of travellers. Whether you are a history buff, someone seeking relaxation or an adrenaline junkie, this place is sure to make you fall in love with its beauty and charm, leaving you yearning for more. With Veena World, plan and book your Portugal holiday packages from India and come back with a bag filled with fond memories.
Yes, Portugal is a safe and secure destination for every tourist, whether Indian or from any part of the world. Locals are well known for their friendliness and hospitality towards travellers. In the past many years, mishappenings and violent crimes against tourists have rarely been heard. But it is always advisable to respect and follow the local rules and guidelines, keep your cash and valuable personal belongings in a safe place and always adhere to the instructions provided by the tour guides on the tour. However, you can book hassle-free Portugal packages from India at Veena World.
Yes, going on a group tour to visit Portugal is a great option, as group tours are fun, adventurous and full of entertainment. On group tours, you get to meet people from different cultures, backgrounds and religions, sharing and bonding with one another. There will not be a moment when you will feel bored as everybody has a story of theirs to tell. Moreover, travelling in the company of like-minded people fosters long-lasting relationships and builds a sense of camaraderie and social interactions. So what are you waiting for? Book a Portugal group tour with Veena World now.
About the Destination
Known officially as the Portuguese Republic, Portugal is a Southern European country located on the Iberian Peninsula. It is also the oldest nation on the Iberian Peninsula. Its capital is Lisbon. Portugal established itself as the world's first Global Empire and invaded and established colonies far and wide. The Celts, Romans, Visigoths, Moors, and Christians all have left an indelible impression on Portuguese culture, heritage, and architecture, all of which is visible on Portugal travel packages.
The country enjoys a broad spectrum when it comes to geography, ranging from the mountains to the sea, valleys to rolling plains, and plateaus to beaches. The native Portuguese have Iberian ancestry and they comprise 95% of the population. Although Portugal identifies as a secular state, a whopping majority of the people follow Roman Catholicism and there's no dearth of majestic churches to see on a Portugal tour package.
Experience Portugal
Portugal is one of the most sought-after travel destinations globally. People avail Portugal holiday packages from India online to be a part of a centuries-old culture and heritage. Superbly preserved medieval towns, castles, and palaces offer a sneak peek into a grand era gone by. Veena World's cost-effectively priced Portugal honeymoon packages available online are getting quite popular as honeymooners fall in love with the exquisite natural beauty of the country and simply can't wait to have the perfect vacation in the country. Take a hike along the Parque Nacional da Peneda-Gerês, gaze at the emerald waters of the infinite Atlantic Ocean or dance the night away at a jazzy nightclub in Lisbon; Veena World's Portugal packages from India offer a heady mix of the old and the new.
Portugal packages from India take you to the hinterlands of the country where the real soul of Portugal is. Gorging on grilled sardines and Arroz de Sarrabulho while sipping on some world-famous Port Wine – it paints quite a picture for your Portugal tours.
Things to do in Portugal
The best thing about availing a Portugal holiday package from India through Veena World is that they are customisable. You have the liberty of planning your Portugal vacation package or Portugal honeymoon package the way you want.
Listed here are some of the most famous Portugal sightseeing destinations that you can include in your itineraries:
• Mosteiro dos Jerónimos:
Located in the Belém suburb of Lisbon, Mosteiro dos Jerónimos is a lasting tribute to the great Portuguese navigator and explorer Vasco da Gama. It was commissioned by King Manuel I after Vasco da Gama discovered the sea route to India in 1498. This majestic monument, one of the country's most prominent landmarks, is usually the first stop for travellers on Portugal packages from India. Built in the traditional Manueline architecture, this monument was designed by the master architect Diogo de Boitaca. The monastery here is dedicated to the monks of the Order of St Jerome and it continued to be used as a school and orphanage until 1940 after the order was dissolved in 1833. The church here is another highlight of the monument. The interiors are absolutely breath-taking with ornate arches and intricate wood carvings. Vasco da Gama and 16th-century poet Luís Vaz de Camões are buried here. This monument is a must-visit on package holidays to Portugal.
• Palácio Nacional de Sintra:
Sintra was a favoured winter retreat for the Portuguese royals owing to the exquisite scenic beauty of the landscapes in the surrounding areas. Travellers flock to this place on Portugal tour packages from India to embrace its gorgeousness. The area is considered to be so beautiful that it has even earned the status of being a UNESCO World Heritage Cultural Landscape. And sitting amidst such gorgeousness is Palácio Nacional de Sintra, located at the central square of the old town of Sintra Velha. The architecture of the palace is a mixture of Moorish and Manueline styles. Among the many attention-grabbing highlights are the Swan Room (Sala dos Cisnes) with a fresco of 27 gold-collared swans, Magpie Room (Sala das Pegas) where the ceiling is decorated with magpies and Sala dos Brasões where shields of 72 prominent 16th-century families are kept.
• Mosteiro de Santa Maria da Vitória:
Be prepared to go speechless at the sight of this humongous monastery built to commemorate the 1385 Battle of Aljubarrota. There's an interesting story behind this monastery. It so happened that Juan I of Castile came charging with a 30,000 strong army to claim the throne of João d'Avis. In desperation, he invoked the Virgin Mary for help and promised to build a monastery in her name. His prayers were answered when his small army defeated Juan I's huge army. In return, João d'Avis built this monastery with fabulous limestone exteriors and a Gothic interior that has been decorated with angels, saints, apostles, and other biblical figures. It is a mammoth edifice that leaves visitors on Portugal vacation packages enchanted.
• Serra do Gerês:
The Serra do Gerês mountain range is located in the Minho region of Northern Portugal and is a must-visit for honeymooners who want to spend some quality time on their Portugal honeymoon packages. The remoteness of the place adds to its captivating charm. This is a paradise for outdoor lovers too as the region offers fabulous hiking options. Hike, walk, or just sit down in quiet amazement of the scenery around, as these mountains are contained within the alluring National Park called Parque Nacional da Peneda-Gerês. Miles and miles of wilderness punctuated by pristine lakes and native flora and fauna; it is one of the best green vestiges of Europe.
• Universidade de Coimbra:
Located in one of Portugal's most captivating cities, Coimbra, the Universidade de Coimbra is the country's oldest university, founded in 1290 by King Dinis. A UNESCO World Heritage Site, this place is a great inclusion for Portugal tour packages. The buildings of the old Coimbra University are built around a collonaded square. The Sofia and Alta wings of the university were former royal residences. One of the highlights of this place is the beautifully decorated library known as Biblioteca Joanina, installed in 1717 by King João V.
• Museu Calouste Gulbenkian:
When your Portugal travel package takes you to Lisbon, you cannot miss this museum. This museum houses one of the finest art collections in all of Europe. It used to belong to an Armenian oil tycoon named Calouste Sarkis Gulbenkian. Upon his death, he bequeathed his possessions to Portugal. The items on display cover a staggering 4000 years and have artefacts ranging from classical and oriental Antiquity to European art of the early 20th century.
Best Time to Visit Portugal
A Portugal tour package from India can be planned for any time of the year. But given a choice, plan your Portugal honeymoon package from March to early June or from mid-September to mid-November. Most attractions are best experienced during these times, so booking Portugal holiday packages from India in these months would let you enjoy a great vacation in this South European country.