Gokarna Tour Packages
A revered temple town lined with long stretches of golden beaches and blue waters, Gokarna is nothing short of a perfect vacation destination.
What comes to your mind when you picture soft sand beneath your feed, the breeze of the sea passing through your hair, and the waves of the sea sounding like a melody? Without any doubt, a majority of readers would picture the place to be Goa. Not conventionally touristy, but Gokarna is another quaint little beach destination that has slowly transformed its image into a beach paradise. Located on the western coast of India, Gokarna is a place in Karnataka that boasts ancient temples, blissful beaches and scenic landscapes. Gokarna is often referred to as 'Mini Goa' due to its resemblance to Goa. But believe us when we say the tranquil ambience and the laid-back vibe of Gokarna are no less than any other beach destination.
Look no further than Veena World's Gokarna tour packages if a trip to Gokarna is already on your bucket list. And if you have not added already, now is the time to explore the various Gokarna packages listed on the website to choose the most suitable for you. Get prepared to bask in the holy bliss of Gokarna, learn about its folklore and enjoy the serenity to its fullest.
Gokarna Travel Packages
| Gokarna Packages | Day/Night | Price |
| --- | --- | --- |
| Coastal Karnataka | 8 Days | ₹56,000 |
| The Great Indian Peninsula Road Trip | 50 Days | ₹2,50,000 |
2 Gokarna Holiday Packages
Showing 1-2 packages from 2 packages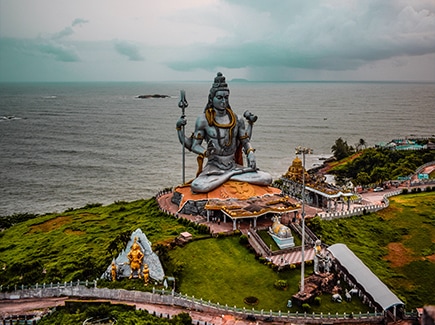 SUPER DEAL PRICE
Starts from
per person on twin sharing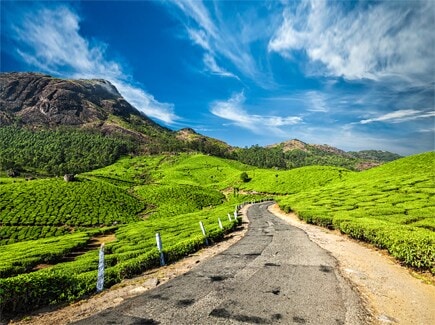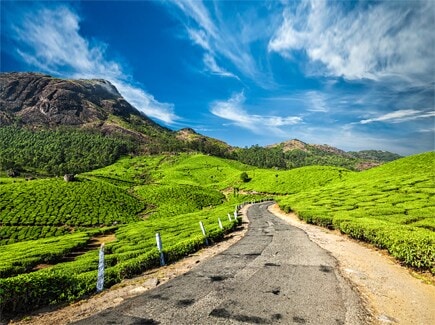 The Great Indian Peninsula Road Trip
SUPER DEAL PRICE
Starts from
per person on twin sharing
Veena World tour reviews
What are you waiting for? Chalo Bag Bharo Nikal Pado!
Coastal Karnataka

"Costal Karnataka tour : Sir/Madam This is my first tour with Veena Tours and Travels. Hats off to yo...

Read More

Kamal

Travelled in Mar, 2023

Coastal Karnataka

Divya

Travelled in Feb, 2023

Coastal Karnataka

"आम्ही तीन साडू आणि 3 बहिणी असे सहा जण कोस्टल कर्नाटक ट्रीप वीणा कडून 14 जानेवारी ते 21 जानेवारी सहल ...

Read More

Sampat

Travelled in Jan, 2023
About Gokarna: A Hidden Gem on the Western Coast
If you feel like sitting beside the cobalt-blue ocean, meeting new people, tasting the scrumptious food, taking blessings from some of the most ancient temples or enjoying beachside parties, then booking a Gokarna tour package is one of the best things you can do. The name Gokarna literally translates to cow ears, where 'Go' means 'Cow' and 'Karna' means 'Ears'. Interestingly, the zoom-out map of Gokarna also seems like an ear, which is actually the confluence of the holy rivers Aghanashini and Gangavalli. There are numerous stories and folklore about how Gokarna got its name. One of them is when Lord Bhrahma sent Lord Shiva to the Patal Lok or beneath the earth, Lord Shiva emerged from the ear of a cow, hence the name.
There are endless things to add to your itinerary when it comes to booking a Gokarna trip package, and that's exactly why the place has been gaining popularity among adventurers and spiritual tourists alike. The extensive stretch of white sand beaches and clear waters are the biggest draws to attract tourists from all over the world. There are several off-beat bays to cover in Gokarna, but the most popular beaches that come in almost every Gokarna tour package you see include Gokarna Beach, Kudle Beach, Om Beach, Half Moon Beach and Paradise Beach. The lush green trails running along the beach shores attract you to explore Gokarna even more. The hills create a charming backdrop to Gokarna and give you a fun-filled vacation to cherish forever. Make your trip to Gokarna more enjoyable and memorable by exploring the various Gokarna trip packages listed on Veena World. All the Gokarna tour packages are carefully crafted by our tour experts to make your trip to Gokarna even more special.
Places to Visit in Gokarna
The quaint town of Gokarna, which was once famous for its holy temples and pilgrimage sites, is now known for its serene beauty and vividness. So, if you're pondering about planning a trip to Gokarna, here are some of the best things to do for you.
Mahabaleshwara Temple
Among the list of many places to visit in Gokarna, the Mahabaleshwar Temple is one of the places you must add to your travel itinerary. The Dravidian architecture of the temple is the main attraction that drives many tourists to the temple. The Mahabaleshwara Temple houses a 1,500-year-old Shiva Linga, which holds huge religious significance. The temple is even featured in epic Hindu mythologies, such as Ramayana and Mahabharata.
Gokarna Beach
Near the Mahabaleshwar Temple is one of the most famous beaches of Gokarna, which is Gokarna Beach. The Gokarna Beach is probably the longest in Gokarna, which is frequented by tourists and pilgrims alike due to its vicinity of the Mahabaleshwara Temple. To reach the beach, you can either rent an auto or a taxi or hire a scooter or a bike, which charge a minimal price. The Gokarna Beach is home to several campers, shacks and eateries where you can sit, eat and relax.
Om Beach
Om Beach is another sightseeing place in Gokarna that you cannot miss out on. The beach is called 'Om Beach' due to two semi-crescents resembling the spiritual symbol 'Om'. If you are an adventure enthusiast, you can enjoy various water activities around the beach, which include banana rides, jet skiing, bumper boat rides, speed boating and much more. You can even enjoy fishing or dolphin spotting at Om Beach.
Half Moon Beach
Considered one of the famous beaches in Gokarna, Half Moon Beach is another beach destination you cannot miss out on. Although boat services are always available at varied costs to take you to Half Moon Beach, you can even choose to trek from Om Beach. The beach is set in picturesque surroundings and has got the name due to its half-moon formation. Some of the most popular activities you can enjoy while at Half Moon Beach are canoeing, paintball, paddle boating, camping, and so much more. The best time to plan a visit to the beach is from autumn to summer, which is between October and March.
Kudle Beach
Located just a few distances from Om Beach is another beach destination, which is Kudle Beach. The beach is covered by a long stretch of coconut trees, which adds to the beauty of the destination. Kudle Beach is not accessible via road directly, but you can take a downhill trek from the parking area to reach the beautiful Kudle Beach. The beach is lined with numerous shacks where you can relax and enjoy the scenic surroundings. If you are looking for budget-friendly accommodation in Gokarna, Kudle Beach has several hotels which you can check out.
Paradise Beach
Paradise Beach is another popular beach in Gokarna that lies at the end if you start beach hopping from Gokarna Beach. Paradise Beach is a south-facing beach which is adorned with rocky and sandy patches in between, along with blue water gushing along the shores. The beach is also known as 'full moon beach' as the shape of the beach is formed that way. There are beautiful accommodation options near the beach, which serve delicious local food.
Yana Caves
Gokarna is not about its pristine and crystal clear waters but also for its sightseeing destinations. The Yana Caves is one such place that will take you back to the bygone era. Yana Caves is another tourist destination that is famed for holding two gigantic limestone monoliths that attract tourists every year. According to the locals, the two peaks at the Yana Caves represent Lord Shiva and Goddess Parvati, respectively. The place is also an excellent place for bird watching, as many migratory birds frequent Yana Caves during the changing seasons.
Mirjan Fort
Known for its triumphant history, Mirjan Fort was built in the 16th century and is known to hold the cultural glory of Karnataka. The fort is situated on the banks of the Agnanishi River, with lush greenery surrounding the place. Upon visiting Mirjan Fort, you will notice that the architecture of the fort is a mix of Deccan and Mughal architectural elements. The Mirjan Fort has seen many battles in the past, which adds to the cultural relevance of the fort.
Best Time to Visit Gokarna
To savour the serene bliss of Gokarna, the best time to visit is from autumn to summer, which is between October and March. To avoid bad climatic conditions and peak crowd seasons, the period between October and March is suitable for you to book your Gokarna travel package. If you are coming on a honeymoon, the winter season is the perfect time for you to book a Gokarna honeymoon package. Summer months are not ideal as the climate becomes too hot to chill at the beaches or even visit the various temples and sightseeing places in Gokarna.
Book The Best Gokarna Tour Packages with Veena World
At Veena World, you are spoilt for choices when it comes to choosing a Gokarna package of your choice. Soak in the wilderness by checking the various Gokarna packages listed on our website for every budget traveller. To make your package booking experience a hassle-free one, our website allows you to check the various packages listed, which are carefully crafted by our expert travel planners. If you need flexibility in choosing your Gokarna package, we have you covered. You can choose the trip duration according to your choice, add sightseeing places that you want to visit, add meal or tour guide inclusions at your will and many other inclusions with Veena World's Customized Holidays. Our dedicated customer service team ensures that none of your travel-related queries goes unanswered; hence we ensure a wholesome travel experience each time you choose to book a package with Veena World.