Hampi Hospete Tour Packages
The heavenly abode of rufous colours and fascinating landscapes, Hampi is the rustic marvel you must tour.
The then capital of the Vijayanagar Empire, Hampi, by some accounts, was considered to be the world's second-largest city during the 1500 AD. However, it began to fall out of importance over the next few centuries and that left the current city of Hampi with marvellous ancient architectural ruins and exceptionally beautiful religious sites that can easily be covered in a Hampi tour itinerary. These ruins contribute majorly to city tourism as they are some of the most important tourist places in Hampi and are included in almost all Hampi tour packages available online at Veena World.
These ruins offer an opportunity for some of the most stunning and picturesque sightseeing spots in all of Karnataka, and arguably the whole of South India. But that's not it, the terrains in the city play an equally important role as major tourist places in Hampi and contribute largely to city tourism. After all, Hampi does have an extraordinary topography! Surrounded by numerous boulders of various sizes, the view of the city from atop these boulders is nothing short of surreal! Besides, it takes little to no effort for climbing them. However, if climbing some of those seems a little challenging, rest assured, your efforts are going to be incredibly fruitful!
Hampi Hospete Travel Packages
| Hampi Hospete Packages | Day/Night | Price |
| --- | --- | --- |
| Evolve Back Hampi | 4 Days | ₹85,000 |
1 Hampi Hospete Holiday Packages
Showing 1-1 packages from 1 packages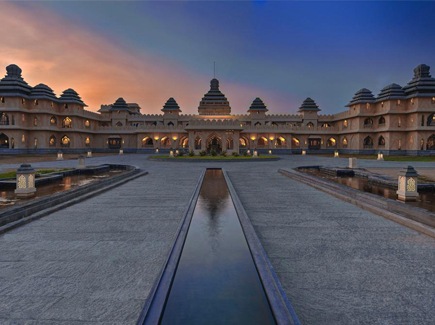 Starts from
per person on twin sharing
Veena World tour reviews
What are you waiting for? Chalo Bag Bharo Nikal Pado!
Hampi Badami Chikmagalur

"KABH13 tour was a memorable event, we enjoyed the tour as a family, the hotels were good and the foo...

Read More

Subhash

Travelled in Aug, 2023

Hampi Badami Chikmagalur

"Veena world arranged for us one of the best trips ever. we laughed and enjoyed throughout the whole ...

Read More

Jyoti

Travelled in Aug, 2023

Hampi Badami Chikmagalur

"Feedback regarding Hampi,Badami , halebidu tour : Dear Madam Veena, This was my first tour with Vee...

Read More

Swati

Travelled in Dec, 2022

Hampi Badami

"Dear Mrs veena patil, I Dr.k.k.mehta, practising senior gen. surgeon along with my wife dr. Surekha...

Read More

Kirit

Travelled in Dec, 2021

Hampi Badami

"Excellent arrangements ,well organised tour, grand success of our golden jubilee celebration of cla...

Read More

Kirit

Travelled in Dec, 2021
Hampi Hospete Frequently Asked Questions
We help you prepare for your trip and ensure an effortless and enjoyable travel experience.
No. While there is no specific dress code in place for visiting Hampi and the places around it, you should pack your bags according to the weather expected in the region at the time when you plan to visit. However, if your Hampi tour packages include the temples of Hampi, you must ensure that you wear proper clothes when visiting them. Some temples may have a particular dress code, while others may not. Even if there is no dress code in place, you should be respectful and ensure that your clothes cover your knees and your shoulders – this is for both men and women.
Located near River Tungabhadra, Hampi was declared a UNESCO World Heritage Site in 1986 and is a popular archaeological destination in India. In ancient times, it used to serve as the capital of the Vijayanagara Empire, which was one of the most flourishing empires back then. Full of ancient temples and ruins, there are a lot of amazingly unique attractions that you can check out on your Hampi trip, including the musical pillars of Vittala Temple, the inverted tower, the historical ruins at Matanga Hill, Hippie Island, and much more.
Hampi is home to a huge number of amazing temples, ruins, monuments, and attractions. While you may be able to explore a lot of the attractions with a one-day Hampi package, you will be missing out on so many others. Ideally, a 3-4-day trip would suffice if you wish to cover all that Hampi has to offer.
Yes. Your sightseeing package to Hampi from Veena World can be completely customised according to your preferences. Veena World offers you complete freedom when it comes to designing a custom holiday to Hampi. You can choose the type of accommodation you wish to book or choose a particular hotel or resort that you want to stay at, you can plan your daily itineraries, add or remove attractions and destinations from your travel plans, choose the number of days for the trip, and do much more to ensure that you can enjoy your vacation your way.
Hampi is home to a huge number of exquisite ancient temples and ruins, all of them dedicated to various Hindu deities. Some of the most popular temples that you can include in the itinerary of your Hampi travel package include:
• Vijaya Vittala Temple
• Virupaksha Temple
• Monolith Nandi of Hampi
• Lakshmi Narasimha Temple
• Badavilinga Temple
• Bala Krishna Temple
• Saraswati Temple
• Hazara Rama Temple
• Achyutaraya Temple
• Pattabhirama Temple
The name Hampi is the anglicised form of the Kannada word 'Hampe', which was derived from the ancient name of the Tungabhadra River – Pampa. In Sanskrit, the name of the village translates to the "City of Victory". Hampi is a small village in Karnataka that is home to many ancient temples and is one of the most historically rich places in India. If you are a history enthusiast, then this village will not disappoint. Not only is the story of Hampi's past very interesting, but it is also home to some of the most amazing tourist attractions and temples that you can include in your Hampi tour itinerary.
The best time for booking your Hampi trip package is the winter season, which lasts from October to February. During these months, the temperature is moderately cool, making it the best time to explore this World Heritage Site. The ancient village of Hampi mostly experiences a moderate and dry climate throughout the year, but the summers (March-June) tend to bring in soaring high temperatures that are not the most conducive for sightseeing. The monsoons (July-September), on the other hand, bring with them average and inconsistent rainfall, which does lower the temperatures but make the place quite humid.
In a matter of speaking. While Hampi does not have an actual beach, you can add a trip to Hippie Island to your local tour package of Hampi. You can take a boat across the Tungabhadra River to the vibrant Hippie Island, which was originally known as Virapapur Gadde. The laidback vibe of the place, amazing bouldering opportunities, backpacker culture, numerous sunset points offering mesmerising views, and some lakes where you can enjoy swimming, Hippie Island offers everything you expect from a beach vacation and more.
Ranging from budget-friendly to luxurious accommodation, Hampi has a number of places where you can book your stay. If you're planning a pocket-friendly trip or are backpacking in Hampi, you may want to consider staying at Hippie Island. On the other hand, if you are booking a Hampi honeymoon package, you may want to check out the romantic heritage resorts located in the village. You can search for the perfect accommodation option for your trip and customise your Hampi vacation package accordingly with Veena World's customised holidays.
The easiest way to plan a trip to Hampi is by choosing the right Hampi tour package from Veena World. Once your tour package is in place, all you need to worry about is packing your bags and having the best time on your vacation. With a Veena World tour package to Hampi, all aspects of your trip, like planning your itinerary, arranging local transport and guides, booking your stay, arranging for meals, and much more, will all be taken care of by Veena World.
Get to know more about Hampi before booking your tour packages
The city of ruins and a UNESCO world heritage site, Hampi is situated in the depths of Karnataka's shadowed hills and valleys. Historically delightful, the city has about 500 ancient monuments, bustling street markets, awe-inspiring religious sites, treasury buildings, bastions, and stunning remains of the Vijayanagar Empire surrounding it that make Hampi an exceptional spot for any backpacker. A cost-effectively priced Hampi vacation tour itinerary as available online in packages can be extremely vast, with over a hundred locations to explore; you would be thrilled to tour and learn about the city's history.
The city's beauty extends as you explore it further; you are sure to experience many adventures and can enrich your knowledge on your trip to Hampi. This place makes for an outstanding backpacker's paradise owing to its magnificent hills (the Anjaneya, Matanga, and Malyavanta) situated on the Tungabhadra riverbank, and the calming pilgrim attractions. The Virupaksha Temple, however, is the most famous temple in Hampi.
Another important thing to note is that major strides have been made to ensure that the authenticity of the city's ruins is preserved. Due to this very reason, you will find very few modern establishments in the area near these old tourist places of Hampi.
Experience Hampi
The culture of a place is a clear reflection of its people's lifestyle and beliefs. This is the reason why theatre, dance, and music are all beautifully integrated as important parts of the culture of Hampi. The town's preserved concert halls still have the imprints of the great traditional music gatherings that were held in the halls a long time ago. Hampi's culture is extremely rich and vibrant and also tied to its roots. You will find that most tourist places in Hampi sport an architecture that has traits of Hindu and Muslim architectures alike. Many famous temples like the Hazara Rama Temple, Krishna Temple, and the Pattabhirama temple are flanked beautifully with Hindu, Muslim, as well as Jain architecture.
Hampi was also the capital of the esteemed Vijayanagar Empire, an empire that was known to be the most prosperous in the whole of the Indian subcontinent during the 14th century. Besides being the centre of trade and commerce as well as culture and traditions, Hampi was also brought to its zenith by its emperor, Krishnadeva Raya, when it became the second-largest city during the medieval era with Beijing, China, being the only city larger than it. Apart from this, Tenali Rama, the famous witty courtier was also from the Vijayanagar Empire!
Things to Do in Hampi
Your trip to Hampi wouldn't cost you much, and neither would exploring the city with so many cost-effectively priced Hampi tour packages being offered online at Veena World! There's so much that you would appreciate doing in Hampi. For instance, here are some of the places you would love visiting:
• Virupaksha Temple:

Believed to be India's oldest functioning temple, the Virupksha Temple is a 7th-century temple dedicated to Lord Virupaksha, an incarnation of the Hindu God, Lord Shiva. Besides that, the Virupaksha Temple is considered to be one of the most famous religious places in Hampi and the whole of South India due to its religious significance and architectural grandeur. It attracts pilgrims from all over the country. The temple is also seen to have numerous inscriptions of Lord Shiva.

• Hanuman Temple:

The Hanuman Temple in Hampi is another very famous religious site that is located atop the Anjaneya Hill and included in several Hampi tour packages. This very hill is considered by many as the birthplace of Lord Hanuman. Located at about 4 km from Hampi village, you would not want to miss visiting this holy place.

• Hemakuta Hill Temple Complex:

The Hemakuta Hill Temple Complex is undoubtedly one of the most prominent and famous tourist attractions in the history of Hampi as it is surrounded by many beautiful archways and Hindu Temples that were rebuilt with stronger and more protected walls. You will also be able to witness here both stunning sunrises and spectacular sunsets. Besides that, it is also believed in Hindu Mythology that this is the place where Lord Shiva set ablaze the God of Lust (Kama) with the fire of his third eye.

• Queen's Bath:

The Queen's bath was said to be a large and open bathing area for all royals, i.e., the Kings and their Queens. The architecture that you will witness even now will be nothing short of stunning! With balconies that have small windows, huge front courtyards with dome-shaped roofs, a rectangular pool made with bricks in the middle and an open blue sky, the sight of the Queen's Bath in Hampi is quite extraordinary.



Best time to Visit Hampi
The winter season is unquestionably the best time to visit Hampi. If you are planning to explore this World Heritage Site with your newlywed, you would benefit greatly from buying our Hampi honeymoon package online.
To help you plan your Hampi tour itinerary for your vacation, here's a season-wise description of Hampi's weather:
Hampi in Summer:

The summer in Hampi begins with April and lasts till July each year. The region is, however, hot and dry throughout the season making it an unfavourable time to visit the city. The temperature can be found hovering between 28°C and 37°C. Even though the prices of Hampi tour packages drop-down in the summers, you would be better off waiting to tour the city in the upcoming seasons.

Hampi in Monsoon:

The monsoons in Hampi begin in July after the hot and dry summer and go on till late September. The city only experiences low to moderate rainfall and the showers are also intermittent. However, the weather stays pleasant and you would enjoy a trip to Hampi in and around the monsoon season. The temperatures are extremely suitable, between 25°C and 33°C. the entire experience of exploring the ruins in verdant Hampi is quite enchanting during this period!

Hampi in Winter:

The winter in Hampi is incredible! It begins in October and lasts until March. The temperatures too are quite pleasant; the minimum and maximum being 15°C and 33°C respectively. Hampi is left verdant and fragrant with nature after the monsoons and you would have an exceptional time exploring the city in this form. No wonder Hampi honeymoon packages are becoming exceedingly popular with newly-weds during the winters!