Reading Time:
10
minutes
Rajasthan is truly a magical place for romantic getaways. Right from majestic forts and beautiful lakes to golden sand dunes, it has got all the elements that not only woo couples but also compel them to choose Rajasthan as their honeymoon destination.
You may feel a bit overwhelmed with so many choices for honeymoon places in Rajasthan. To ease that up for you, here we've compiled a list of some of the best honeymoon places in Rajasthan (in no particular order) that you can consider.
Udaipur
The City of Lakes, Udaipur, is elegant and scenic at every nook and corner, making it worthy of being included in most Rajasthan honeymoon packages. Dotted with spectacular lakes and palaces, Udaipur offers the most stunning and soothing backdrops for amazing Instagram-worthy clicks. If you have ever wished for a royal honeymoon in Rajasthan, then Udaipur must be your pick. The pebbled streets, beautiful walkways along the magnificent lakes, and peaceful surroundings make Udaipur simply the best city in Rajasthan for a honeymoon. Besides, enjoying a boat ride at Fateh Sagar Lake, having a romantic date on a Shikara ride, and spending some quality time in each other's company at the Jaisamand Lake are some of the best things to do for couples in Udaipur.
Jodhpur
One of the famous honeymoon destinations in Rajasthan, the picture-perfect town of Jodhpur lures honeymooners with its timeless charm that is characterised by bucolic villages and primaeval palaces. Also known as the 'Blue City,' Jodhpur has many delightful things to offer to the honeymooners. An evening stroll with your love along the Takhat Sagar Lake can be one of the best things to experience here. Besides, witnessing the beautiful sunset while holding hand in the hand of your partner at Kaylana Lake can be one of the magical moments that will etch in your memories forever. Also, you can visit Umaid Bhavan Palace, Mandore Gardens, Udai Mandir, and so on.
Pushkar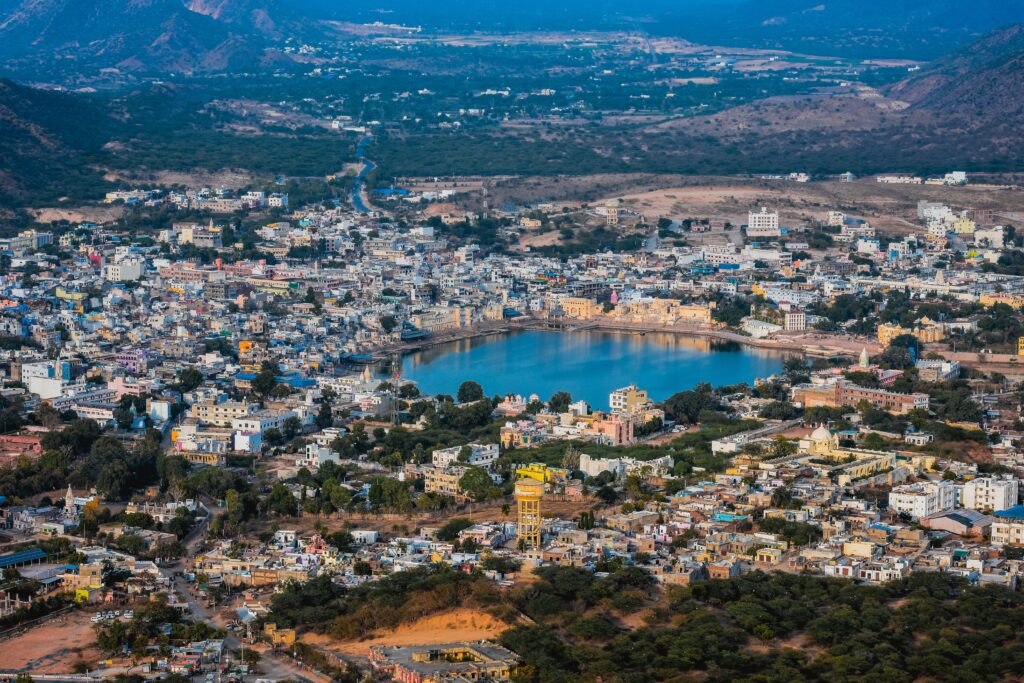 Home to the only Brahma Temple in the world, the city of Pushkar is utterly scenic and picturesque. It has always been one of the preferred places to visit in Rajasthan for a honeymoon. On one side of the city is the shiny desert and the rest three sides are dotted with lush green trees, and this makes the city present unusual yet striking views. With love in its air, there are many interesting things for couples to do here in Pushkar. To start with, you can visit Pushkar Lake, have a fun camel safari in the Thar Desert, hire a bike to go on a romantic ride and explore the town at your pace, and trek from Ratnagiri Hill to the ancient Savitri Mata Temple from where you can enjoy a bird's eye view of the town.
Jaipur
The pink city, Jaipur, is one of the loveliest honeymoon places in Rajasthan that has got just the perfect ambience and romantic vibes to make your honeymoon romantic and special, beyond your expectations. Right from magnificent desert views to grand Havelis and luxury hotels, Jaipur has a lot in store to offer to honeymooners. If you have always wanted to have a royal honeymoon, you can turn that into reality in Jaipur.
Some of the beautiful places that you can visit in Jaipur with your partner are Chokhi Dhani, Sisodia Rani Garden, Jal Mahal, Central Park, and Nahargarh Fort. Besides, there are many things that you can enjoy doing with your better half. For your consideration, you can enjoy a romantic date at one of the many restaurants here, watch a movie at the famous Raj Mandir, and explore the local market to go on a shopping spree.
Jaisalmer
One of the best romantic places in Rajasthan, Jaisalmer makes for a perfect destination for newlywed couples for their honeymoon. Of several honeymoon destinations in Rajasthan, Jaisalmer is one place that offers a complete package, comprising camel safari, desert camp, and folk music & dance, to make your honeymoon special and memorable. There are many beautiful places to visit for couples in Jaisalmer. With your partner, you can visit Jaisalmer Fort, Patwon Ki Haveli, Gadsisar Lake, Bada Bagh, and Desert Nation Park to name a few. Apart from this, you can enjoy a camel ride in Sam Sand Dunes and visit the local markets to shop for handicrafts, jootis, ornaments, wooden items, Rajasthan textiles, precious stones, and so on.
Mount Abu
One of the best honeymoon places in Rajasthan in winter is Mount Abu. Being the only hill station in the state, it is strikingly stunning and filled with jaw-dropping vistas. With its pleasing views and romantic weather, Mount Abu attracts numerous newlyweds every year. Witness the splendid sight of the sun setting over the ridge from the honeymoon point, find a spot to sit back and relax with your partner and enjoy sweet conversations, and get yourself captured in the magnificent backdrop. There are many wonderful places to visit and things to do for couples here. You can visit Mount Abut Wildlife Sanctuary, Nakki Lake, and Dilwara Jain Temples to seek blessings as a couple. To take the experience to the next level, enjoy a thrilling ride on a hot air balloon, go for a boat ride during the sunset, and trek to Bridal Path for striking views.
Bikaner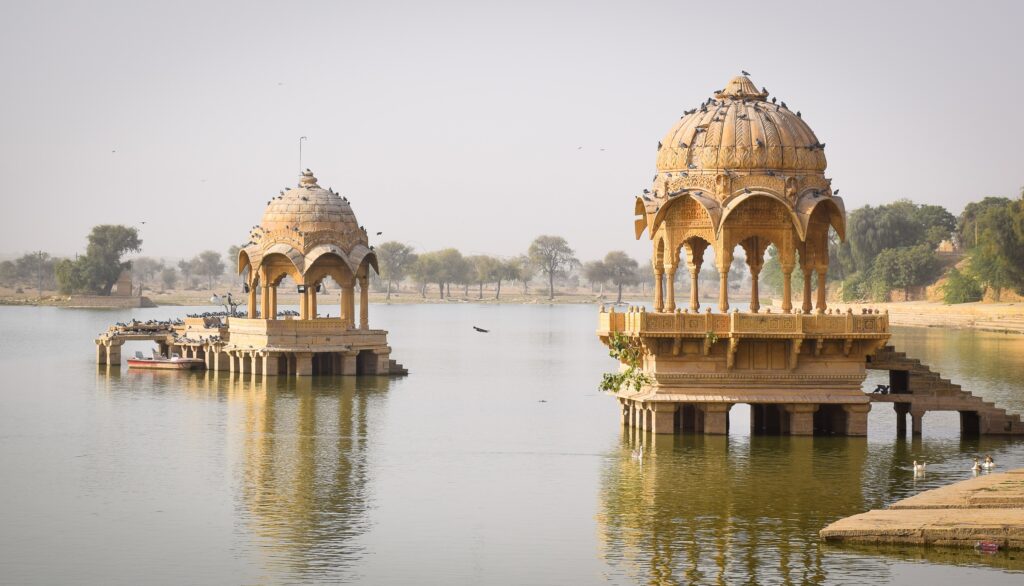 Known for its rich heritage, festivals, temples, folk music, and forts & palaces, the city of Bikaner captures the true essence of the state and thus it is one of the best honeymoon destinations in Rajasthan. Bikaner has many interesting things in store to offer a complete experience to honeymooners. Situated in the middle of the Thar Desert, here with your partner, you can enjoy camel rides, relish authentic Rajasthani cuisines, explore forts and temples, and visit places like Lalgarh Palace, Junagarh Fort, Bhandasar Jain Temple, and so on. Besides, Bikaner is a shopper's paradise. Here, from the local markets, you will be able to buy Kundan jewellery, bangles, sarees, Mojari, and so on.
Ajmer
The heart of Rajasthan, Ajmer is a key destination of most Rajasthan tour packages. The city attracts honeymooners with its rich heritage and timeless charm that are unmistakable in its ambience and the everyday life of the locals. The peaceful city has many points of interest that entice honeymooners. To start with, you can pay a visit to the Ajmer Sharif Dargah, a shrine of Khwaja Moinuddin Chisti to seek blessings as couples, enjoy a romantic dinner at one of the luxury hotels, shop for Rajasthani handicrafts in the local market, and so on. Other than these, you can head to Hazrat Khwaja Gharib Nawaz Dargah, Akbari Fort & Museum, Lake Foy Sagar, Ana Sagar Lake, Taragarh Fort, and so on.
Kumbhalgarh
You miss the essence of having a honeymoon in Rajasthan if you miss out on visiting the magnificent forts and Havelis. And one such place is the grand fort of Kumbhalgarh which is also home to the Great Wall of India which is sure to leave speechless with its brilliant craftsmanship. Truly an architectural marvel, Kumbhalgarh Fort is simply stunning at every angle. Kumbhalgarh Fort is one of the places to see in Rajasthan that deserves to be on your list if you want to witness the grandeur of the bygone era. Witness the sunset, enjoy the fabulous views of the surroundings, and capture some of the amazing stills to weave memories of a lifetime. After the Kumbhalgarh Fort, you can visit Kumbhalgarh Wildlife Sanctuary and seek blessings as couples in the temples.
Ranakpur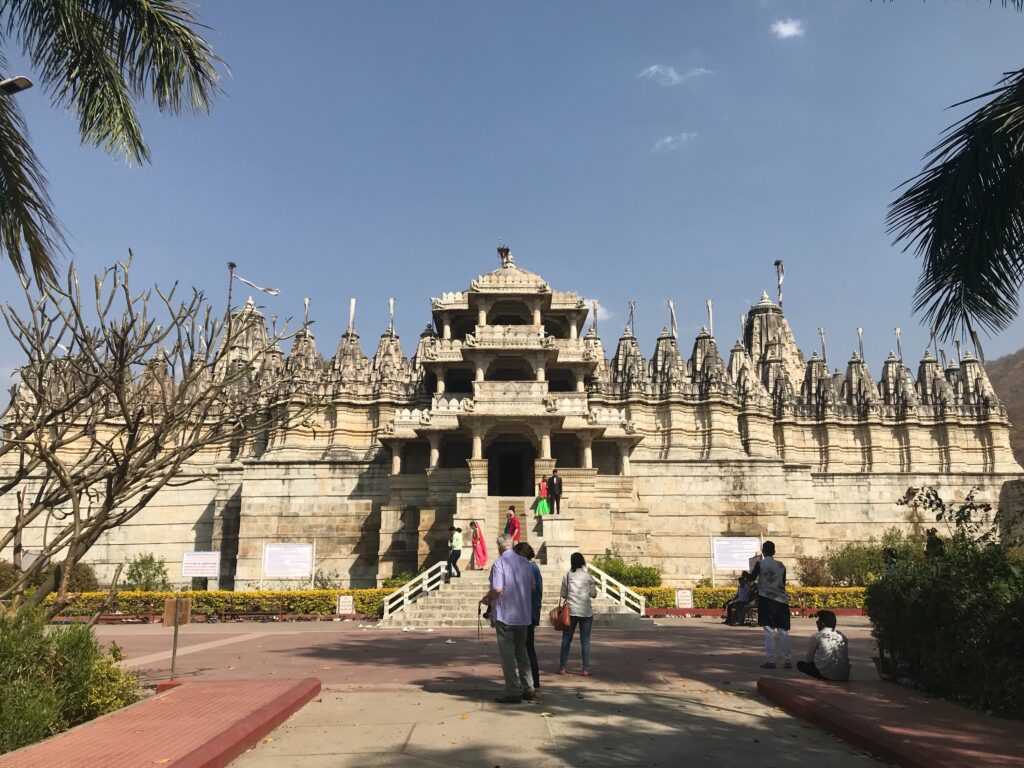 Settled amidst the beautiful valley of Aravali Ranges, the picture-perfect town of Ranakpur is one of the romantic places in Rajasthan that you can provide you with a perfect romantic getaway. The place is rich in nature's bounty and offers jaw-dropping vistas which just sets the mood right to create magical moments with your partner that is going to stay with you forever. There are several romantic things that you can do in Ranakpur. To start with, you can seek blessings in Jain temples, get captured in amazing shots with gorgeous backdrops of nature, see the gushing water at Ranakpur Dam, go on a Jungle Safari, enjoy trekking, and a lot more.
These honeymoon places in Rajasthan provide you with a perfect romantic getaway to mark the beginning of a new chapter in your life. And now that you have learned about the places, choose the best honeymoon package in Rajasthan as per your needs.