Reading Time:
21
minutes
If you still haven't visited the glorious state of Rajasthan, we suggest you put all your travel plans on hold and cross this charming royal destination off your bucket list, right away! Yes… it is that good! Take it from a person who has travelled to this amazing place and loved every moment of her travel, right from the narrow alleyways of Udaipur to the splendid royal structures of the capital city, Jaipur. Rajasthan is definitely bucket-list worthy and there are countless destinations that will not just amaze you for your travel period but will stay with you for a long time!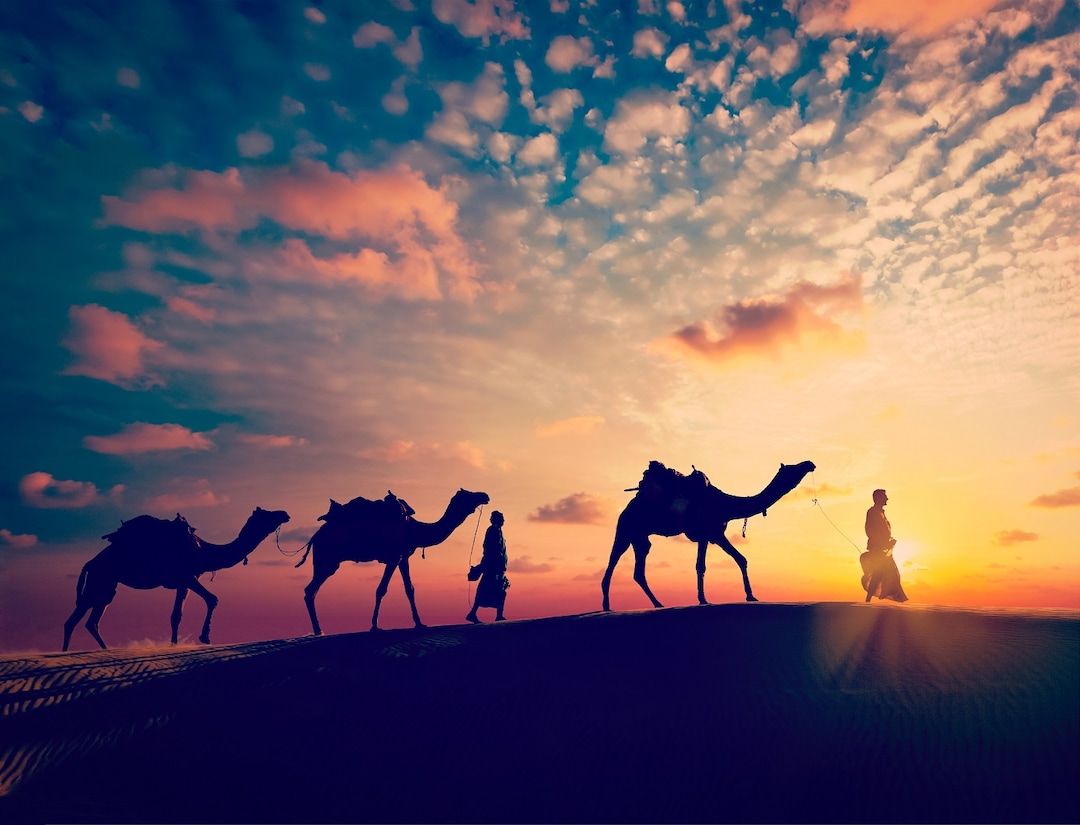 Due to time constraints, I was able to cover just a few destinations on my Rajasthan trip; Udaipur, Chittorgarh, Ranakpur, Jodhpur, Pushkar and Jaipur were the ones on my agenda. Put in a few extra days and you will be surprised to find that you can actually traverse across the dry desert land and cover even the vast corners of the state in your Rajasthan trip. All you need to do is, plan a Rajasthan trip with a travel duration of almost 15-20 days and you can cover most of the Mewad Marwad region while exploring 13 splendid destinations of Rajasthan.
Start from Udaipur, head east and then travel northwards to explore the many wonderful places in Rajasthan. Your journey will take you further west, through the Thar Desert and finally down south, where you will land up in Mount Abu to end your journey! (If you book round trip flight tickets to and from Udaipur, you can travel from Mount Abu to Udaipur by road and end your journey at Udaipur for a return flight back home).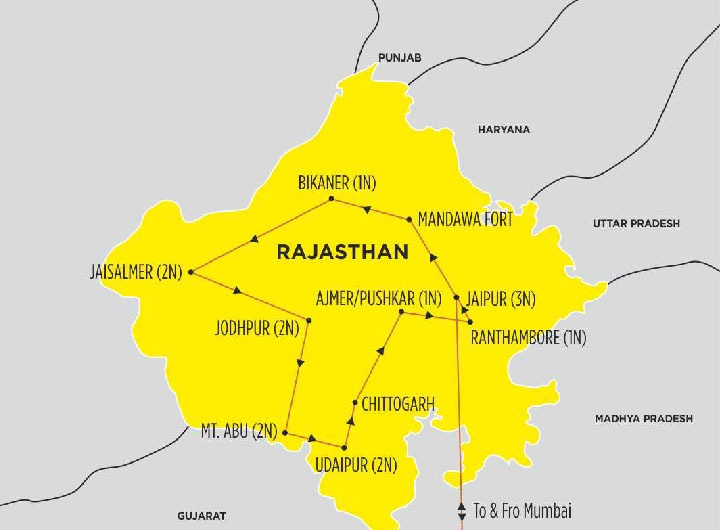 Listed below are 13 places to see on a trip to Rajasthan (in the suggestive travel order) starting from Udaipur and ending at Mount Abu. Read on and plan the perfect Rajasthan Mewad Marwad tour package that will give you a taste of the royal land, like no other:
1.) Udaipur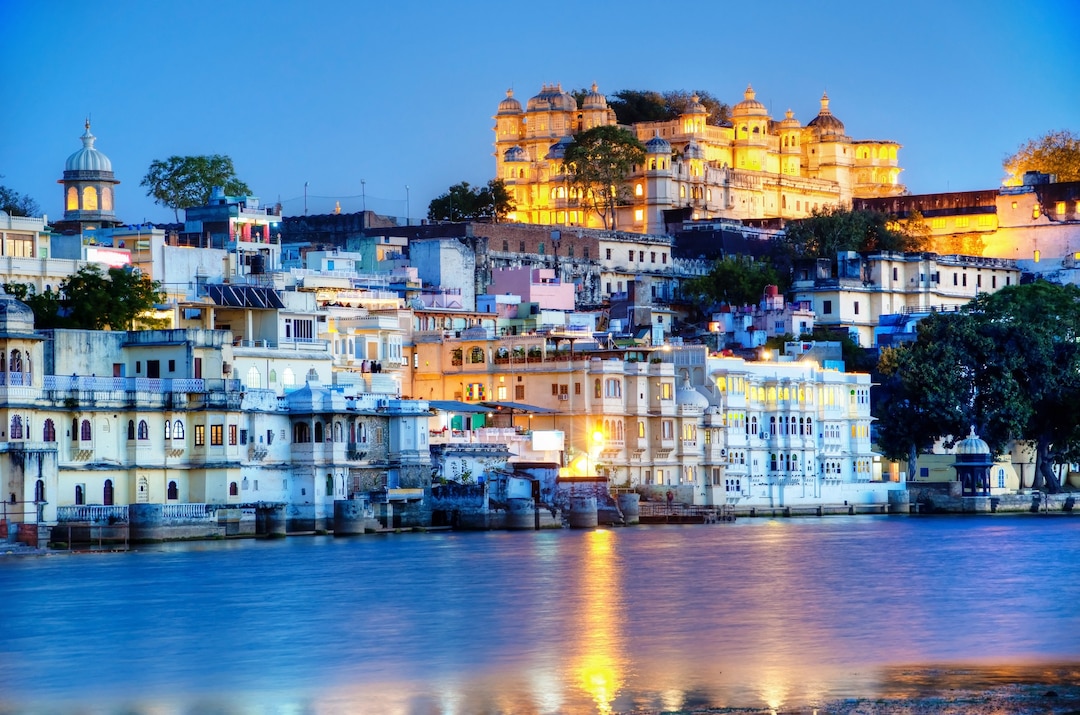 Rajasthan's very own city of lakes, Udaipur is also referred to as 'Venice of the East'. Set around a series of artificial lakes and known for its lavish royal residences, Udaipur has always been an inspiration for the perfect vacation in India! A Udaipur tour package combines the best experiences filled with romance, royalty, spirituality and nature, which forms an essential part of this vast and wonder-laced Mewari kingdom. Udaipur holiday packages are also the best way to explore the wonderful culture and glorious remains of the Rajput kingdom in Mewar. A Udaipur tour package is such that the city of lakes can be explored over a weekend too!
Places to see:
Lake Pichola, Udaipur City Palace, Jag Mandir, Bagore ki Haveli, Moti Magri, Fateh Sagar Lake and Saheliyon ki Bari are some of the best places to visit in Udaipur and must-see inclusions in your Udaipur tour package.
2.) Chittorgarh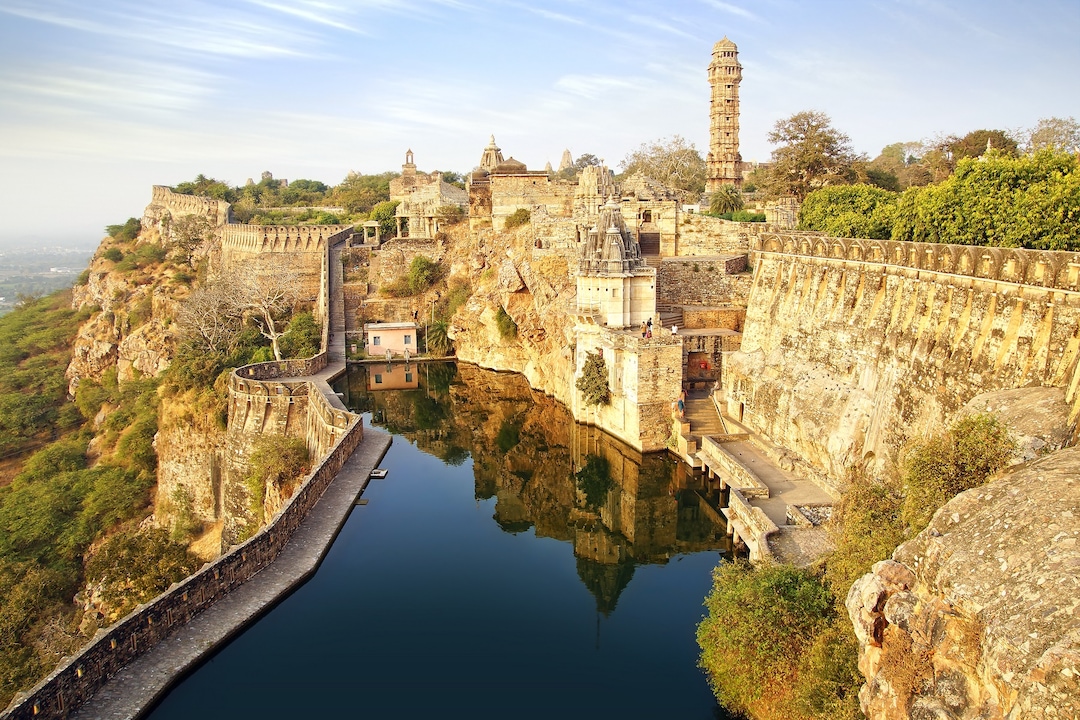 Located about 113 km away from Udaipur lies the city of Chittor, dominated primarily by Chittorgarh. This magnificent and gigantic fort is one of the largest fort complexes in India, well-known for its legendary Rajput tales of bravery, honour, passion and pride. The fort survived through several Mughal attacks, of which the first attack in the year 1303 by the Sultan of Delhi, Ala-ud-din Khilji, resulted in the mass self-immolation (Jauhar) of Rani Padmini and several Rajput women. Rajasthan tour packages would truly be incomplete without the inclusion of this historic and remarkable fort!
Places to see:
Chittorgarh Fort, Rani Padmini's Palace, Vijay Stambha, Kirti Stambha, Fateh Prakash Palace, Gaumukh Reservoir, Rana Kumbha Palace and Meerabai Temple are the must-visit attractions of this fort complex and can also be combined with Udaipur holiday packages for an amazing and wholesome travel experience.
3.) Bundi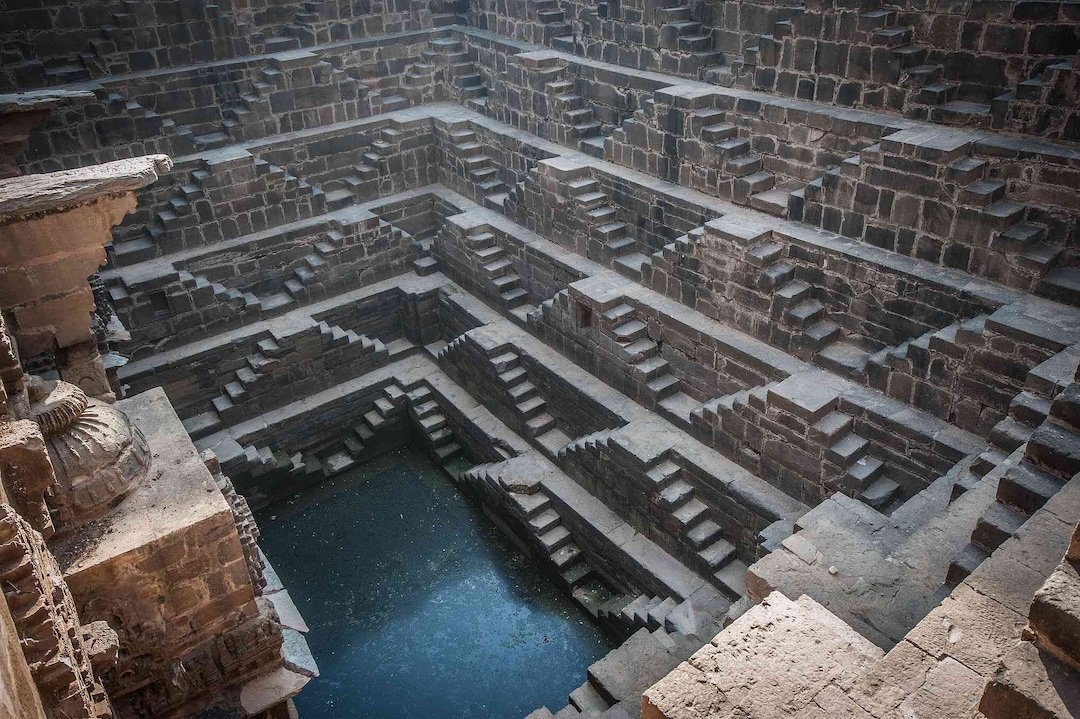 Further east, lies the historical town of Bundi! The south-east region of Rajasthan is known as 'Hadoti' – Land of the Hada Chauhans who ruled Bundi and the surrounding kingdoms in the 13th century. Bundi is known for its magnificent forts, palaces and the countless step-wells that elevate the medieval grandeur and architectural splendour of this beautiful town. With as many as 50 step-wells (Baori) or even more, Bundi is known as the city of step-wells! The charm of Bundi lies in its unique location amidst the Aravalli hills surrounded by lush fruit orchards and vast crop fields. The splendid architecture of Bundi is something that attracts tourists from all over the world and the reason why this charming town is included in many Rajasthan travel packages.
Places to see:
Raniji ki Baori, Taragarh Fort, Sukh Mahal, Kshar Bag, Dabhai Kund, Nagar Sagar Kund, 84 Pillared Cenotaph, Lake Jait Sagar, Nawal Sagar Lake and Garh Palace are some interesting tourist attractions which can be a part of your Rajasthan tour packages to Bundi.
4.) Sawai Madhopur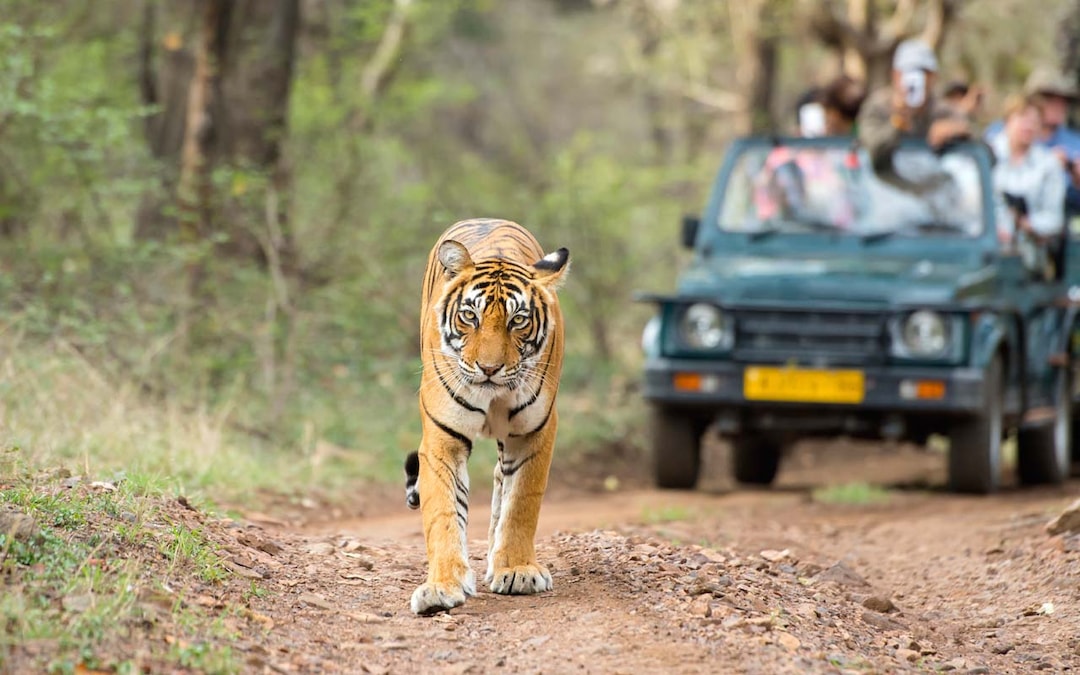 Gateway to Ranthambore! Sawai Madhopur lies in the eastern part of Rajasthan and is well-known for housing the Ranthambore National Park, one of the largest tiger reserves of the country and Ranthambore Fort, a UNESCO world heritage site. The city derives its name from Sawai Madho Singh I, who laid the foundation of the city in 1765 AD. During the British rule, Sawai Man Singh laid out a railway line between Jaipur and Sawai Madhopur, making it more accessible from central Rajasthan. Today, Sawai Madhopur and by virtue of it, Ranthambore is one of the most popular tourist destinations of Rajasthan. The city is also famous for its good-quality guavas which are fondly known as 'Madhopur guavas'.
Places to see:
Ranthambore National Park, Ranthambore Fort, Khandar Fort, Surwal Lake, Shilpgram Museum, Chamatkar Temple, Chauth Matha Temple and Trinetra Ganesh Temple are some of the popular tourist attractions that can be included in your Rajasthan travel packages to Sawai Madhopur.
5.) Ajmer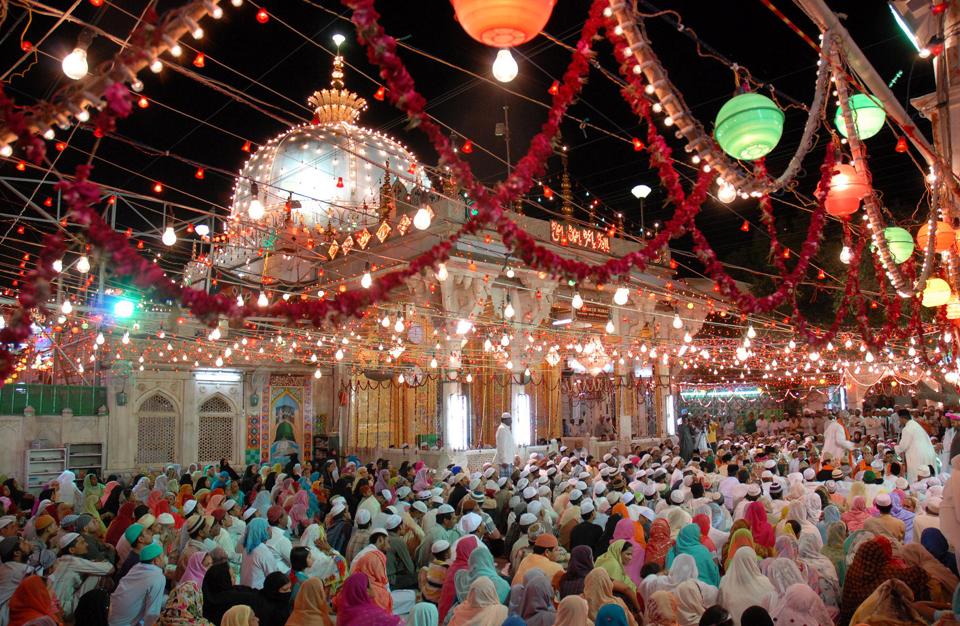 A popular pilgrimage site for Muslims as well as Hindus, Ajmer is nestled amidst the Aravalli hills in the central part of Rajasthan. Ajmer was founded by Raja Ajaypal Chauhan in the 7th century AD and the name 'Ajmer' was said to be derived from 'Ajay Meru' which means invincible hills. The city is home to the famous Ajmer Sharif Dargah, the shrine of the Sufi saint, Moinuddin Chishti that is frequented by countless pilgrims every day. Besides the Dargah, Ajmer is also well-known for Soniji Ki Nasiyan – an architecturally rich Jain temple depicting 'Swarna Nagri' (City of Gold) and Mayo College – a fine example of Indo-Saracenic architecture and one of the first schools of the country offering a British style of education. The holy city of Ajmer is the perfect place to visit as part of your Rajasthan tour packages!
Places to see:
Ajmer Sharif Dargah, Soniji Ki Nasiyan, Mayo College, Adhai Din ka Jhonpda, Ana Sagar Lake, Lake Foy Sagar and Nareli Jain Temple are the popular attractions of this city that simply cannot be missed. Located south-west from the capital city of Jaipur, Ajmer can be covered along with any Jaipur tour package for a memorable Rajasthan trip.
6.) Pushkar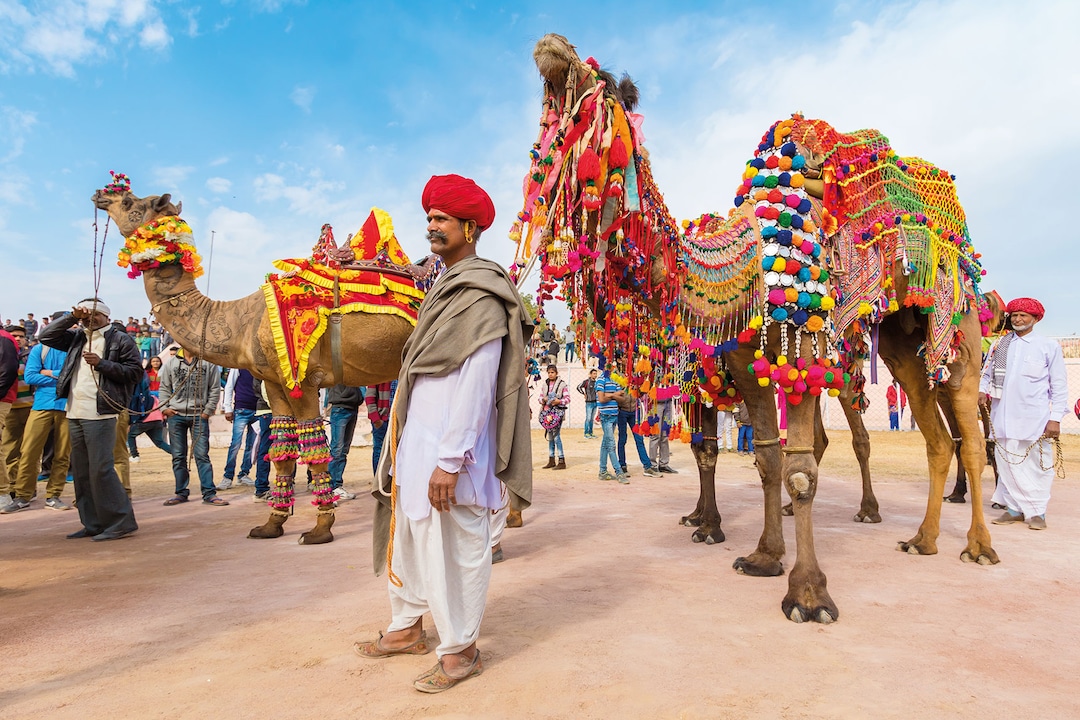 Home of the only Brahma temple in the whole world! Mythological stories narrate that, the creator of the universe, Lord Brahma dropped a lotus flower on Earth and it landed on the spot that is now known as 'Pushkar Lake'. The city surrounding the lake came to be known as 'Pushkar' since Lord Brahma decided to name the place after a flower. Besides being a prominent pilgrimage site for Hindus and Sikhs, Pushkar is also one of the oldest living cities of India. The city hosts the annual Pushkar Mela, a multi-day colourful livestock fair that features various camel, horse, cattle varieties and highlights the rich culture and local tribes of Rajasthan.
Places to see:
Pushkar Lake, Brahma Temple, Savitri Temple, Rangji Temple, Gurudwara Singh Sabha and Varaha Temple are some of the must-visit attractions of the city that can be combined with a Jaipur holiday package to make a wholesome Rajasthan travel experience.
7.) Jaipur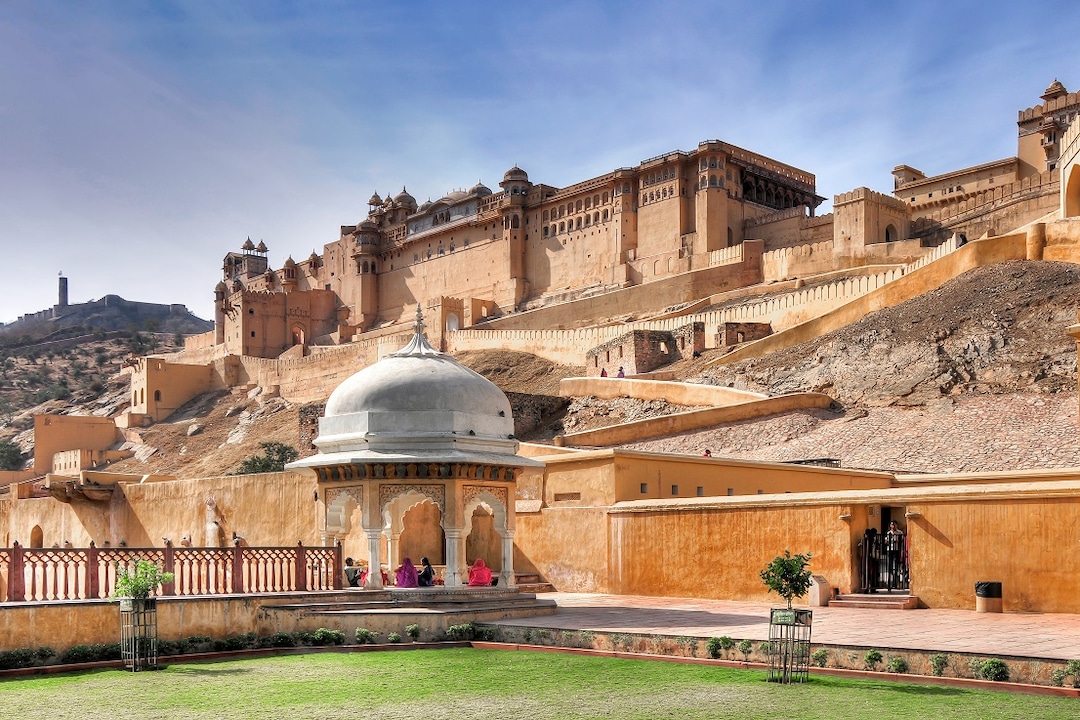 Popularly known as the 'Pink City', Jaipur is the capital of Rajasthan – one of the most culturally rich states of India. Built in the 18th century by Sawai Jai Singh, the city gets its nickname from the distinct pink shade (Gerua) of many of its old city buildings and palace complexes. Home to several UNESCO world heritage sites, Jaipur evokes a sense of royalty and grandeur within anybody who visits this wonderful city. A Jaipur tour package is a rich bounty of cultural and architectural marvels. Colourful streets, plentiful bazaars, diverse cuisines, royal palaces and architectural gems, all come together in perfect harmony to define a quintessential Jaipur holiday package that can be enjoyed by anyone and everyone.
Places to see:
Hawa Mahal, Amer Fort, Jal Mahal, Nahargarh Fort, Jaigarh Fort, Jaipur City Palace, Jantar Mantar, Albert Hall Museum and Birla Temple are some of the best places to visit in Jaipur that can make any Jaipur tour package, a magnificent travel experience.
8.) Mandawa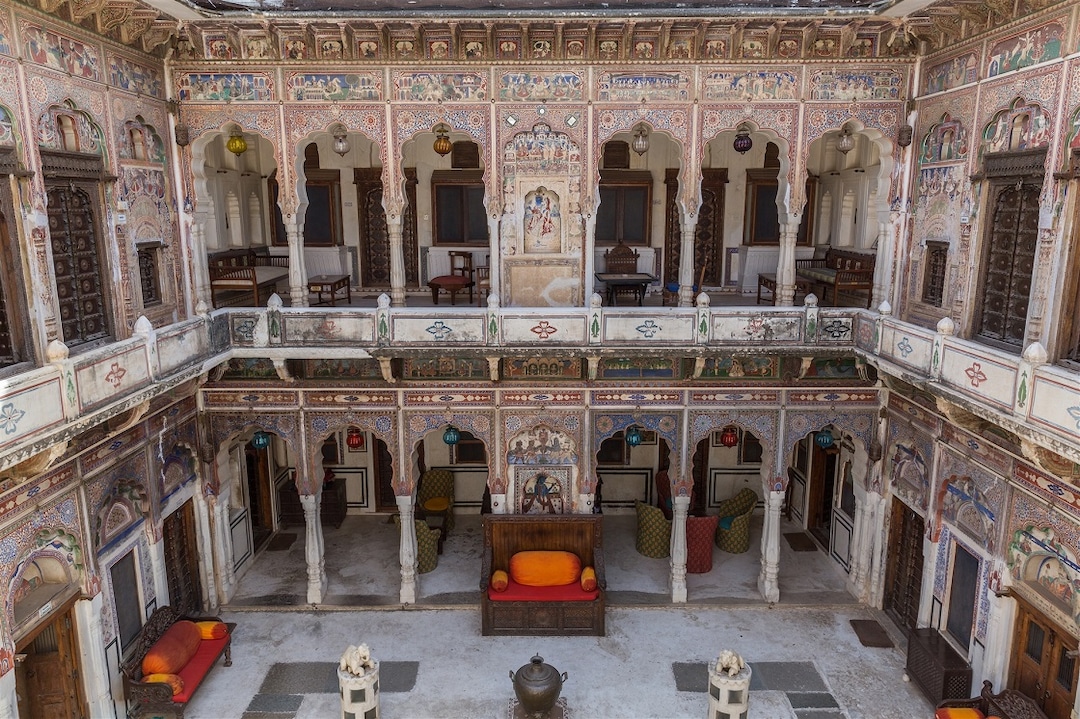 Located about 190 km North of Jaipur is Mandawa – Heart of the Shekhawati region! Mandawa is often included in any Jaipur tour package due to its close proximity to the pink city. Mandawa is home to a large number of havelis that truly depict the culture and charm of the Shekhawati region. This town is often referred to as an 'open-art gallery' due to the magnificence and beauty of its havelis that adorn every nook and corner of this pretty town. The havelis are all lavishly decorated with stunning architecture, fascinating paintings and beautiful frescoes. Mandawa has become a Bollywood favourite in recent years and has featured in many movies such as PK, Jab We Met, Love Aaj Kal, Paheli, Shudh Desi Romance and Half Girlfriend.
Places to see:
Mandawa Fort, Sewaram Saraf Haveli, Murmuria Haveli, Jhunjhunwala Haveli, Gulab Rai Ladia Haveli, Binsidhar Newatia Haveli, Goenka Double Haveli, Hanuman Prasad Goenka Haveli, Goenka Chhatri, Harlalka Well and Thakurji Temple are some of the must-visit attractions of Mandawa that can enhance your Rajasthan tour packages manifold.
9.) Bikaner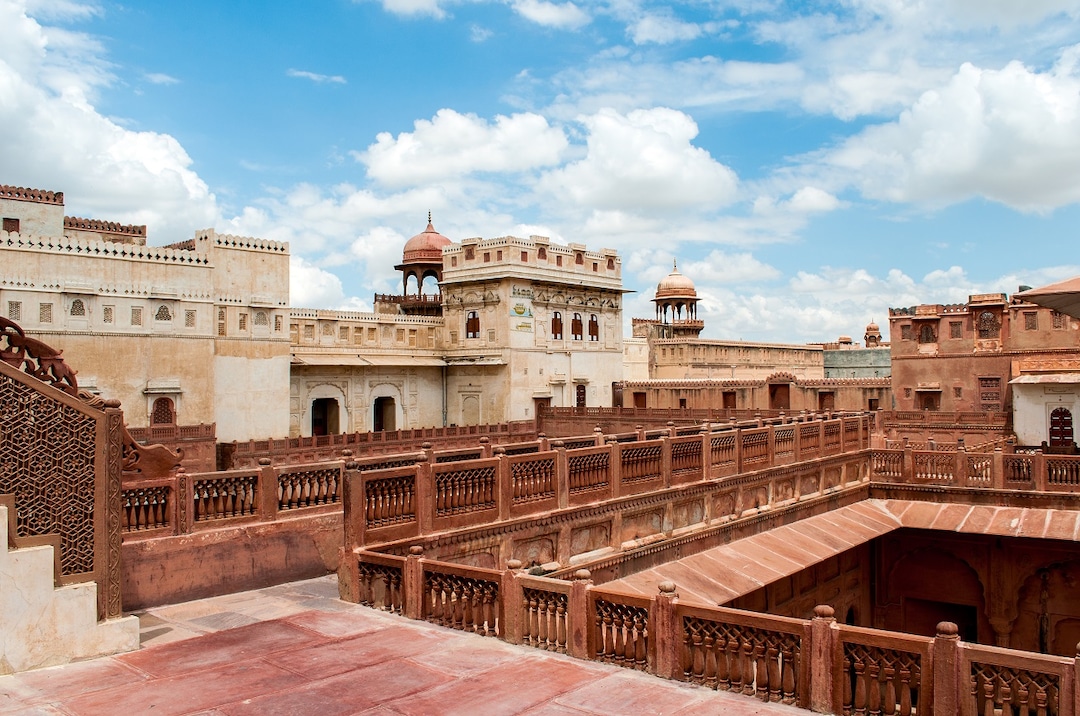 This city located in the northern part of Rajasthan traces its origins back to the 15th century when it was founded by Rao Bikaji, son of the prominent Rathore dynasty ruler, Rao Jodha. Bikaner still maintains its grandiose and royal charm, thanks to the ancient forts and palaces that have stood the test of time and still adorn various nooks and corners of the city. A Bikaner tour package is the perfect example to showcase this flourishing industrious city, well-known for the world's best riding camels and the world's largest camel research farm. Also, the reason why it is aptly named, 'camel country'! Bikaner is also well-known for Bhujia, a savoury snack that is famous all over the world along with many other 'namkeen' items and specialities such as 'spicy papad'.
Places to see:
Junagarh Fort, National Research Centre on Camel, Lalgarh Palace & Museum, Rampuria Haveli, Laxmi Niwas Palace, Ganga Government Museum and Deshnok Karni Mata Temple (Rat Temple) are some of the must-haves in your typical Bikaner tour itinerary.
10.) Jaisalmer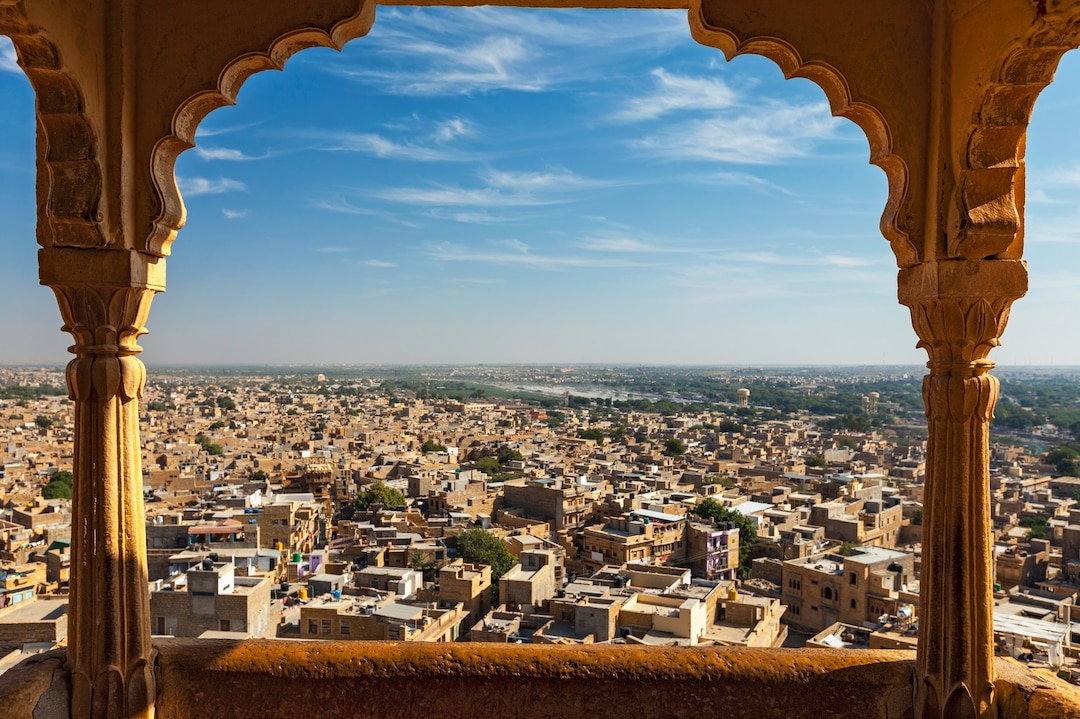 A city that looks golden, feels golden and lives golden! Jaisalmer is the shimmering golden hue in the palette of colours that is Rajasthan. Located in the heart of Thar Desert, this remarkable city is the prime example of how culture and royalty have seeped into the vast corners of this state. A Jaisalmer tour package gives you all the nuances of a rich princely region along with the arid landscape of the golden, never-ending desert. Prominent features of this sun-kissed land are the magnificently adorned havelis, monumental forts, rich culture, ancient traditions and the desert camels that define the very soul of Jaisalmer holiday packages. Rajasthani folk music and traditional dance play a pivotal role in the shaping of this desert region and are essential highlights of any Jaisalmer tour package.
Places to see:
Jaisalmer Fort (Sonar Kila), Jaisalmer Government Museum, Nathmalji ki Haveli, Salim Singh ki Haveli, Patwon ki Haveli, Badal Mahal, Gadisar Lake, Jaisalmer War Museum, Bada Bagh and Sam Sand Dunes are the most popular tourist attractions of the city and form an important part of several Jaisalmer holiday packages.
11.) Jodhpur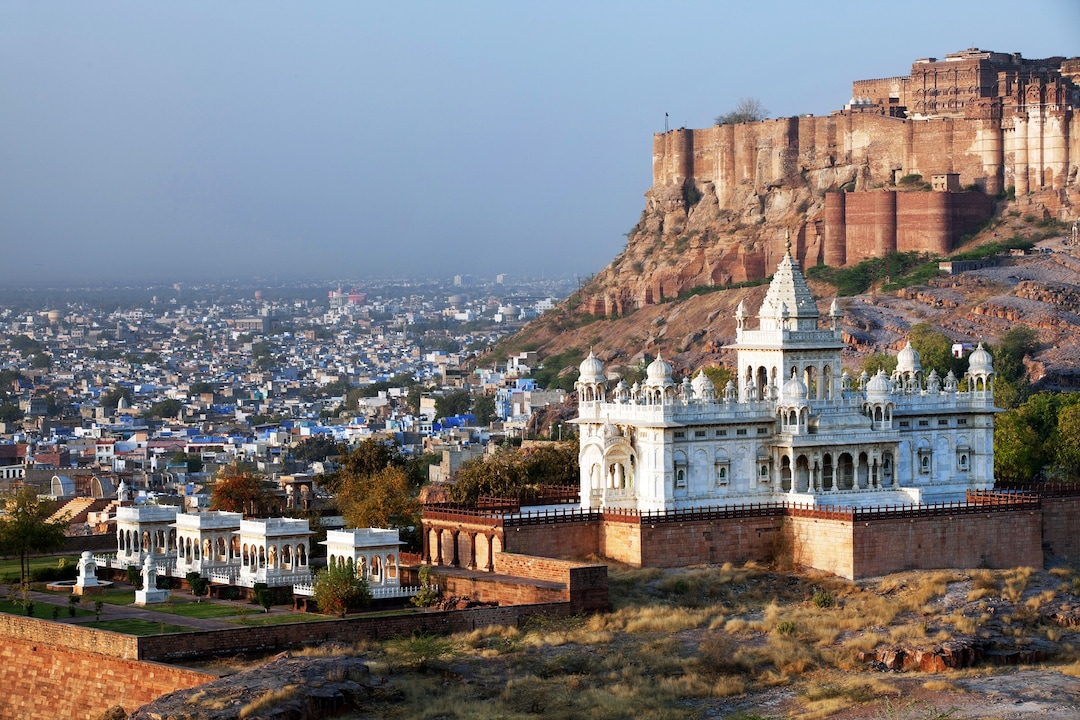 Welcome to the city bathed in shades of the sky! Jodhpur is an architecturally delightful and historic city situated at the base of the majestic Mehrangarh Fort. It is a popular tourist destination that has been built as the prominent capital of the Marwar region. A Jodhpur tour package comprises of amazing sightseeing attractions coupled with the humble and hospitable culture of the Marwari folk. The city bursts with a myriad of colours along with the traditional blue and welcomes every traveller with the unique flavours of its delicious cuisine that forms an integral part of any Jodhpur tour package. The city is also known as the 'Sun City' owing to the sunshine it receives every day of the year, making the days here bright, warm and sunny! Combine Jodhpur with any Jaisalmer tour package and you are bound to have an exquisite Marwari experience in Rajasthan.
Places to see:
Mehrangarh Fort, Jaswant Thada Royal Cenotaphs, Umaid Bhawan Palace, Ghanta Ghar, Sadar Bazar, Mahamandir Temple, Balsamand Lake, Masuria Hills, Sardar Samand Lake & Palace and Mandore Gardens are the best places to visit in Jodhpur and must-visit inclusions in your Jodhpur holiday packages.
12.) Ranakpur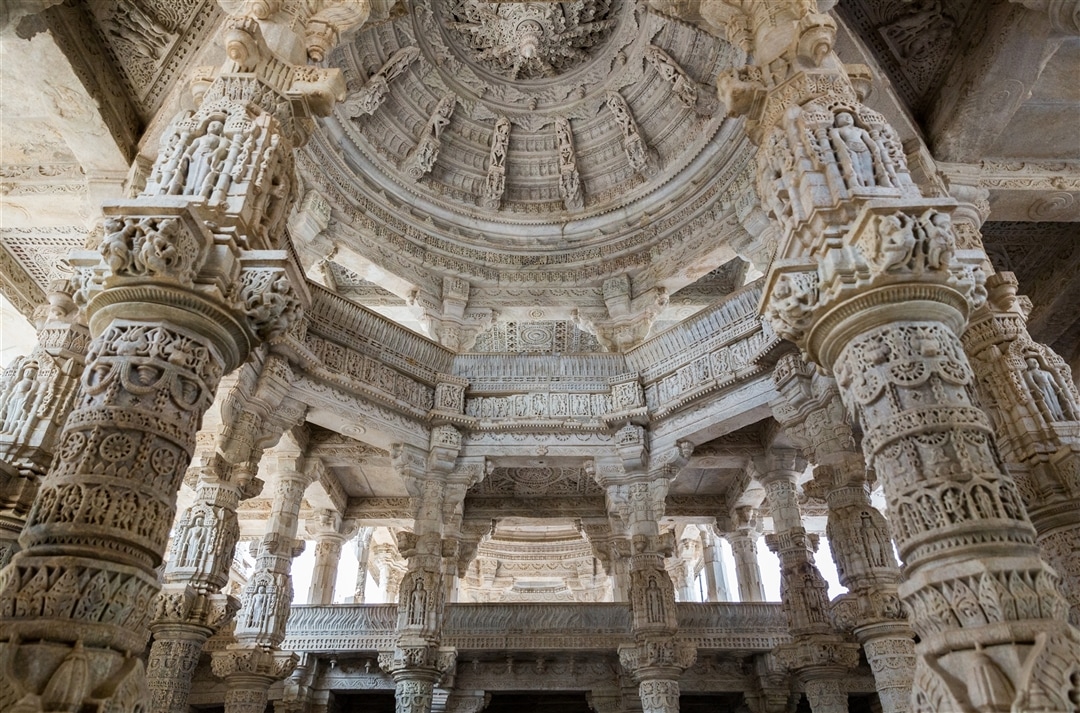 This small town located in the Pali district of Rajasthan, between Jodhpur and Udaipur, is a must-visit destination due to the spectacular white marble Jain temple it is home to! The temple is dedicated to Adinath, the first Tirthankara of Jainism and is easily one of the largest and most important temples of the Jain culture. What makes this temple unique is the splendid white marble architecture and the intricate carvings that adorn the temple interiors. The temple has over 1444 pillars, all exquisitely carved with fine detailing and spectacular design, such that every pillar is unique from the other. The temple is designed in the form of Chaumukha, which means that the temple faces in all 4 directions. A peaceful pilgrimage site and a magnificent work of art, this temple is a must-include in most Rajasthan tour packages.
Places to see:
Ranakpur Jain Temple, Surya Narayan Temple, Varahavtar Temple, Chintamani Parsvanath Temple and Mucchal Mahavir Temple are some of the major temples which can be visited when you reach Ranakpur. The small but remarkable village of Ranakpur can also be visited along with any Mount Abu tour package!
13.) Mount Abu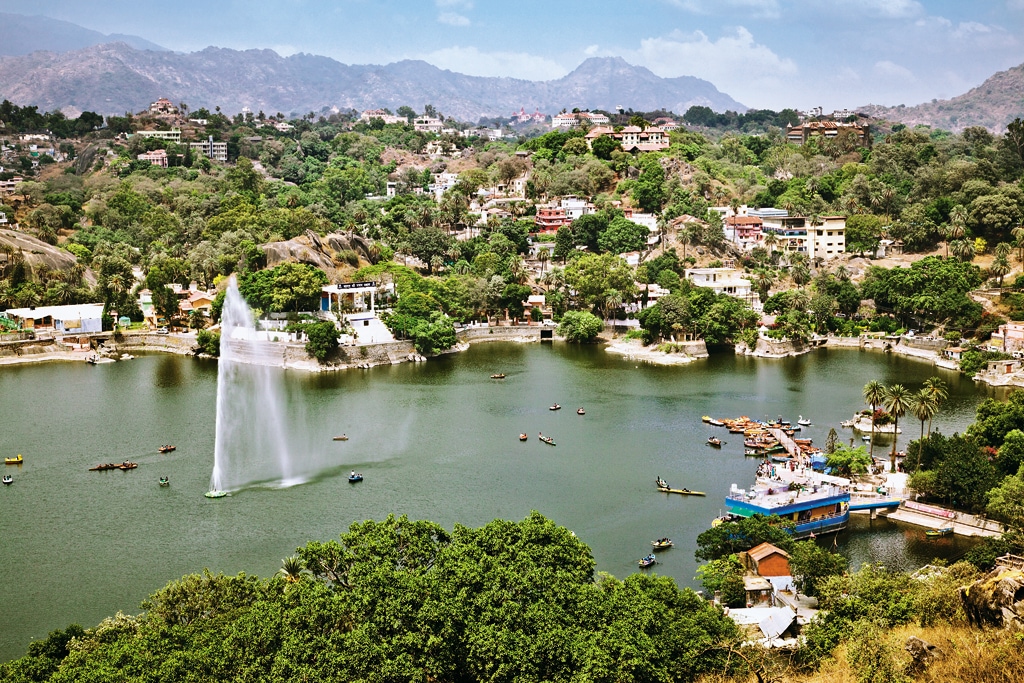 Yes! Rajasthan has hill stations too… Mount Abu, located in the southern Aravalli ranges of the Sirohi district is a popular hill station in the dry state of Rajasthan. It is also fondly known as 'Shimla of Rajasthan' or 'an oasis in the desert' due to its high altitude, pleasing weather, cool climate along with an abundance of evergreen forests, lakes and waterfalls. Mount Abu was the preferred leisure destination of the royal family, back when the Rajputs were still in reign over Rajasthan. Today, the landscape of Mount Abu is a unique mix of British styled colonial homes, royalty inspired lodges and traditional structures belonging to the locals of Mount Abu. This quaint hill station is the perfect spot to spend some quality time with your special someone as part of your Mount Abu honeymoon package. With picture-perfect scenic beauty and tourist attractions that will charm one and all, Mount Abu tour package is the ideal way to relax and rejuvenate in the desert state of Rajasthan!
Places to see:
Dilwara Temple, Nakki Lake, Guru Shikhar, Toad Rock View Point, Mount Abu Sanctuary, Lal Mandir and Peace Park Mount Abu are some of the most popular must-visit tourist attractions that can be a part of your Mount Abu honeymoon package or Mount Abu tour package.
Wow… What an amazing journey to look forward to! With these cities, you are guaranteed to explore the vast corners of Rajasthan and that too, during one trip. Explore the regions of Mewad Marwad and experience the journey of a lifetime as you travel across the desert state.
Rajasthan is a kaleidoscope of architectural wonders, colourful culture, tempting cuisine, charming locals, warm hospitality and it is time you witness this royal charm for yourself! So, what are you waiting for? The 'Land of the Royals' is waiting to welcome you…