Live Life Luxurious! A break so glorious from the mundane that it changes your perception of holiday and life itself...
A holiday that lets you embrace the lifestyle that you've always dreamed of! Luxury in simple terms can be defined as anything that provides utmost comfort. To live a luxurious life means to live a smooth, hassle-free life while enjoying some of the most incredible experiences that you can wish for. If life can be this way, why not your holiday? Why should you feel any less pampered on your vacation? With so many amenities and world-class facilities that make our life easier, it is but natural to crave for a break that gives us the best of everything. Luxury special tour packages by Veena World have been planned with the very idea of enjoying a lavish holiday that takes luxury, ease and comfort to the next level as compared to regular group tours. Think 5-star luxury hotels, world-class fine dining experience, the comfort of Business Class travel and the privilege of Business Class airport lounges and you will maybe scratch the surface of what luxury actually feels like! With our Singapore Luxury Tours, we aim to offer choices that are fit for royalty and luxury holidays that help us become one of the popular luxury tour operators in India.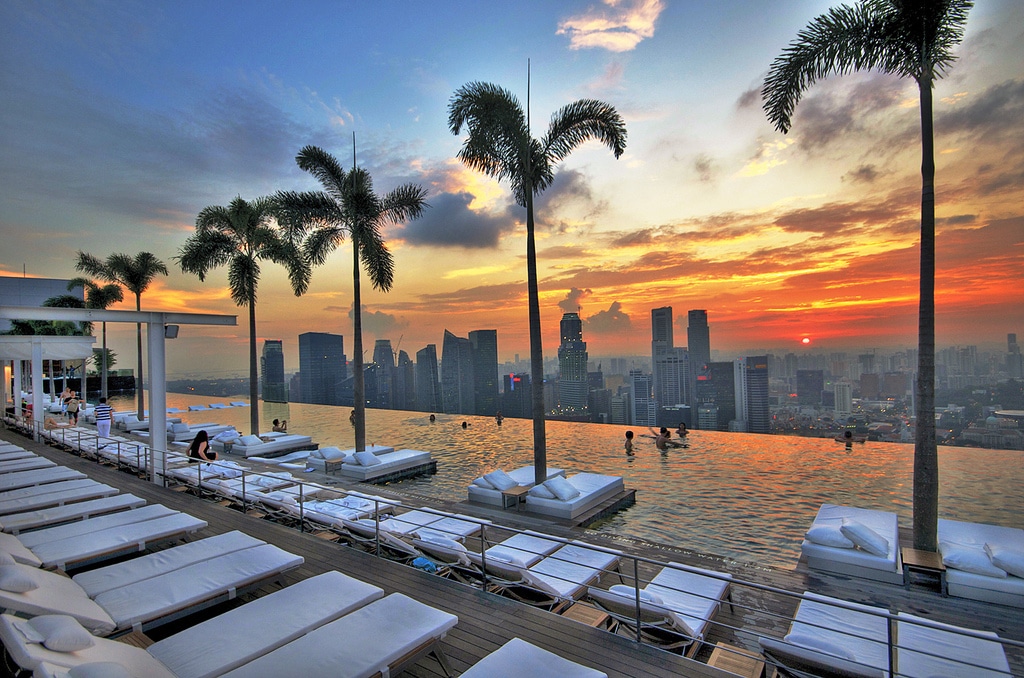 Keep reading for a day-by-day account of our very first luxury Singapore tour package, the places to visit in Singapore, the things to do in the beautiful 'Lion City' and take note of the luxurious choices that set this holiday apart from any other Singapore tour packages from India:
Day 1
A journey of luxury and comfort begins! Travel like royalty as you fly 'Business Class' on Singapore Airlines and fly effortlessly to the 'Lion City'.
Singapore Airlines Business Class
Comfort is of prime importance when you travel by air! An international flight journey is usually for an extended period of time, ranging anywhere between 2-3 hours to almost 30-35 hours depending on the destination and the duration of layovers. The one thing that can help us sail through this tiring journey is comfortable seating, remarkable entertainment and ample legroom to stretch our legs. And that is exactly what you get in the 'Business Class' seating of an aeroplane! Economy seats, in most cases, do not offer the luxury of comfort and space in their seating or in their legroom. In order to enjoy a comfortable flight journey, Business Class seating is the optimum solution that can make travelling by air, all the more relaxing and hassle-free. Take advantage of our luxury tour packages that give you the opportunity to experience ultimate comfort in the air!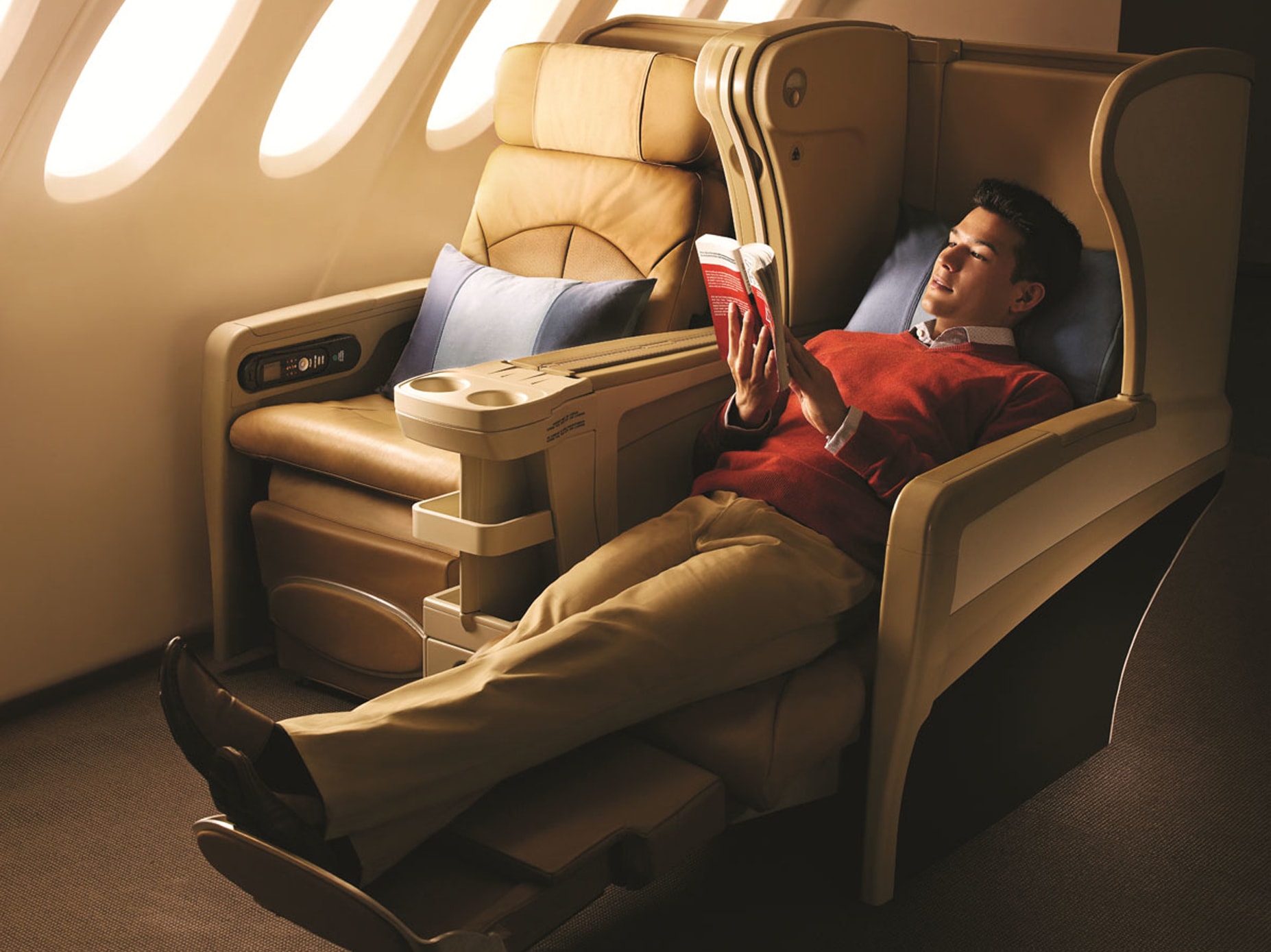 Did You Know?
Business Class seating also includes Premium Lounge Access at the destination airports where you can relax, unwind and enjoy world-class services such as light snacks, refreshments, wireless internet, TV, meeting rooms, shower room, bartender service etc. before boarding your flight.
---
On arrival, check in to the luxury 5-star hotel 'Shangri-La' and experience sheer comfort and at-par hospitality for the entire duration of your stay. After some much-needed rest, enjoy a delicious buffet spread at the Shangri-La restaurant and relish the taste of flavoursome cuisines.
Shangri-La Hotel, Singapore
A 5-star luxury hotel that offers the best of facilities along with remarkable hospitality! The Shangri-La Hotel located on the bustling Orchard Street of Singapore is a one-of-a-kind lavish property that boasts of 792 luxurious guestrooms, suites as well as 182 spacious and well-appointed serviced apartments and residences. Spread over 15 acres, Shangri-La with its exceptional hospitality and world-class amenities has been voted as one of the best hotels in the world consistently. The hotel also offers amazing culinary experiences along with recreational facilities such as swimming pool, spa and state-of-the-art gymnasium. Our luxury tours Singapore become all the more exclusive with the inclusion of this 5-star hotel that sets a new benchmark for comfort, luxury and hospitality!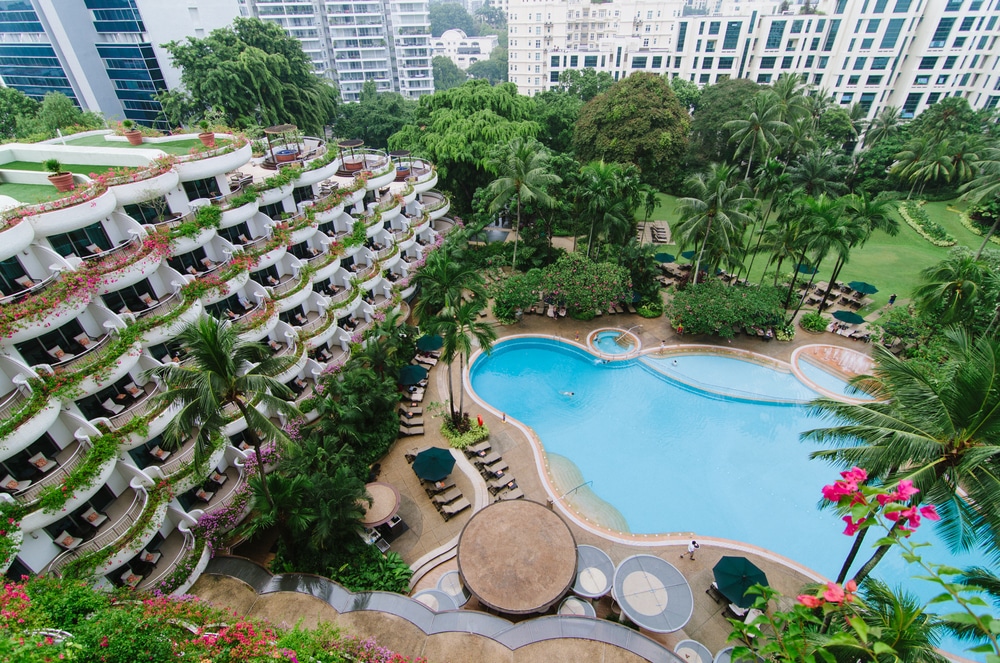 Did You Know?
The lush gardens of Shangri-La Hotel are well-renowned as the 'Second Botanic Gardens' of Singapore. On the 45th anniversary of the hotel, a seven-metre tall greenhouse known as 'The Orchid' was built, in order to preserve and showcase the proud natural heritage of Singapore, the orchids. The hotel also provides self-guided walking tours to guests who are interested in enjoying this experience.
---
The evening is set for a wonderful experience as you visit the 'Lungs of Singapore - Gardens by the Bay'. Here, you get a chance to explore the Flower Dome - largest greenhouse in the world housing exotic plants and Cloud Forest - an indoor cool-moist tropical conservatory featuring the world's tallest indoor waterfall at 35 metres and splendid mist-covered walkways known as 'Cloud Walk' and 'Treetop Walk'. Dinner will be a memorable affair as you dine in style at the rooftop SuperTree restaurant in Gardens by the Bay.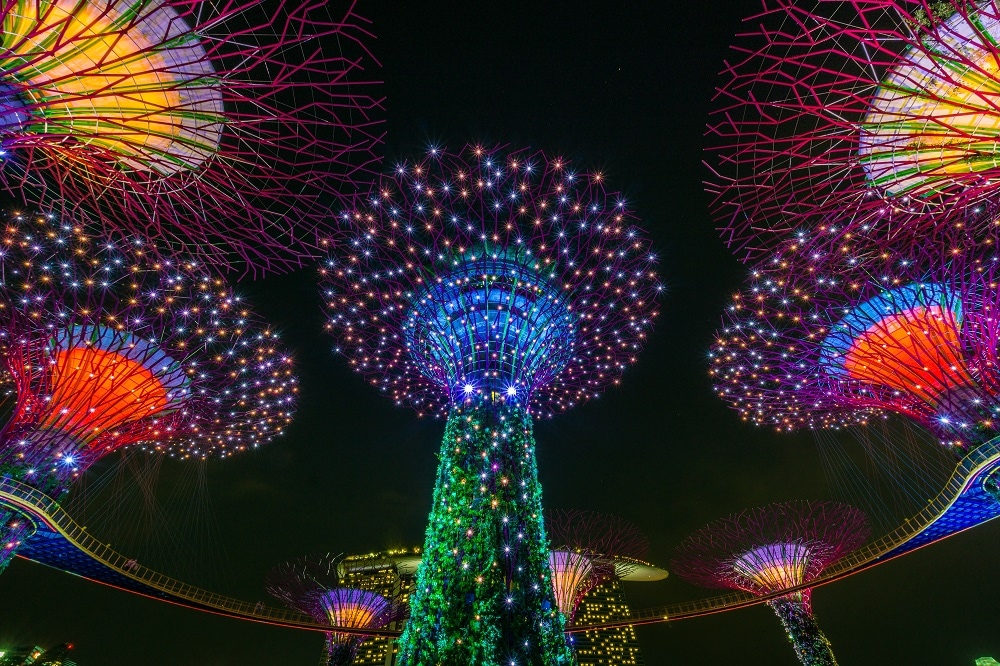 SuperTree by IndoChine Restaurant
Exploring Singapore's Gardens by the Bay is one thing but dining atop the iconic Supertree of this stunning man-made creation is a marvellous experience altogether! The restaurant offers a delectable mix of Indo-Chinese and Western cuisines along with a wide selection of cocktails and alcoholic spirits. Dine at the rooftop and gaze at the mesmerizing cityscape and natural splendour of Singapore from up above; a unique experience that will be etched in your mind and heart forever! Whether it's a romantic dinner for two or a night out with family and friends, the setting of SuperTree by IndoChine is such that you will enjoy spellbinding views from the top of the tallest Supertree. The restaurant has 2 seating options – alfresco-style rooftop bar and fully-air conditioned 360-degree lounge. Our luxury tour packages to Singapore are replete with memorable experiences like these!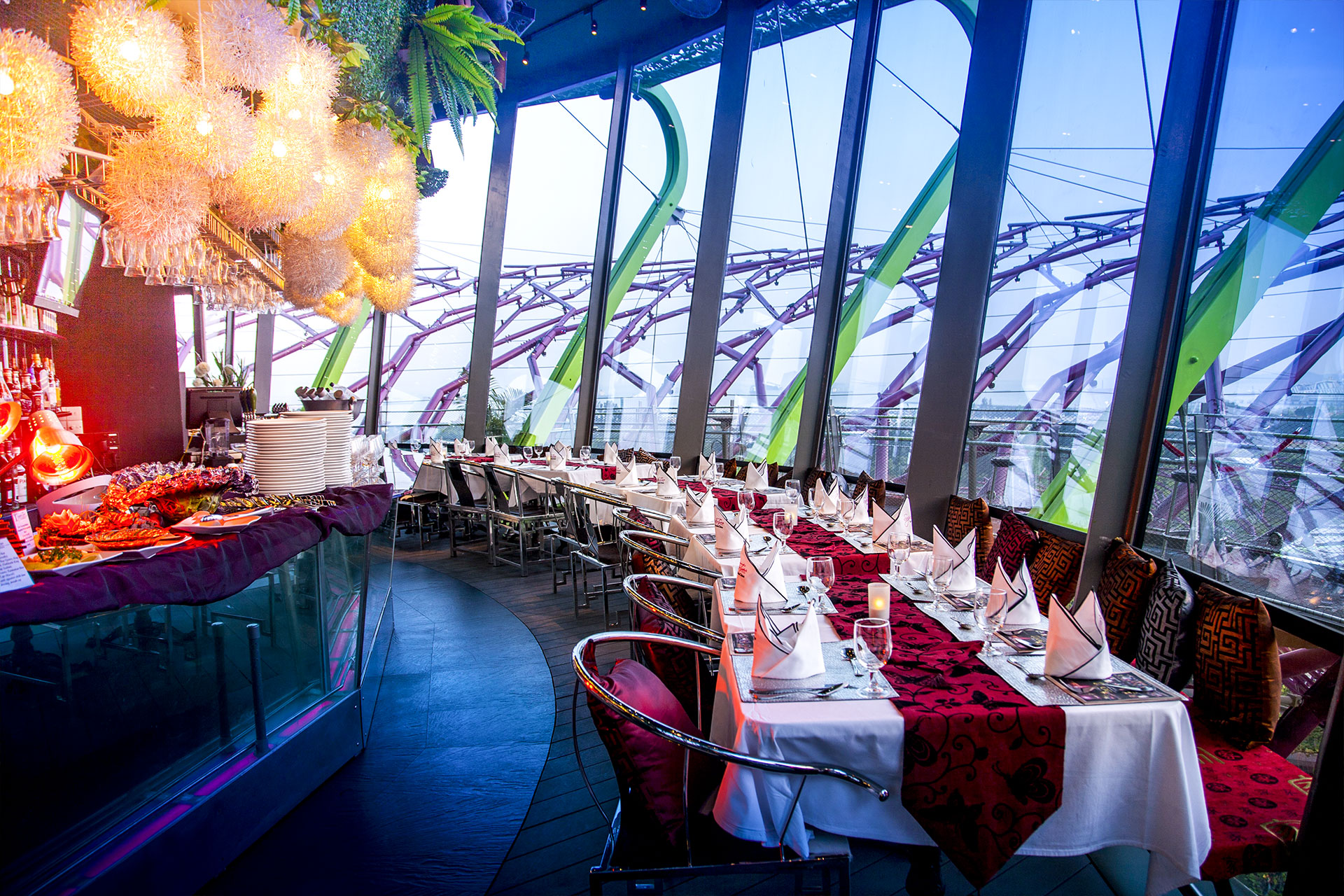 Did You Know?
The restaurant, as well as the menu it serves, is completely eco-friendly! The menu is entirely nutraceutical which means the food contains health-giving additives, organic produce and does not include any endangered species in its ingredients. The Supertree structure that holds the restaurant is also made of sustainable PET plastics and green wood that is made from rice husks.
---
Day 2
It's time to explore the Lion City! Drive through amazing sights such as Suntec City, Fountain of Wealth (largest fountain in the world), City Hall, Orchard Road, Parliament House, The Esplanade (performing arts centre), Marina Bay Sands and enjoy a lovely photo stop at Merlion – an iconic landmark located at the Waterfront Merlion Park. The Merlion (half man, half lion) is considered to be the national icon of Singapore and the Merlion Park is one of the best places to visit in Singapore. The city orientation tour consisting of these spectacular attractions forms an integral part of any Singapore tour package.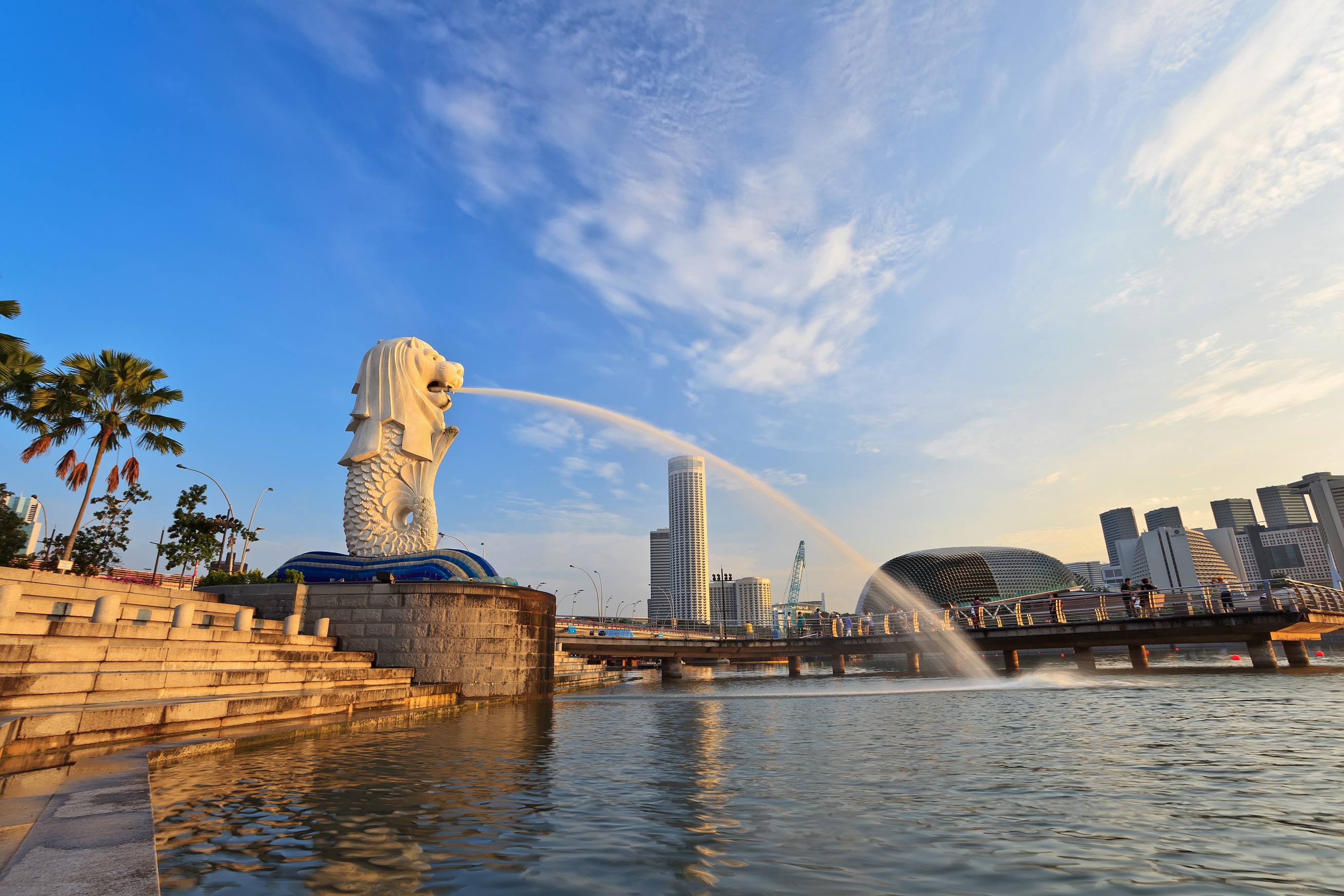 For lunch, head to a place that makes you feel like royalty! Visit the 'Shahi Maharani' Restaurant at Raffles City Centre for a sumptuous fare of North Indian cuisine.
Shahi Maharani Restaurant
A taste like home in foreign land… Luxury holidays cannot get better than this! How about a restaurant that not only offers a lavish meal but also has royalty written all over it? The Shahi Maharani Restaurant which means 'The Royal Empress (Queen)' is all set to give you the royal and luxurious feast that you deserve. Located at the Raffles City Complex that is also home to the tallest hotel in Singapore (Swissotel the Stamford), this authentic Indian restaurant offers an unforgettable dining experience that comprises of unique flavours and unparalleled cuisine from the northern part of India. Get ready to be enchanted by live music and exquisite interiors that resemble the erstwhile royal palaces of India! Feel pampered and experience what it means to dine like royalty as you savour the incredible gastronomical journey of the 'Shahi Maharani' restaurant. All this can be a part of your luxury travel experience when you book Singapore tour packages from India!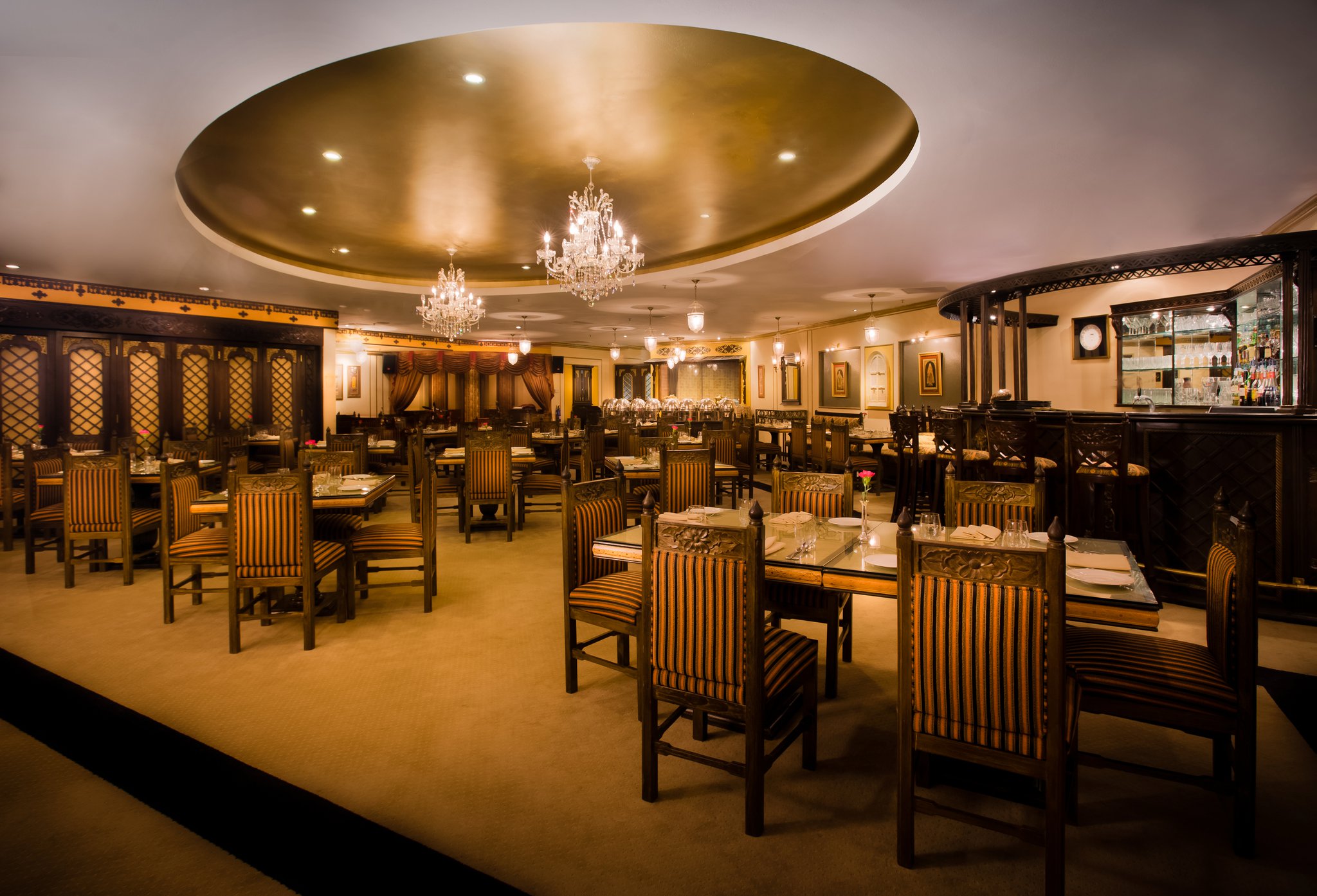 Did You Know?
The world's largest travel website, TripAdvisor awarded the 'TripAdvisor Certificate of Excellence Award' to Shahi Maharani Restaurant in 2017 for its outstanding service and quality. Some of the popular dishes recommended by patrons of the restaurant are Tandoori Chicken, Lamb Chops Shah Jehani, Tawa Jheenga, Sabzi Sizzler, Kulfi, Gulab Jamun and Kesari Phirni. Don't forget to try these sumptuous delicacies as part of your luxury tours in Singapore!
---
In the afternoon, take a cable car ride from Mt. Faber to the fascinating world of Sentosa Island. Singapore's premier island getaway and Asia's leading leisure destination, Sentosa Island is a plethora of adventures, entertainment and exciting activities that attracts people from all over the world. It is easily one of the best places to visit in Singapore and an integral part of any Singapore tour package! As part of our Singapore holiday packages, experience the thrill of Luge Ride with Sky Ride and visit attractions such as Images of Singapore and Madame Tussauds Wax Museum. Posing and clicking selfies with wax statues of famous celebrities at Madame Tussauds is one of the most popular things to do in Singapore! The evening is set for a spectacular light and water display which combines lasers, fire effects and wonderful musical masterpieces to create a mesmerizing show – Wings of Time. The award-winning outdoor night show is the only one of its kind spectacle that is set in the open sea and truly, 'Wings of Time' deserves a special mention in all Singapore tour packages from India.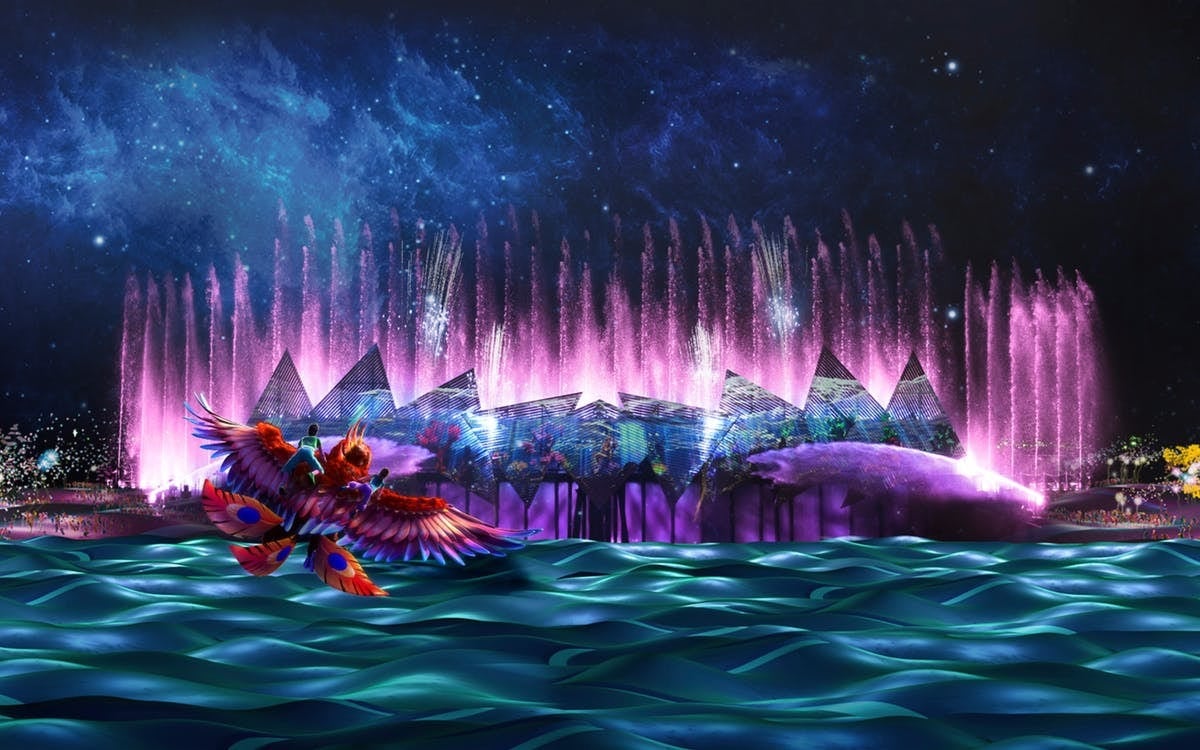 Dinner will be something to look forward to as you dine at the beachside restaurant, 'Trappiza' on Sentosa Island.
Trapizza on Sentosa Island
Beach-side dining is always the best kind of dining! Trapizza, an Italian restaurant that forms part of Shangri-La's Rasa Sentosa Resort & Spa is located on Siloso Beach on Sentosa Island. The casual beach-side eatery boasts of an authentic Italian menu that consists of delectable pasta, wood-fired pizzas, salads, desserts and classic cocktails that are fun to experiment and experience for people of all ages. The restaurant features some of the best Italian comfort foods while taking care to preserve the traditional recipe and flavour of the dishes. A popular crowd puller and the restaurant's claim to fame is their thin-crust pizza that is hand-made with fresh ingredients, topped with generous amounts of cheese and cooked in a wood-fired oven. Some of the best dishes on the menu are Pizza Siciliana, Trapizza Linguine and Siloso Prawn Salad that can be a part of your dining experience with luxury holidays to Singapore.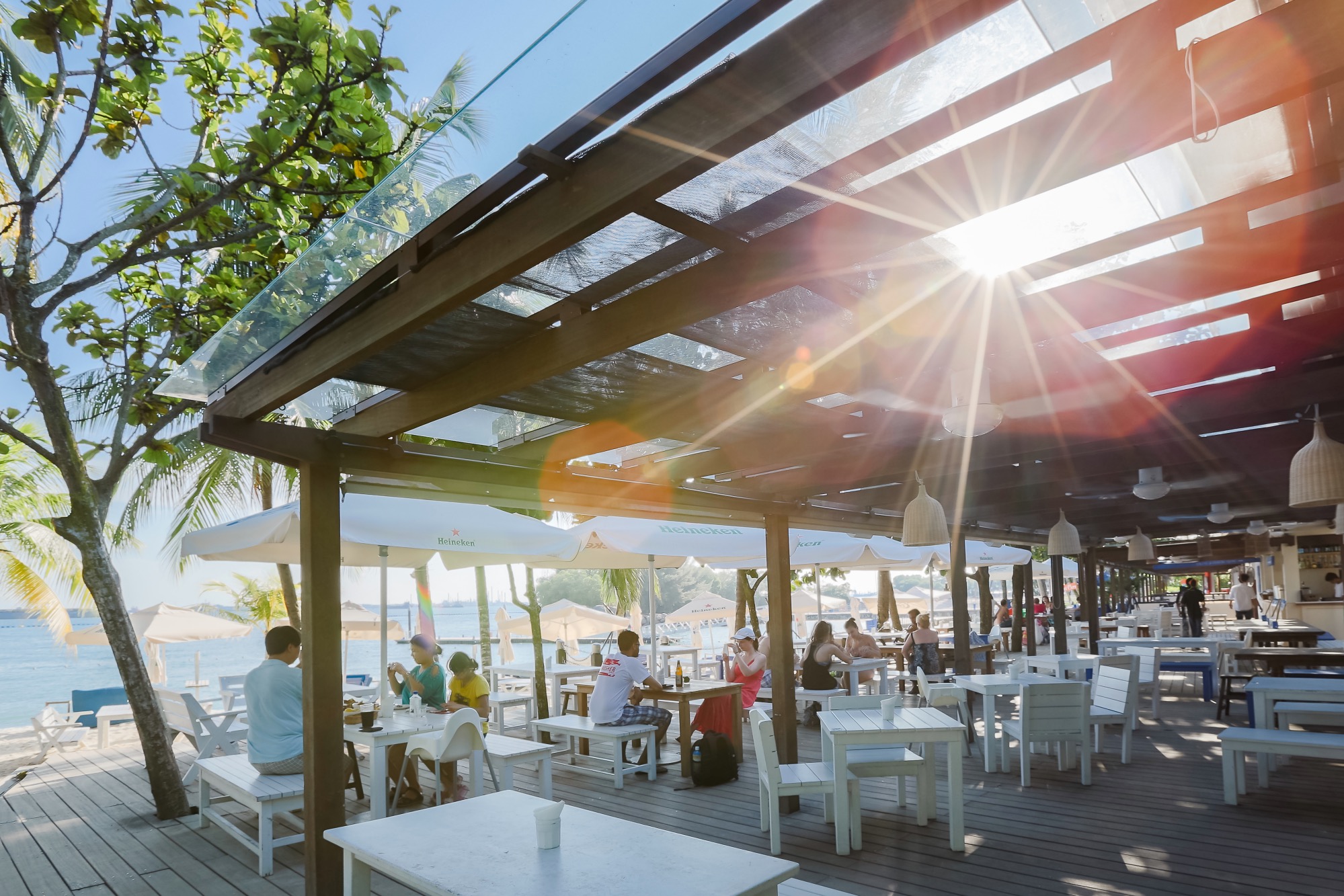 Did You Know?
The restaurant recently went through a 6-month long transformation and now, the renovated eatery offers a dining experience that is suitable for all ages! It has a bigger space that includes a water play area for kids and a revamped menu that consists of authentic Italian dishes, classic cocktails and signature dishes such as wood-fired thin crust pizzas, pasta and desserts, which were crowd favourites from before.
---
Day 3
A day dedicated to the wonder of Universal Studios on Sentosa Island! Experience unlimited entertainment, excitement, thrilling shows and attractions such as 'Lights Camera Action', Transformers, Accelerator ride, Revenge of the Mummy, Water World, Jurassic Park, Madagascar – A Crate Adventure, Donkey Live, Shrek 4D adventure, Flying Dragons etc. With such unbelievable attractions, Universal Studios is undoubtedly one of the best places to visit in Singapore!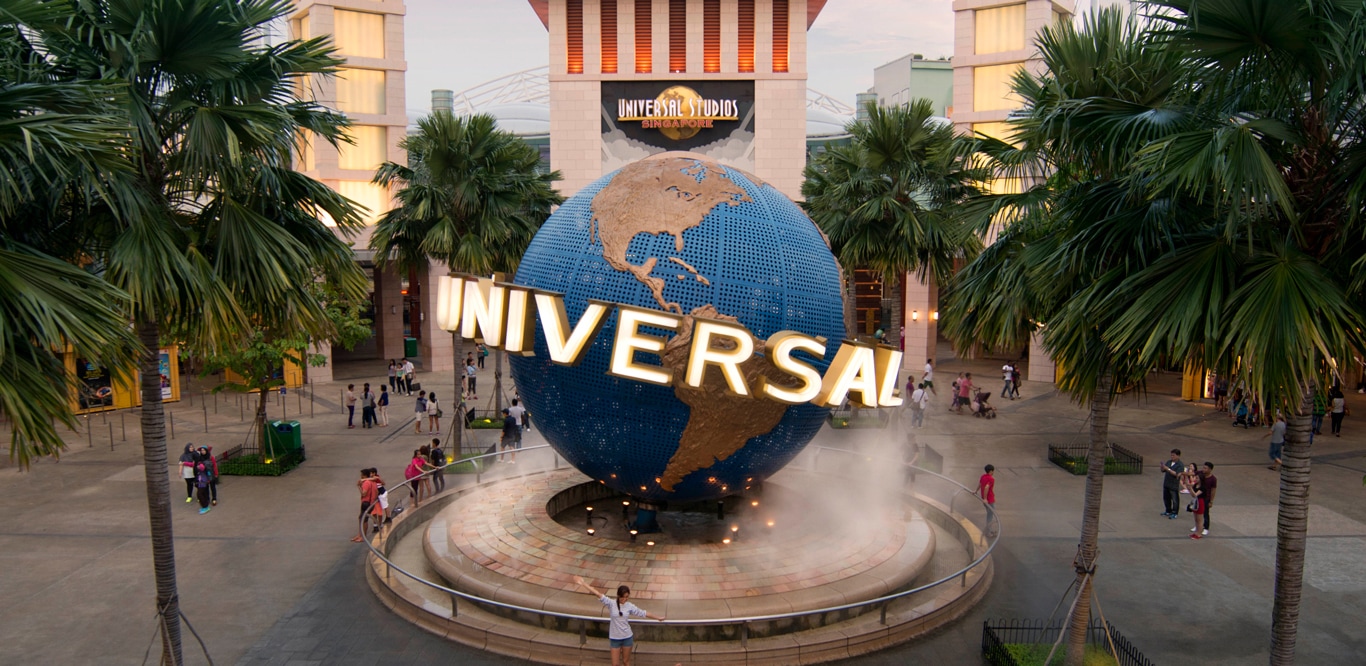 Lunch will be a memorable affair as you dine in the company of marine animals at Ocean Restaurant by Cat Cora at Resorts World Sentosa. Also, visit Asia's biggest aquarium here - S.E.A Aquarium which houses more than 100,000 marine animals and rare species of the marine world.
Ocean Restaurant by Cat Cora
Get ready for extraordinary food in the company of incredible marine life! Ocean Restaurant by Cat Cora is a unique underwater aquarium experience where you can enjoy delicious food and feast your eyes on various fishes, rays, sharks and several marine animals that swim around in the adjoining S.E.A aquarium. The menu is a blend of Mediterranean and Californian cuisine that is inspired by the head chef and owner, Cat Cora's Greek roots and American upbringing. The best part about the restaurant is the amazing spectacle of aquatic animals that are visible through the huge floor-to-ceiling glass panes of the S.E.A aquarium that hosts as many as 100,000 animals. Ocean Restaurant by Cat Cora, located at Resorts World Sentosa on Sentosa Island is one of the most popular restaurants in Singapore which can be experienced as part of our luxury holidays to Singapore.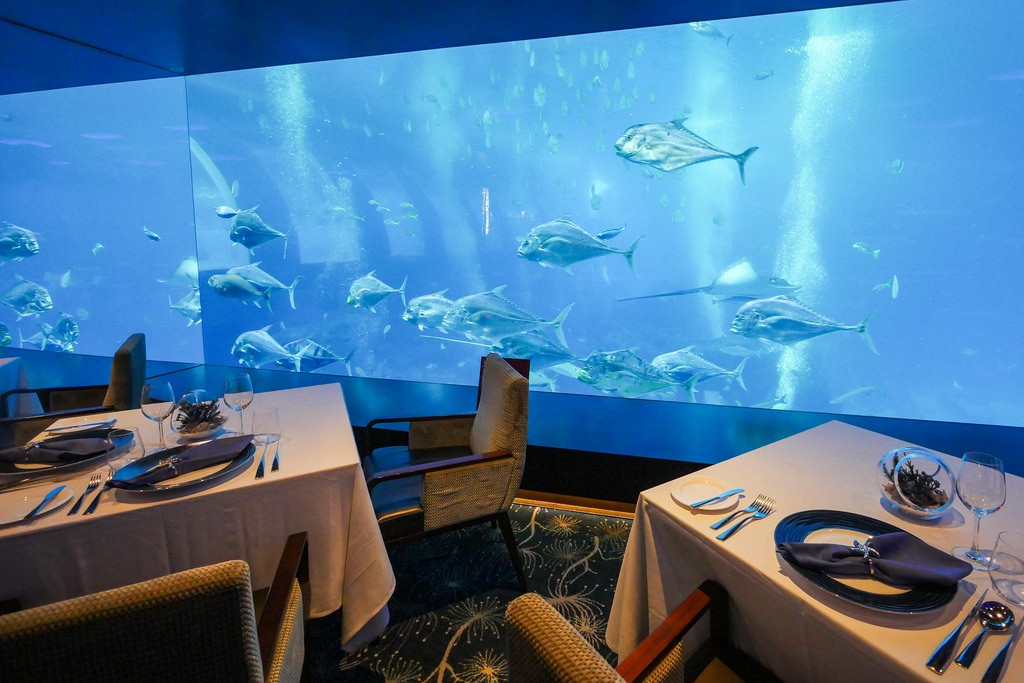 Did You Know?
The restaurant is spearheaded by the well-known chef, Cat Cora who is also known as the world's first lady iron chef for her featured role on the television series, Iron Chef America and for being one of the first female chefs to make her own mark in the male-dominated culinary industry.
---
In the evening, head to the Marina Bay Sands observatory deck to enjoy a splendid night view of Singapore city. Marina Bay Sands is usually the go-to destination of any traveller visiting this city, making it one of the best places to visit in Singapore. Also, shopping at the luxury outlets of this premium lifestyle destination is among the most popular things to do in Singapore. Dinner will be at the rooftop restaurant of Marina Bay Sands where you can enjoy delicious food and admire stunning city views, at the same time.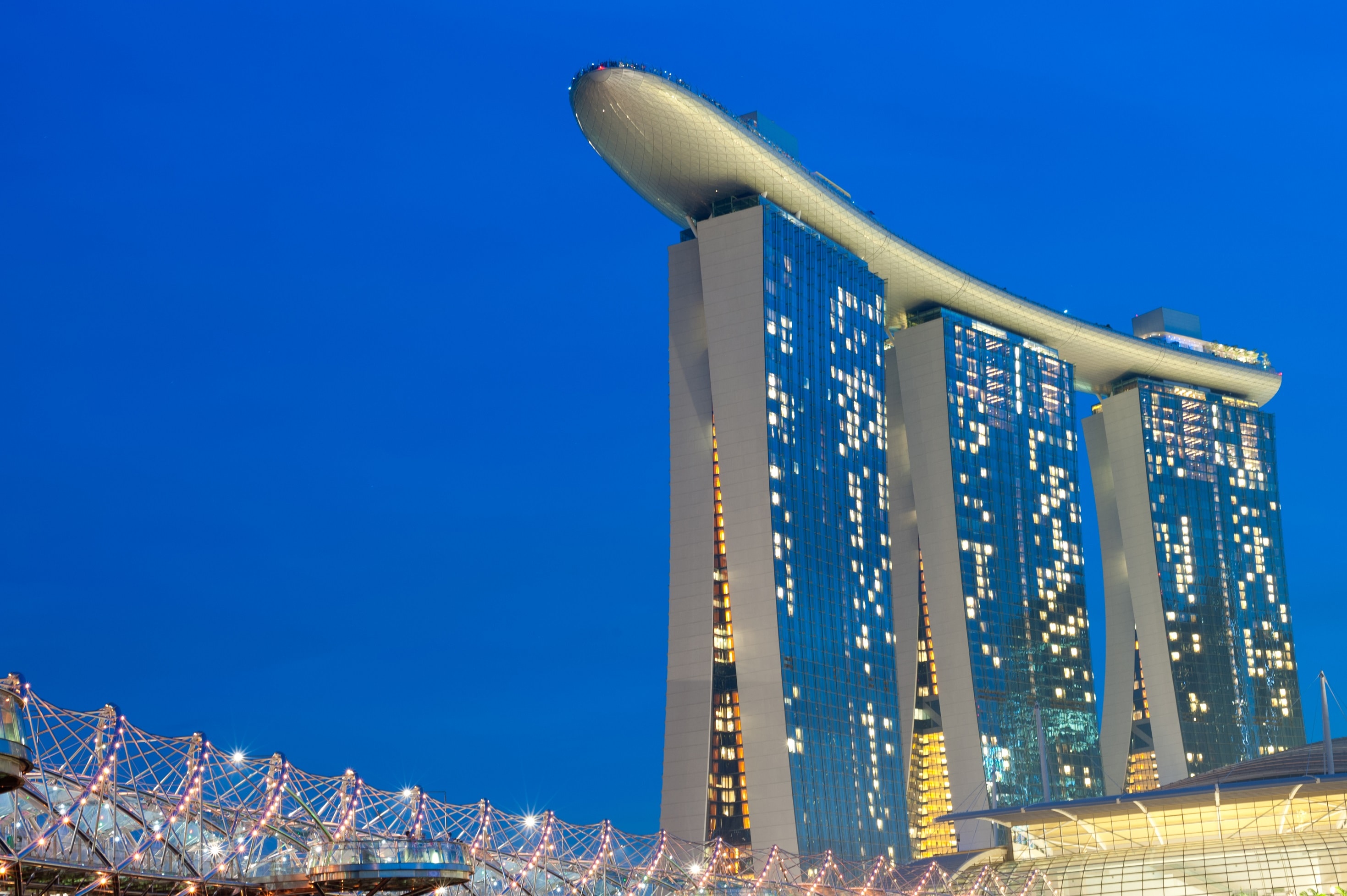 Rooftop Dining at Marina Bay Sands
Marina Bay Sands is a 5-star luxury hotel and lifestyle destination located at Marina Bay in Singapore. This is Singapore's most iconic hotel that boasts of the world's largest infinity pool, award-winning dining choices and a wide range of entertainment and shopping options. Marina Bay Sands has a unique design that consists of 3 hotel towers, a continuous lobby interlinking all 3 towers at the base and the most distinctive feature - SkyPark, a 340-metre-long cantilevered platform that sits on top of the towers and consists of gardens, swimming pool, jogging paths and restaurants. The SkyPark is well-known for its rooftop restaurants that offer some of the best views in the city, at a height of 57 storeys above the ground. These amazing dining options include Lavo Italian Restaurant & Rooftop Bar, CÉ LA VI Restaurant and SkyBar (Modern Asian Cuisine) and finally, Spago by Wolfgang Puck (seasonal Californian cuisine by celebrity chef, Wolfgang Puck). Enjoy any of these beautiful dinner experiences when you explore Singapore through our luxury holidays.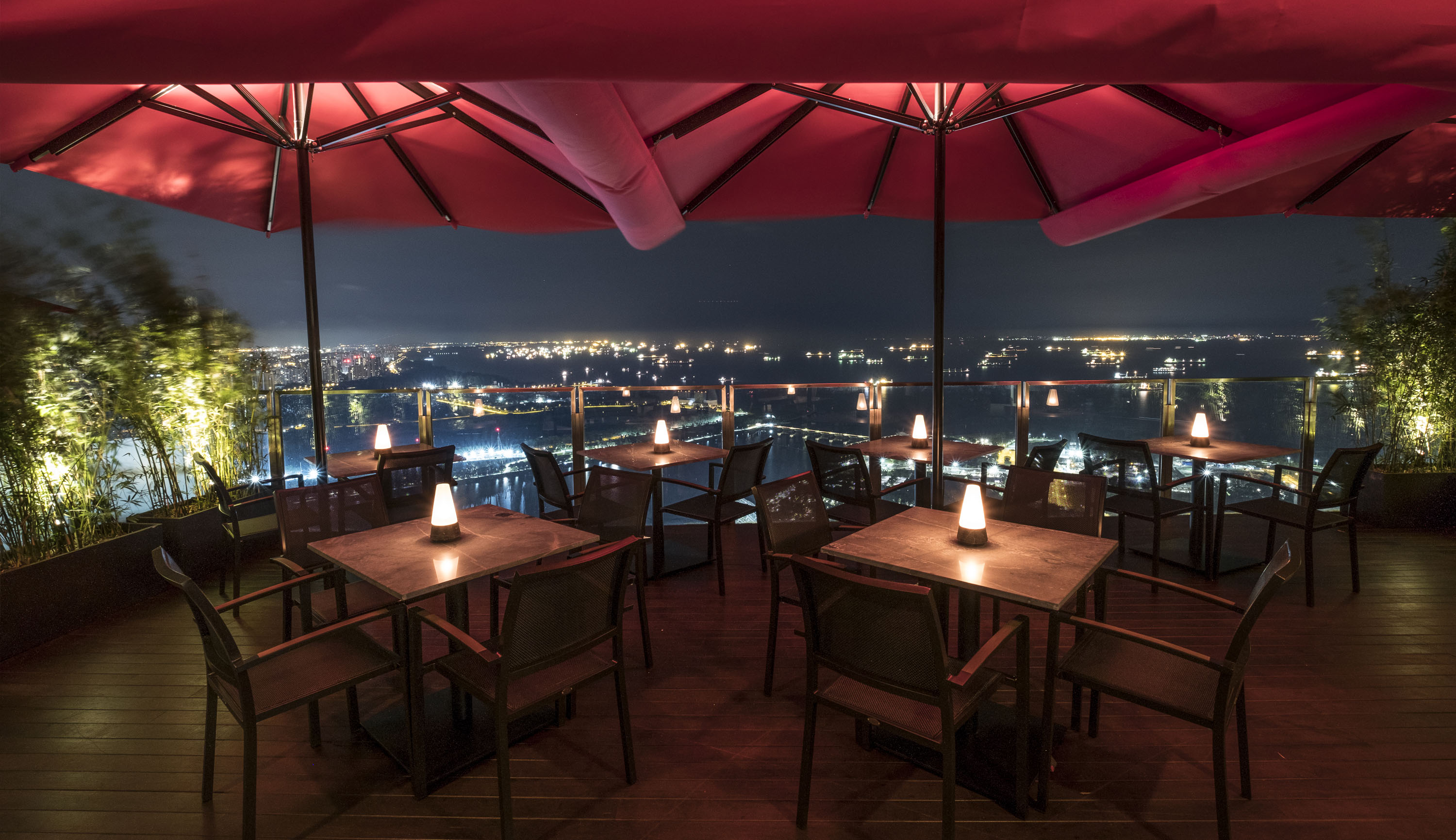 Did You Know?
The Marina Bay Sands casino is the world's largest atrium casino with over 350 table games and 2300 slot machines. The casino features a 4-storey central atrium with 4 levels of gaming and entertainment, all combined in one huge space.
---
Day 4
The final day brings the wonderful experience of shopping at Orchard Road. Dotted with malls, stores and eateries, Orchard Road is a 2.2km stretch of paradise for shoppers! Orchard Road was once home to nutmeg and fruit orchards, which is how the road got its name. Today, you can find the most prestigious brands on this street; right from women's fashion to rare basketball jerseys, this popular stretch is the go-to option for exclusive shopping in Singapore. This shopping spree will be followed by lunch at a fine dine restaurant on this iconic shopping street.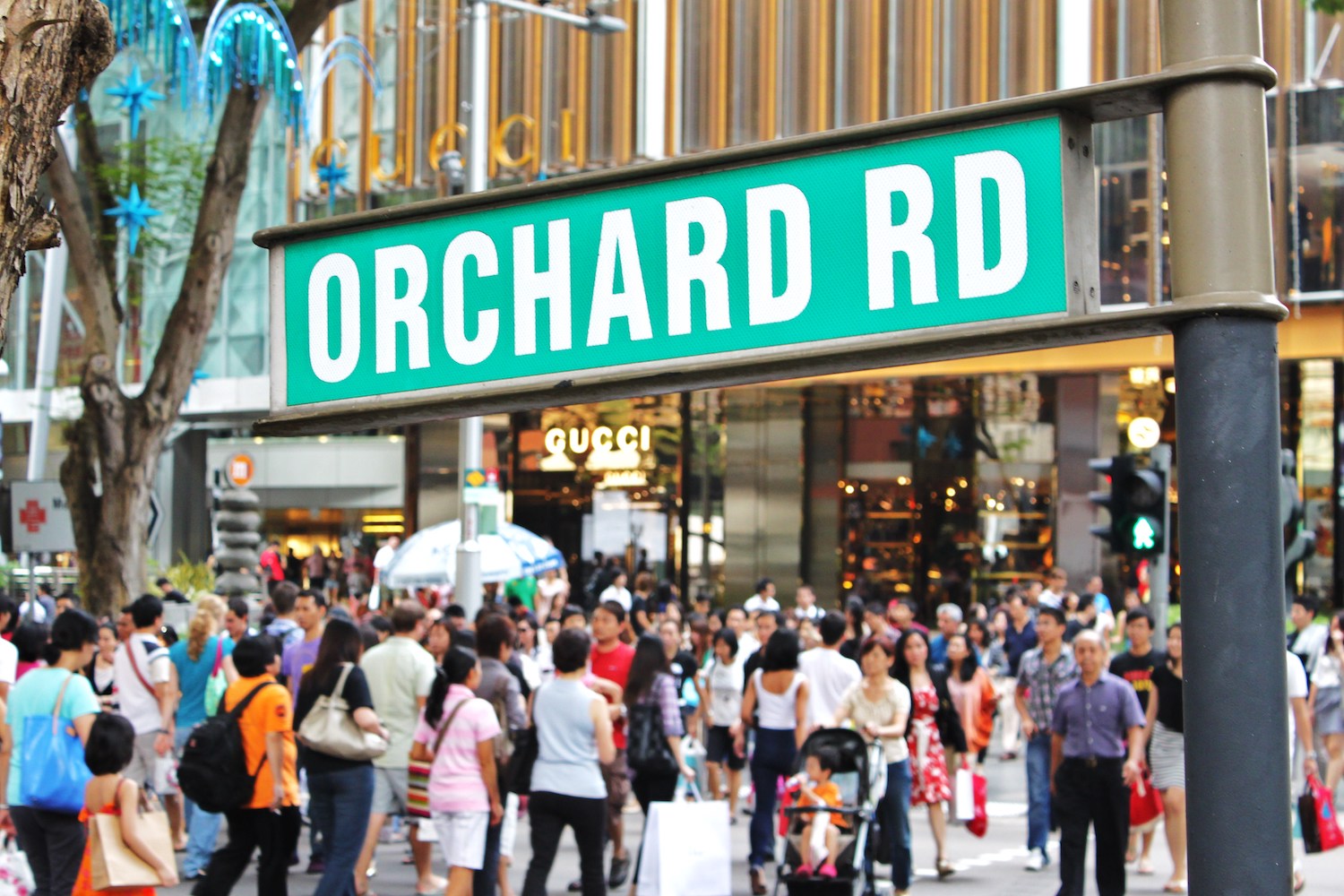 That marks the end of this amazing travel experience that gives you the best of both worlds - luxury as well as sightseeing in Singapore!
---
If you are planning or customising a luxury trip on your own, you can also include attractions such as Little India, Mustafa Mall, Jurong Bird Park, Singapore Flyer, Singapore Zoo, Night Safari, Singapore Botanic Gardens and Chinatown as part of your Singapore holiday packages.
Now that you have a clear idea of how luxury tours are set apart from regular group tours, we encourage you to indulge in these optimum choices and make life more comfortable and at ease. Who said luxury was only for a chosen few? With the right choices and the right destination, luxury can be experienced even while travelling and exploring new places around the world. So, shed your inhibitions and set forth on a journey that will pamper you to its best abilities... After all, it's not a crime to enjoy life while you are living it! ;)
For a more detailed insight into places to visit in Singapore, read: Sightseeing in Singapore on a Holiday – 15 Attractions in 1 Trip