Think of Thailand and the first thing that comes to our mind is its palm-fringed white sandy beaches and coral reefs. As the land of famous islands that are a tantalizing distraction from everyday life, Thailand attracts travellers from all over the world to spend their honeymoon, family holiday or a fun trip with friends. Southern Thailand is especially blessed with an astonishing number of exotic islands. From tiny rocks to huge tracts of land emerging from the Andaman Sea, there is no dearth of places for travellers to escape the crowd and spend their vacation in peace.
Phuket is one of the popular choices among its vast collection of islands. It is known to be the largest of them all and equipped with everything from best-in-class hotels and resorts to restaurants and kiosks serving mouthwatering delicacies. Further, Phuket Island also serves as a center point for travellers to begin exploring Thailand and its hidden gems. It is surrounded by several exciting islands with an exceptional climate and natural beauty in abundance.
That being said, travellers generally opt for a package deal of several islands when in Phuket to experience the best of everything on their vacation
1. Ko Samui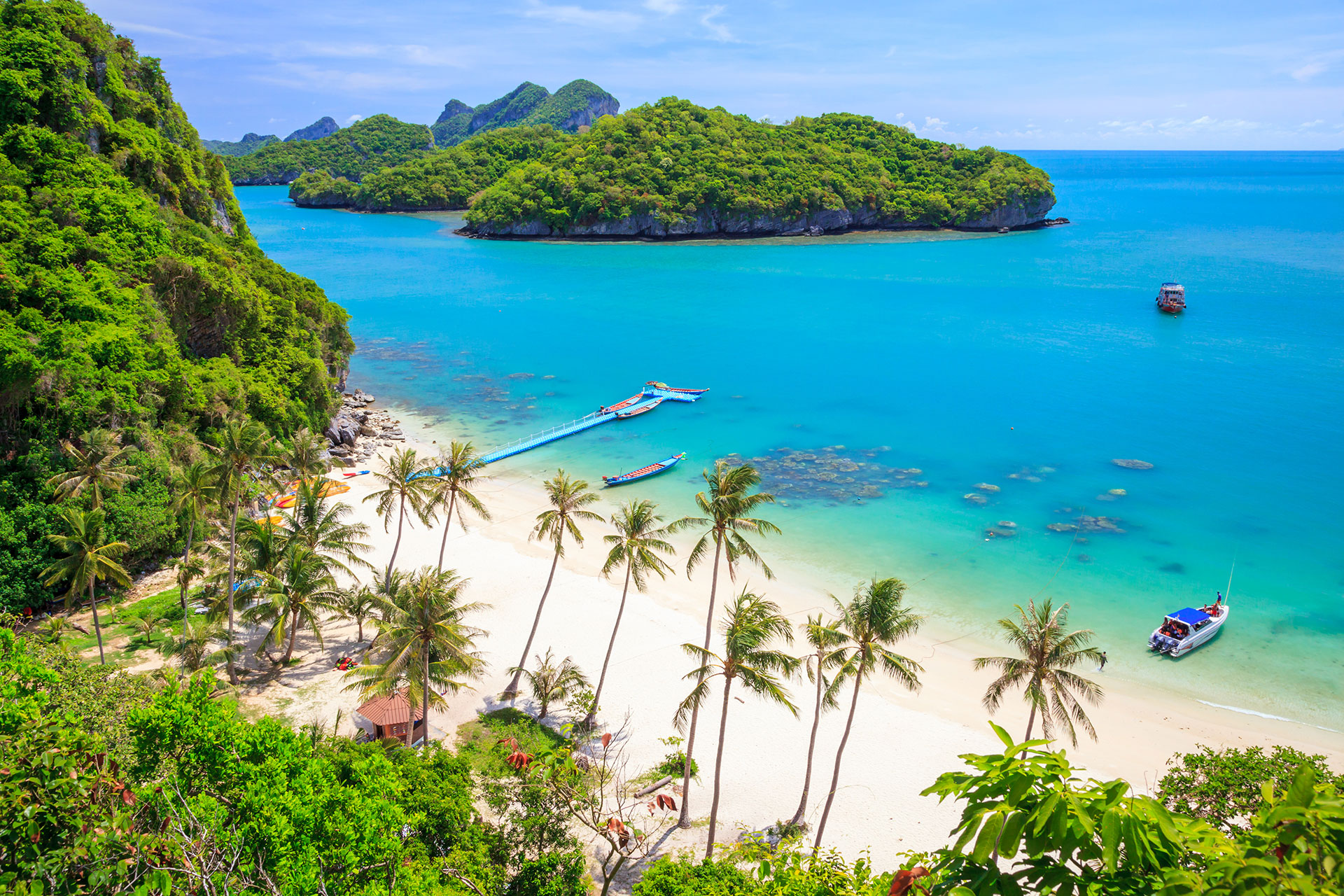 Let us start with the most popular Ko Samui Island that you must visit when in Phuket. It is in the Gulf of Thailand and one of the most significant attractions that is known for its palm-fringed beaches, coconut groves, dense mountainous forests and a collection of luxury resorts and spas. What makes it a must-visit is its 12m tall Big Buddha statue at Wat Phra Yai temple that is located on a tiny island connected to the land of Ko Samui.
When in Ko Samui, one can explore some truly remarkable sites of cultural, religious and historic significance in addition to the natural beauty, which is in abundance.
Major Attractions
Turtle Island
Big Buddha Temple
Na Muang Waterfalls
Secret Buddha Garden
Ang Thong National Marine Park
Bophut's Fisherman's Village
Grandpa and Grandma Rocks
Best Time to Visit
Months between December to February are the most suitable to visit the island.
2. Koh Phi Phi
Koh Phi Phi or the Phi Phi Islands are a group of 6 islands within the large land of Phuket. However, just two of them, namely Phi Phi Don and Phi Phi Leh are the main attractions while the rest are inaccessible. These two islands are known for their stunning beauty that offers an ideal vacation for almost all age groups.
Phi Phi Don is the largest among the 6 and the only inhabited island along with Phi Phi Leh. It features a range of hotels, spas and restaurants with a tropical cliché in terms of the service. Travellers generally chose to hop between Phi Phi Don and Phi Phi Leh islands and then go back to their stay in Phuket.
Major Attractions
The Viking Caves
Phi Phi Leh National Park
Snorkelling in Hat Yai
Hiking to Ao Lo Dalam
Coral Reef of Ao Pileh Bay
Best Time To Visit
Months between November and April are the best time to visit when the weather is pleasant.
3. Similan Island
Yet another exotic archipelago in the Adanam Sea, Similan Island is a part of the Phang Nga province in southern Thailand. It is also a maritime border between India and Thailand that was established as Mu Ko Similan National Park in the 1980s.
Besides, what brings Similan on the list of best islands to explore when in Phuket are its natural wonders that await beneath the clear blue waters. Its less explored and unspoiled beaches and coral reefs make for a perfect escape from everyday life. Further, its natural treasury is such that you would not want to go back home.
Major Attractions
Koh Tachai Island
Richelieu Diving
Elephant Head Rock
Similan Islands National Park
Best Time to Visit
The best time to visit is from December to early January to avoid rough weather conditions.
4. Coconut Island
Koh Maphrao, popularly known as Coconut Island is located on the east coast of Phuket and is about 15 minutes from the main city. One can easily reach the island by catching a boat from Laem Hin Jetty and spend a day relaxing in its calm atmosphere.
Besides the natural beauty, Koh Maphrao is popular for its friendly locals, abundant marine life and stunning views of Phang Nga Bay. People generally prefer island hopping from Coconut Island to other small islets of Phang Nga Bay such as Koh Yao Noi, Koh Racha Yai, and Koh Phi Phi.
Major Attractions
Kayaking
Floating restaurants
Pristine beaches and reefs
The Village Coconut Island Resort
Best Time to Visit
Travellers generally plan a visit to Coconut Island along with other places to visit in Phuket.
5. Coral Island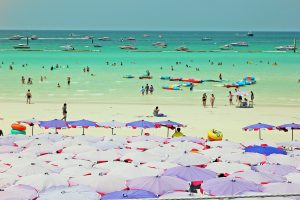 Ko He or Coral Island is one of the famous islands one must visit when in Phuket. It is popular for its exotic coral reef, thereby giving it the name Coral Island. The island is home to two beautiful beaches, namely the Long Beach and the Banana Beach connected via a forest trail and water transport.
Additionally, the entire Coral Island offers numerous water activities, including banana boats, canoes, snorkelling, speed boat racing and more to add some thrill to your vacation.
Major Attractions
Water activities
Long Beach
Banana Beach
Freedom Beach
Best Time to Visit
Months between November and April are considered favourable because of the pleasant weather.
6. Krabi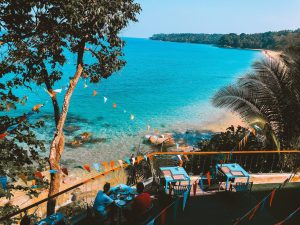 Famous for Phuket destination weddings, Krabi is a beautiful island lying on the west coast of southern Thailand. It is known for its sheer limestone cliffs, dense mangrove forests, and over a hundred offshore islands. Besides, there are hot springs, national parks, pristine beaches and several hidden gems that are waiting to be discovered.
Travellers generally book a tour package of Phi Phi, Phuket and Krabi as it offers a wide range of adventure and recreational activities along with exquisite living spaces and mouthwatering food. Adding more value is the Krabi nightlife that gives you a wholesome experience on your vacation.
Major Attractions
Koh Poda
Koh Hong
Koh Tao
Koh Mor
Koh Kradan
Koh Lanta
Phra Nang Princess Cave
Krua Thara Restaurant
Best Time to Visit
Months between November and March are considered favourable because of the pleasant weather.
7. Koh Phangan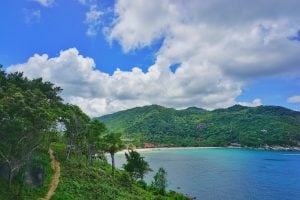 Among the best islands near Phuket, Koh Phangan is a hilly island with abundant natural beauty such as dense forests, mountains, waterfalls and stunning views. Besides being a treasure trove of nature, the island is a great source of fun and entertainment. It hosts some of the most happening parties alongside the pristine beaches. Thanks to its array of best beaches after those in Phuket.
Koh Phangan is also one of the beautiful and 5th largest islands of Thailand with the assets of a tropical paradise. These include white powdery sand beaches, coral reefs and coconut groves.
Major Attractions
Full Moon Party
Half Moon Party
Black Moon Party
Water activities
Haad Rai beach
Khao Ra View Point
Phaeng Waterfall
Kuan Yin
Best Time to Visit
Months between November and March are ideal because of the pleasant weather.
Narrow down your favourite islands from the above list and book your Phuket tour package. Do check the Phuket island map online to ensure covering all the important aspects of this beautiful holiday destination.