Kashmir is arguably a paradise on earth, and pristine Pahalgam is one of the most beautiful places in the famous valley that needs to be included in Kashmir holiday packages. With its sparkling Rider River, lush meadows, towering pine trees, and angelic children, one large, picturesque-looking, breathtaking view of Pahalgam is breathtaking. There are so many wonderful places to see, such as Pahalgam, which is surrounded by towering mountains and has a deep, green valley filled with coniferous trees. It is one of Kashmir's top summer resorts for families, tourists, honeymooners, and nature enthusiasts. Pahalgam's intriguing scenery and lovely weather draw visitors from all over the world.
All the places to visit in Kashmir are an ode to nature in all its glory: pristine, unspoilt and magnificent. Untouched by way of the trimmings of civilization, Pahalgam gives myriad alternatives for nature lovers, journey enthusiasts, in addition to religious seekers. Pahalgam, located at the junction of two rivers in Jammu and Kashmir, is well renowned for its mountain trails, animal sanctuary, and mountain caves. As March comes, the snow melts, providing travellers with ideal weather to appreciate the region's magnificence. To reach there, fly into Srinagar's Sheikh-Ul-Alam airport and then take a cab to Pahalgam, which is two hours away. If you want to go by train, the nearest stations are Udhampur Railway Station and Jammu Tawi Station. The following are a few hotels in Pahalgam where you can stay once you arrive.
1. The Pahalgam Hotel
The Pahalgam Hotel is a traditional inn in this magnificent city, spread over a vast 2 hectares. It is one of the oldest motels in Pahalgam but one of the most modern motels in terms of facilities, decoration, atmosphere, and service. For this reason, it has received the prestigious "Excellence Award" from the Kashmir Tourism Board. The 20 suites and 25 spacious rooms offer beautiful views of the snow-capped mountains and the Rider River.
The Pahalgam Hotel is one of the best hotels in Pahalgam and is famous for its in-house cuisine, including the dining hall, which offers the soothing taste of all kinds of cuisine. Altogether, this is a comprehensive package for a satisfying vacation. It features a fitness centre with an indoor pool, a fully equipped conference hall, a library, and a souvenir shop. In other words, if you consider Pahalgam hotel, nothing can beat their hospitality as your comfort will be their utmost priority.
2. Hotel Heevan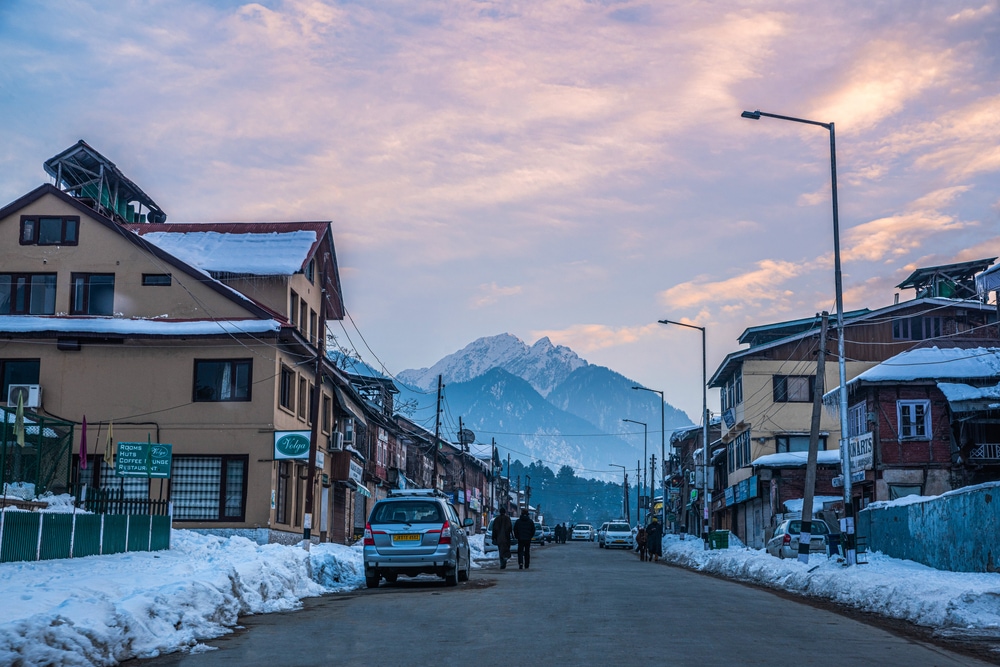 One of the best 4-star hotels in Pahalgam, Kashmir, is an ideal place to relax and unwind near to nature. The hotel is situated on the banks of the Lidder River, surrounded by rich vegetation. There are large cottages and rooms to choose from. The rooms are all well-designed and equipped with all of the required amenities, and the greatest thing about this hotel is that it is located near the river in Pahalgam. After you've checked in, have a cup of coffee and some nibbles in the Aabshar café while admiring the river views! Dilkusha restaurant also offers delicious delicacies for your meals!
3. The Chinar Resort and Spa
One of the top hotels in Pahalgam, the Chinar Resort and Spa, located in the quieter part of the famous tourist town, promises a tranquil retreat from life, with a vista of the Himalayas as far as the eye can see. The professionally built Pahalgam hotel rooms include contemporary conveniences, luxurious, elegant furnishings, and a big balcony, making it the ideal destination for a staycation when you want to indulge yourself all the way. The multi-cuisine restaurant and café on the property face out over gorgeous green walnut orchards and have an easy-going attitude, making them excellent for gatherings with family and friends as well as romantic evenings with a loved one. After a long day of hiking, rest at the spa, which provides a variety of therapies to help you relax and let go.
4. MountView Hotel
Among the luxury hotels in Pahalgam, this hotel is located on the beautiful banks of the Lidder River and offers visitors breathtaking views as well as world-class hospitality. Surrounded by the picturesque magnificence of pine timber and snow-capped peaks of the majestic Pahalgam valley, Hotel Mountview delivers a distinct combination of glitter and glamour while ensuring that each and every one of its customers receive the individualised experience that they deserve.
All cutting-edge facilities and services are available. Hotel Mountview serves its customers by delivering high-quality service, but because it is located in a great position, it is also conveniently accessible from all main destinations and tourist attractions. The resort also acts as a base camp for the Amarnath Yatra. Mountview Hotel is your final holiday site for the high price and is packed with love and warmth, from the quality of personalised service to stunning views and multiple-delicious dining places.
5. Hotel Royal Hilton
The Hotel Royal Hilton is situated in the Himalayas and is ready to provide you with comfort and elegance! This motel is situated on 2 acres of land and is surrounded by snow-capped mountains and towering pine trees! The rooms here exude elegance, with immaculate woodwork and wide windows that provide spectacular views of the winter wonderland outdoors. Your meal experience here will be fantastic as well! From traditional Kashmiri cuisine to continental flavours and Chinese specialities, your stomach will be satiated!
6. The Villagio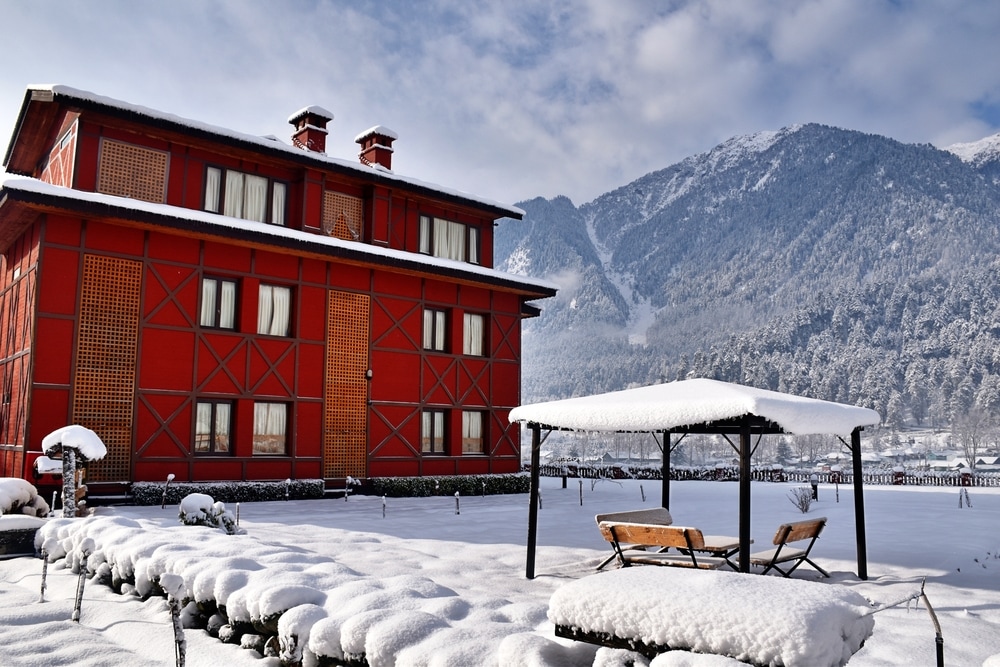 This magnificent resort, located around 7,500 feet above sea level, is as breathtaking as the environment of Kashmir. This resort is one of the most popular locations to stay in Kashmir, with thick green pinewoods in front and continuous 360-degree views of Kolohoi peaks all around, encompassing the bright blue sky above.
The Villagio is a beautifully handcrafted boutique resort in what is unquestionably the nicest location in Kashmir. The rustic décor and wonderful indoors provide the stay with a fairly classy touch. During your visit, the resort provides superior accommodations and hospitality services. It also provides a variety of activities to make your stay even more interesting and enjoyable, while enjoying the incomparable vista of this small paradise on Earth.
Finding places to stay in Pahalgam is not difficult because the town is bustling with large and small lodging alternatives that are simply ideal for visitors. Tourists may choose from a variety of hotels and enjoy a relaxing holiday in the midst of nature. With Veena World, you can book your Kashmir package for couples, family, friends, or even a solo trip.