Reading Time:
9
minutes
Goa is one of the most popular tourist destinations in India and for good reason! The beautiful beaches, Portuguese buildings, and carefree ambience make it the perfect place to spend time with your loved ones. A lot of people who look up Goa tour package that fits their budget often do not realize that accommodations in this state are dynamic in nature. You can stay in a hostel in Goa and still have a gala time with your friends. For solo travellers, staying in a youth hostel in Goa is one of the best options because you will get to meet new people from all over the world. This will help you make the most of your wanderlust. To find the best hostels in Goa, go through this list and you will surely find the accommodation that suits your needs:
1. Happy Panda Hostel 
In the most happening part of town, there lies a hostel in Goa for staying like a true backpacker! Situated in the heart of Arambol, Happy Panda Hostel is a top-rated accommodation for solo travellers who are looking for a good time. From students, professionals, and wandering travellers, everyone is welcome at this youth hostel in Goa. The hostel staff provides airport transfers for their guests, so you will not have to worry about booking a cab.
2. The Bucket List Goa 
One of the most vibrant hostels in North Goa is The Bucket List. This particular hostel is unique in its own right. This is primarily due to the fun activities and meets planned by the staff members that make it the perfect place to interact with like-minded people. What's more? There are free yoga classes organized for travellers staying in one of the best hostels in Goa! They have an in-house bar where regular games are held to make your vacation an unforgettable experience.
3. Woke Hostel Arpora
People who are looking for a Goa honeymoon package must consider staying at Woke Hostel Arpora. Giving you the comfort of home, this is one of the most budget-friendly hostels in Goa near Baga beach. There is a library with a range of travel books that travellers are welcome to borrow and read during their stay. Along with this, they have a swimming pool where you can laze around or party like there's no tomorrow! If you are on a weekend trip, then you can also visit the Arpora Night Market that is set up only 2 km from this hostel in Goa.
4. Craft Hostels
People in the age group of 40 and above generally look for a hotel or homestay in Goa. This is because they wish to relax in comfortable accommodation. Keeping this in mind, Craft Hostels offers a stay in their dorms or private rooms. These rooms have all the amenities that are provided in a resort, so you will not have to worry about getting out of your comfort zone. Located near Anjuna beach, this is among the cheapest hostels in Goa that are open round the clock. You can check in and check out according to your convenience and even order food from your favourite beach shack.
5. Dreams Hostel
Dreams Hostel is among the top-rated hostels in North Goa as it is a dream come true for backpackers who love art, culture, and music. They have a magnificent lounge area where you can play games with fellow travellers, read a novel, or just interact with people from all corners of the world. If you are searching for "places to visit Goa", then staying at Dreams Hostel would be the right way to explore nearby tourist spots. Since this hostel is in Vagator, you can visit the best restaurants such as Thalassa, Antares, and Titlie anytime you want! Make sure to book a reservation as these eateries are always buzzing with foodies.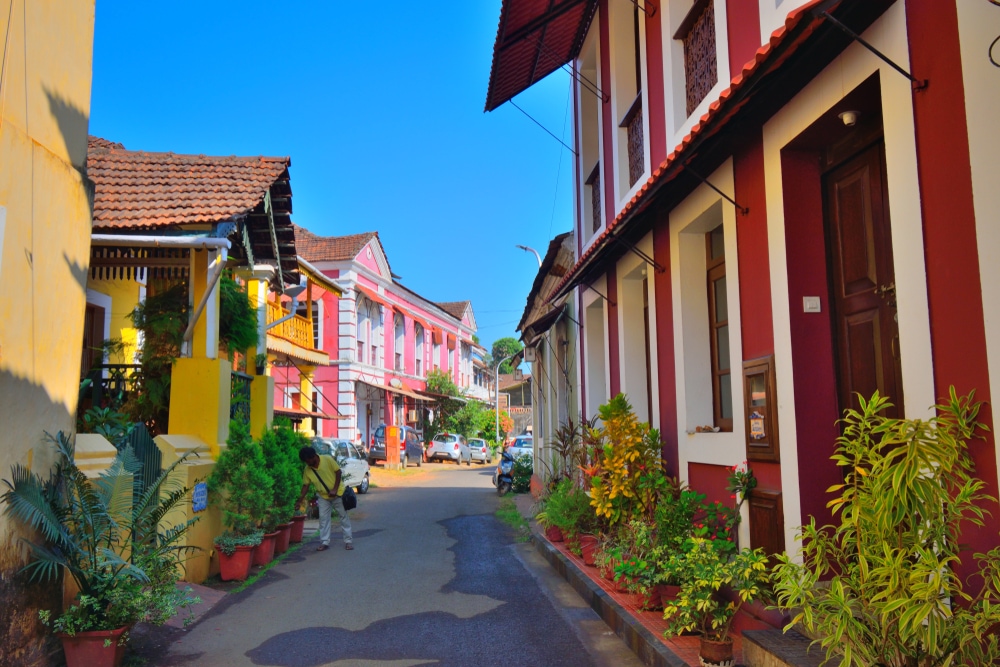 6. Waters Edge Goa
People who are strictly looking at hostels in Goa near the beach must check out Waters Edge in Arpora. Not only is its proximity to the ocean vouched for, but this hostel in Goa is a retreat that you need to experience. With a beautiful ambience and friendly staff members, your stay in this Goan hostel for a weekend or a week would be memorable. They even have private rooms for those who like to have their own space.
7. goSTOPS Goa 
Listed among the liveliest hostels in Calangute, Goa, goSTOPS is known for its parties and traveller meet-ups. The chances of having a dull at this hostel in Goa are minimal because there are so many things happening here simultaneously! A walk along the village area or attending a rave at the nearest shack is just what you need to make your Goan vacation exciting. You can even try out water sports in Goa because the Calangute beach is located very close to this hostel.
8. The Lost Hostel, Goa 
Set near the famous Palolem Beach in South Goa, this is among the top hostels where you can forget all your troubles and connect with other travellers. Free luggage lockers and Wi-Fi access make it a fun place to spend time, even it's for a day or two. People who are finicky about sharing their washroom will find respite here as they provide a private room with an attached bathroom. There are movie nights organized in this lounge area where you can chill out after covering all the tourist spots in Goa.
9. Summer By TheHostelCrowd
TheHostelCrowd has multiple properties across Goa where solo travellers and couples can stay in dormitories. Owing to their solid reputation, Summer by TheHostelCrowd is among the reputed hostels in South Goa. You can request for a private room in case you do not wish to share resources with others. Their in-house restaurant has some lip-smacking Goan dishes that you will not find even in the fanciest restaurants! Located in Palolem, this hostel's proximity to Panaji and other areas is not an issue for travellers who want to explore every nook and corner of Goa.
10. Pappi Chulo
Community love is celebrated at Pappi Chulo like no other hostel in Goa. You will find people sharing food, books, hand-made goods, and various things with each other at this accommodation. Moreover, the party scene at Pappi Chulo is so electric that you will need to reboot yourself after a night full of clubbing! There are barbecue nights, fun games, and karaoke prearranged by the staff members to provide travellers with a distinct Goan experience.
11. Castle House
Castle House is a hostel for people who wish to have the best of all worlds in Goa. Be it Baga, Calangute or Candolim, this hostel's location is right in the middle of all these beaches. So, you can pick and choose your place of interest and hop on to the next one all in one single day. The most appealing part of staying at Castle House is that they offer free breakfast every day! Ideal for couples, solo travellers, and groups of friends, this is an affordable accommodation with modern amenities.
12. That Crazy Hostel
Fall in love with feni, shandy, and every alcoholic beverage available in Goa at That Crazy Hostel. This place is a paradise for people who like to party till dawn. As the name suggests, it is a youth hostel with crazy clubbing scenes all day long. People who are eager to explore the best parties in Goa must spend some time at this hostel as the most happening events are organized here.
With new people and places waiting for you in Goa, why are you still procrastinating? Book your tickets and make that Goa plan finally come true!