Reading Time:
10
minutes
Rishikesh is an alluring place in the foothills of the Himalayas and is popularly known as the adventure capital of India. The city has two sides that fascinate visitors; one is adventurous, while the other is spiritual. This is the main reason for the popularity of this tranquil destination among travellers.
If you are visiting Rishikesh for the adventurous buff in you, the city will not disappoint you either. Trekking in Rishikesh is one of the most prominent activities. Gear up and get ready to learn about the uneven trails of Rishikesh.
Explore the Rishikesh trekking places that are as fascinating as any other activity in this incredible place. A great holiday for an adrenaline junkie is incomplete without walking across the Himalayas' rocky terrain. Some trekking trails are appropriate for experienced hikers, while others allow beginners to explore the valley. You can visit Rishikesh just to stay in those fancy tents with friends and enjoy a good trekking activity.
1. Chandrashila Trek
Chandrashila is the place to be if you want a once-in-a-lifetime experience of trekking in Rishikesh. The 360-panoramic view of snowcapped mountains, rocky treks, and stretches of green meadows will leave you enchanted.
You can visit Chandrashila Trek at any time of the year to evoke thrill and excitement. The spring and winter seasons are the most popular times for going for a hike on this trail that is 3690 m above sea level. The difficulty level of this trek is moderate, making it best suited for seasoned trekkers.
The best part about this place is that you can plan a weekend trip and stay in one of the Rishikesh trekking camps with your friends. This is a perfect place to take a break from your monotonous life and add some adventure to rejuvenate your body and mind.
Level of Difficulty: Easy to Moderate.
Major Attractions: Sunrise and Sunset View, Tungnath Temple, and Bisurital Lake
2. Kunjapuri Temple Trekking: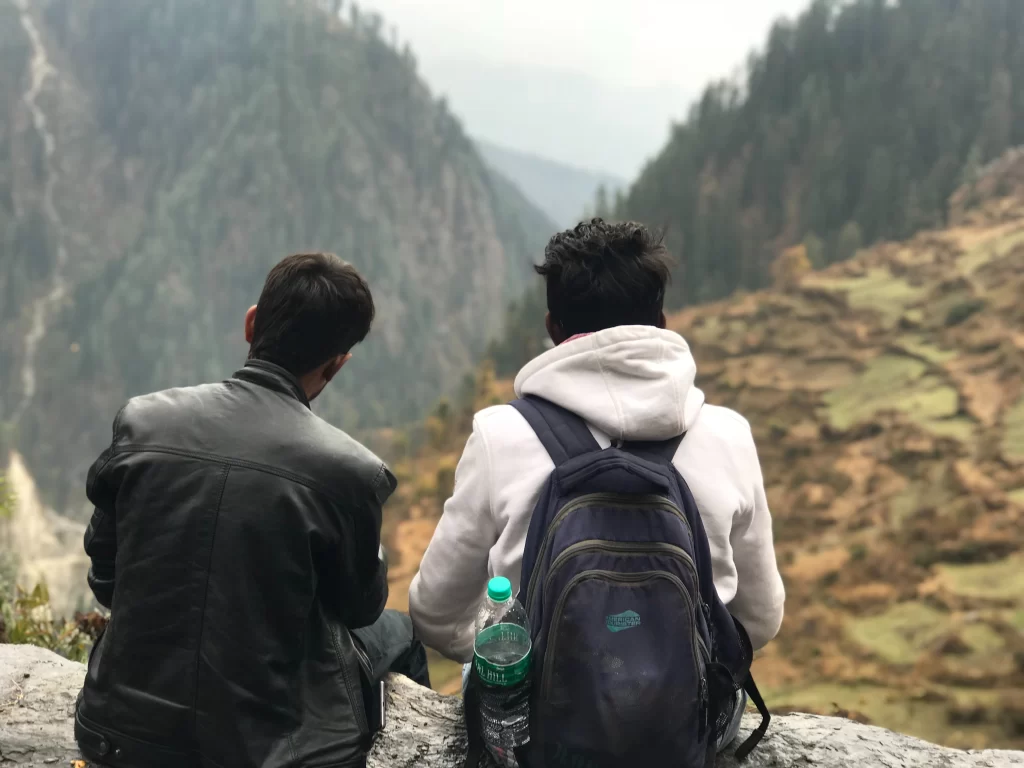 Kunjapuri Temple is one of the most well-known places to visit near Rishikesh, located at a distance of 25 km from the city. Many local and international tourists love to go on a short hike at this place to see the striking sunrise and sunset views. You will be mesmerised by witnessing the scenic beauty of the Garhwal Himalayas from the top.
If you want to enjoy a short one-day trek in Rishikesh, the Kunjapuri Temple trek is a good option for you. This Goddess Durga temple is a power centre. Many pilgrims visit Kunjapuri to take blessings from the Goddess. You can see the temple and explore its well-sculpted structure after a good hike. This easy trek is suitable for everyone. If you are a beginner level hiker, start your trekking journey with this one.
Level of Difficulty: Easy
Major Attractions: Kunjapuri Temple, Swarga Rohini, Gangotri, and Chaukhamba Scenic Views
3. Neelkanth Temple Trekking
Neelkanth Temple is a holy shrine dedicated to Lord Shiva and is the oldest temple in Uttarakhand. Every year, thousands of devotees visit Neelkanth for religious regions. It's rather interesting to know that Neelkanth's temple is located amidst Bramhakoot, Vishnukoot, and Manikoot valleys. You can visit here by vehicle or trek from Rishikesh.
Neelkanth Temple trekking is one of the most famous trekking routes near Rishikesh. This 14-kilometre long trek is worth the hype it gets from seasoned trekkers in Uttarakhand. Greenery and rocky terrain make the journey interesting for adventure junkies. Neelkanth is undoubtedly the most talked-about trek in Rishikesh that will astound you with its beauty.
Level of Difficulty: High
Major Attractions: Neelkanth Temple
4. Neer Garh Waterfall
With its jade-blue water emanating from the multi-tiered waterfall that lies beneath the foothills of the Himalayas, Neer Garh Waterfall is the ideal place for thrill-seekers looking for Rishikesh trekking places.
The Neer Garh waterfalls, also known as Neer Gaddu, are located 9 km from the Rishikesh railway station. Most people tend to start their trekking journey from Lakshman Jhula Bridge which is approximately 8 km from Neer Garh waterfalls. This is a straight path that parallels the river and runs through the lush green forest before finally reaching the waterfalls.
During your trekking, you will come across two waterfalls: Neer Garh waterfall I and Neer Garh waterfall II, both of which are about 3km apart. Once you complete the trek, it is a pure pleasure to relax under the cool waters of a pool, which soothes the body and calms the mind.
So, if you are interested in waterfall trekking in Rishikesh, you must trek to these waterfalls.
Difficulty Level: Moderate
5. Patna Waterfall
The Patna waterfall is not just one of the prominent trekking places in Rishikesh, but also one of Uttarakhand's where nature lovers enjoy spending their free time in the midst of nature, and trekkers love to travel the trail.
The Patna Waterfall is named after the nearby village of Patna. During the monsoon season, this waterfall comes alive with lush green valleys surrounding the water coming from sloppy hills, giving a scenic view for photography lovers to come and admire.
Trekkers can start their journey from Lakshman Jhula Bridge which is at a distance of approximately 6.5 km away. Those who want to see the Garud Chatti waterfall can continue for 3 km more on the way to Neelkanth road to reach the Patna waterfall."
The trek to this waterfall may be a bit hard to follow, but it's not too dangerous. Moreover, the signboards are missing, so it's advisable to be careful and ask for directions from the locals.
Furthermore, if you are visiting here, don't forget to stop by the limestone caves located right next to the waterfall. It's another great opportunity to explore the other treks near Rishikesh waterfalls.
Difficulty Level: Difficult
6. Kuari Pass Trek
The Kuari Pass trek starts from Joshimath and ends at Kuari Pass. The trekking route passes through the middle of the forest, with a beautiful arrangement of lush green meadows. This is amongst the top-rated trekking spots in Rishikesh. Paving your way up to the mountain will be a rewarding experience in itself, along with the best view of the mighty mountains and clear skyline.
If you are looking for a complete package of trekking and camping in Rishikesh, the Kuari Pass trek is your best bet. The camping site gets crowded during the peak season due to the popularity of this place.
Level of Difficulty: Easy to Moderate
Major Attractions: Campsites, Forest View, Mountain View
7. Trekking in Kota Village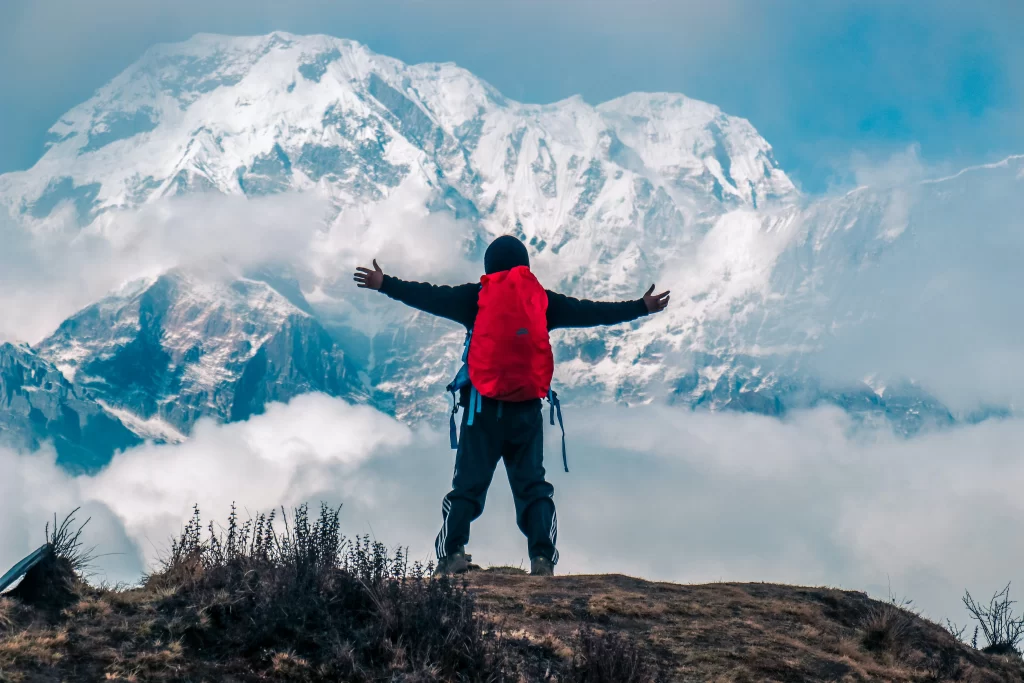 Kota Village is also known as an eco-village. This is a small village near Rishikesh, located 1200 m above sea level. The village is a hot spot for bio-diversity in the lap of nature. Lush green fields, snow-capped mountains, and beautiful jungle trails make for a one-of-a-kind experience. Trekking is the only way to reach this remote place near Rishikesh.
Kota to Sirasu's trail and Kota to Phool Chatti trail are two of the most famous paths in this area. The Sirasu to Kota trail is 4 km long. You can take this route to reach the village beside the crystal clear Ganges water. The trek has many ups and downs. You need to cross a hanging bridge and a steep trail to reach your destination.
If you want a longer route, the Phool Chatti to Kota trail is the ideal choice for you. It is a 7-km long trek. This is a less travelled route in the Himalayas. You get to see numerous species of birds and wildlife on your way to Kota village.
You must explore this place if you are looking for offbeat places to stay in Rishikesh.
Level of Difficulty: High
Major Attractions: Kota to Sirasu Trail, Phool Chatti to Kota Trail, Eco-Friendly Kota Village
Trekking in Rishikesh is an enthralling experience that gives you a life-long memory. If you are a nature lover and an adventure seeker, Rishikesh has a lot to offer you. You can plan a trip to go trekking in Rishikesh at an affordable price. Many travel companies offer complete packages so that you don't need to worry about anything. If you are a first-time trekker, choosing an easy and short trail is a good option for you.