Reading Time:
11
minutes
Rishikesh is a beautiful city in Uttarakhand that acts as the "Gateway to the Garhwal Mountains". Anyone who wishes to explore the Garhwali region of the Himalayas can begin their journey with Rishikesh. All year round you will see people visiting Rishikesh to escape the city nouse, making it one of the popular destinations in the Himalayas. Here, you can do camping in Rishikesh, and you can go to temples. However, the city is small. After you have been here for 2 days, you might want to explore other tourist places near Rishikesh. And there are plenty of them, as well. Let's take a look at some of the best places to visit after you have explored Rishikesh or are planning your next trip to the Himalayas. Most of these tourist places near Rishikesh are within 100 km. Let's know about them.
1. Shivpuri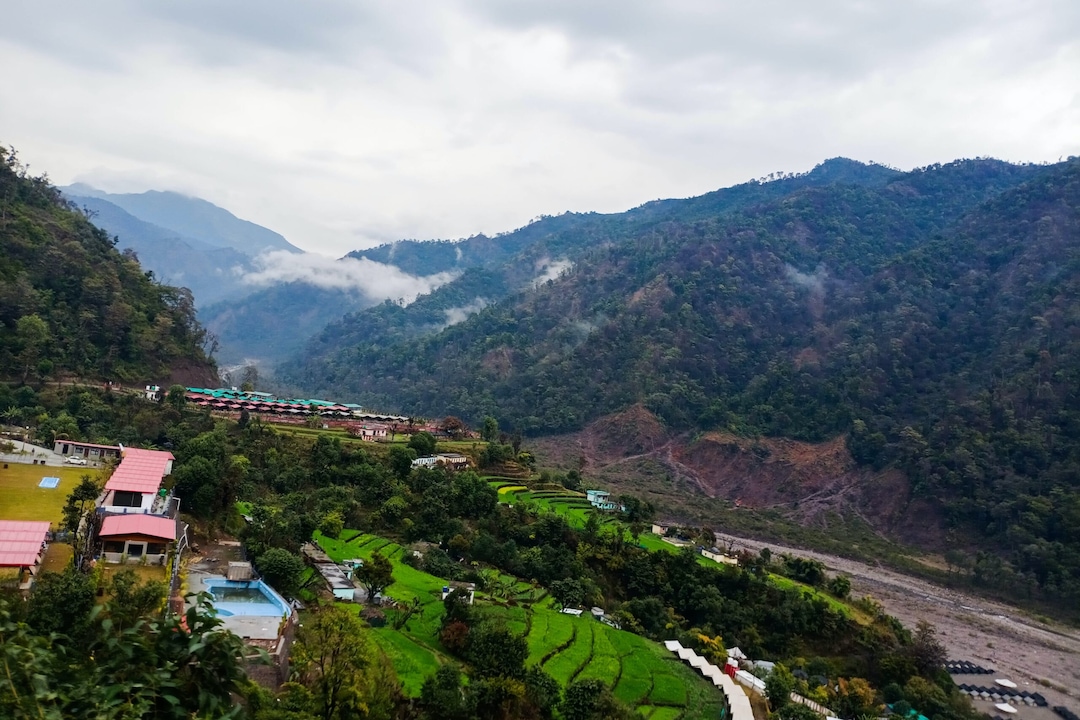 Shivpuri is located at a distance of 19km from Rishikesh. It earned the name because it is the home to Lord Shiva. It is visited by thousands of tourists every month because it is home to a large number of Shiva temples. However, the devotees of Shiva are not the only people who visit it. With the Ganges flowing through Shivpuri, the tehsil also offers camping and rafting to people. You can easily book a camp for your stay and glide across the Ganges with your friends in the raft. Rock climbing, rappelling, and cliff jumping are other adventure sports you can partake in when you visit Shivpuri.
2. Haridwar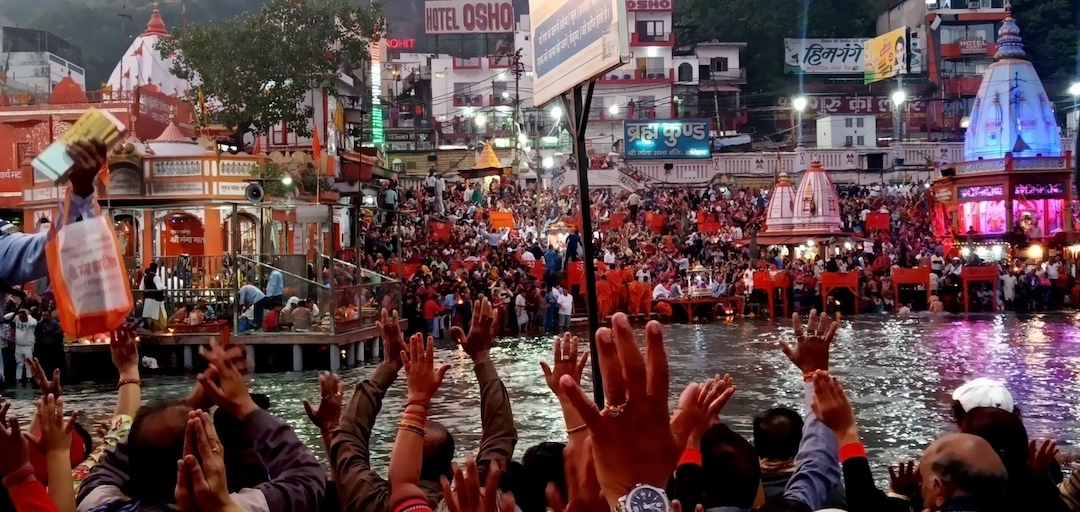 Haridwar is not a place that needs any introduction. It is one of the major pilgrimage sites for the Hindus and has been one for several centuries. It is one of the 7 Sapta Puris and is the place the Kumbh Mela is held every 12 years. One of the best things about Haridwar is that it offers a beautiful blend of culture and tourist places. The temples in Rishikesh and Haridwar are beautiful beyond imagination. This is why Haridwar is one of the places around Rishikesh that's always brimming with tourists. And it's not just religious devotees who visit the place. It is also visited by people who want to try authentic Indian food. With great food, clear skies, and the Ganga river flowing by, Haridwar is the perfect place to de-stress your mind.
3. Kaudiyala
One of the tourist places near Rishikesh within 50 km is Kaudiyala. It is primarily visited by people who love nature. Kaudiyala is not a popular tourist destination like Haridwar or Rishikesh. A lot of people visit this place when they do not want to go to a place that's brimming with tourists. Here, one can even escape the noise of not only city life, but also of the tourists. If you and your friends do not want to explore much and instead want to visit a place where you can sit on your hotel balcony for hours, go for long walks, and observe the beauty of the Himalayas, Kaudiyala is the place that should be on the top of your list.
4. Dehradun
No family vacation in India is complete without at least considering Dehradun. Dehradun is many things at once: it is a popular tourist destination, it has great food, it has beautiful landscapes, and it is also one of the education hubs of India. It is also sometimes referred to as the "Rainy City of India" due to the continuous rainfall it receives during the monsoon. It is not recommended to visit Dehradun during the monsoon. But when you're visiting the place in any other season, there are several places you can explore in Dehradun, including Lacchiwala, Mindrolling Monastery, Tapkeshwar Temple, Tapovan, Tiger Falls, Sahastradhara, and more.
5. Kanatal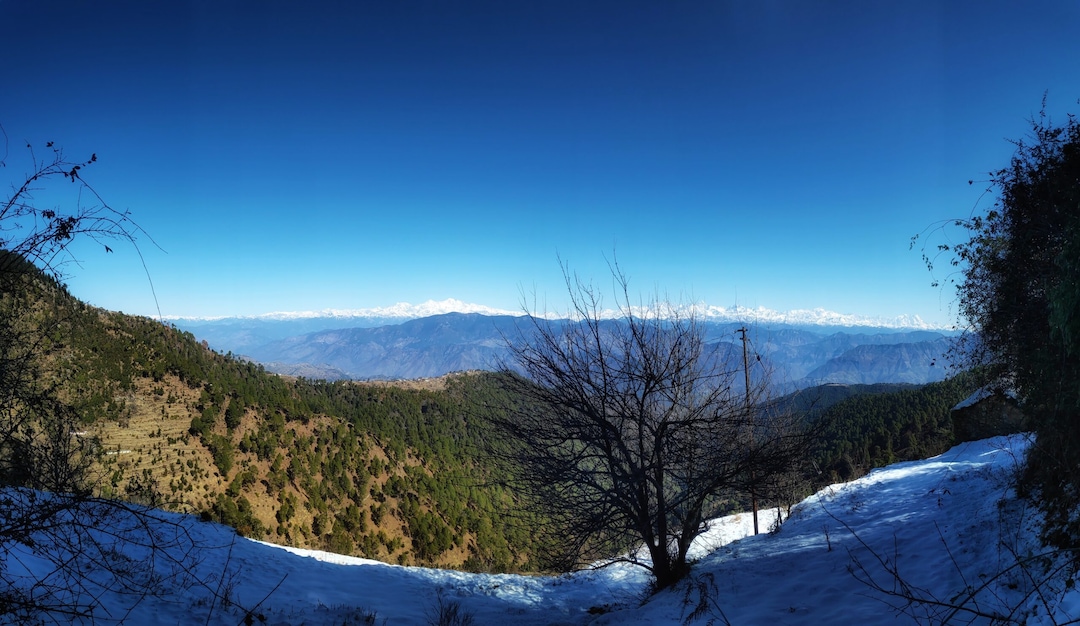 Kanatal is one of the hill stations near Rishikesh that's known for its pristine beauty and adventure sports. Although it's not one of the popular tourist destinations in India, yet, it is slowly becoming one due to its proximity to Rishikesh. As people begin to explore other places near Rishikesh, they found Kanatal as a good spot. For nature lovers and photographers, Kanatal is a paradise. Many people visit Kanatal for hiking. If you want to see what Kanatal is known for, visit the village around Dusshera. The magic of Kanatal is seen when the onset of winter meets Dusshera. At that time it becomes a place more beautiful than you have ever seen before.
6. Mussoorie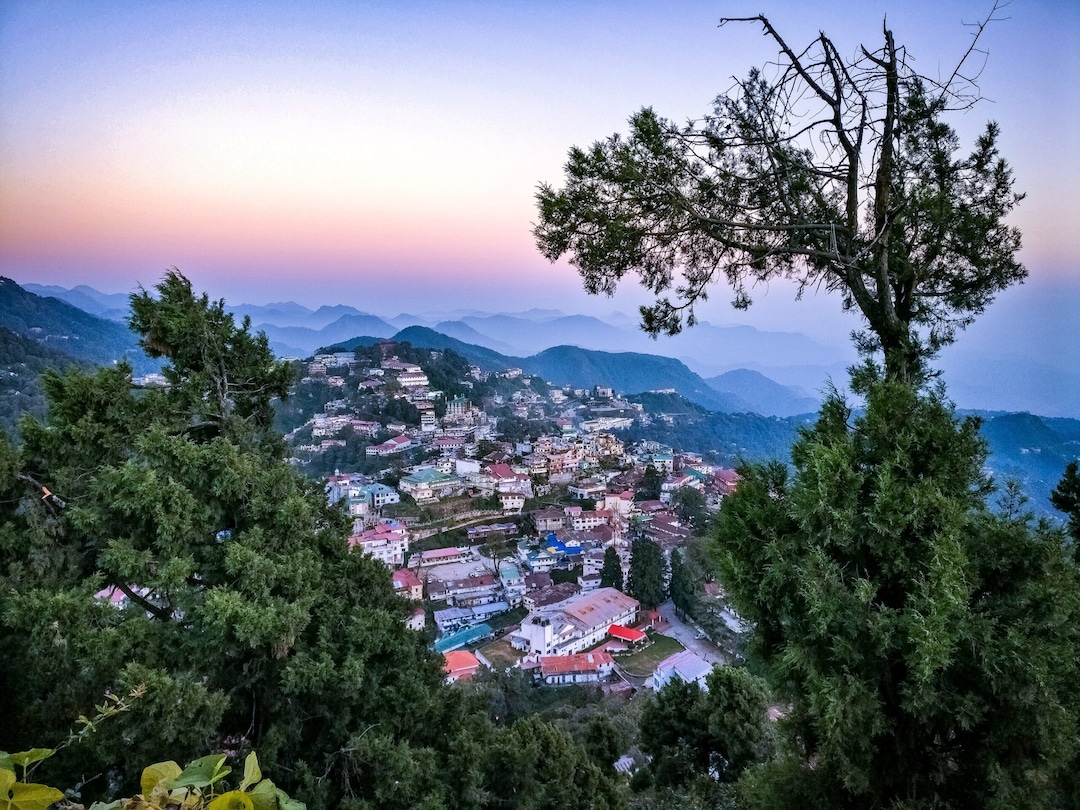 Another one of the best places near Rishikesh is Mussoorie. The place is most beautifully described by the Indian author, Ruskin Bond. It has several popular places that people visit, like Kempty Falls, Company Garden, Jhariapani Falls, Sir George Everest's House, Camel's Back Road, Library Bazaar, and more. People from all over India and the world visit Mussoorie every year. And more people discover Mussoorie when they read Ruskin Bond's works. Many of his stories have been set in Mussoorie. He writes about his hometown so romantically that it is difficult to resist the temptation to visit the place. And the best thing is that Mussoorie is not far from Rishikesh. After you have explored Rishikesh, you can travel 77km and you can start exploring Mussoorie.
7. Devprayag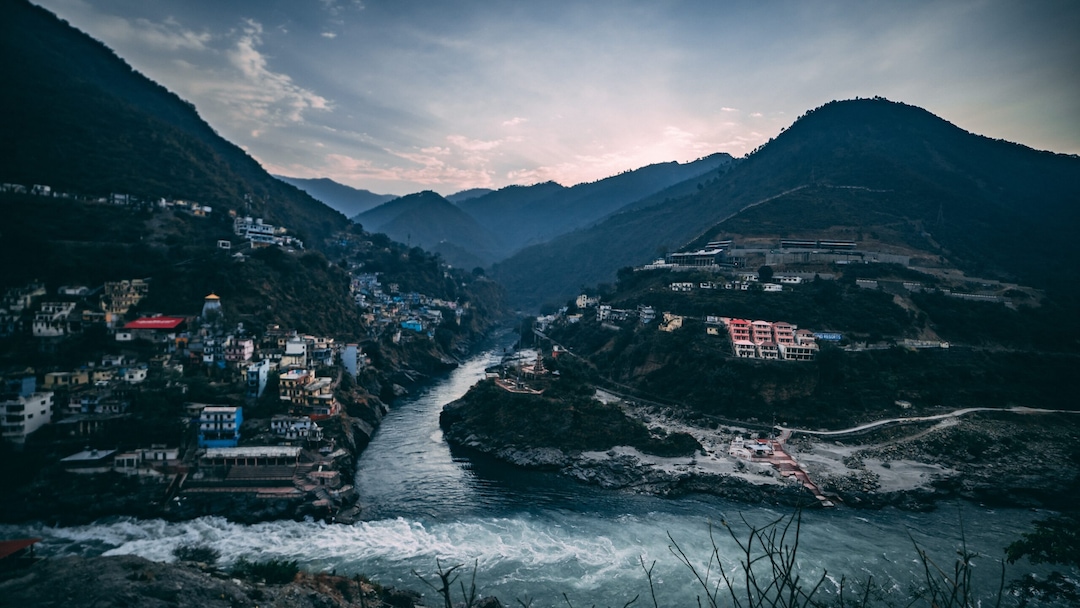 If you want to have a wholesome family vacation, perhaps you should consider visiting Devprayag after Rishikesh. Located only 77 km from Rishikesh, it is one of the holiest regions in the state of Uttarakhand. It is also home to some of the most famous temples, including Kyun Kaleshwar Mahadev Temple, Chandrabhani Temple, Raghunath Ji Temple, and Chandrabadani Temple. Once you have explored the beautiful temples of Devprayag, another place that you should explore is Teen Dhara. It is the perfect place for nature lovers who want to see the 3 lakes situated in one place. The place also has several affordable dhabas you can visit for a lunch with your family.
8. Kotdwar
86 km from Rishikesh is a small city named Kotdwara. It was formally known as Khohdwar as the Khoh river flows through it. Here, you can enjoy wildlife, sceneries, rivers, mountains, and more. Shri Sidhbali Dham is the most popular place in Kotdwara. It is an ancient temple dedicated to Lord Hanuman. Other places you can visit in Kotdwar include Devi Mandir, St Joseph Church, and Kanvasharam. Kanvasharam is the birthplace of Emperor Bharat. Kotdwar also has one of the quietest hill stations in the Himalayas, Lansdowne.
9. Dhanuaulti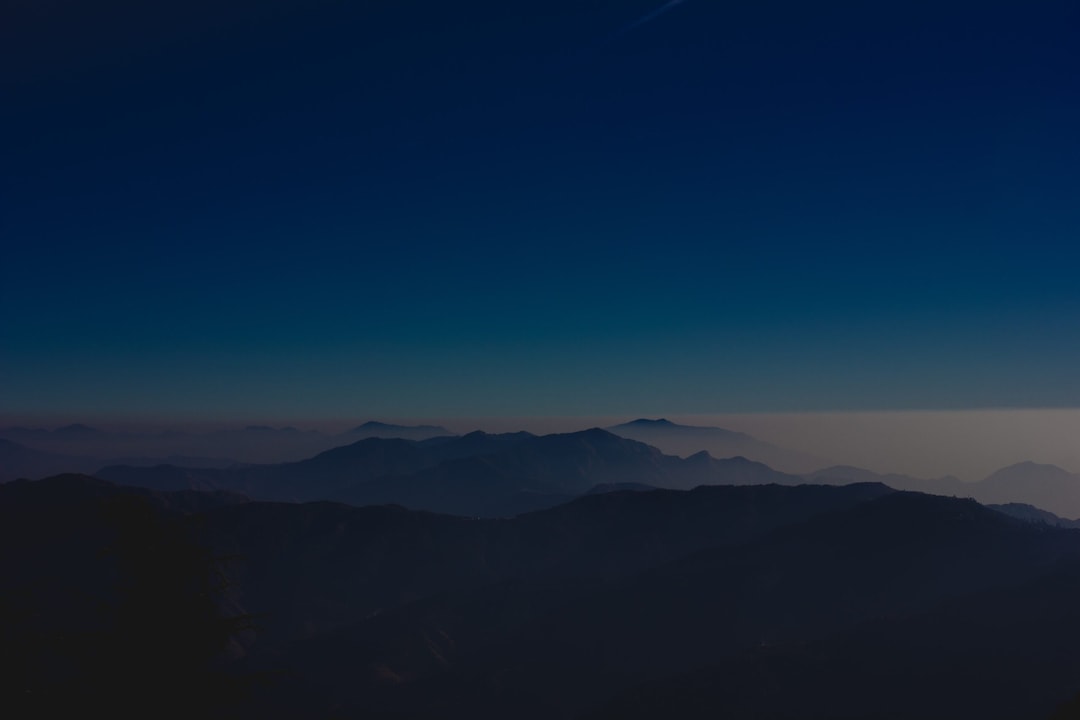 One of the places near Rishikesh that's not exactly popular, nor entirely unknown is Dhanaulti. When making a plan for a trip to the Himalayas, Dhanaulti always makes it to the list but is rarely one of the places that people visit. It's a steep little town that sits on the Chamba-Mussoorie Road and is located at the height of 2250 metres from sea level. Although the town is small, the cultural presence in Dhanaulti is strong. You will see a lot of people dressed according to their culture, which includes headgear. Here, you can indulge in authentic Garhwali food and take home the souvenirs that this place has to offer. The place has rising mountains, gurgling streams, dense forests, and quaint meadows. Once you start exploring Dhanaulti, you will never stop.
10. Chakrata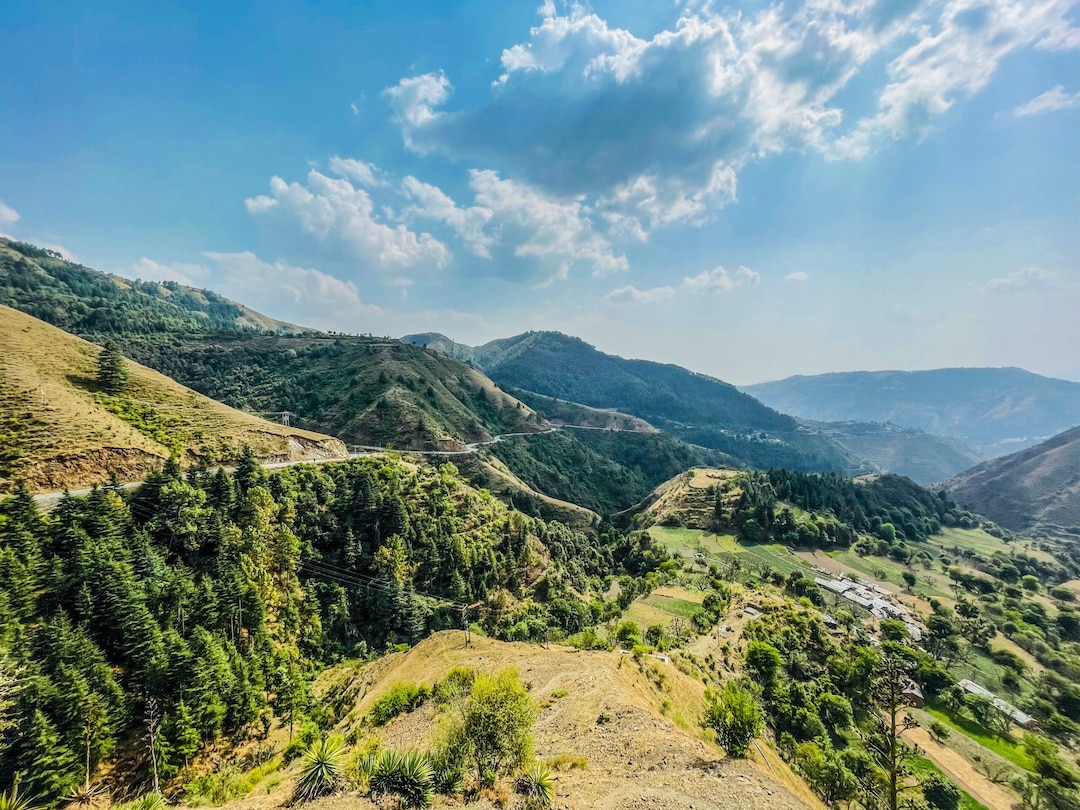 Chakrata is one of the unexplored places near Rishikesh; rarely will you hear someone talk about Chakrata. It was earlier known as Jaunsar Banwar, and was one of the places the British stayed in as their summer retreat. Here, you can check out fantastic flora and fauna, and also some of the rarest species of panthers and fowls. It is away from the hubbub of tourists and offers the beauty of cascading waterfalls. People who visit Chakrata do it for trekking, and rock climbing. It's a place you can visit by yourself when you want to step away from the chaos of the city and even the tourists. If you're planning a getaway, Chakrata is a place you should be seriously considering.
Once you start exploring places to visit near Rishikesh, you will find there is no shortage of them. These are only some of the best places near Rishikesh. If any of these has caught your fancy, start making your travelling plans for it now.