USA - the land of glorious history, possibilities and world's greatest cities! Hop on board a magical tour with us to the East Coast of this country. Explore youngsters' dream city New York, the charming capital Washington D.C, historical Philadelphia and watch the breath-taking Niagara Falls
Package Includes
Hotels
Flights*
Transport
All Meals
Sightseeing
Visa
*Except for joining and leaving option, airfare is included for all departure city options.
Day 1Washington DC
Day 2Washington DCWashington DC > Philadelphia
Day 3PhiladelphiaPhiladelphia > Niagara Falls
Day 4Niagara Falls
Day 5Niagara FallsNiagara Falls > New York / New Jersey
Day 6New York / New Jersey
Day 7New York / New Jersey
Day 1Washington DC
Washington D.C (1 Nights)
Mumbai to Mumbai tour guests will report at Chhatrapati Shivaji International Airport, Mumbai as per the scheduled flight departure time and proceed to Washington DC – The Capital city of world's number 1 Superpower nation USA. Upon arrival, Veena World Tour Manager will guide all guests for airport formalities and proceed to the city. We visit Smithsonian Air and Space Museum with its twenty-three galleries exhibiting hundreds of aircraft, spacecraft, missiles, rockets, Wright brother's first flight and you have an opportunity to touch the Moon Rock – Presented by Apollo 11, 1969 Crew along with Mr Neil Armstrong – The first person to walk on the Moon. In the evening, all Veena World Tour guests will have a short Meet & Greet session.
Day 2
Washington DC
Washington DC > Philadelphia
Washington D.C – Philadelphia (1 Night)
Today we explore Washington DC, we see Capitol Hill, take a photo stop at the backdrop of White House – official residence of the president of the United States of America. Later we visit Lincoln Memorial – built to honour the 16th president of the United States, Abraham Lincoln. It is also an important symbol of the American Civil Rights Movement and Martin Luther King Jr's famous speech 'I have a Dream' then we pass by Washington Monument - The Obelisk and Pentagon Building - world's largest office building known as the symbol of the US military and the headquarter of US Department of Defence. Then we proceed to Philadelphia. Upon arrival, we see Philadelphia City Hall, Independence Hall and Liberty Bell building. In the evening, we drive on the famous Benjamin Franklin Parkway – a scenic boulevard known as Champs-Élysées of Philadelphia. It also has an international flavour by being lined with flags of countries from around the world. It's fun to spot our Indian national flag.
Breakfast, Lunch & Dinner
Soft drink during Philadelphia tour
Day 3
Philadelphia
Philadelphia > Niagara Falls
Philadelphia – Hershey's – Niagara Falls (2 Nights)
Today we proceed to Niagara Falls – Natural Wonder of the World and a dream of every person on the Earth to visit it. En-route we visit Hershey's Chocolate World – One of the largest manufactures of chocolate in the world. Enjoy Hershey's Chocolate Tour and buy famous Hershey's Kisses and other popular chocolates.
Breakfast, Lunch & Dinner
Soft drink / Tea / Coffee during Philadelphia to Niagara Falls journey
Day 4Niagara Falls
Today we explore famous Niagara Falls, we visit the Goat Island and get really close to the falls by visiting Cave of the Winds – a natural cave behind Bridal Veil Falls at the Niagara Falls. Later, we enjoy 'Maid of the Mist' boat ride and get an opportunity to see the three falls – Horseshoe Falls, American Falls and Bridal Veil Falls. In the afternoon, we visit the architectural wonder - Prospect Point Observation Tower to get an unobstructed panoramic view of the Niagara Falls. Later we enjoy shopping at Fashion Outlet Mall in Niagara. In the evening witness the illumination where Niagara Falls is transformed into an incredible, multi-coloured water and light masterpiece.
Please Note: Cave of the winds and Maid of the mist starts from Mid-May. Get a chance to view the frozen Niagara Falls during winters
Breakfast, Lunch & Dinner
Day 5
Niagara Falls
Niagara Falls > New York / New Jersey
Niagara Falls – New York/ New Jersey (2 Nights)
Today we proceed to New York – the most loved city as well as major commercial, financial and cultural centre of the world, also known as Big Apple. En-route we visit Corning Museum of Glass – the museum's Glass Collection showcases more than 35 centuries of glass artistry and modern installations made by international artists, also known for the Gorilla Glass – the ultra-thin layer that Steve Jobs picked to shield the I phone in 2007. Here we see The Hot Glass Show which demonstrates the process of glass making.
Breakfast, Lunch & Dinner
Tea/ Coffee during Niagara to New York journey
Day 6New York / New Jersey
Today we take a ferry ride to Liberty Island and visit the Statue of Liberty – a colossal neoclassical sculpture on Liberty Island in New York Harbour. This copper statue was a gift of friendship from the people of France to the people of the United States. It is recognized as a universal symbol of freedom and democracy. This statue was designed by French sculptor Frédéric Bartholdi and its metal framework by Gustave Eiffel. Later we explore New York City, we visit Charging Bull – Symbol of the American Stock Market, Brooklyn Bridge – a suspension bridge on East River connecting Manhattan and Brooklyn in New York and Rockefeller centre – a national historic landmark in the heart of Midtown Manhattan. Then we see Wall Street – an eight-block-long street with banks and securities traders that drive the American financial system and pass by Manhattan Bridge, Trump Tower and United Nations Headquarters. In the evening, we take a stroll around Times Square – A Major commercial intersection, tourist destination and a hub of Broadway theatres in the Midtown Manhattan known for its big, bright, unforgettable arena with flashing neon lights and giant digital billboards.
Breakfast, Lunch & Dinner
Day 7New York / New Jersey
New York/ New Jersey – Departure to Hometown
Today we visit the Observatory deck of One World Trade Center – the tallest skyscraper in the Western Hemisphere that gives panoramic views of New York City and see National September 11 Memorial – a national tribute to honour the lives lost in September 11, 2001 attacks on Twin Towers. Later we pass by 5th Avenue – High-end luxury shopping street and visit Central Park – a welcome oasis in this hectic city, a largest and most visited park in United States that boasts several lakes, theatres, fountains and many more facilities. Here you will get a chance to visit Apple Fifth Avenue – the biggest iconic Apple Store on the 5th avenue with its distinctive, luminous glass cube is a perfect stage for customers to discover and try Apple's newest products. In the evening we proceed to the Airport.
It's time now to say goodbye!
Let's stay in touch with each other through email, phone, WhatsApp, Facebook, Instagram and meet again on yet another memorable tour. See you all!!
Mumbai to Mumbai Tour guests will proceed to New York Airport as per the scheduled group flight departure time and start their return journey back home.

Please Note:
All guests must follow the prevailing mandatory requirements for travel, such as RT-PCR tests (Departure & Arrival), web check-in, self-declaration etc. as per the airline/state/country. Any cost incurred for such requirements should be borne by the guests.

For transfers and sightseeing we will use mini coaches or big coaches or small vans depending on the respective tour group size. If you wish to have separate vehicle solely for yourself or your family, it can be arranged at an additional cost subject to availability.

Given the current dynamic situation, tour departure date may change. Some monuments or sightseeing places may be closed temporarily without any prior notice; in such cases every attempt will be made to visit an alternate sightseeing if possible.
Breakfast
Tea / Coffee during New York City tour
Detailed Tour Price
Single Occupancy
₹3,37,000
Child (2 - 11) With Mattress
₹1,88,000
Child (2 - 11) Without Mattress
₹1,63,000
NOTES :
Above mentioned tour prices are Per Person for Indian Nationals only.
5% GST is applicable on given tour price.
TCS (5% or 10%) is applicable on GST inclusive price for international tour.
Terms and Conditions apply.
Upgrades Available
Need to upgrade to business or first class? Please get in touch with our team on 1800 22 7979 for more details.
You can select the prime seat(s) in your coach at an additional cost. Please get in touch with our team on 1800 22 7979 for more details.
Departure & Arrival
Airlines
Mumbai03 Apr | 02:50 AM
08h 30m
FRANKFURT03 Apr | 08:10 AM
LUFTHANSA
FRANKFURT03 Apr | 10:30 AM
Washington DC03 Apr | 13:35 PM
LUFTHANSA
New York City09 Apr | 17:25 PM
8h
Munich10 Apr | 07:35 AM
LUFTHANSA
Munich10 Apr | 11:40 AM
8h 15m
Mumbai10 Apr | 23:10 PM
LUFTHANSA
Guest Type
Reporting Point
Dropping Point
Scheduled Tour Guests
Chhatrapati Shivaji International Airport, Mumbai
Chhatrapati Shivaji International Airport, Mumbai
Joining & Leaving Guests
New York Aiport, Washington Dc Airport
New York Aiport, Washington Dc Airport
Tour Information
To and fro economy class air travel for 'Mumbai to Mumbai Tour' guests as mentioned in the itinerary
Airfare, Airport taxes and Visa Fees
Baggage Allowance as per the airline policy
Tour Manager Services throughout the tour
Entrance fees of all sightseeing places to be visited from inside
Accommodation in comfortable and convenient deluxe beach room on twin sharing basis
All Meals – Breakfast, Lunch, Dinner (set menu) as mentioned in the itinerary
All Tips – Guide, Driver & Restaurants
Cost of internal airfare as mentioned in the itinerary
Complimentary insurance up to 59 years of age
Weather
Warm and sunny in summers, cool in winters
For detailed Information about weather kindly visit www.accuweather.com
Transport
Air Travel:
Mumbai - New York// Washington DC - Mumbai
We use combination of Airlines like Turkish Airline /Qatar Airways / Emirates / Cathay Pacific etc.
Coach Tavel
A/C coach - Seating capacity depends upon group size
Documents Required for Travel
Original passport with minimum 6 months validity from the date of tour arrival along with sufficient blank pages for the stamping of visa
A valid Tourist Visa for the duration of the tour
Handwritten passport is not acceptable
Children whose parents are not accompanying them on tour, require to carry an NOC from their parents / guardian
Cancellation received no. of days prior to departure
Cancellation fee applicable on Net Tour Price (per person)
Payment Terms
Guest can pay by Cheque/ Demand Draft/ Debit card / Credit card/ NEFT/ RTGS/ IMPS. For Debit / Credit card payment additional 1.8 % convenience charge will be applicable Cheque / Demand draft should be in favour of "Veena Patil Hospitality Pvt ltd"
Remarks
All meals are provided by Veena World in case the flight reaches the stipulated destination early morning or leaves destination late in the evening.
'In Case if any sightseeing is not done due to weekly closure, an alternative sightseeing will be done for the same'.
Standard Check-in and check-out time of International hotels is usually 1500hrs and 1200hrs respectively.
Guests may please note that for Domestic flights or internal flights from one city to another city on international tours, the baggage allowance will be as per the respective airline baggage policy and weight regulations. Guests are requested to pack their belongings and carry luggage in accordance to the respective airlines baggage allowance. Excess baggage (if any) will be chargeable as per the airline policy and the same has to be borne by the guest.
Similar Tours for You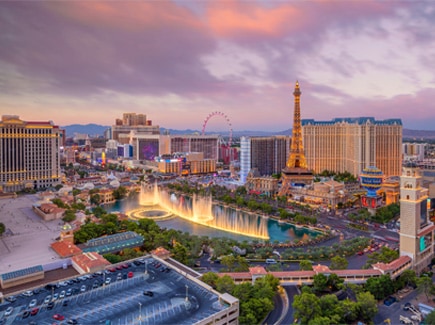 Meals
Sightseeing
Hotels
Flight & Visa
New York / New Jersey (2N)
Washington DC (1N)
Niagara Falls (2N)
SUPER DEAL PRICE
(22 Mar 2023) Last 5 Seats
₹4,00,000
per person on twin sharing
New York / New Jersey (2N)
Washington DC (1N)
Niagara Falls (2N)
Chicago (1N)
Las Vegas (2N)
Los Angeles (2N)
San Francisco / Silicon Valley (2N)
Philadelphia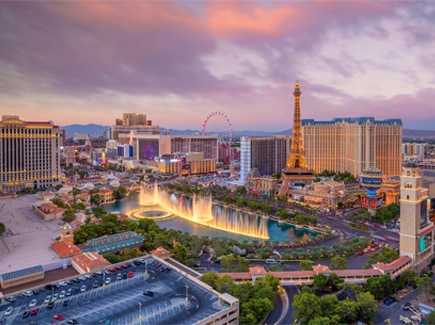 Meals
Sightseeing
Hotels
Flight & Visa
Grand Canyon
San Francisco / Silicon Valley (2N)
Los Angeles (2N)
Grand Canyon
San Francisco / Silicon Valley (2N)
Los Angeles (2N)
Las Vegas (2N)
Mumbai - 03/04/2023 Mumbai - 09/04/2023
Super Deal Price
₹2,50,000
*per person on twin sharing basis
₹2,50,000
*per person on twin sharing basis