Customized Holiday - IBSI2
Southern Splendors
Southern Splendors
COUNTRY

1

Cities

10

Days

11

Tour Type
Inbound
Tour Code
#IBSI2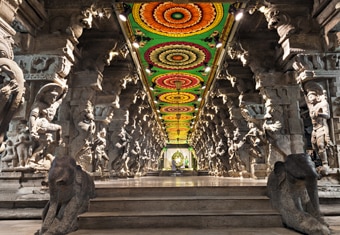 Holiday Experiences
Visit the second longest beach in the world "Marina Beach"
Kapaleeshwarar Temple in Mylapore
Silk City of India Kanchipuram
Iconic temples of Mahablipuram
Visit to Arjuna's Penance and Pancha Rathas
Krishna's Butter Ball - the gravity defying rock
Aurobindo Ashram
Universal city of Auroville
World Heritage site – The Temple of Brihadeeshwara
Visit Thanjavur Royal Palace
Meenakshi temple- the historic Hindu temple
Kalaripayattu Martial Art Show in the local theater
Morning boat ride to Lake Periyar
Visit the Kumarakom Bird Sanctuary
Spice Plantation
Houseboat stay at Alleppey
Visit to Dutch Palace
Cantilevered Chinese fishing nets
Visit to Jewish synagogue
Kathakali Dance Show at a local theater
Day 1
Chennai
Upon arrival at Chennai International Airport, you will be met by our representative and transferred to your hotel. Chennai is the Capital of Tamil Nadu State located on the coromandel coast off the Bay of Bengal. It is one of the biggest cultural, economic and educational centres in South India.

Overnight in Chennai
Day 2
Chennai
After breakfast proceed for sightseeing tour of Chennai city, visiting Egmore Museum, Marina Beach, the second longest beach in the world. The St. George Fort, built in 1653, is currently used as the state government's secretariat; Santhome Cathedral was built around the 14th-15th century and is another colonial structure worth visiting. Also visit the Kapaleeswarar Temple, dedicated to Lord Shiva and one of the oldest temples in Chennai.

Evening return to your hotel.

Overnight in Chennai
Breakfast
Day 3
Chennai – Kanchipuram (75kms/2hrs) – Mahablipuram (69kms/1.5hrs)
After breakfast, checkout and drive to Kanchipuram – The Silk City of India Kanchipuram is famous for fine silk sarees.

Arrive Mahablipuram and check into your hotel. Later, visit seven pagoda-style Shore Temples, lashed by the waves of the sea.

Arjuna's Penance – is an extract from the Mahabharata of how Arjuna performed severe austerities in order to obtain Lord Shiva's weapon.

Pancha Rathas is an example of monolithic Indian rock cut architure dating from the late 7th century, it is attributed to the reign of King Mahendravarman I and his son Narasimhavarman I (630–680 AD; also called Mamalla, or "great warrior") of the Pallava Kingdom. The complex is under the auspices of the Archaeological Survey of India (ASI) and is part of the UNESCO World Heritage site

Krishna's Butter Ball – This giant boulder appears to be frozen in its roll down the hill it sits on and no one is quite sure why ? . Accordingly to Hindu mythology when the great god Krishna was just a baby, he was fond of stealing butter. Following this tradition, the big orange stone has been linked to a giant dollop of butter that the god dropped.

Optional : Visit to Shell Museum - Collection of approximately 40,000 seashells & marine fossils from around the world
Return to your hotel.

Overnight in Mahabalipuram
Breakfast
Day 4
Mahablipuram – Pondicherry (99kms/3hrs)
After breakfast drive to Pondicherry - the capital of the French colonies in India since the 17th century. Afternoon visit to Aurobindo Ashram and the city of Auroville.

Spend the rest of the day strolling through the French quarters and Promenade.

Evening return to your hotel.

Overnight in Pondicherry.
Breakfast
Day 5
Pondicherry – Tanjore (166kms/4hrs)
After breakfast drive to Tanjore. Arrive and check into your hotel.

Post lunch visit the World Heritage site – The Temple of Brihadeeshwara built by Raja Raja Chola I. Using the same construction techniques used by the ancient Egyptians to construct the pyramids, this architectural masterpiece with its bronzes and handicrafts make Tanjore one of the highlights of a visit to South India. The Tower of the temple is built such that the shadow of the Cupola never falls on the ground. Later visit Thanjavur Royal Palace, also called the Thanjavur Maratha Palace Complex or simply Aranmanai, is a sprawling heritage site that lies just north of the Brihadeeswarar Temple.

Evening at leisure on own.

Overnight in Tanjore
Breakfast
Day 6
Tanjore – Madurai (189kms/4hrs)
After breakfast drive to Madurai – an ancient city on the banks of Vaigai River. Arrive and check into your hotel.

Post lunch visit Meenakshi Devi Temple - Its skyline is dominated by the 14 colourful gopurams (gateway towers) covered in bright carvings of Hindu gods. The Dravidian-style temple is a major pilgrimage site. The energy and devotion of the countless pilgrims who visit is remarkable. Walk through the colourful market around the temple and visit Nayak Palace.

Optional : In the evening return to Meenakshi Devi Temple to witness Aarti Ceremony.

Return to your hotel.

Overnight in Madurai.
Breakfast
Day 7
Madurai – Periyar (139kms/3.30hrs)
After breakfast, check out of the hotel and drive to Periyar.

Periyar - Periyar Wildlife Sanctuary, one of India's biggest wildlife sanctuaries covering 777 sq. km (300 sq. miles). Its centerpiece is the man-made Periyar Lake.

This afternoon take a walk through spice plantations to see crops of cardamom, cinnamon, pepper, coffee and tea estates.

Evening enjoy the KALARIPAYATTU Martial Art Show.

On way back to hotel stop at Kumily Spice Market.

Return to hotel.

Overnight in Periyar
Breakfast
Day 8
Periyar – Kumarakom (134kms/3.30hrs)
Early morning take a cruise on the lake and as you sail you will have the opportunity to see large herds of elephants, deer, wild boars and birds who come to the lake for water.

After boat ride return to hotel for breakfast. Checkout and drive to Kumarakom

Kumarakom – beautiful backwaters of Kerala. Enjoy the scenic drive through beautiful rubber and tea plantations. On arrival at Kumarakom, first visit the Kumarakom Bird Sanctuary (famous for migratory and local birds) and then check-in to your hotel.

Rest of the day is at leisure or take Ayurveda / Spa treatment at your hotel (need prior appointment).

Overnight in Kumarakom.
Breakfast
Day 9
Kumarakom – Alleppey (30kms/45mins)
After breakfast, drive to Alleppey . Board your Houseboat and cruise through the tranquil backwaters with their palm fringed narrow canals, lush paddy fields and the neat tiny hamlets lined up along either side of the canals. Lunch on board. Early evening houseboat will be docked at nearby village.

Rest of the evening is at leisure. Dinner is on board.

Overnight on Houseboat.
Breakfast
Day 10
Alleppey – Kochi (54kms/2hrs)
After morning breakfast disembark houseboat and drive to Cochin – Queen of the Arabian Sea and is a cluster of islands narrow peninsulas built off the mainland. Arrive and check into your hotel.

Post lunch Visit the Dutch Palace (closed on Fridays/Saturdays – Visit timings 9:45am – 1pm & 2pm – 4:45pm ) with its wonderful murals depicting the entire story of the Ramayana on its walls. Stop at the St. Francis Church, the first European church built in India and then walk around Fort Kochi, stop to click the iconic Chinese fishing nets which are huge cantilevered fishing nets believed to have brought to Kochi by Chinese traders. Then visit the Jewish synagogue (closed on Fridays/Saturdays/Sundays and all Jewish holidays – Visit itimings 5am – 1pm and 5pm – 7pm) with its beautiful Belgian glass chandeliers , paved hand painted tiles from China.

Evening witness Kathakali Dance Show at a local Airconditioned Theatre.

Return to your hotel.

Overnight in Kochi
Breakfast
Day 11
Kochi Departure
This morning after breakfast you will be transferred in time to Kochi International airport to board flight back home.
Breakfast
Cancellation Policy
| Cancellation received no. of days prior to departure | % of Cancellation on Net Tour Price (per person) |
| --- | --- |
| D-0 to 5 | 100% |
| D-6 to 15 | 75% |
| D-16 to 30 | 50% |
| D-31 to 45 | 40% |
| D-46 to 60 | 30% |
| D-61 to 90 | 20% |
| D-91 to 120 | 15% |
| D-121 to 900 | 10% |
*Terms & Conditions
We hope to travel
with you soon!