Reading Time:
6
minutes
Describing the beauty of Rishikesh often leads to falling short of words – such is the mesmeric aura of the place. Call it the 'Yoga Capital of the World' or 'God's Abode', this city epitomizes nature's treasure that India possesses. Perched in the majestic foothills of the Himalayan Shivaliks, Rishikesh welcomes visitors into its abode all year round. And it is not limited to just Indian visitors; people from all over the world visit this breathtaking place to practice and study yoga. Your stay in Rishikesh will be filled with adventurous activities, divine offerings, and good food, of course with the backdrop of the lush green mountains. There are a lot of beautiful places to visit in Rishikesh, making it the perfect getaway destination for adventure junkies, mountain lovers, and those looking for spiritual detox from the chaos of city life.
Rishikesh welcomes a plethora of visitors into its embrace every day. Of these, budget travelers often search for a cheap stay in Rishikesh and prefer homestays, which gets them much closer to the authenticity of this beautiful destination. Apart from this, there are a lot of resorts, camps, and hotels that make your stay in Rishikesh comfortable and fun-filled.
Because of its cozy weather, Rishikesh is also a great destination for a mini-honeymoon. Couples find it romantic to spend some quality time with each other in the laps of the majestic Shivalik hills. Other than the romantic places to stay in Rishikesh, there are some special adventurous activities for couples that make their holiday experience even more memorable. If you are planning to make a visit to this spectacular destination in India, here is a list of the best places to stay in Rishikesh for a vacation like never before: –
1. For Camp Stay
 1.1 Camp Crossfire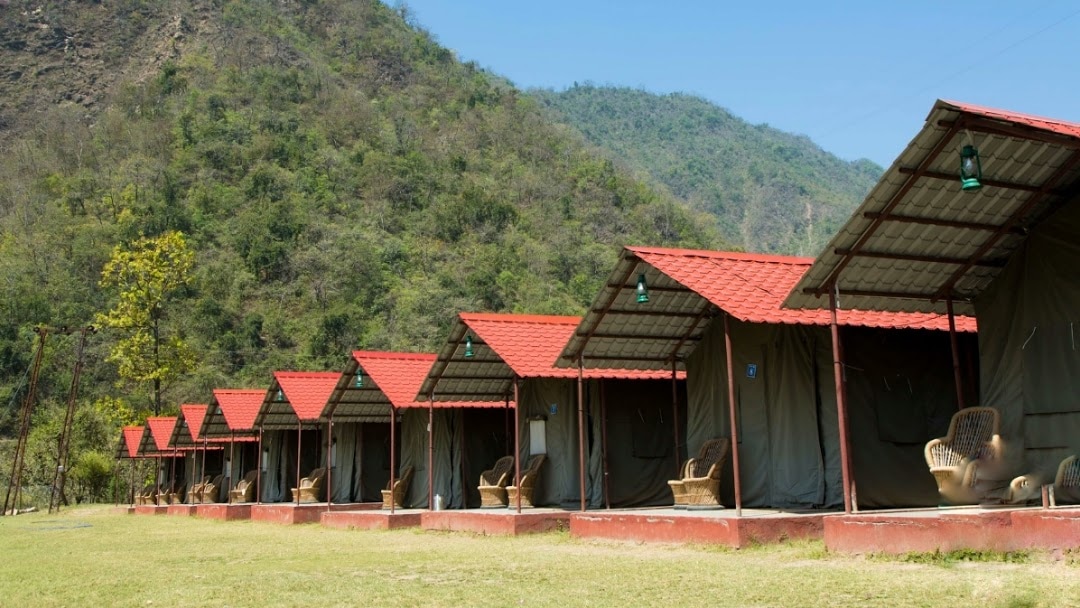 Surrounded by a picturesque view and tranquil environment, the Camp Crossfire is a camping site nestled in the embrace of deep Sal forest. Known for giving its visitors the best stay in Rishikesh, this camp offers a luxurious camping site with top-class services in the middle of the jungle. With Swiss tents and carpenter floors, hygienic attached bathrooms, room service, a bonfire with music, and eye-pleasing beauty – this camp offers serenity at its best! You will wake up to the musical sound of the River Ganga flowing in its tune and birds complementing it with their sweet chirping. The camp also offers recreational activities like musical evenings, kayaking, waterfall trekking, rappelling, and so on, where you can participate and make your vacation splendid.
1.2 Rishikesh Valley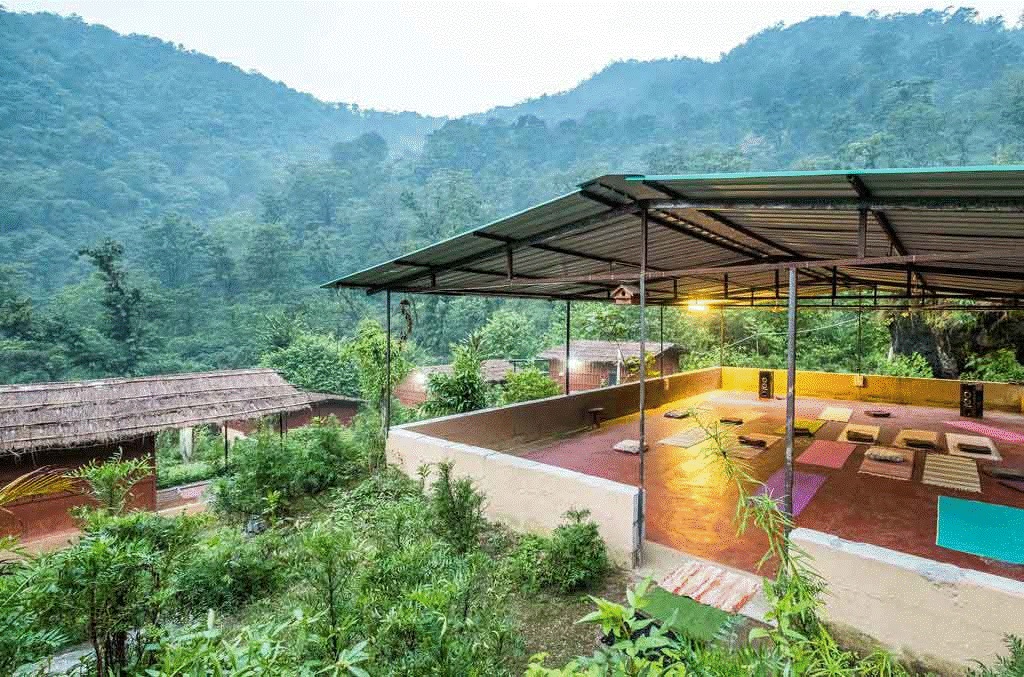 The essence of nature can be only felt when you stay in its lap. And that's exactly what this camp resort – Rishikesh Valley offers. Surrounded by Himalayan forest that is centuries-old, untouched greenery, and placid environment, this camp will be an enchanting affair, making your stay in Rishikesh wonderful. They offer hermit huts like the ones seen in ancient times, letting you connect with the authenticity of nature even more. For those looking for a rejuvenating vacation, this camping site will bond you with nature so well that you will leave the worries of daily life behind and fall in love with the picturesque scene. Rishikesh Valley also offers relaxing massage, organic food, and many other things that recharge you quite spectacularly!
1.3 Camp Majestic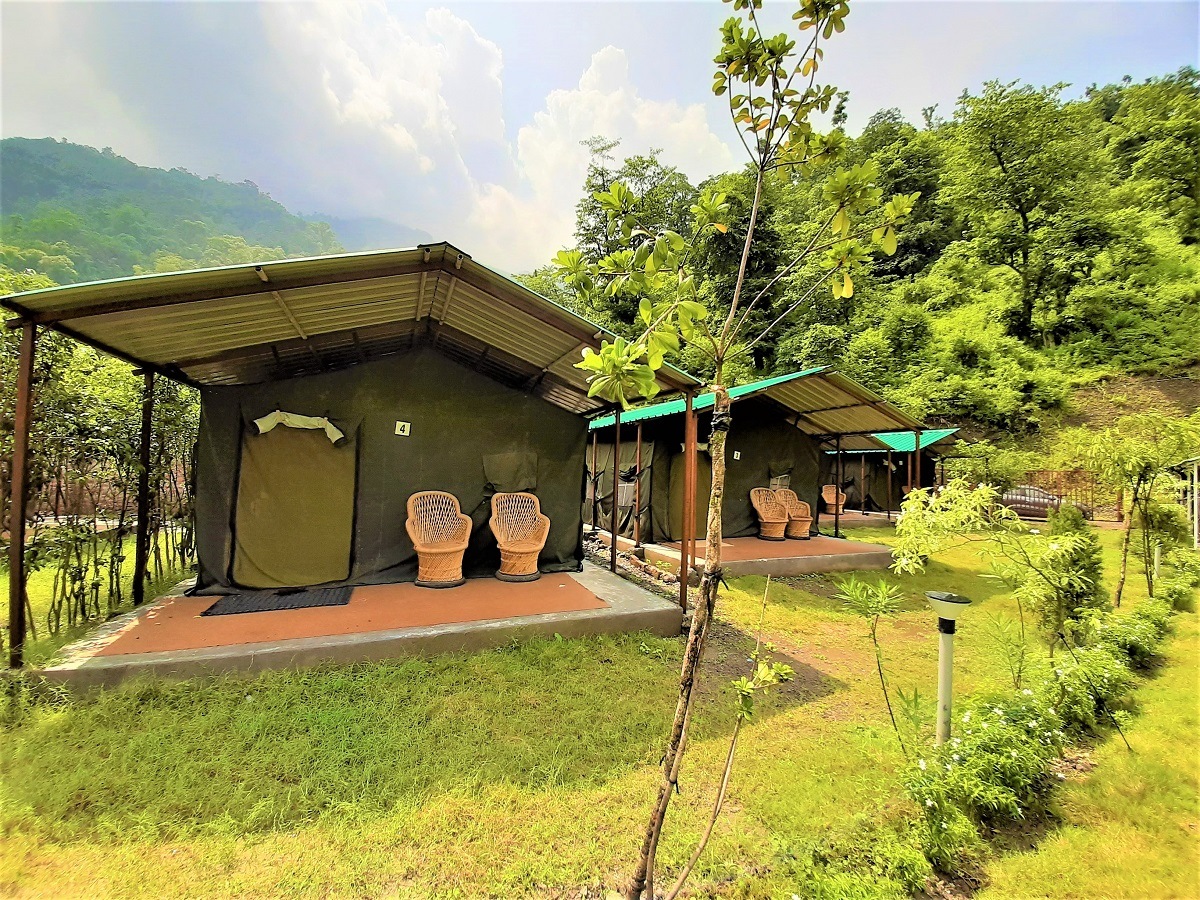 Like the name says, this camping site is indeed majestic! Among the best places to stay in Rishikesh, the Camp Majestic is located in Shivpuri and offers a breathtaking view of the Huel River – one of the tributaries of Ganga. Here again, you can find some of the best luxurious facilities like attached bathroom, handheld shower, pretty interiors, and so on amidst the beauty of the lush green forest. The Camp Majestic also offers adventurous activities like kayaking, rafting, rock climbing, Burma Bridge, and much more for your amusement.
2. For Hotel Stay 
2.1 Hotel Ganga Kinare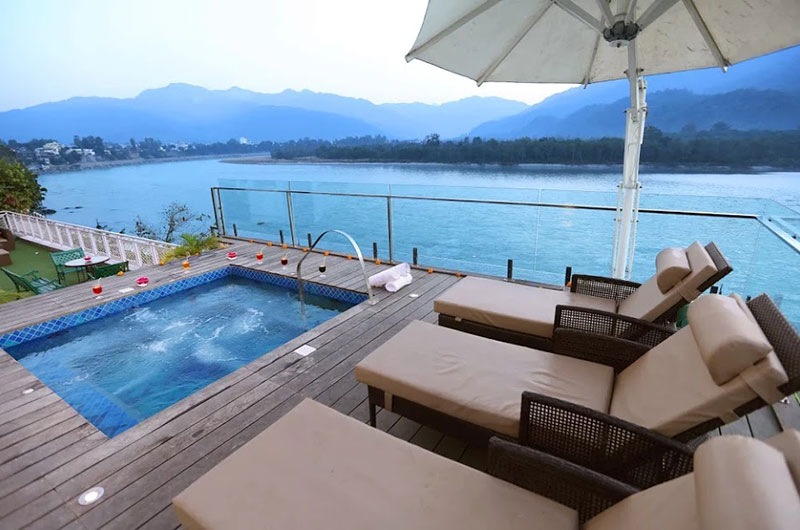 The name might take you back to the song 'Sagar Kinare, Dil Yeh Pukare' but truth be told, you will really lose your heart to the breathtaking beauty of the Holy Ganga that this hotel in Rishikesh offers. The hotel is located near the riverbank of Ganga which is said to be one of the busiest parts in Rishikesh, making it one of the best places to stay there. Wondering why? Well, to start with, it is located near the riverbank, has a pretty garden for you to spend some quality time with your family, a gha, and an esplanade for lazy yet beautiful evening strolls. Another amazing thing about Hotel Ganga Kinare is that every day in the morning as well as in the evening, the Ganga Aarti (prayer) is performed at the private ghat of the hotel, giving you a refreshing time filled with positivity. Other facilities of the hotel that makes it the best place to stay in Rishikesh include Ayurvedic Spa and an open-air Jacuzzi – amazing, isn't it?
2.2 Hotel Seventh Heaven Inn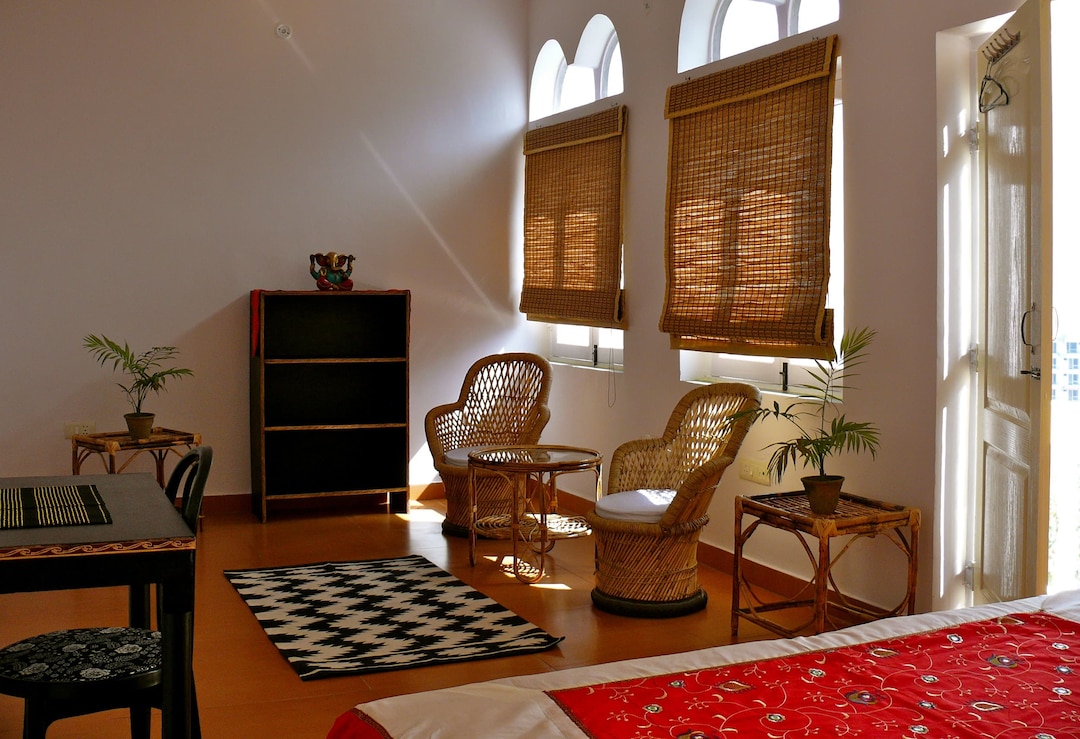 One of the best boutique hotels located in the Tapovan area, almost near the main market, Hotel Seventh Heaven Inn is a mesmerizing place to stay in Rishikesh. The interior of this hotel is aesthetically decorated and combines elements of authentic Indian and contemporary European styles in the most elegant manner. One of the best features of this hotel is that each room has a balcony with a backdrop of the beautiful mountains of Rishikesh. A splendid evening with your loved ones while sipping on a cup of tea on the balcony here will surely make you want to stay in Rishikesh even more.
2.3 Divine Ganga Cottage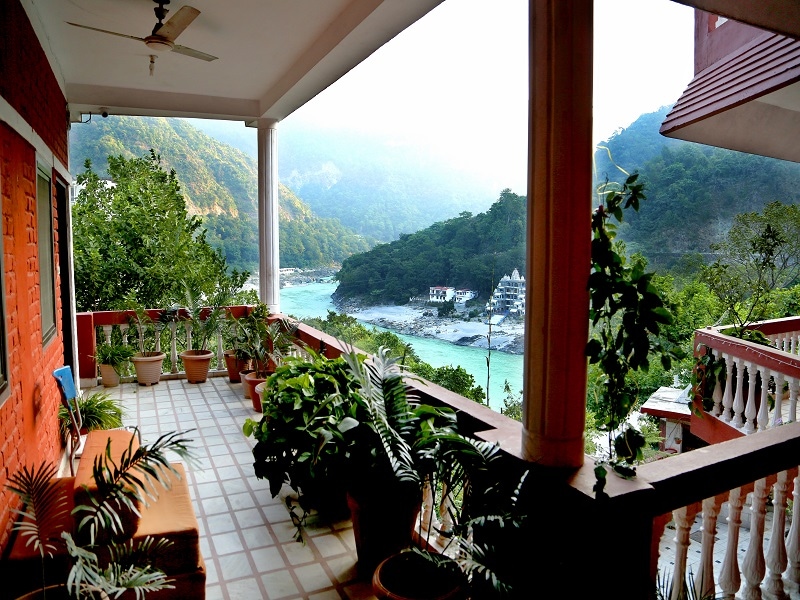 If you want a place to stay near Rishikesh's Lakshman Jhula area, Divine Ganga Cottage is one of the best options. The bridge is just a short walk away from the hotel and in the evenings, the aura is filled with mesmeric positivity as the temples lit up beautifully and people join together to offer their evening prayers. This hotel in Rishikesh offers multiple stay options and the rooms are spread over four floors. Also, the cottage offers special rooms for family on the topmost floors and a rooftop restaurant that serves a variety of cuisines.
2.4 Vashishth Guest House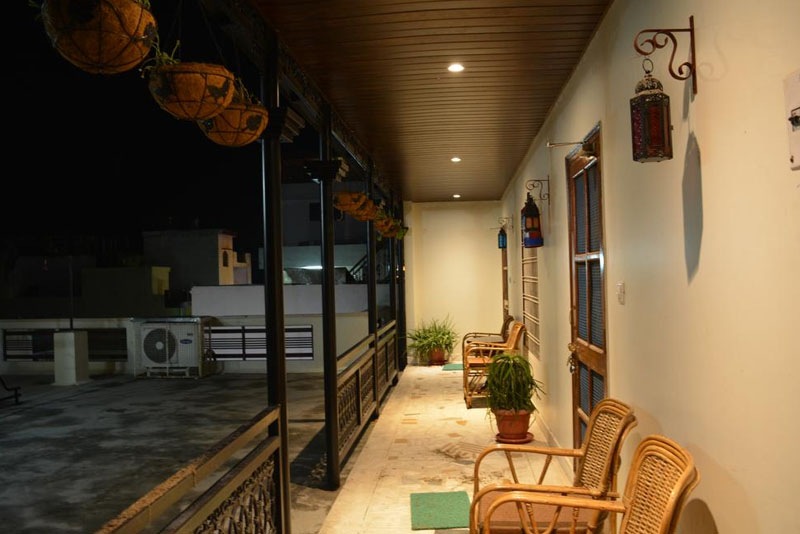 Lastly, one of the best cheap stay hotels in Rishikesh, the Vashishth Guest House is an intimate homestay that has only nine rooms and is located near the Swarg Ashram area. This guest house is very near to the river (a few minutes of walk) and just a 10-minute walk to the famous Beatles Ashram. The homestay rooms are attractive and pretty, and it also offers a small library along with room service options. The Vashishth Guest House is a great value for money, especially for budget and solo travelers.
The beauty of Rishikesh lies in its hilly trails, and one must definitely opt for the Tapovan jungle and waterfall trek; you will not regret it! You can check out the various Rishikesh tour packages for the same and select the one that suits you best. With these best places to stay in Rishikesh, take your getaway one level higher when you next visit the city!