Reading Time:
10
minutes
A land of misty Himalayas, ancient temples, roaring rivers, and many waterfalls, Uttarakhand is the most beautiful state in Northern India. Also known as Dev Bhoomi, Uttarakhand has many highly revered religious places, including Badrinath, Kedarnath, Gangotri, Yamunotri, Patal Bhuvaneshwar, etc. Also, with its Yoga Capital – Rishikesh, the Himalayan ski resort – Auli, the Queen of the Hills – Mussoorie, and the famous valley of flowers, Uttarakhand attracts thousands of tourists every year. In addition, the state has many hidden spots for those who love peace and serenity away from crowded areas. These places tend to be untouched by tourism and provide a chance to experience nature at its best.
Here is a list of the top 10 offbeat places that you can include in your Uttarakhand tour packages for a memorable travel experience.
Khirsu
Perched at 1760 meters above sea level, Khirsu is a perfect destination to enjoy an idyllic and offbeat Himalayan vacation. One of the best offbeat places in Uttarakhand, Khirsu, is located in Pauri Garhwal, offering spectacular views of the Himalayas, including peaks like Nanda Devi, Trishul, Panchachuli, and Nanda Kot. This quaint hamlet is dotted with lush orchards of apples and dense pine and deodar forests, making it an ideal place for hiking, trekking, and camping. A visit to Khirsu will take you to a dreamy destination from a fairy tale novel. You can visit places like Kalpa Devi Temple, Van Manoranjan Kendra and Farkhunda, and Chaukhambha Viewpoint.
Munsiyari
A beautiful tourist spot situated in the Pithoragarh, Munsiyari, is surrounded by snow-capped mountains and serenity to create a destination that you want for complete relaxation of mind and soul. Also known as the Little Kashmir, this offbeat hill station in Uttarakhand is situated at an elevation of 2298 meters, offering breathtaking views of the Panchachuli Peaks- including magnificent peaks of Nanda Kot, Nanda Devi, Rajarambha, and Nepal Himalayas. This beautiful place is also a base for three glaciers, including Ralam, Milam, and Namik. Whether you are a nature lover, photography enthusiast, or adventure lover, you would not want to miss out on this spot.
Chaukori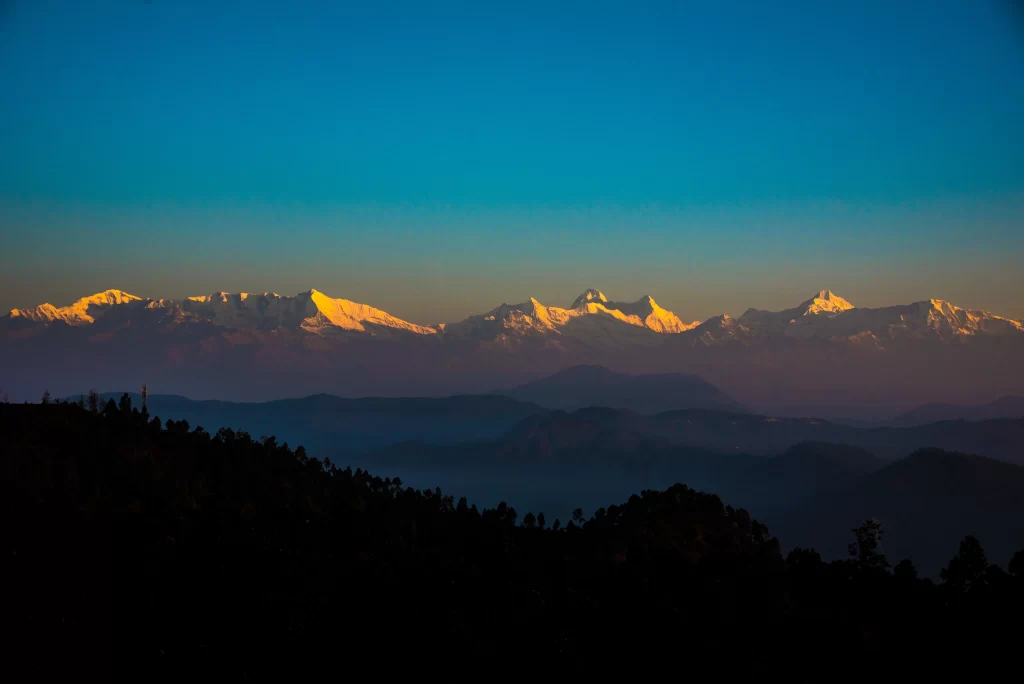 One of the best offbeat places to visit in Uttarakhand, Chaukori, is perched at 2,010 meters above sea level. Situated in Pithoragarh, Chaukori is an idyllic village and a hidden gem of the state. This place is known for its picturesque scenery and temples, which are prime attractions for the tourists who visit Chaukori. It is one of those unexplored places in India that can leave you awestruck with its mesmerizing beauty. Here, you can enjoy a nature walk in the lush forest and capture the stunning snow-clad peaks of Nanda Devi with your camera. The best places you can visit in Chaukori are tea gardens, Nakuleshwar Temple, Ghunsera Devi Temple, Nag Mandir, Kali Devi Waterfalls, and more.
Lohaghat
One of the offbeat hill stations in Uttarakhand, Lohaghat, is blessed with pine and oak forests, a serene climate, and snow-capped Himalayan peaks. If you have a fascination for historical and mythological aspects, you need to know that this small town is steeped in history. It is said that the area around this small town may have been the capital of the Chand reign, a Rajput clan that governed Kumaon during the 11th and 12th centuries. Nestled at an altitude of 1800 metres on the banks of the Lohawati River, Lohaghat is one of the least explored Himalayan retreats. The places you can visit here are Pancheshwar Mahadev Temple, Banasur Ka Kila, Mayawati Ashram, Abbott Mount, Devidhura Temple, etc.
Naukuchiatal
One of the best offbeat destinations in Uttarakhand, Naukuchiatal, is a picturesque hill station in Nainital – the city of lakes. Naukuchiatal, or the nine cornered lake, is a small yet beautiful lake village known for tranquillity and calmness beneath the shade of pure nature. This hidden gem tops the list of people on a family vacation, solo travelling, or honeymoon. Apart from this, Naukuchiatal attracts tourists with the famous Escape Festival, celebrated in May every year. This quaint town is situated in a beautiful valley that provides opportunities for outdoor activities like paddling, rowing, yachting, and boating. There are many points of interest in this region, such as Jungliagaon, Bhimtal Lake, Lake Naukuchiatal, etc., helping you enjoy the best holiday experience.
Landour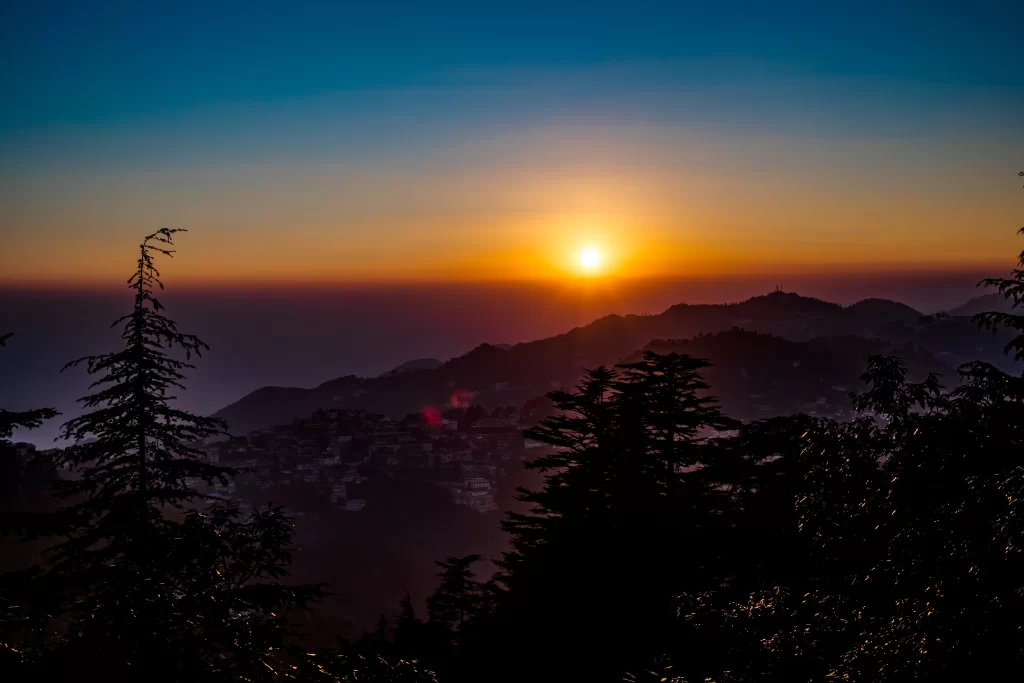 Located in proximity to Mussoorie, Landour will take you through steep hills and an awe-inspiring valley. One of the most beautiful offbeat locations in Uttarakhand, Landour offers the picturesque views of Gangotri, Yamunotri, Kedarnath, Swargarohini, and many other Himalayan peaks. This place is famous for its European touch reflected in the colonial-style architecture and beautiful churches of that era. There are many sightseeing places in and around this small town that you can visit and enjoy several outdoor activities that will make your trip even more pleasant and memorable. Some highlights of this place are the Church of St. Paul, Laal Tibba, and Kellogg's Memorial Church and Language School.
Kanatal
Another place where you can find peace and solitude is Kanatal, a charming hill station named after a lake that once existed there. Perched at an altitude of 8500 feet, Kanatal is one of the most offbeat places in Uttarakhand, offering panoramic sights of the enormous Himalayan range. This place is known for mesmerizing starry nights and providing the best camping experience. Kanatal is close to other major hill stations in Uttarakhand, including Chamba (12 km), Dehradun (78 km), and Mussoorie (33 km). Apart from enjoying the untouched beauty and pleasant weather, you can visit tourist spots available in and around Kanatal. These places are Dhanaulti, New Tehri, Surkanda Devi Temple, and Kodia Jungle.
Pangot
The next on the list of the hidden places in Uttarakhand, Pangot, is a paradise for bird watching experience. Situated just 15 km from Nainital, this small remote Himalayan village is a perfect place to enjoy a serene vacation amid nature and watch several species of birds outnumber humans in the region. Apart from birdwatching, you can enjoy camping under the starry nights and trekking/hiking on adventurous trails taking through lush forests, valleys, and ridges. Do not forget to visit some of the most spectacular places in this region, including Guano Hills, Pangot and Kilbury Bird Sanctuary, Naina Peak, and Pangot Village.
Ramgarh
One of the best offbeat destinations in Uttarakhand, Ramgarh, is located near Mukteshwar in the Kumaon region. This less-explored hill station boasts an abundance of natural beauty and old-world charm. As the area has verdant orchards of pears, apples, peach, and apricots, the place is also called the fruit bowl of Uttarakhand. The beauty of this idyllic spot lies in its natural exquisiteness and serenity. Perched at the height of 1789 metres above sea level in the lap of the Himalayas, Ramgarh is a place where you can witness the most captivating sunrise and sunset. If you are looking for one of the best offbeat locations in Uttarakhand to get a perfect break from routine life, Ramgarh is an ideal place. Some major attractions here are Orchards, Mukhteshwar Temple, Bhimtal Lake, Inspection Bungalow, and Nathuakhan.
Peora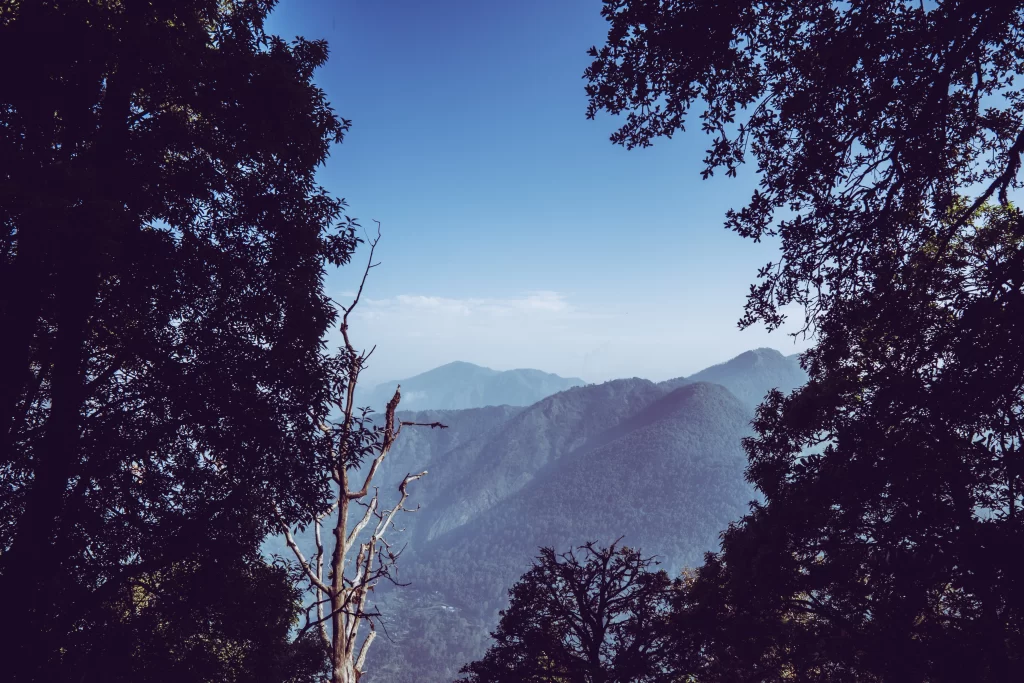 Nestled amidst the scenic valley of the Kumaon region, Peora is next on the list of the best offbeat places in Uttarakhand. Situated at an elevation of 6,600 ft, this small village is a heaven for bird watchers and wildlife lovers. Also, if you love outdoor activities, you will be glad to know that the area around Peora has an abundance of trails for treks in Uttarakhand. These striking trekking routes come with many surprises, such as forests, waterfalls, rivers, and temples. Also, Peora is a place that will bring out the adventurer in you. Some major attractions of Peora are Mukteshwar Dham, Gobind Vallabh Pant Museum, Nanda Devi Temple, Mukteshwar Inspection Bungalow, Kalika Temple, and Choco-House Chocolatier.
Now that you are ready with the list of the most offbeat places in Uttarakhand, go ahead, and plan your trip to this mystical land of exquisite landscapes and exhilarating adventure.