Reading Time:
11
minutes
Finding 'just a hotel' in Las Vegas can be an uphill task. Most hotels across the length and breadth of this Sin City are opulent and known for providing their guests with an 'Experience' rather than just a place to sleep. These hotels boast select nightclubs, five-star restaurants, premium bars, and stunning pools. Besides, there are some hotels that are designed to make you feel as if you're wandering through the alleys of a European city rather than just a hotel lobby.
In this post, we've compiled a list of hotels in Las Vegas (in no particular order) that can make your trip memorable. Let's check them out:
1. MGM Grand Hotel & Casino
With its Cirque du Soleil shows, rowdy bachelor parties, or roaring lions behind glass, the MGM Grand Hotel & Casino captures the true essence of Las Vegas. The splendid establishment, with its offerings and enthralling vibes, attracts people of all ages and tastes. It's impossible to describe all the reasons to stay at the hotel because it literally has everything.
It is one of the biggest hotels in Las Vegas and the third-largest hotel in the world in terms of room numbers. Besides 6,852 available rooms, the hotel offers a wide range of experiences to guest with different budget ranges. Regardless of where you sleep, the legendary casino, five swimming pools, countless entertainment options, vibrant nightlife, and fine dining options, and the Strip itself make the MGM Grand a great destination for a memorable Vegas trip.
2. The Cosmopolitan of Las Vegas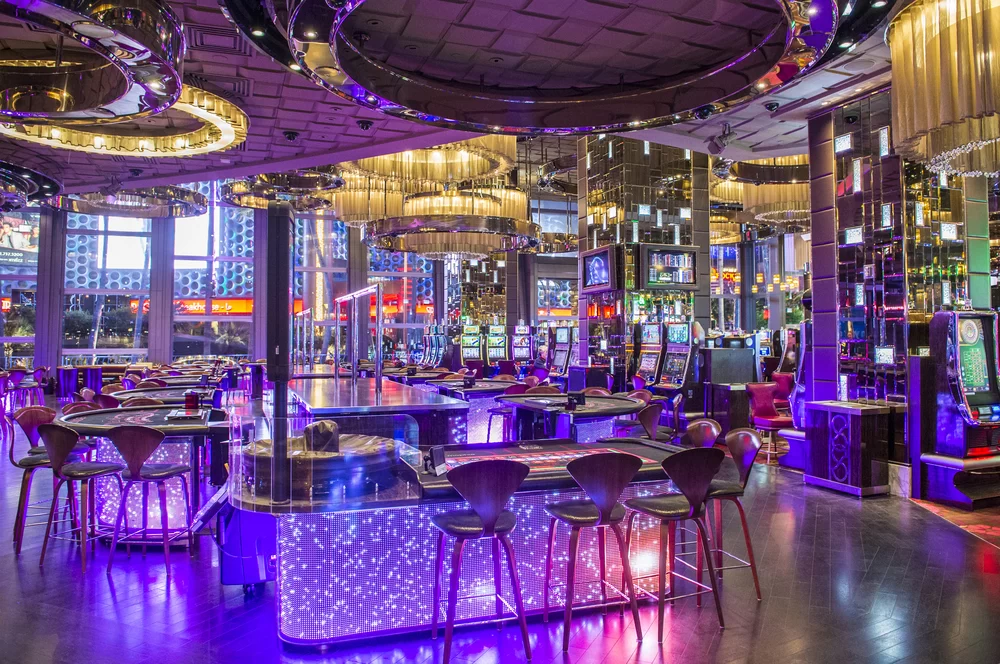 One of the magnificent hotels in Las Vegas, The Cosmopolitan oozes luxury and opulence at every corner. The moment you enter its premises, you get amazed by its grand infrastructure and settings. This renowned hotel is conveniently located and houses a stunning purple chandelier with a three-level lounge inside along with a great selection of restaurants.
This hotel also has a rooftop pool that presents amazing views of the Strip, one of the famous Las Vegas sightseeing options. You can also enjoy fantastic views of the Strip right from the rooms of this hotel. Other than offering the views of the neon-soaked Strip, the rooms of this hotel are ultramodern with some suites featuring huge bathrooms. For its immaculate and spacious rooms, world-class hospitality, excellent restaurant options, chandelier bar, and friendly personnel.
3. Circa Resort & Casino
There had been no new hotel developed in Downtown Las Vegas in 40 years until Circa opened in October 2020. Being one of the famous hotels in Las Vegas, Circa Resort & Casino has established itself as a bold, adults-only place of enjoyment and fun. The establishment caters to a very particular crowd: sports fans who visit the Stadium Swim pool complex which comprises a sports club, pool, lounge seats, cosy day beds, private cabanas, water couches, and poolside boxes overlooking gigantic 40-foot-high HD TV that always shows a major event.
For dining, the place has a traditional Las Vegas steakhouse but it also boasts a pan-Asian restaurant that caters to the diverse taste buds of guests. There's enough to keep you occupied within this resort for days, but maybe you can easily wander out to the funky dive bars and galleries of the 18b Arts District, which are just within the walking distance.
4. NoMad Las Vegas
Are you too sophisticated for Las Vegas? Think again! NoMad is one of the top hotels in Las Vegas that is known to cater to the refined taste of its guests. Featured in most Las Vegas tour packages, NoMad is a hotel within a hotel, precisely the Park MGM, a fully remodelled former Monte Carlo.
Although there are several hotel-in-hotel combinations in Las Vegas, this one has got some great synchronisation that is evident and consistent throughout the complex. While the Park MGM is more enjoyable and approachable, NoMad is its more mature counterpart. With romantic dark corners and a large library-inspired restaurant here, it exudes the old-world grandeur. When you enter the NoMad, it's as if you've stumbled into some great secret hideaway.
5. The Venetian Resort
The Venetian Resort is an inevitable entry in any list of Las Vegas hotels. This marvellous establishment, with its architecture and design, teleports you to Renaissance Venice. Being an integrated resort, the place emits magnificence, romance, serenity, and opulence at every corner. The USA Today once named it one of the most romantic hotels in Las Vegas.
Designed tastefully to cater to the refined taste of guests who are looking for a romantic getaway, every key at The Venetian Resort opens a suite. Each suite is roughly double the size of a regular hotel room and has an all-Italian-marble bath, a sunken living room with a sophisticated couch and armchairs, and much more. No wonder why it is one of the biggest hotels in Las Vegas. With the world's most reputed chefs and entertainers, the resort delivers the most gratifying experiences to its guests.
6. Caesar's Palace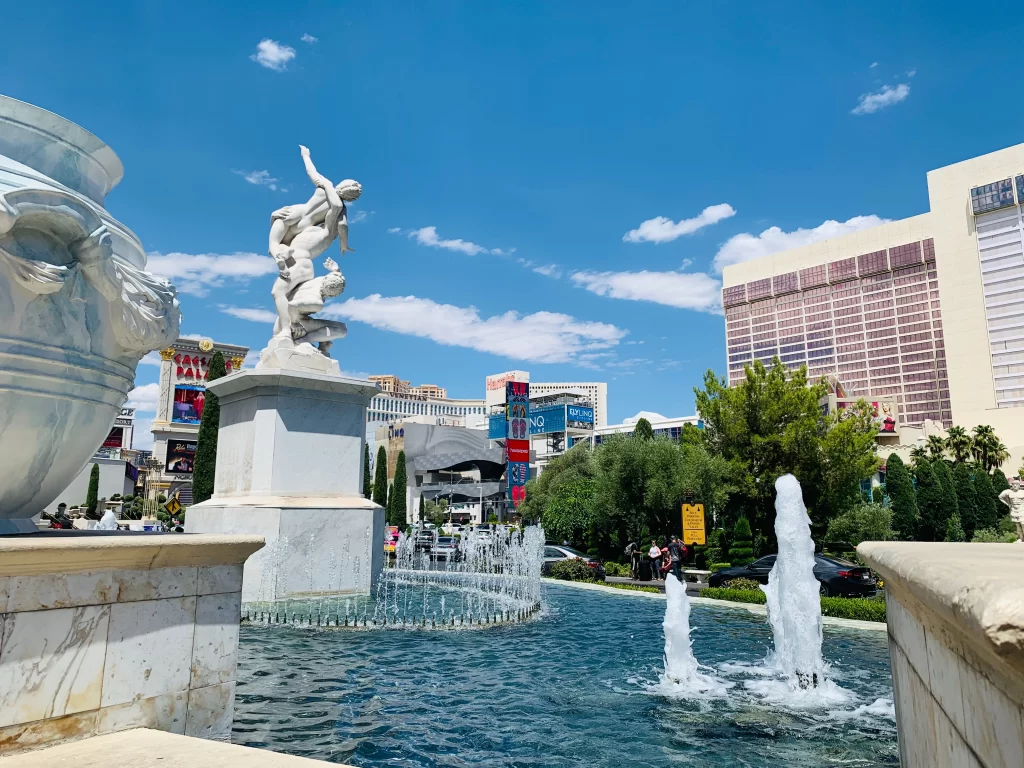 Caesar's Palace is one of the hotels in Las Vegas that can make you feel as if you have been teleported to Europe, but this time, to Ancient Rome. This grand hotel contains Roman-inspired architecture, sculptures, statues, and Atlantis Show on a daily basis which includes a moving statue. On the premises of Caesar's Palace are a swanky and luxurious shopping mall and Forum Shops that are renowned in the entire country. When you are here walking down the passageway between the stores, keep an eye out for the impressive mural ceiling which is painted in a way that makes you feel like you are roaming under a wonderful blue sky irrespective of what time of the day it is.
Besides, the establishment features an incredible pool inspired by Roman baths and one of the most renowned casinos on the Las Vegas Strip. The hotel has six separate towers in terms of rooms. The spacious rooms and lavish penthouse suites here have 24-hour room service, and thus are quite popular with guests.
7. Mandalay Bay Resort & Casino
Owing to its quieter location near the south end of the crowded Strip, Mandalay Bay is one of the Las Vegas hotels that is simply a great option for those who travel with their family. Plus, it's also less expensive than other Strip hotels. Mandalay Bay's most popular and defining featureis its beautiful pool as the pool complex spans 11 acres and features sandy beaches, a massive wade-in tidal pool, and a lazy river. Also, in case you're travelling with adults only, one of Mandalay Bay's pools is "toptional."
The Shark Reef Aquarium is another famous attraction at Mandalay Bay for people of all ages. This aquarium, which houses over 2,000 animals, even allows visitors to dive with 30 different species of sharks. Besides, the resort also houses a prominent combination of a restaurant and a live music venue, the House of Blues. So, there is no dearth of activities at this resort. The rooms are stunning and have natural elements that are consistent across their length and breadth.
8. ARIA Resort & Casino
The ARIA Resort & Casino is a must-see for individuals who are fond of elegant, smooth, and contemporary design and art. Aside from the vast, magnificent glass foyer, there is also amazing wall art and a relaxing water wall. Being one of the best hotels in Vegas, the rooms here are tastefully designed, large, and offer fantastic city views. The appliances kept in the rooms add to the comfort of the guests and can be operated with the touch of a button.
What's more interesting about this hotel is its spa which has been named the largest five-star spa in the United States and has also received the Forbes five-star accolade. Besides, there is a salt chamber or the exclusive Japanese stone hotbeds where you can find inner calmness. Known for its great hospitality, the hotel welcomes you with open arms and promises to make your stay memorable.
9. Red Rock Casino Resort And Spa
In case you plan on spending a lot of time on the Strip in Las Vegas, the Red Rock Casino Resort and Spa is perhaps not for you. However, if you want to experience true luxury at a hotel with a choice of restaurants, it is a place to be at. It's not just renowned for its outstanding hospitality, but it also has the Rocks Lounge, a popular spot to indulge in live music and enjoy televised UFC fights.
The Red Rock Spa, which offers luxury spa services, is one of the resort's most popular features.The Red Rock Casino Resort and Spa is also adjacent to Red Rock Canyon, one of the hidden gems in Las Vegas that is popular for hiking and other interesting activities.
Visitors from all over the world come to Las Vegas to enjoy and experience what the city has in store for them. Those who have been to this city say that one should at least visit Las Vegas once in their lifetime and choosing the right hotel can take your experience to a whole new level.