Reading Time:
9
minutes
Las Vegas tour packages, without even a shadow of imperceptible doubt, are among the most popular package tours in India. It has been 'the party destination' before party destinations became a fad, and generally features on the bucket list of several travellers and tourists. Millions of people from all over the world flock to this charming town in Nevada every year. What makes it even more awesome is the fact that you can visit Sin City (as it is fondly nicknamed) the whole year round. From buying Las Vegas honeymoon packages from India to opting for a Las Vegas city tour, you can head towards the city for special occasions or for just letting go for a while!
What to do in Las Vegas?
Las Vegas is most well-known for its casinos and high stake gambling, of course. In fact, hotels, especially the ones on the Strip, are an epitome of luxury, and offer some of the best gambling experiences. Right from lavish gambling floors to personalised concierges and theatres hosting renowned artists and showcasing the best dance shows in the world, everything is a gala affair in here! And lest we forget, there are Michelin star restaurants that serve the most scrumptious world cuisines. With so many activities around you, you shouldn't ponder over 'what to do?' What you should be focusing on is 'what next to do?!'
It is true that you can enjoy to the fullest even without having to step outside your hotel, but should that inhibit you? Of course not! it is always a good idea to fit some sightseeing in Las Vegas into your itinerary, and there's good reason to do it. This once desert town offers walks on the ocean sidewalk, chances to visit Elvis themed wedding chapels, the famous Vegas Show Girls' dance shows, and much more.
There's always something interesting to do in Las Vegas
A number of Las Vegas tour packages from India allow you to customize itineraries that include things that call out to you. You can head out and gorge on some of the most delicious food, try your hand at dancing on a pole, enjoy a romantic Gondola ride at the Venetian, take dive off the stratosphere, see a fountain show outside the Bellagio, have a surreal experience on Fermont street, or book tickets for a show at a theatre or hotel (just make sure you book well in advance, for these shows get full pretty quick).
Las Vegas tours have something for everyone, and while you could visit the famous places and be a high roller at the casinos, even if it is for one night, there are several offbeat things for Las Vegas sightseeing that you can opt for:
1. Dig This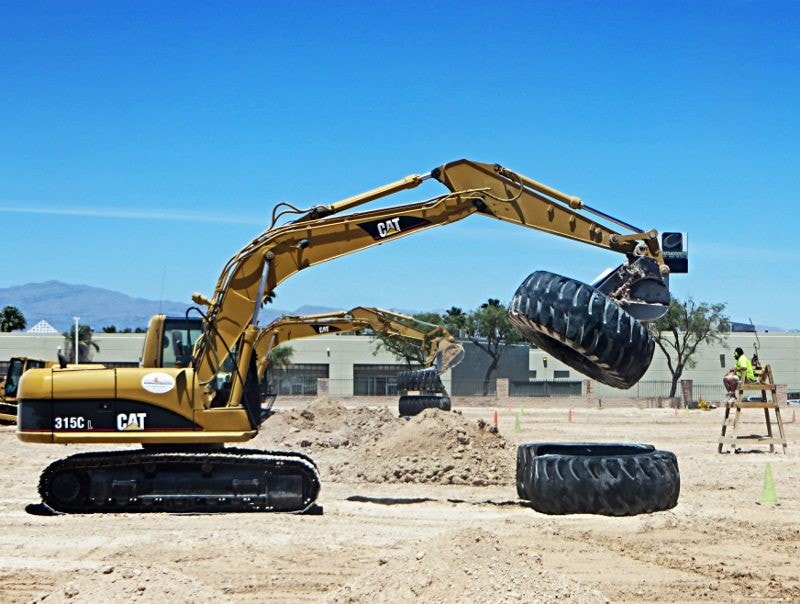 If you want to experience the thrill of operating heavy machinery, like a 10 ton bulldozer, 'Dig This' is the place to be. The various activities that you can partake in at this place include playing excavator basketball, digging large trenches and making giant moulds, and even stacking 2000 pound tires. While things like being able to crush a perfectly maintained car with a 20 ton excavator may sound a little dangerous, rest assured as it is in a perfectly safe and controlled environment. It certainly has all the makings of being a highlight of your Las Vegas trip from India.
2. Top Shot Las Vegas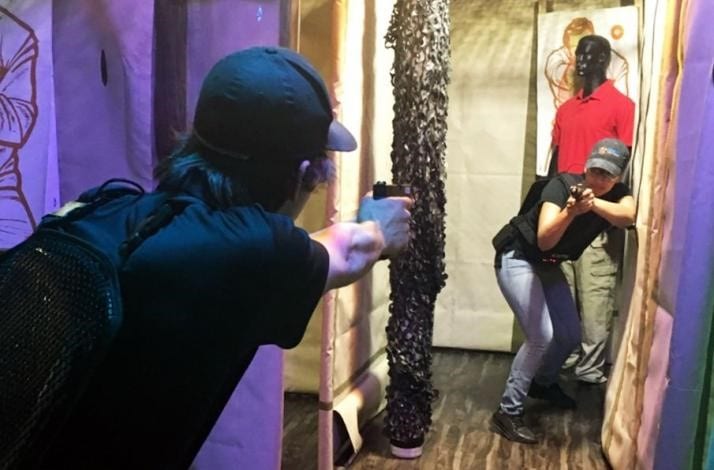 Enter a specially designed maze, armed with guns, ammo, and outfits with vests and belts, and experience real life combat situations. You can rest assured that you are safe in the situations as all the guns and ammunition are not real, and use laser tech for a rich experience. Put yourself in some high pressure situations here sans any real danger.
3. The Oiu Experience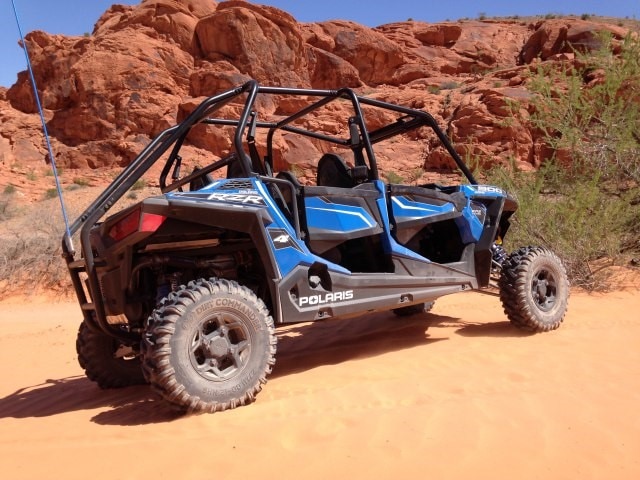 Unleash your inner child and take a Las Vegas sightseeing tour atop a UTV through the desert. Get on a UTV and drive at about 4000 feet above ground level for an incomparable adrenaline rush. The entire experience is guided and closely monitored to ensure your safety while you enjoy the scenic beauty of the serene desert trails.
4. Gravady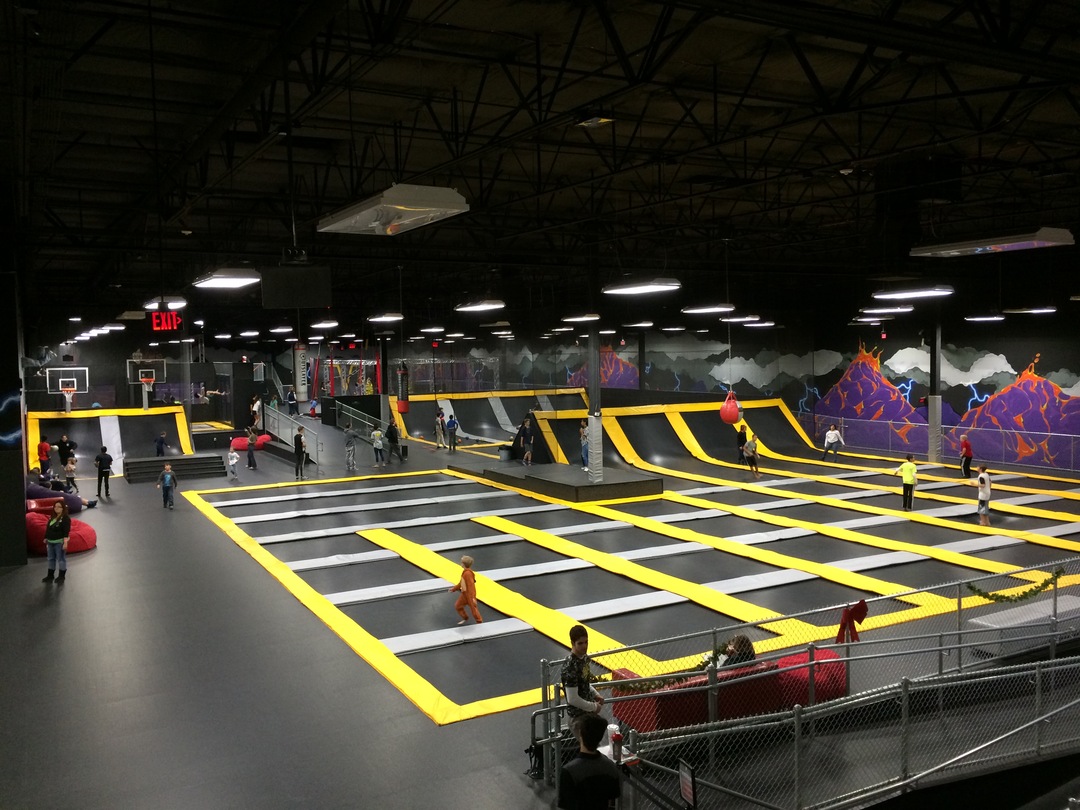 Your Las Vegas tour package from India will be incomplete without a trip to Gravady, the ultimate indoor gravity-defying sports experience. Covering more than 25,000 square feet, the arena is completely covered by trampolines. You can also go through some obstacle courses like trapeze, air dunk, foam pits, Ariel skills, ninja obstacle course, and extreme dodge ball. If you are looking for something offbeat, this is the perfect place for you to go to.
5. Helicopter Experience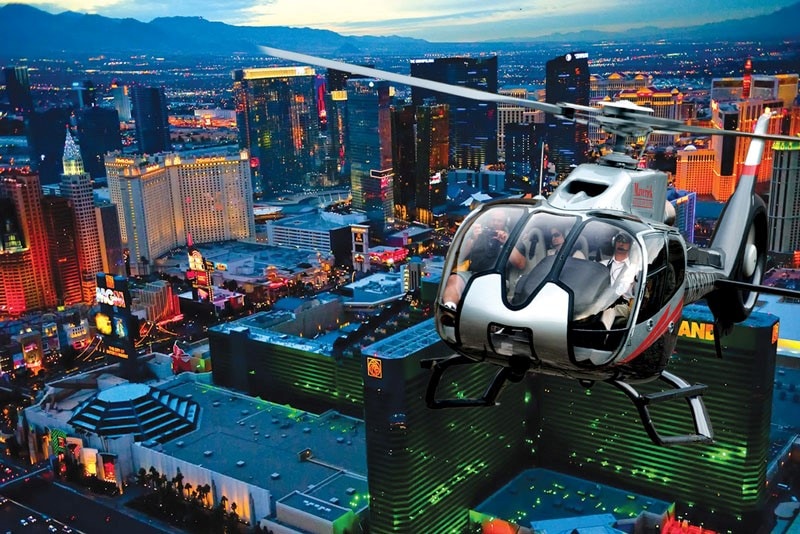 Some Las Vegas tour packages from India offer helicopter tours that are unlike any you have been on. You can go for a night time tour of the city that will take you over the Strip and even the Grand Canyon, and give you a totally new way to experience the Las Vegas skyline. The city may seem busy at ground level, but you can get a new perspective when you see it from thousands of feet above the ground.
6. National Atomic Testing Museum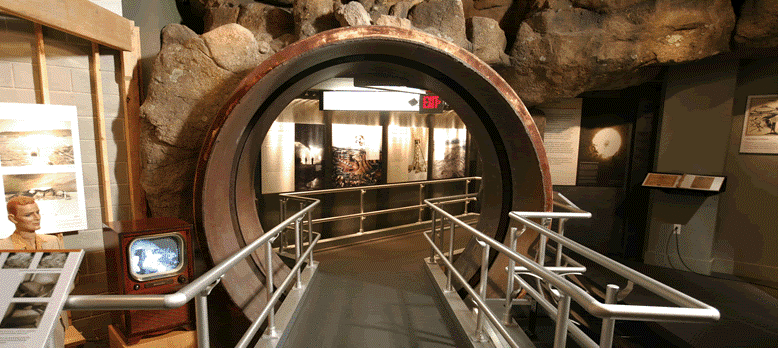 While most people take Las Vegas tours to soak in the glamorous part of the city, another part of the things to do in Las Vegas can include a visit to the National Atomic Testing Museum. If you have an interest in Atomic Age history, you are smack in the middle of where so much of it happened. The museum not only shows the history of the Nevada Test Site, but tells the entire story of the nuclear program of the nation with more than 1200 artefacts.
7. The Neon Boneyard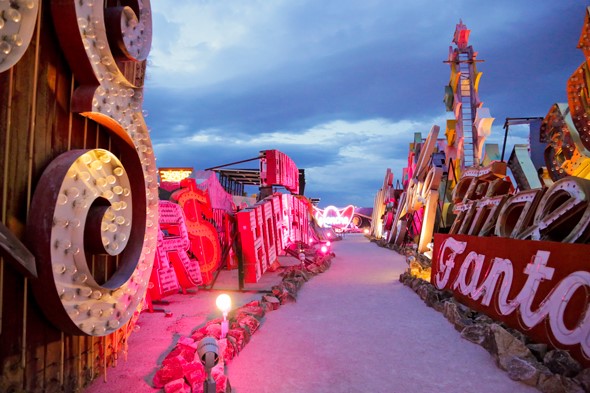 One thing that is prominently displayed in almost all Las Vegas tour packages is the neon skyline of the town, which is almost as famous as any other iconic places here. Neon boards have always been an irreplaceable part of Las Vegas, but where do they go after they've lived their lives? The Neon Boneyard is where you can gander at many of the most recognizable neon displays that come from the golden age of Las Vegas casinos. Here, you can check out the Silver Slipper, the Golden Nugget, the original Aladdin's lamp from the Aladdin Casino, Binion's Horseshoe, and many more.
Do you now have enough impetus for booking a Las Vegas tour package? We are glad we could help you along the way.