Reading Time:
9
minutes
When it comes to finding the perfect vacation spot, Goa is hard to beat. With many beautiful places to visit in Goa, it is one of the most popular tourist destinations in India. People from all over the country and the world come to enjoy its sandy beaches, lush greenery, and diverse culture. The cherry on this cake is Baga where Goa's popularity is complemented by the accommodation options on offer i.e. there is no shortage of hotels in Goa near Baga Beach to choose from. Baga is a beautiful sandy beach in Goa that was originally called Baga Creek. Water activities, dolphin cruises, water-skiing, and beach parties are the most popular there.
If you want to have a good time, you would definitely want to stay at one of the hotels in Goa near Baga beach. Here are the best stay options in Baga for a perfect vacation:
The Baga Beach Resort
The Baga Beach Resort is an exquisite hotel in Goa near Baga beach with a swimming pool. With a variety of stunning boutique rooms and superb amenities, this is the place to stay if you like to vacation in aesthetics! It assures an utterly peaceful and enjoyable stay in Goa to freshen up and replenish. There are also spectacular views of the beach to add an addictive touch of romance.
This makes this resort a perfect place for honeymoon couples. Make sure to include this in your itinerary while booking the Goa honeymoon package. The resort organizes special occasions such as pool parties, food tastings, and wine and cheese gatherings.
Angelina Beach Resort
Angelina Beach Resort in Goa is a serene second home and amongst the best places for homestay in Goa. This cosy abode is one of the ideal accommodations that provide a magnificent view of the surroundings and a pleasant atmosphere. It also has restful rooms and amenities for your convenience. Furthermore, this property provides all the necessary amenities for the comfort and ease of its visitors, including room service, Wi-Fi, and a 24-hour front desk. The rooms are divided into two types: A/C rooms and non-A/C rooms. Guests can relax in these rooms and relish their well-deserved privacy. These rooms are extremely functional with only the most basic in-room facilities.
The Lazy Lagoon Hotel
The Lazy Lagoon Hotel has a fantastic location to remember about. The rooms are exquisite, cosy, and homely with all of the modern facilities required for a comfortable stay. The hotel has all of the essential amenities, such as a swimming pool, a club, and a superb multi-cuisine spread.
It is an excellent base for exploring Goa with all the luxuries at your disposal. The low tariff and the breakfast buffet here is a big draw for tourists!
Cuba Baga
Cuba Baga is one kilometre from Baga Beach and nine kilometres from the Mapusa Bus Stand. Breakfast is provided free of charge at this Goa beach hotel. It has 10+ AC and non-AC rooms with connected baths spread across two floors. Each room has a desk, wardrobe, fridge, and TV. This Baga beach hotel in Goa also features a multi-cuisine restaurant, a hot tub, and a gym along with laundry facilities.
Sky Beach View Hotel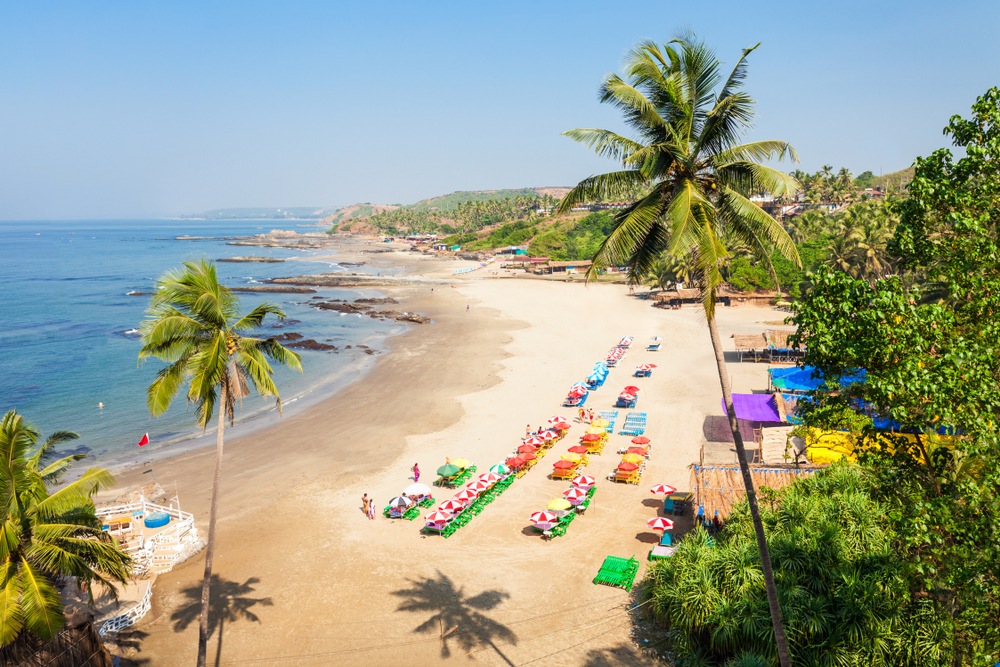 True to its name, the Sky Beach View hotel is located on the beachfront in Baga Beach. This property has family rooms as well as a terrace for guests. Guests can take benefit of a 24-hour front desk, room service, and currency exchange at the hotel. A kettle is provided in each of the hotel's guest rooms. The rooms at this hotel in Goa have a flat-screen TV, air conditioners, free Wi-Fi and a large bathroom with bathrobes. Some rooms have a balcony as well.  Bedsheets and towels too are provided in the rooms.
The Crown Goa
This luxury hotel in Panaji is perched atop a vibrant hilltop with shady palms and features Indo-Portuguese influences combined with modern architecture. Executive and leisure visitors will find a soothing retreat in the well-appointed rooms with extravagant views of the Mandovi River. The hotel has two casual eateries, a luxurious spa, and a pool with sunbeds.
Resort Lagoa Azul
Resort Lagoa Azul is a convenient, affordable, and cheap hotel in Goa near Baga beach. It reflects a lovely lagoon that acts as a centrepiece for those tired evenings and rejuvenating mornings.
No less than a tropical paradise, the lush greenery that surrounds the hotel will be a breath of fresh air. Its graciously decorated common spaces are ideal for spending quality time with your loved ones. And then there are the mouthwatering dishes at the 'Tabla' restaurant which are delectable and absolutely worth trying!
The Camelot Resort
The Camelot Resort is within walking distance of Baga Beach. It is among the best hotels in Goa near Baga Beach, with an exquisite theme and interiors decorated in classic medieval style. It has 32 rooms and 5 guesthouses, all of which are tastefully decorated and fully furnished. The luxurious interiors and friendly staff leave a lasting experience of being treated like royalty. 'Bongos,' the lounge bar, provides hypnotic and enticing music, delectable food, and lively patrons. In addition, their tagline, 'You are Royalty,' is gracefully followed.
Novotel Goa Resort & Spa
The Novotel Goa Resort & Spa is heavily laden with luxury, leisure, and adventure, evoking the captivating tropical feel. The property is known for its lush greenery and serene spaces. For the discerning ones, it has New York's exquisite Warren Tricomi Salon & Spa as well as Goa's only Turkish Hammam! The resort, which has 100+ fascinating and pleasant guestrooms, overlooks Candolim's vibrant paddy fields and mountains. Other amenities include a fitness center, a kid's club, and family-friendly activities.
Keys Ronil Resort
Keys Ronil Resort is a three-star hotel in Goa that is close to Baga Beach. It has 120+ spacious rooms that are comfortable and equipped with modern facilities. Room service is available 24 hours a day, seven days a week. This hotel in Goa near Baga Beach has two soothing swimming pools as well as a multicuisine restaurant serving delectable dishes from the blossoms of traditional Goan cuisine. The utmost luxury that it provides for the price is incredible. The hotel's main selling point is its location. It is set in the middle of the market and there are plenty of restaurants nearby.
Chalston Beach Resort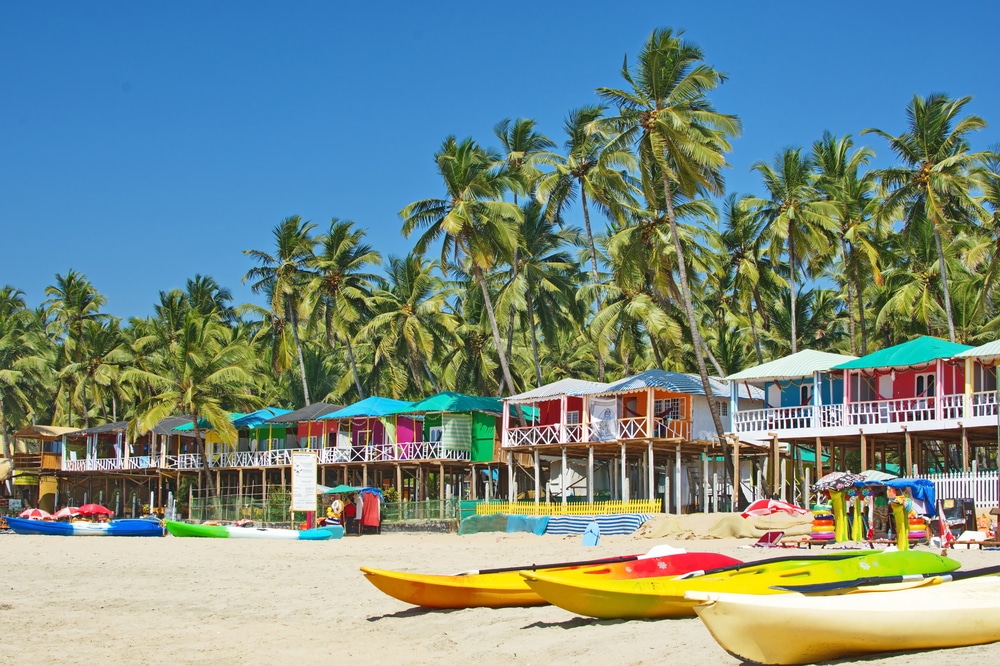 Chalston Beach Resort is a magnificent resort surrounded by lush vegetation and gardens that lead to the beach. It has a multi-cuisine beachside diner, a swimming pool, a poolside bar, and a cafeteria. There are five room types to choose from: basic couple rooms, bigger standard rooms, outstanding rooms, garden guesthouses, and resort garden cottages, depending on your budget. You can also find a hostel in Goa around this resort. The charming garden cottages are located in the garden closest to the beach.
Acron Waterfront Resort
Acron Waterfront Resort is a picturesque hotel with all modern facilities for your convenience. There are 29 fully furnished and intricately decorated rooms with decorative wall motifs. The Sea View room has a view of the Arabian Sea, the River View room has a view of the beautiful Baga River, and the Garden room has plenty of privacy because it is hidden in the quiet garden courtyard.
Speciality? The River Restaurant, with its fabulous and delectable Goan menu.
Don't sit around and wait for the ball to start rolling. Book your Goa tour package with your stay planned at one of these hotels to have a wonderful vacation.