Reading Time:
10
minutes
Hyderabad is a city in the north of South India and is the capital of Telangana. It overflows with old-world romance and is one of the best honeymoon places in the country. It is located near the river Musi and dotted with small hills. Also known as the 'City of Pearls', Hyderabad has a lot to offer to its guests, especially to a newlywed couple looking to unwind and embark on a journey of togetherness. With the rich layers of history, traditions, and modernity that the city boasts of, no wonder a well-planned Hyderabad tour package promises a memorable time to people madly in love.
To help you plan a honeymoon in Hyderabad, this article aims to dish out the best places to visit in Hyderabad that are sure to evoke love and only love and help you stay charmed and smitten with your partner as you both spend time together.
Luxury Stays
A post-wedding vacation, like a honeymoon, is about relaxing as much as it is about exploring. And, what is the best way to relax than in luxe places in Hyderabad below:
Taj Faluknama
How about spending some time inside the 'only seven-star hotel in India'? Well, that's Taj Faluknama in Hyderabad. Oozing opulence and luxury from every corner, staying at this beautiful palace is what a newlywed couple needs to kickstart their honeymoon in Hyderabad. Yes, the prices are, well, eye-watering, but the good thing is that the cost is well down now, owing to the pandemic. Perhaps, it is a short window right now to book a once-in-a-lifetime stay here, even it calls out for a second honeymoon!
Once the residence of Nizams (rulers of Hyderabad), it is leased out to the Taj. Perched at 2000 feet above Hyderabad, the property gives the best city views. Relax and rejuvenate with your partner by taking an exquisite spa facility here. Indulge your senses into aromatic cuisines and splendid seatings at 3 eating areas – Celeste, Adaa, and Gol Bungalow. Choose as per your preference, with each place promising everlasting times.
Golkonda Resorts & Spa
It is another marvellous and grandeur place to visit and stay in Hyderabad on your honeymoon. If one of your ideas of post-wedding times is an intimate affair into a luxury haven and away from the city, the answer is Golkonda resorts. The property houses the only monument in the world built just for food, Jewel of Nizam – The Minar. It is a 100-feet tall tower restaurant that offers award-winning Nizami cuisines with breathtaking views overlooking the gorgeous Osman Sagar lake, one of the most popular Hyderabad sightseeing places. The Minar is amongst the unique places to visit in Hyderabad for all couples about to start their life journey together.
Waterfalls
When you have your soulmate by your side, love cannot remain silent, just like waterfalls! These are some of the best honeymoon spots in Hyderabad to have fun times. Hyderabad has a lot of them in and around the city, such as Ethipothala waterfalls, Sahastrakund waterfalls, Pochera Falls, etc. Get a detailed read on the best waterfalls near Hyderabad.
Hussein Sagar Lake
For honeymooners, planning to go to the most visited site in the city might sound boring, but Hussein Sagar Lake is worth a visit no matter how many times! This man-made lake is one of the largest in Asia and has recently been named the 'Heart of the World'. So, how can a couple on a honeymoon not visit the Heart of the World!
Walking on the periphery road around the lake can be memorable as you find yourself surrounded by turquoise blue. Getting on a night ferry and watching the sunset from the middle of the lake is another way to indulge in a beautiful moment together. Gorge on some delicious street food around the lake as the place glitters at the dusk. One of the most serene honeymoon places near Hyderabad, this lake will surely tug at the heartstrings.
Olive Bistro
'That's everywhere!', you may argue. But let us tell you about Hyderabad's Olive Bistro. Much like everywhere, the Bistro has made a name for itself as the most romantic hangout across the nation, but Olive Bistro, in Jubliee Hills, Hyderabad, offers a secret lake! After filling your appetite with scrumptious food and soothing wine, walk down a narrow lane that opens up to a mesmerizing expanse lakeside, quiet like a smile and reverberating the vibe of love. The time spent together in such an idyllic location is tailor-made to suit the needs of honeymooners. It is simply one of the best honeymoon places in Hyderabad that should not be missed.
Ananthagiri Hills
Nestled in one of the dense forests of Telangana, Ananthagiri hills are a mere 80 Km away from Hyderabad. Sightings on offer are some ancient caves, magnificent waterfalls, picturesque camping sites, spectacular trekking trails, and much more.
Amongst the best places to visit in Hyderabad, Ananthagiri Hills can be a one-stop destination for couples to have a fabulous time together. From planning a boat ride in the lake and having a kayaking experience, gorging on some delicious food at abundant food stalls to setting up a camp for a stargazing night. Take a divine visit to Sri Anantha Padmanabha Swamy Temple dedicated to Lord Vishnu, embark on an enchanting trek with a sweeping view of greens and witness a gorgeous sun setting, surrounding a pin-drop silence. The chirping of birds will approve your visit here as you will find this heaven of a place as alluring and appealing as it gets. Along with Ananthagiri Hills, there are many beautiful hill stations near Hyderabad that couples can plan and visit for their honeymoon.
Charminar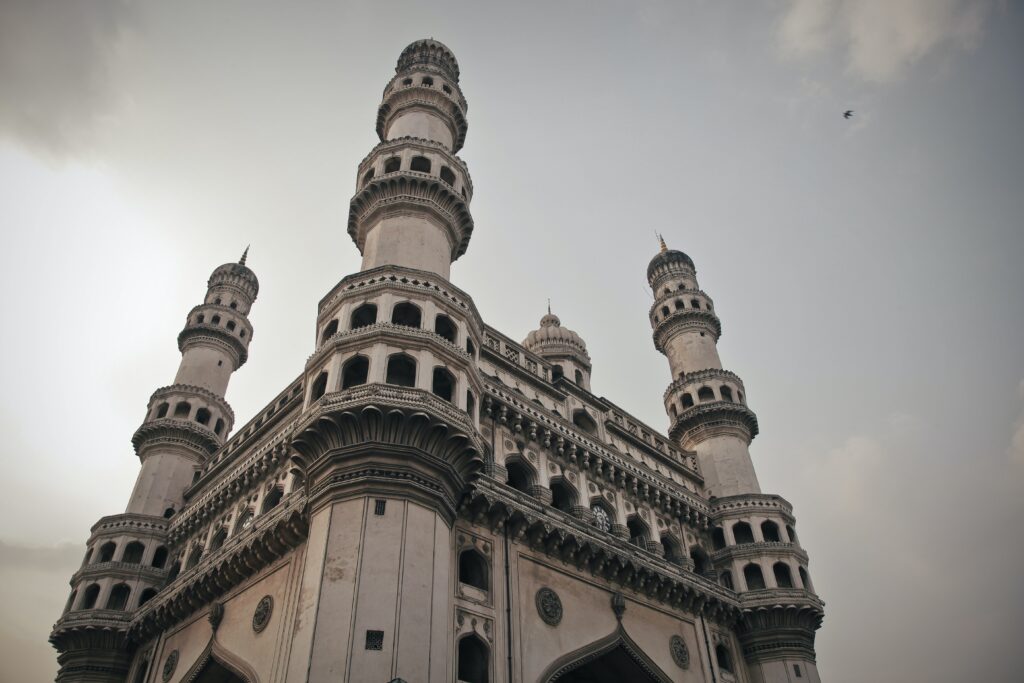 A monument and a mosque, Charminar is the soul of Hyderabad. Synonymous with the city's bustling, beautiful, and ageless nature, Charminar is the most visited place by tourists in the city. No matter how cliché it may sound, visiting the 400-year old Hyderbad ka Charminaar, holding hands with your soulmate, surely evoke a sense of admiration and the timeless art of tender love.
The bazaar around the Charminar is always bustling with people, especially at the time of Ramzaan. Besides delectable food, it is a heaven that serves every girl's fantasy, from gleaming bangles and balmy perfumes to cute footwear and swaying dupattas. Honeymooners can indulge in spree shopping with unbeatable prices of the bazaar, sip on the much famed Irani tea, and get clicked with a backdrop of The Arc de Triomphe of the East. Charminar remains the best honeymoon destination in Hyderabad.
Birla Planetarium and Science Museum
Sitting under the blanket of a glitzy starry sky, watching the moon together with your partner, is as romantic as anywhere else. However, gazing at celestial bodies up close together can be quite intimate. A visit to the well-equipped Birla Planetarium at Hyderabad promises a lifelong memory with a stellar show in its sky theatre. Make sure you get the bookings done in advance.
The science museum, just next to the Planetarium, houses years-old artefacts, archaeological displays, and a 'dinosaurium' to witness a dinosaur fossil that dates back to 160 million years. Going to a museum is one of the most underrated visits one takes, as there is no such place that beholds ideas and art like a museum. Seal your time together in one of the best honeymoon places in Hyderabad and make it last a lifetime.
Dialogue In The Dark
It is a fascinating and unique place to be with your spouse. A restaurant located in Inorbit Mall, Hyderabad, which goes by the name – Dialogue in The Dark. Here, you get to witness life in the pitch dark. It may sound odd, but sure to give you an experience of a lifetime when a visually disabled guide will give you a lovely tour of the place while you are blindfolded.
Along with food, you get to play cricket, listen to the fountains, identify objects, play games, or simply hold a conversation, all in pitch darkness. It will be a tremendous opportunity for the couples to experience everything together, even without looking at each other and just living in the moment to feel the presence. Make your vacation extra special by visiting one of the best honeymoon spots in Hyderabad.
When it comes to planning a grand romance, often overlooked are the city gateways in lieu of some tropical beach, remote and exotic location, or snow-laden mountains. Hyderabad, a city of mystical and ancestral beauty, breaks all the stereotypes. Hyderabad is a perfect destination for a charming, contemporary honeymoon. Embark on this journey and explore the city together with your soulmate.