Reading Time:
10
minutes
When you think of Greece, the deep blue colour of the Mediterranean Sea comes to mind. White sands, windmills, and yachts are some of the other things that attract tourists to book Greece tour packages. Along with this, the delectable cuisine of this charming country is a reason why your vacation will simply be magical! The best quality olives, feta cheese, and meats are available on the streets of Crete, Athens, Santorini, Mykonos, and various other tourist destinations. Are you salivating already? Here are 20 Greek dishes that you need to try on your next vacation:
1. Moussaka
Food in Greece is unique in its own right and Moussakka is the epitome of this cuisine! As one of the national dishes, this traditional Greek food item is prepared with spicy lamb or beef cooked in a tomato-based sauce. You can find Moussaka on the streets of Athens and give your palate a treat. The creamy bechamal layering of meat and eggplants will surely make you come back for more.
2. Gyro 22
This is possibly the most popular food not only in Greece, but also in Turkey, U.A.E, Canada, and many other countries across the world. You can gyros on a Europe tour package, but the real deal should be tried at one of the street food joints in Greece. Marinated meat prepared on a vertical rotisserie is stacked on a homemade pita bread with pickled onions, tzatziki (a yoghurt-dill-cucumber dip) and French fries. You can try out many versions of this national dish at hole-in-the-wall food spots as well as fine-dining restaurants.
3. Papoutsakia
The Greeks love eggplants and you can see it in their cuisine in various forms. Papoutsakia is one of the mouth-watering Greek dishes that you can try on your next vacation in this Mediterranean country. Stuffed eggplants are layered with a tomato-based sauce, topped with the creamiest bechamel sauce, and then baked to perfection. Literally translated as "little shoes", this is one of the best food items to try in Greece.
4. Taramasalata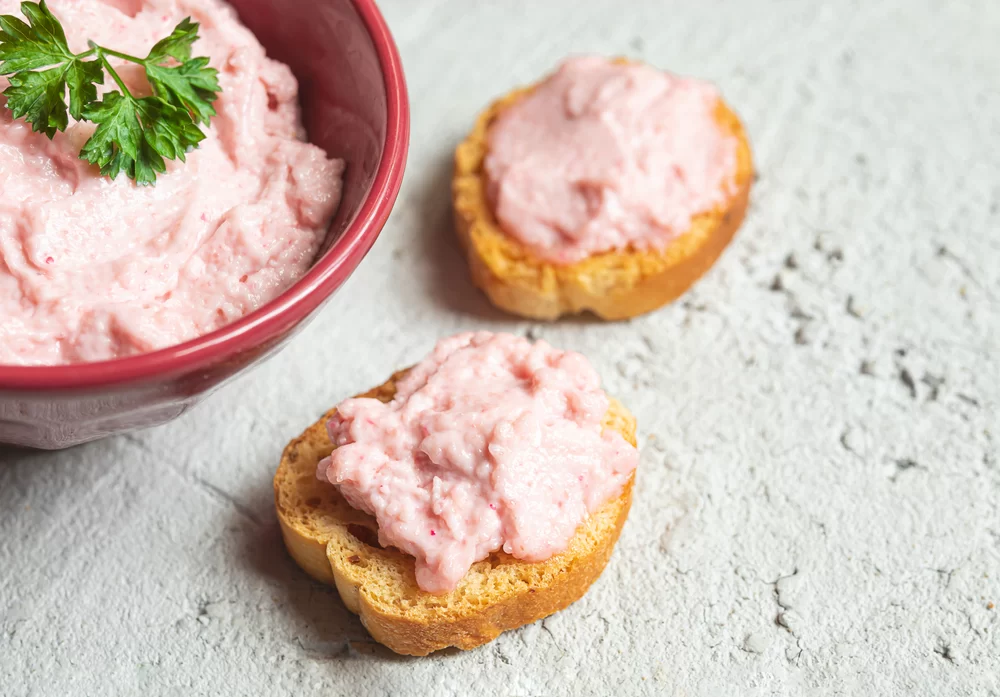 Whether you book a Greece honeymoon package or a family vacation, the amount of seafood you will get to devour is insane! Among the best things to eat in Greece is a fish-roe dip known as Taramasalata that you can eat with baked potatoes or pita bread. Drizzle some extra virgin olive oil (the real deal) and you will be transported to food paradise instantly.
5. Dolmades
A unique appetizer that you can try out at a local's home, restaurant or street food joint in Greece is dolmades. This is prepared using grape or vine leaves that are wrapped with rice, herbs, vegetables, or meat. These tiny parcels are full of flavours, and you will love every single bite of them! Having a single piece of dolmades is next to impossible, so make sure you have enough space in your tummy.
6. Pastitsio
While the Italians love to take credit for the invention of lasagna, the Greeks have come up with their own version that is worth trying on your next vacation. Pastitsio has become one of the top foods in Greece because of its mouth-melting taste. Minced beef, tomato gravy, and bechamel sauce are layered with pasta sheets that can make even the Italians blush.
7. Souvlaki
A beloved cousin of Gyro is Souvlaki which will quickly become your favourite once you try it at a local market in Greece. This food item is so delicious that you can snack on it all day, every day! Meat skewers are packed in pita with pickled onions, tzatziki, lettuce, and rice to make an easy-to-eat dish that you can enjoy while exploring this beautiful country.
8. Soutzoukakia
The food preparations in Greece are influenced by various European countries around it, so you will some similar dishes in Mykonos, Athens, and other tourist destinations. Soutzoukakia is the Greek version of meatballs made with ground beef, pork, cumin, and olive oil. This mélange of ingredients is then cooked in a red wine sauce, making Soutzoukakia, one of the best Greek food items to try out on your next trip.
9. Stifado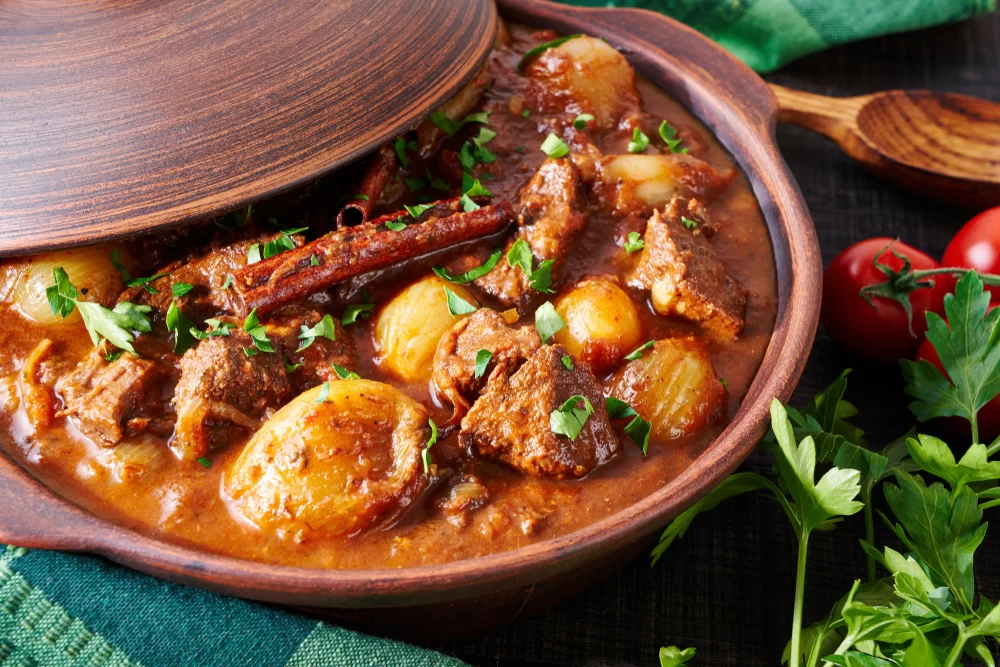 Although the food culture in Greece has diversified, there are some traditions that are still taken very seriously while preparing delicacies. Stifado is one such dish that the Greeks love to prepare at family gatherings, festivals, and dinner parties. It is a beef stew made with onions, tomatoes, red wine, cinnamon, and a variety of herbs. You can try out one of the most celebrated Greek dishes at local haunts all year round.
10. Garides Saganaki 
You cannot visit Greece and not try out the seafood. It is simply not acceptable, except if you are a vegetarian or vegan! Garides Saganaki is a shrimp appetizer that you will make your world go round and it's not even an exaggeration. Served on a small frying pan, this is one of the best food dishes to try in Greece on your next vacation.
11. Tomatokeftedes
This is an ancient food preparation of Greece that you need to get a taste of is Tomatokeftedes. These are fritters made with juicy Greek tomatoes, onions, feta cheese, and mint that you can try out at local street markets. This dish is a perfect example of how simple, yet delicious Greek cuisine can be.
12 . Kolokithokeftedes
Another appetizer that will make your Greek vacation memorable is Kolokithokeftedes. These are fried balls made of zucchini or courgettes, feta cheese, mint, and olive oil. Served with tzatziki, this food item on a summer evening in Greece will help you cool down after a long day of explorations.
13. Choriatiki
Light meals in this tourist destination essentially consist of salads. Choriatiki is among the most sought-after vegetarian salads that you can find in most of the places to visit in Greece. The preparation includes feta cheese, olives, cucumbers, and tomatoes. The dressing is typically made of olive oil, pepper, salt, and vinegar but you can make your own version without upsetting the locals!
14. Fasolatha
Fasolatha is an ancient food item that is celebrated in Greece as one of the six national dishes. It is a heart-warming white bean soup that will give your stomach a rest after devouring a bunch of street food delicacies. The flavours of thyme, bay leaves, and parsley coupled with vegetables like tomatoes, carrots, etc., make Fasolatha a must-try dish.
15. Koulouri
A popular Breakfast item in Greece, Koulouri, is a mega-sized ring of bread that you can enjoy with a hot cup of coffee. Topped with sesame seeds, this food item is available on yellow street carts in every village, town, and city that you will visit on your vacation in Greece.
16. Spanakopita
Pies are very close to the hearts of the locals, so they put anything and everything in them! Spanakopita is made of filo pastry that is filled with vegetables, feta cheese, or minced meat. You can devour this Greek style pie at an al-fresco restaurant and make the most of your trip!
17. Loukoumades
If you are a mini-donut fiend, then Loukoumades will win over your heart and soul for sure. These bite-sized donut balls are covered in honey, crushed almonds, and powdered cinnamon sugar. A hit among children and adults alike, you need to try this sweet dish at a local bakery in Greece.
18. Kalamarakia Tiganita 
Seafood lovers are in for a treat because of the variety of delicacies that are available at the taverns in Greece. Kalamarakia Tigantia is an appetizer made of deep-fried rings of calamari or squids that you can gobble down with tzatziki and a squeeze of lemon.
19. Bakaliaros
Yet another seafood delicacy that will make your socks off is Bakaliaros. This is a cod fritter served with a garlic aioli that you can find in every beach shack. Available all year round, it is among the most popular dishes to devour during the Greek Independence Day i.e. the 25th of March.
20. Baklava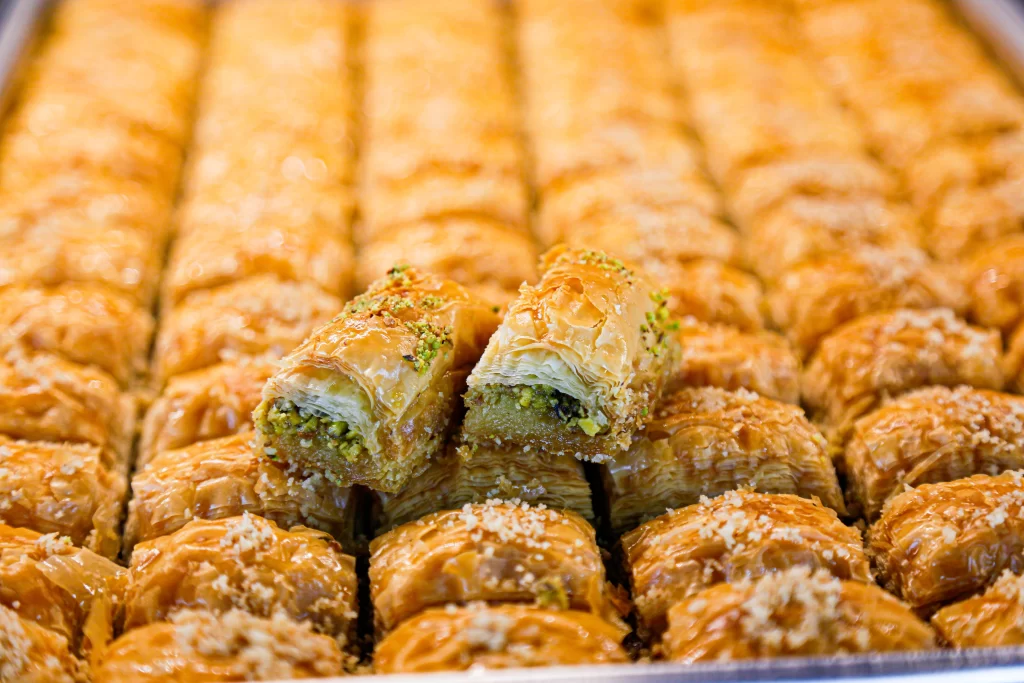 While a lot of people associate Baklava with Turkey and the Middle East, Greece is not far behind. This flaky filo pastry filled with honey and pistachios has so many varieties available that it will take you a few days to choose your favourite one!
When you are done drooling all over your screen, plan your vacation to Greece and try out these amazing delicacies!