Group Tour - EUGT
Greece Turkey
Greece Turkey

Dates & Price
Tour Type
Family
Tour Code
#EUGT
Welcome to Greece! A spectacularly beautiful country that is home to crystal clear blue waters, scenic islands, white sandy beaches and a simple yet profound culture that reflects in the sights and people of this country. Enjoy an amazing tour that takes us on a journey of this charming destination! Turkey is the land of surreal landscapes, great cities, ancient historical empires and delectable cuisine that will leave you wanting for more! Explore the wondrous cave formations of Cappadocia and the white terraces of Pamukkale. Discover rich culture and experience a slice of Turkey on this tour!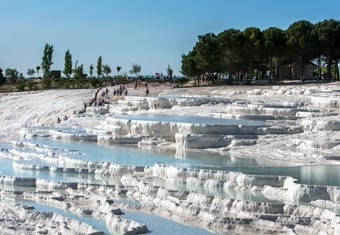 Tour Highlights
2 Countries and 7 historic cities in 12 days
Explore 'Acropolis Site & Museum' in Athens
The world famous 'Blue Dome of Santorini'
Saronic Cruise of Aegina, Poros & Hydra islands
Explore nature's miraculous wonder - Cappadocia
Visit the famous 'Hagia Sofia Museum' in Istanbul
The natural site of Pamukkale a.k.a Cotton Castle
The Grand Bazaar, world's largest covered market
The historic 'Sultan Ahmed Mosque' of Istanbul
Introducing:
Post Tour Holidays and Business Class Upgrades. Get in touch with us on 1800 22 7979
Upgrades Available
Currently we do not have any scheduled departures, they will be updated shortly.
Day 1
Athens (2 Nights)
Greece Turkey Tour (Mumbai to Mumbai) guests will report at Chhatrapati Shivaji International Airport-respective airline terminal, four hours prior to the scheduled flight departure time.
After collecting the snacks hamper from Veena World Airport Representative and completing check in formalities, guests along with Veena World Tour Manager will travel to Athens – Capital and largest city of Greece. The birth place of democracy and the heart of the Ancient Greek civilization.
Joining & Leaving (J&L) Tour guests will directly join at Athens Airport as per the scheduled group flight arrival time. J&L Tour guests who have already reached Greece can meet the scheduled group as per the guidelines given by Veena World Tour Manager.
Upon arrival, Veena World Tour Manager will guide all guests for airport formalities and proceed to the city. In the evening we walk through Plaka- the oldest section of Athens. It has a village feel, with narrow cobblestone streets lined with tiny shops selling jewellery, clothes and local ceramics.
Dinner
Night Stay in Athens
Highlights
Plaka- the oldest section of Athens
Day 2
Athens
Today we will explore the fabulous Greek islands on a full day cruise from Athens. We discover three of the most beautiful islands of Saronic Gulf. Poros Island- so-called Lemon Forest, an idyllic spot filled with citrus trees, windmills and waterfalls, Hydra Island- one of the most cosmopolitan Greek islands. In Hydra Island, you won't see any cars! Everyone uses their foot, boats or donkeys to get around the island, Aegina Island- a picturesque island, boasting elegant neoclassical buildings, narrow alleys and a bustling seafront promenade.
Breakfast
Lunch
Dinner
Night Stay in Athens
Highlights
Greek islands through the Saronic Cruise
Day 3
Athens – Santorini (2 Nights)
Today we travel from Athens to Santorini by flight. Santorini - known as 'black pearl of Aegean and it is one of the most spectacular Greek islands. In the evening we visit Black Sand Beach- famous for the black volcanic sand. The past volcanic eruptions have formed the island of Santorini and have given its beaches a distinctive characteristic. Later we walk through Fira- the capital of Santorini, is the central square of the island
Breakfast
Lunch
Dinner
Night Stay in Santorini
Highlights
Visit Black sand beach
Walking tour of Fira
Day 4
Santorini
Today we explore Santorini village, we visit Prophet Ilias monastery- built by two monks in 1711 on the highest peak of Santorini at 565 meters above sea level. In that era, it was an important cultural and educational center that undoubtedly offered a great social work, Pyrgos village- a hillside village surrounded by blue domed churches and vineyards, Megalochori village- one of the most picturesque villages on the island. Its existence is recorded back to the 17th century. Home to historical mansions, old traditional houses, pirate hideaways and wine canavas, later we proceed to visit Oia village – the most famous of all villages of Santorini. It is known throughout the world for its beauty, fantastic sunset and the famous Blue Dome. Upon arrival we walk through the village and admire its beautiful sunset.
Breakfast
Lunch
Dinner
Night Stay in Santorini
Highlights
Visit the Blue Dome of Santorini
Oia village
sunset point
What's more

Ice cream during the city tour.
Day 5
Santorini – Athens (1 Night)
Today we travel from Santorini to Athens by flight. Upon arrival we explore Athens city, we see Hadrian's Arch Monument – part of a wall separating the old and new cities of Athens, Royal Palace- the neoclassical building that now houses the Parliament of Greece, Olympic stadium - home of the first modern Olympic Games in 1896 and remains the only stadium in the world built entirely out of marble. Later we visit Temple of Olympia Zeus – a former colossal temple at the centre of Athens, dedicated to Zeus God, the chief of the Olympian Gods, Acropolis Museum- consistently rated as one of the best museums in the world. With a collection spanning over 1,500 years, Acropolis site- an ancient citadel located on a rocky outcrop above the city of Athens and contains the remains of several ancient buildings of great architectural and historic significance, Parthenon– The temple that dominates the hill of the Acropolis. Also known as an enduring symbol of western civilization.
Breakfast
Lunch
Dinner
Night Stay in Athens
Highlights
City orientation tour of Athens
Acropolis Museum
Parthenon
Temple of Olympia Zeus
What's more

Ice cream during the city tour
Day 6
Athens – Cappadocia (2 Nights)
Today we travel from Athens to Cappadocia by flight. Cappadocia - best known for its moon-like landscape, Underground cities, Caves Churches and houses in the rocks.
In the evening we enjoy whirling dervish show – the part of the Turkish history, tradition, culture and beliefs.
Breakfast
Lunch
Dinner
Night Stay in Cappadocia
Highlights
Enjoy Whirling dervish show
Day 7
Cappadocia
Today we explore Cappadocia city, we visit the famous valleys of Cappadocia like Devrent Valley – also known as Imagination Valley. It was never inhabited by humans. There are no rock-hewn churches or ancient castles, nor are there any troglodyte caves or pigeon homes. Instead what draws visitors to Devrent Valley is the incredible pink hued rock formations and geological anomalies that have been formed by centuries of erosion, Pasabag Valley – also known as Monk Valley. Pasabag contains some of the most striking fairy chimneys in Cappadocia with twin and even triple rock caps - formations that are unique even for Cappadocia! Locals refer to them as the mushroom-shaped fairy chimneys, Goreme open air museum- the UNESCO World Heritage site which hosts the most important Byzantine cave churches in the world that where the monks and nuns pursued monastic life, Kaymakli underground city - one of the most famous and the widest Underground city of the Cappadocia. Kaymakli's history dates back to Hittites and Phrygians Period in the 7th and 8th century B.C. Kaymakli Underground City has acted as a safe haven for those fleeing from religious persecution, and it was mainly used by Christians during the Byzantine era for protection from invading Arabs. They estimate that up to 3,500 people once lived here. In the evening, we visit Ceramic Workshop - the area is famous for the art work, souvenirs and household utensils all made from the red clay of the Avanos River.
Breakfast
Lunch
Dinner
Night Stay in Cappadocia
Highlights
Goreme open air museum
Devrent Valley
Pasabag Valley
What's more

Turkish Ice Cream
Day 8
Cappadocia – Konya – Pamukkale (1 Night)
Today we proceed to Pamukkale – known for the mineral-rich thermal waters flowing down white travertine terraces on a nearby hillside. It neighbours Hierapolis, an ancient Roman spa city founded around 190 B.C. En route we visit Mevlana Mausoleum at Konya- also known as the Green Mausoleum or Green Dome, is the original lodge of the Mevlevi Whirling Dervishes. It contains the tomb and shrine of the Mevlana, which remains an important place of pilgrimage.
Breakfast
Lunch
Dinner
Night Stay in Pamukkale
Highlights
Mevlana Mausoleum at Konya.
What's more

Tea/Coffee during Cappadocia to Pamukkale journey
Day 9
Pamukkale – Izmir (1 Night)
Today we visit the beautiful snow white 'Cotton Castle'- one of the most visited places in Turkey. The word Pamukkale means 'cotton castle' in Turkish. It contains hot springs and travertines, terraces of carbonate minerals left by the flowing water. It is located in Turkey's Inner Aegean region, in the River Menderes valley, later we visit the ancient city of Hierapolis- a UNESCO World Heritage site. The name Hierapolis also means the sacred city. Here we visit its masterpiece theatre. In the afternoon we proceed to Izmir - a city on Turkey's Aegean coast, was founded by the Greeks, taken over by the Romans and rebuilt by Alexander the Great. En route we visit Textile Outlet - Textile industry is one of the most important sectors in the economy of Turkey in terms of GDP, exports, and employment. Upon arrival in Izmir, we take a photo stop at Izmir Clock Tower - a historic clock tower in Konak Square and was built in 1901 to commemorate the 25th anniversary of Abdülhamid II's accession to the throne.
Breakfast
Lunch
Dinner
Night Stay in Izmir
Highlights
Visit 'Cotton Castle'
The ancient city of Hierapolis
Masterpiece theatre
Day 10
Izmir – Istanbul (2 Nights)
Today we travel from Izmir to Istanbul by flight. Istanbul - a major city in Turkey that straddles Europe and Asia across the Bosphorus Strait. Uppn arrival we enjoy Turkish dinner with show.
Breakfast
Lunch
Dinner
Night Stay in Istanbul
Highlights
Enjoy Turkish dinner with show
What's more

Rejuvenate yourself with hot Tea or Coffee
Day 11
Istanbul
Today we visit Topkapi Palace – the largest and oldest palace in the world and the heart, brain and centre of the Ottoman Empire, Hippodrome square - also known as Atmeydani (Horse Square), Sultan Ahmet Tsami popularly known as Blue Mosque- a historical mosque in Istanbul. The mosque is known as the Blue Mosque because of blue tiles surrounding the walls of interior design, Hagia Sofia Museum – once the former Greek Orthodox Christian patriarchal cathedral, later an Ottoman imperial mosque and now a museum
Breakfast
Lunch
Dinner
Night Stay in Istanbul
Highlights
Hagia Sofia Museum
Topkapi Palace
Famous Hippodrome square
Blue Mosque
Day 12
Istanbul - Departure to hometown
Today we Experience the most scenic cruise through Bosphorous strait – a natural strait and an internationally significant waterway. It forms part of the continental boundary between Europe and Asia. Later we visit Grand Bazaar – the largest and oldest covered markets in the world. Here we can shop for famous flavoured Turkish tea, Turkish Ceramics, Carpets, textiles
it's time now to say goodbye!
Greece Turkey Tour (Mumbai to Mumbai) guests will proceed to Istanbul Airport as per the scheduled group flight departure time. After completing airport formalities, Greece Turkey Tour guests will travel back to Mumbai with Veena World Tour Manager.
Joining & Leaving (J&L) guests can be dropped at Istanbul Airport along with scheduled group or they can have their own arrangements made for the return journey back home.
Greece Turkey Tour concludes with mixed feelings! Happy to have made so many good friends, visited beautiful places and collected joyful memories to be cherished for a lifetime. We leave with a heavy heart as the golden days of the Tour come to an end.
Let's stay in touch with each other through email, phone, WhatsApp, Facebook, Instagram and meet again on more such wonderful tours.
Veena World wishes all guests a very happy, healthy and wonderful life ahead.
Breakfast
Highlights
Cruise through the beautiful Bosphorous strait
Grand Bazaar
What's more

Soft drink on the Bosporus cruise.
Sightseeing Highlights
Watch the sun go down from Santorini sunset point
Temple of Olympia Zeus.
Witness the 'Hadrian's Arch Monument' A scenic & beautiful cruise on Bosphorous Strait
Visit the Topkapi Palace - Heart of Ottoman Empire
Visit Devrent & Pasabag Valley in Cappadocia
Explore ancient city of Hierapolis in Pamukkale
Travel Highlights
Experienced, caring & friendly tour managers
Delicious Indian meals on tour
AC Long Distance Coaches (LDC) for road journeys
Prime seat availability in coaches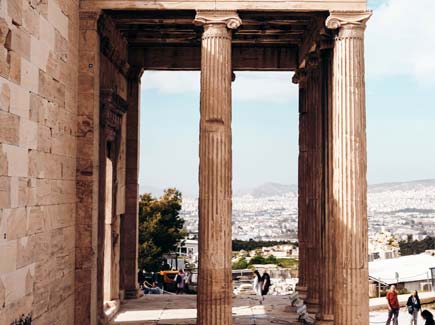 843
843
Central Park occupies 843 acres, which is even larger than the size of small countries such as Vatican City and Monaco
Alexandre-Gustave Eiffel
Alexandre-Gustave Eiffel
The architect of the Eiffel Tower in Paris, was also the architect behind the iconic, 'Statue of Liberty' at New York
1848
1848
The water flow in Niagara Falls came to a complete standstill in 1848, due to an ice jam which blocked the flow of water
Philadelphia
Philadelphia
The historic city where the United States Declaration of Independence was signed and home to the famous Liberty Bell!
Inclusions
To and fro economy class air travel for 'Mumbai to Mumbai Tour' guests as mentioned in the itinerary
Airfare, Airport taxes and Visa Fees
Baggage Allowance as per the airline policy
Tour Manager Services throughout the tour
Travel by comfortable A/C coach as per the tour itinerary
Entrance fees of all sightseeing places to be visited from inside
Accommodation in comfortable and convenient hotels on twin sharing basis
All Meals – Breakfast, Lunch, Dinner (set menu) as mentioned in the itinerary
All Tips – Guide, Driver & Restaurants
Cost of internal airfare as mentioned in the itinerary
Complimentary insurance up to 59 years of age
Exclusions
Govt Tax of 5.00% over and above the Tour Cost mentioned
Any increase in Airfare, Visa fees, Airport taxes, Govt Taxes, Fuel Surcharges and any applicability of new taxes from Govt
Any up gradation in Airline class or hotel room category
Cost of Air ticket deviation charges
Any Increase in the rate of exchange leading to an increase in all land arrangements which may come in to effect prior to departure
Cost of pre or post tour hotel accommodation
Any extra expense such as route change, Airline change, Date change, Accommodation facilities, etc incurred due to the unforeseen, unavoidable forced majeuere circumstances during the tour
Cost of insurance
Porterage, laundry, telephone charges, shopping, wines & alcoholic beverages, mineral water, items of personal nature and food or drink which is not part of a set group menu
Any extra cost incurred on behalf of an individual due to illness, accident, hospitalisation, or any personal emergency
Any services or activity charges other than those included in the group tour itinerary
To and fro Air fare, Airport transfers, visa fees to join/leave the group and Airport snack hamper for joining and leaving guests
Anything specifically not mentioned in the 'tour price includes' column
For Joining Leaving Guests
To and Fro Air Travel, Airport taxes, Visa fees, Airport Transfers and Insurance cost are excluded
Guests travelling on the international tours, will be couriered their snacks hamper at their residence or any other address they prefer. Guests can also collect their snacks hamper from the nearest Veena World sales office/ the preferred sales office/ key sales partner office or where they have booked their tour
Transport
Air Travel:
Mumbai - Athens // Athens - Cappadocia // Izmir - Istanbul // Istanbul - Mumbai We use a combination of airlines like Turkish Airline / Emirates etc.
Travel Documents & Requirements
Original passport with minimum 6 months validity from the date of tour arrival along with sufficient blank pages for the stamping of visa
A valid Tourist Visa for the duration of the tour
For all Schengen countries passport validity should not exceed more than 10 years
Handwritten passport is not acceptable
Things handed Over at the Airport by Veena World
Travel Documents
Air Ticket
Passport pouch & Passport
Travel Insurance
Complimentary Items
Snack Hamper
Universal Adaptor
Poncho
Payment Terms
Payments can be made by Cheque, Demand Draft, NEFT, RTGS or IMPS. Cheque/Demand Draft should be in favour of "Veena Patil Hospitality Pvt Ltd"
Cancellation Policy
| Cancellation received no. of days prior to departure | Cancellation fee applicable on Net Tour Price (per person) |
| --- | --- |
| D-0 to 5 | 100% |
| D-6 to 15 | 75% |
| D-16 to 30 | 75% |
| D-31 to 45 | 50% |
| D-46 to 60 | 30% |
| D-61 to 90 | 20% |
| D-91 to 120 | 15% |
| D-121 to 900 | 10% |
*Terms & Conditions
Remarks
All meals are provided by Veena World in case the flight reaches the stipulated destination early morning or leaves destination late in the evening.
Standard Check-in and check-out time of International hotels is usually 1500hrs and 1200hrs respectively.
Guests may please note that for Domestic flights or internal flights from one city to another city on international tours, the baggage allowance will be as per the respective airline baggage policy and weight regulations. Guests are requested to pack their belongings and carry luggage in accordance to the respective airlines baggage allowance. Excess baggage (if any) will be chargeable as per the airline policy and the same has to be borne by the guest.
'In Case if any sightseeing is not done due to weekly closure, an alternative sightseeing will be done for the same'.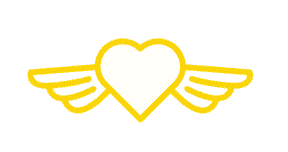 Let's stitch travel dreams together!