Reading Time:
10
minutes
Getting your hands on amazing products at great prices – isn't that what you look for every time you step out to go street shopping?! Delhi (lovingly known as Dilwalo ki Dilli) has a number of street markets and bazaars that promise a soul-pleasing experience. A typical street market scene in the capital city is composed of a bustling crowd, a lively atmosphere, delicious food, and delightful shopping sprees. With all that said, having good bargaining skills is of course a big plus when you visit the best street shopping places in Delhi.
From walking down twisting alleys of Chandni Chowk to admiring the traditional village market design of Delhi Haat, shopaholics will really come to like their unique shopping experience in Delhi. As far as our recommendations go, we believe these 10 places resonate with the lively spirit of street shopping in Delhi:
1. Janpath Market
Ask any Dilliwalla about the best shopping areas in Delhi and Janpath Market will definitely come into the dialogue. Located in Connaught Place, Janpath Market is one of the oldest markets in Delhi. It is the favourite shopping destination of local youth, shopping enthusiasts, and out-of-towners. Being a famous market in Delhi for budget shopping, you will find a wide variety of ethnic wear, western clothing, embroidered handbags, junk jewellery, and shoes here at extremely reasonable prices. A day spent at the Janpath Market is a day well spent!
2. Chandni Chowk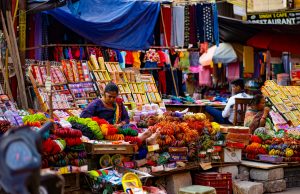 If you are out shopping in Delhi, you will definitely end up in Chandni Chowk at some point in time. The market is characterised by a thousand shops selling all the stuff you can possibly imagine – furnishings, books, electronics, clothes, home décor and countless other things. In fact, many would-be-brides visit this place to shop for wedding clothes. The place also has many stores that offer beautiful saris at great prices. It is called one of the best wholesale cloth markets in Delhi. If you are looking for shopping areas in Delhi at pocket-friendly prices, Chandni Chowk is your best bet. Dotted with galis and havelis, the market narrates the tale of a bygone era. Breathtaking architecture surrounds you when you walk the lanes and bylanes of the market, almost making you forget the time period you are living in. The lanes of Chandni Chowk are divided into separate markets selling different goods. Refer this list to make things a little bit easier for you when you head to this bustling area:
Katra Neel Market: Visit the market if you wish to buy fabrics (satin, silk, cotton, crepe, etc.).
Bhagirath Palace: Head to this market if you want to buy electrical goods.
Khari Baoli: It is a wholesale spice market that you must check out.
Kinari Bazaar: Go to this place to buy wedding paraphernalia.
Dariba Kalan: Head to this place to buy exquisite jewellery.
3. Sarojini Nagar Market
Sarojini Nagar Market is yet another market in Delhi that's super famous for street shopping. It is popular, especially among women, for buying clothes, junk jewellery, shoes, and a lot more. Shoppers visit this popular cloth market in Delhi for the huge variety on offer. Even if you check out the non-branded items, you will instantly go gaga at the designs here because the clothing at the market is extremely trendy. If your negotiating skills are good, you can score many things at unbelievable prices here.
Tip: Checking out the entire market can get pretty tiring at one go. So, it is best to take a brief pause after shopping for a while and have a little snack to regain your energy. People looking for affordable yet stylish options can plan a visit here. Think of it as one big thrift store!
4. Lajpat Nagar Market
Easily one of the best shopping places in Delhi, Lajpat Nagar Market is a magnet for shopping enthusiasts. It is regarded as one of the best wholesale clothes market in Delhi. Also known as Central Market, this famous market is a go-to shopping destination for locals and tourists alike. What's great about this place is that you can shop for clothing, household goods, electronics, and a lot more in one place. Those looking for affordable fabrics, textiles, garments, and much more can plan on visiting the place. You will also spot some mehendiwalas sitting on the road-side applying the most gorgeous henna designs you will ever see. Do stop by and check out their designs. It is a full-blown shopping experience if you are willing to explore.      
5. Delhi Haat
Situated near the INA metro station, Delhi Haat is quite different from the other markets for street shopping in Delhi. What makes this place a unique shopping place in Delhi is that it is designed to look like a conventional village-like market. Novel in its appeal, the stores that you find here are set up by rural artisans. They come here to sell their handmade ware. Step in and take in the vibe. We promise you it's quite a wholesome experience.
6. Khan Market
Located on Humayun Road, Khan Market is one of the classiest shopping markets in Delhi. It is home to many exclusive boutiques and branded outlets. However, many do not know that it is also a famous place for street shopping in Delhi. Street vendors selling second-hand as well as new books, crockery items, cosmetics, garments, and more is a common scene here. Khan Market also houses many good places to eat in Delhi that you can check out if you want to unwind and eat some amazing food after a long day of shopping.
7. Kamla Nagar Market
Kamla Nagar Market is the favourite hangout place for North Campus students. It is an out-an-out shopper's paradise where one can get beautiful kurtis, kurtas, jewellery, hair accessories, sunglasses, and a lot more. Considered as one of the best shopping markets in Delhi, Kamla Nagar Market lets you shop for trendy pieces at easy-on-the-wallet prices.
8. Palika Bazar
Located in Connaught Place, Palika Bazar is an underground air-conditioned bazar. It is a massive market that sells mobiles, electronic gadgets, clothes, accessories, footwear, and a lot more at affordable prices. Regarded as one of the best shopping markets in Delhi, Palika Bazar specialises in video games and gaming consoles. The market is a hit among games who wish to get Playstation and Xbox games. It is perhaps the most resourceful shopping market in all of Delhi. Palika Bazar is located close to India Gate which is a great picnic spot in Delhi. Do head out to unwind after you are done shopping at Palika Bazar.
9. Karol Bagh Market  
Karol Bagh Market, one of the best wholesale cloth markets in Delhi, is a mix of street stalls and branded stores. These shops sell a number of products such as jewellery, spices, electronics, clothes, and more. A good thing about this market is that there is something for every type of shopper. That is why it is regarded as the best place for men's and women's shopping in Delhi.
Karol Bagh market is especially famous among would-be brides and grooms and their families for wedding shopping. The market also has a few restaurants that shoppers can stop by to grab a light snack when those hunger pangs come calling while shopping.
10. Paharganj
Paharganj is one of the best street shopping places in Delhi. It has long been famous among budget travellers and backpackers. You can buy books, music, textiles, handicrafts, and clothes here at astonishingly low prices. You will definitely find some unique trinkets here to take as souvenirs back home. The place is also famous for its cafes and bars, perfect for stopping for meals between shopping hauls. It is also a great place to go jewellery shopping in Delhi.
With great recommendations comes a lot of anticipation – believe us you, the best shopping places in Delhi are ready to surprise and delight you. Book a Delhi tour package and explore the capital city's iconic markets. You'll love every minute of it!