Reading Time:
9
minutes
Guwahati is one of the most cosmopolitan cities in the northeast zone, and also one of India's fastest-growing cities. With so many adrenaline-pumping places to visit in Guwahati, there are various religious sights and museums where one may learn a lot about the region's tradition and culture. The native cuisine and dishes are a pleasure for any eater, especially the meals prepared with bamboo shoots, which are a speciality. Souvenirs and presents, particularly those made of cane and bamboo, are the focus of the shopping scene.
Guwahati is one of the best places to escape for a rejuvenating holiday in India. From luxurious resorts to hotels on a budget, Guwahati has got it all wrapped up nicely with modern-day luxury along with home-like comfort. Here are the top 10 best hotels in Guwahati for all travellers, which is a retreat for adventure seekers.
Best Hotels in Guwahati 
1. Vivanta by Taj
Vivanta by Taj is one of the greatest 5-star hotels in Guwahati, located on the Guwahati-Shillong highway in the heart of the city's major regions. It is surrounded by beautiful vegetation and is designed to be the ultimate in flair, serving luxury and comfort on a silver platter. Each room offers wooden flooring, comfy mattresses, stylish décor, and a variety of modern amenities. You may also take a tour around the grounds and admire its splendour, as it is well-known for providing guests with the greatest amenities and well-trained personnel, attracting a huge number of visitors.
2. Radisson Blu
Whether you're in Guwahati for a business trip, a leisure trip with your family, a holiday with your friends, or an adventure on your own, the Radisson Blu Hotel is a five star hotel in Guwahati that welcomes all types of visitors. This hotel, located in a quiet area of Assam, provides an excellent value for money experience as well as the utmost convenience to its guests. Apart from its wonderful hospitality and superb services, its location, which allows access to surrounding sites such as Deepor Beel and Hindu temples, is what makes it so outstanding. The facility provides its visitors with a wonderful stay by offering an outdoor swimming pool, a garden, a bar, a 24-hour front desk, and several other facilities.
3. Hotel Gateway Grandeur
Guwahati's Hotel Gateway Grandeur is one of the top hotels in Guwahati and is a local icon and a true exhibition of modern conveniences and loving hospitality. Whether for pleasure or business, this hotel has everything at a new level of luxury. The value extends beyond the accommodations to include the bar, restaurant, and café. This hotel gives the ideal atmosphere for any visitor looking for a relaxing stay. It is the ideal location where standards are not sacrificed but rather raised.
4. Novotel Guwahati GS Road Hotel
The Novotel Guwahati GS Road Hotel is a well-known good hotel in Guwahati and puts you in the centre of Guwahati, just a 1-minute drive from the Guwahati Tea Auction Centre and 7 minutes from Nehru Stadium. While staying at Novotel Guwahati, you must explore the exotic flora and fauna of Assam at Pobitora Wildlife Sanctuary and Kaziranga National Park; take a spiritual tour of the Kamakhya Temple; cruise through the majestic Brahmaputra river to experience local culture and folk dance or enjoy a blissful evening at Peacock Island. Experience the pleasure of staying just a few steps away from your next meeting or conference with contemporary amenities, thanks to its strategic location in the corporate centre and City Center.
5. Dichang Resort & Hotel
Dichang Resort & Hotel, an award-winning property, is one of the magnificent properties to stay at, which is close to a picnic spot near Guwahatiand has ethnic Indian architecture and neon-lit exteriors. It has a restaurant, vibrant nightlife, and a patio. They have completely equipped rooms with dark wood furniture, balconies, and indoor play spaces. You can take a cool dip in their outdoor pool. They organise events at the banquet hall, which has high-tech conference amenities and a beautiful garden backdrop.
 Couple Friendly Resorts in Guwahati
 1. Green Wood Resort
The Greenwood Resort is one of the best resorts in Guwahati, located about 15 minutes from the train station and less than an hour from the airport. The resort, which spans around 55 acres, is a great setting for family reunions, corporate vacations, and business gatherings. With one auditorium/hall and five lawns on the premises, the venue is quickly becoming the first choice of practically everyone in Guwahati for any event.
The resort not only serves delicious meals throughout the day, but it also has parking, a swimming pool, an orchid garden on the premises as well as a bar. There are six distinct grades of rooms here, so there is something for everyone.
2. Brahmaputra Jungle Resort
This beautiful resort, perched on the stunning beaches of the River Brahmaputra, is immersed in tropical modernity, with amenities such as a pool, a restaurant, and a trendy bar, and is regarded as one of the greatest resorts in Guwahati. Each room and cottage is a delightful hideaway with colourful textiles and kitchenettes, overlooking the rolling hills of Assam and a shimmering lake. Behind this resort is the Amchang Wildlife Sanctuary, a wildlife safari heaven. On the list of Guwahati resorts, Brahmaputra Jungle Resort provides breathtaking vistas as well as peaceful quiet. This resort's strategic position makes it ideal for visiting the area's major attractions on foot. The nearest airport is also approximately a half-hour drive away.
3. Zizina Resorts
Zizina Resorts provides 4-star lodging in Guwahati. A vehicle rental desk, a tour desk, and room service are among the many amenities provided by this one-of-a-kind hotel. At Zizina Resorts, guests may enjoy the property's gardens. The hotel has rooms with cable/satellite channels as well as all of the necessities for a comfortable stay. On-site food choices include a restaurant, which is a handy place to eat. It is a 40-minute drive from Lokpriya Gopinath Bordoloi International Airport, which is likewise a 40-minute drive away. There are fishing spots around the hotel for customers searching for a pleasant time away from it.
4. Spring Valley Resort
 Experience brand competence in service and world-class accommodations at this 5-star resort, also renowned as one of the best resorts in Guwahati. Spring Valley Resort is a combination of sylvan and cosy cottages, corporate suites with the newest conveniences, and well-equipped villas for big groups. Each suite surrounds its central courtyard, which has a restaurant-cum-bar with an exquisite Assamese menu.
5. Royal View Resort
The Royal View Resort is well located in the centre of the city, making it easy to reach all of the nearby tourist attractions. All rooms provide essential facilities such as a kettle, hairdryer, free WiFi, TV, shower, connected bathroom, study desk, and much more. They will also provide you with complimentary Asian breakfast. Other amenities at Royal View Resort include vehicle rental, free parking, an on-site restaurant, off-site hiking, laundry, ironing service, and much more. The entire resort is monitored by CCTV cameras that are operational 24 hours a day, seven days a week. It is one of the best resorts near Guwahati.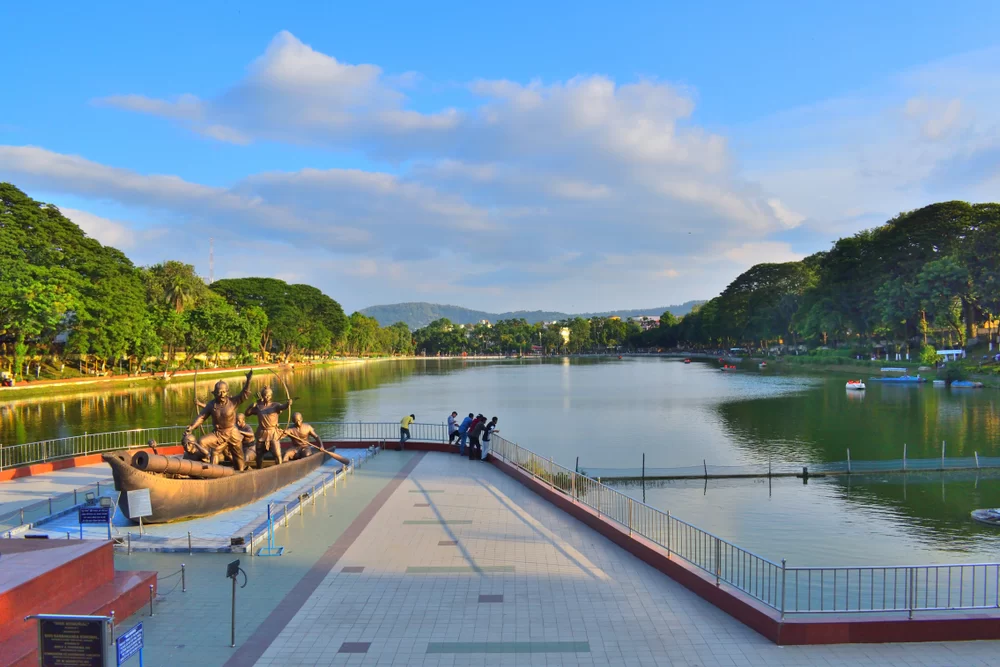 Unleash the flavours of Northeast India at the restaurants and bars offered by the resorts and hotels in Guwahati. Regardless of budget, all of Giwahati's hotels and resorts provide facilities and services that will make your stay unforgettable. Book your Guwahati tour packageand make the most of your trip.