Australia has some of the world's best beaches, studded with golden beachfront. Home to more than 10,000 spectacular beaches, Australia has the perfect stretch of coast for fun-filled water activities and sunbathing. On your beach vacation in Australia, you can enjoy some authentic cuisine, good music and shopping along with leisure time at the coastline.
The long stretches of sand and ocean look like a canvas painting that captures the best elements of nature. Well maintained clean beaches with easy access to restaurants, local shops and nearby places attracts many travellers.
Bondi Beach
One of the most famous beaches in Australia, Bondi Beach, is the epitome of electrifying beach culture. This white sand beach is located in the suburbs of Sydney and attracts high tourist volumes throughout the year. You can spend your time on this beach participating in water sports, swimming in deep blue water, and relaxing in beach shacks. While you are here, do not forget to take the 2-hour surfing lessons from one of the accredited surf schools.
You can also shop for beach fashion and swimwear from the local shops and experiment with your look for your tropical vacation. Picturesque views and clean backgrounds are thrilling for photographers. You can stand at any corner of the beach and get the most stunning pictures that will remind you of an amazing holiday.
There are plenty of cafés and bars for party lovers. Backpackers and hip-hop lovers spend hours dancing and partying in these pubs. There is something for everyone at this place, which reflects in its popularity among travellers. For a fun-filled vacation, you must include Bondi Beach in your Australia tour package.
Famous For: Surfboard riding, Whale watching
Location: New South Wales, Australia
Whitehaven Beach
Whitehaven beach located on the White sunday Island scores a very high place on the list of Australian beaches. This beach is ranked as the world's top eco-friendly beach. The galvanic view of the long stretch of coastline from a seaplane or helicopter will be inked in your memory forever.
Many local and international tourists land on this beach to enjoy the calming sunrays and explore the pristine coral beauty. The white silica sand adds to the beauty of this place and makes it even more attractive. You can have the best time on this tropical coast of Queensland by trying some fun activities like kayaking and beach cricket.
Famous For: Shark Watching, camping, White Silica Sands
Location: Queensland, Australia
Turquoise Bay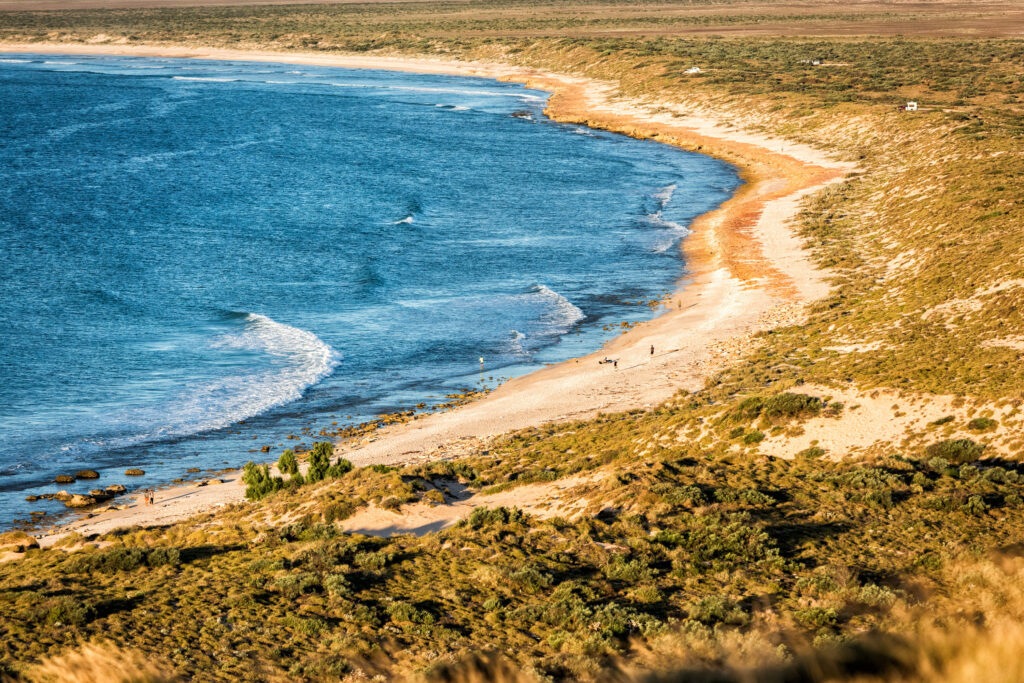 This beach is among the best mainland beaches in Australia that are famous for snorkelling. Many people visit this place to get a close view of the Ningaloo Reef, the world's largest fringing reef. Blessed with an abundance of sea life, with more than 250 species of coral and 500 fish species, Turquoise Bay is one of the most beautiful beaches in Australia. Turquoise water and sandy shores give the most vibrant view that is soothing to the eyes.
This is a perfect vacation spot for those who want a quiet and relaxing holiday. It's a good idea to bring some snacks and booze to chill at the seashore and soak up some sun rays as there are no restaurants or cafés around the beach.
Famous For: Ningaloo Reef
Location: Exmouth, Western Australia
Cable Beach
This white sand beach covers the coast of Broome, Western Australia. With excellent connectivity from all the big cities, you can reach Cable Beach in a short drive from the township of Broome. Ride on a boat cruise, go for a quick swim, or sit back on the beachfront to get a magnificent sunset view. It's hard to beat the beauty of the sunset at Cable Beach. Famous for its mystical camel rides, this is one of the best Australian sea beaches. The origin of camel rides at this place dates back to the 1980s.
It is rather interesting to know that this beach is named after the telegraph cable laid between Broome and Java in 1989.
Famous For: Camel Ride
Location: Broome Township, Western Australia
Noosa Main Beach
There are thousands of beaches in Australia, but Noosa Main Beach is a slice of paradise for beach lovers. Located in the Noosa area, this north-facing beach is perfect for family time. Noosa Beach is among the very few beaches in Australia that have both gentle waves and low-rising tides. Ideal for swimming and surfing throughout the year, Noosa Main Beach attracts thousands of tourists for an amusing holiday. Excellent facilities like restrooms, overhead showers, and parking areas make sure that you have a good time without any worries. You can unwind at the seaboard and enjoy an evening drink for a pleasant experience. There are numerous cafés and restaurants on Hastings Street that are ideal for winding down the day with delectable food and drinks. Definitely one of the best places to visit in Australia!
Famous For: Surfing, Fishing
Location: Queensland, Australia
Eighty Mile Beach
Out of the total beaches in Australia, this is one of the longest stretched beaches, covering an area of 137 miles. Eighty Mile Beach is located in the North West of Australia and has a calming vibe. If you are tired of crowded beaches, then this place is your perfect getaway. This is an excellent camping site for people to come and have a good time. You can see thousands of seashells scattered like pearls on this white sand beach. Many migratory birds and turtles grace their presence on this beach, which makes you feel closer to nature.
Getting to the location may seem time-consuming, but the ravishing view gives the most blissful experience.
Famous For: Dolphin Watching, Camping
Location: Near Port Headland, Western Australia
Wineglass Beach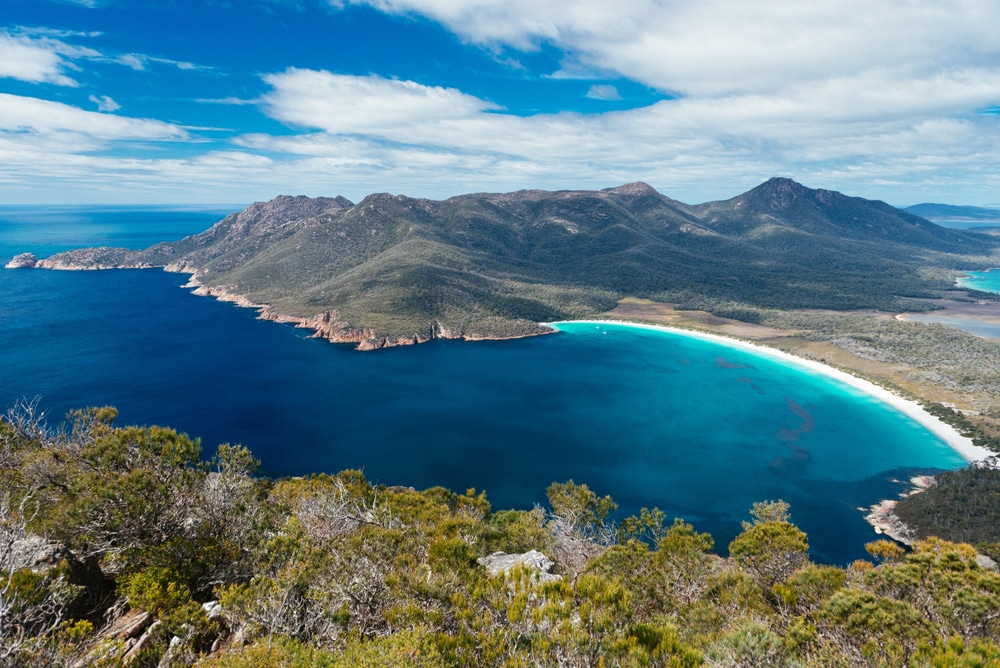 One of the most talked-about beaches in Australia, Wineglass Beach, is a traveller's dream location. This beach is part of the Freycinet Peninsula, surrounded by pink granite peaks. The 360-degree ravishing view forces you to click some pictures with your loved ones.
A range of activities, including uphill climbing, kayaking, mountain biking, and scuba diving, lure many adventure seekers. This is a perfect spot for an amazing time with friends, family, and your partner. Whether you want some quiet time with your partner or a gala affair with friends, you can choose this beach without a second thought.
Famous For: Adventurous Activities, Picnic Spot
Location: Tasmania, Australia
Surfer's Paradise Beach
Surfer's Paradise Beach is among the most charming beaches in Australia, located to the south of the Gold Coast. This beach has a calming vibe that attracts many local tourists and those from out of town. The cool ocean waves and scenic surroundings do not fail to amaze the visitors. This is a perfect spot for water activities and getting a suntan. Swimmers and surfers love to spend the day at this place. Whether you visit alone or with friends and family, Burleigh Heads ensures a pleasant environment for everyone.
Nearby, Burleigh National Park is a delightful place for nature and wildlife lovers. The fine dining options in front of the ocean are all you need for an enthralling experience.
Famous For: Surfing, Swimming
Location: Burleigh Heads, Australia
Australia has a number of beaches that cover your desire for a beach vacation. Explore beautiful islands and iconic beaches in Australia with your travel partner to have a well-balanced and rejuvenating experience. Make sure to plan your trip in advance and select the places you want to visit to get the most out of your tropical vacation.