Reading Time:
14
minutes
They say "All those who wander are not lost", we say "All those who wander in Switzerland definitely get lost in the beauty of this place!" A beauty spot on the face of Europe, Switzerland is a stunning amalgamation of towering mountains, deep emerald lakes and vast grasslands with a blend of old culture and new cities. With jaw-dropping scenic views, Switzerland is the land of chocolate, cheese, wine and all things nice! Europe's most popular destination is also the favourite location for Bollywood. While some movies shot a scene or two or a song at this beautiful location, it was Yash Chopra who introduced us to nature's spectacular beauty and showed us what a wonderful place Switzerland is! Whether you have already visited the country several times or you are a first time visitor, there are some amazing places to visit in Switzerland that are sure to take your breath away!
While Switzerland is a dream-come-true destination, there are some places that are an absolute must-visit and should definitely be a part of your travel list. We list for you the top 7 places to visit while you are in this beautiful country:
1.) Zürich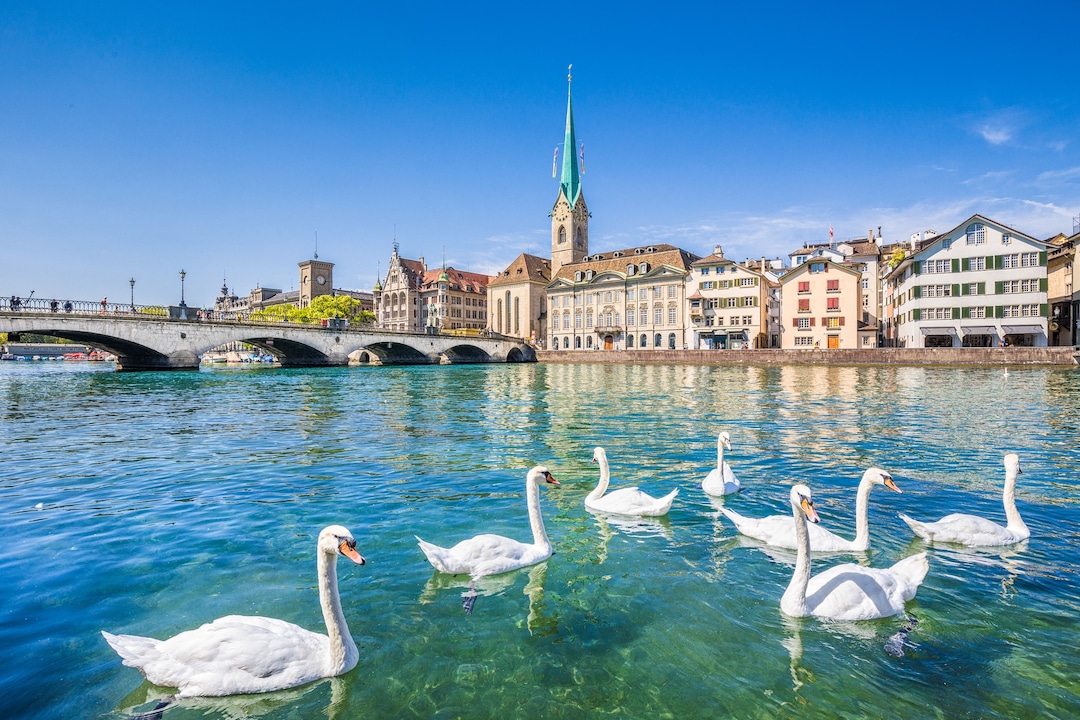 Switzerland's largest city and the financial capital, Zürich is a mix of ancient cultural heritage and contemporary life! With the shimmering Zürich Lake, ancient churches, beautiful museums and magnificent opera and concert halls, Zürich has something in store for every traveller. With over 100 art galleries and 50 museums, Zürich is a heavenly paradise for art lovers.
When to visit: Visit Zürich between the months of June and August to experience the best temperature. For winter sports enthusiasts, December to February are the best months as the Swiss Alps are in the most favourable condition for winter sports such as snowboarding and skiing. To enjoy the best deals in the town the months between March and May are recommended. Although these months are colder, it is less crowded and you can enjoy Zürich at your own pace.
What to see: Lake Zürich, Opernhaus Zürich (Zürich Opera House), Schweizerisches Landesmuseum (Swiss National Museum), Fraumünster Churche, Kunsthaus Zürich, Gorssmünster (The Great Minister), Uetliberg and Zürich Alstadt are some of the most beautiful places that ought not to be missed in Zürich.
2.) Geneva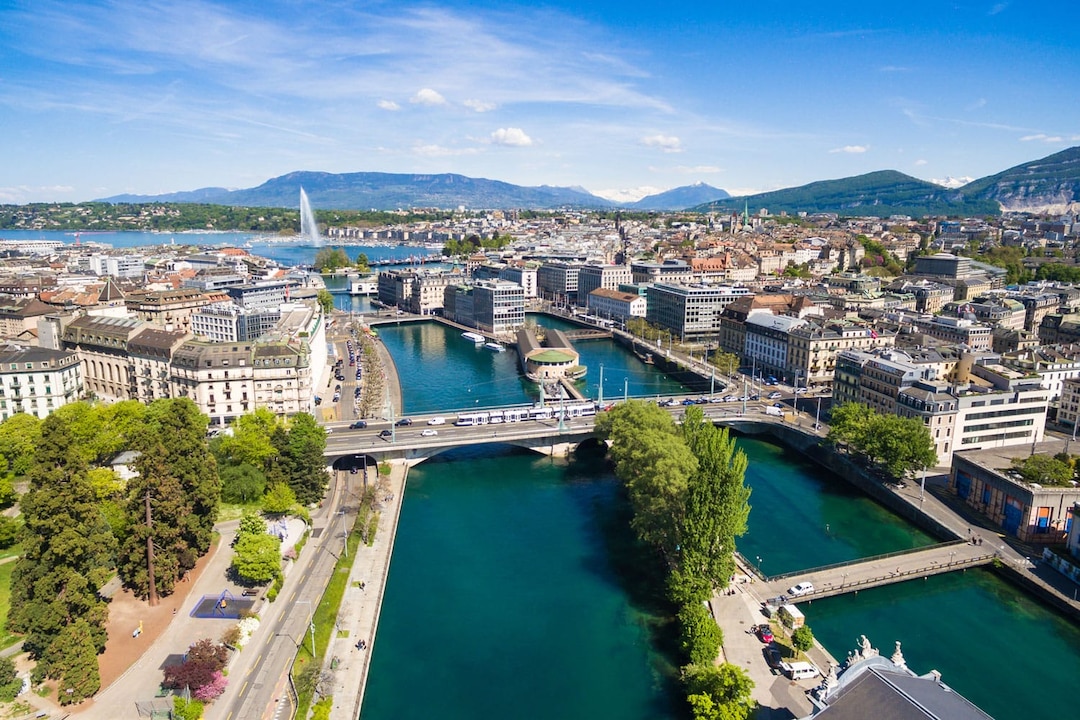 Surrounded by France on all sides and connected to Switzerland only by a lake and a narrow strip of land, is the city of Geneva! The second-most populous city of Switzerland is a bustling city which has an old world charm about it. A beacon of diplomacy, Geneva has an international flavour and is the headquarters for a number of multinational companies. The Red Cross was founded in Geneva in the year 1865 and the United Nations was headquartered here from 1920 to 1946. One of the major attractions in Switzerland, Jet d'eau, one of the world's tallest fountains is situated in Geneva. And an interesting fact about Geneva: The Internet was created here!
When to visit: The months of July and August are the peak season for Geneva. Although you will encounter a lot of tourists, it is the best time for outdoor activities like hiking and sunbathing. If you are a winter sports lover, then December to April is the time to visit Geneva as the Swiss Alps offer you sports like skiing and snowboarding, but the temperatures can drop low and it can get a bit chilly. If you want to avoid the peak season as well as the cold weather, you can consider planning the trip during the months between September and November or May and June.
What to see: Lake Geneva, Jet d'Eau (Water Jets), Temple De Saint-Pierre, Jardin Anglais (English Gardens), Jardin Botanique (Botanical Gardens), CERN, Musée d'Art et d'Histoire (Art and History Museum), Palais des Nations, Bains des Pâquis (Pâquis Baths) and Mont Salève are some of the important places that you must visit while in Geneva.
3.) Bern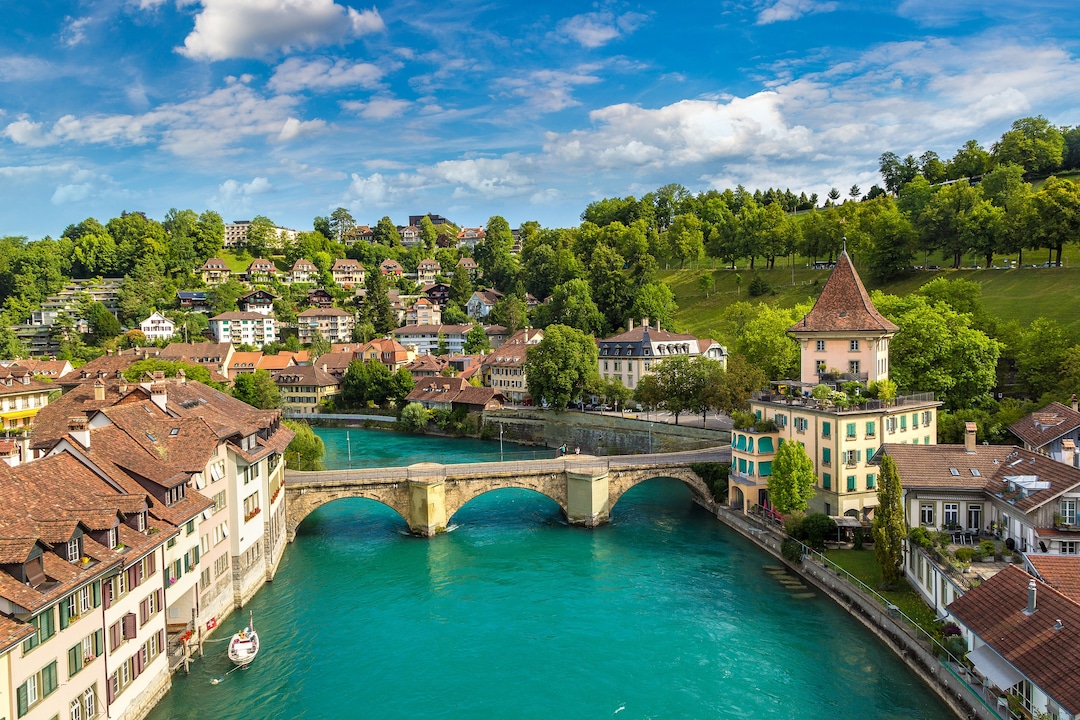 Switzerland's de facto capital and a UNESCO World Heritage Site, Bern is a fairytale-like place. Unlike other capitals, Bern has an ancient charm with quaint spots, medieval cobblestoned streets and a lazy air to go along with it! Although it is not as big as Zürich or Geneva, it has its own beauty that will dazzle you and stay with you for a long time! Located in the heart of Switzerland, Bern offers you tranquil churches, museums and surprises at every corner!
When to visit: April to September are the best months to visit Bern. With long days, great weather and pleasant temperatures, these are the months when you can visit and see the best of Bern.
What to see: Some of the best places to see in Bern are; Bundeshaus (The Parliament Building), The Kunstmuseum (Museum of Fine Arts), Bärenpark (Bern's Bear Park), Einstein Museum and The Historical Museum of Bern, Bern Münster (Bern Cathedral), Museum für Kommunikation (Bern Museum of Communication), The Old Town, Aare River, Rosengarten (Rose Garden) and the Swiss Alpine Museum. These places truly exhibit the lively culture and the ancient history of Bern.
4.) Lucerne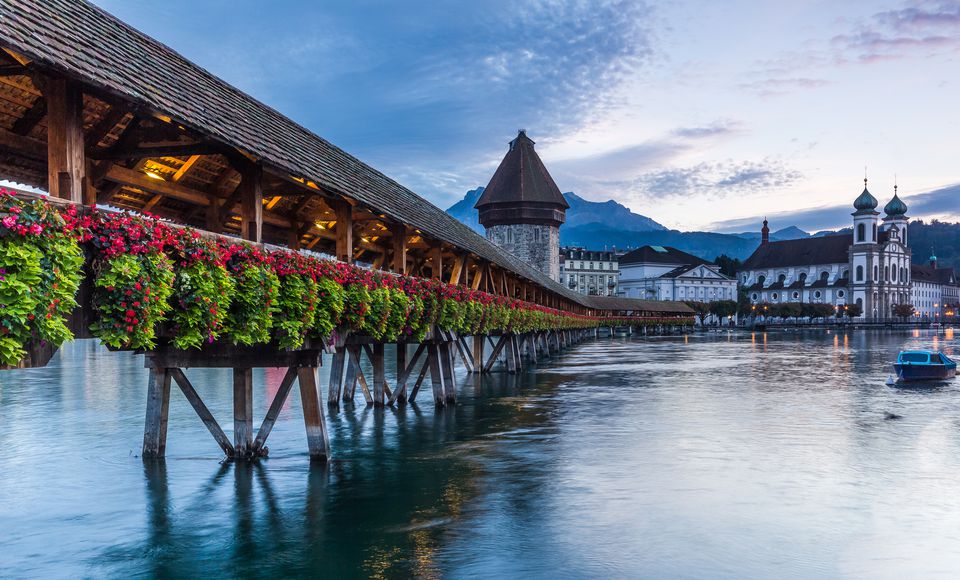 With the majestic mountains on one side and a glistening lake on the other, Lucerne is a fairytale Swiss town with elegant historic buildings, waterfront promenades and a musical time, quite literally! Lucerne hosts many music festivals, from soloists to entire orchestras performing at the summer annual music festival and other music festivals. With a rich culture and beautiful places to visit, Lucerne is one of the must-visit cities in Switzerland.
When to visit: June to September is the peak season in Switzerland. The temperature is pleasant and due to its proximity to the Alps, the evenings are usually cooler, even during the summer. You can enjoy hiking and biking during these months. The months from October to May is the off-season. Usually, skiing enthusiasts, from across the world come to Switzerland! The temperature dips at this time and it is relatively colder. You can also visit Lucerne during the months of February and March to witness the colourful carnival festival.
What to see: Lake Lucerne, Kappelbrucke (Chapel Bridge), Verkehrshaus der Schweiz (Swizz Transport Museum), Jesuit Church, Löwendenkmal (Lion Monument), Museggmauer (Tower Walls), Gletschergarten (Glacier Garden), Mount Rigi and Hofkirche are some of the most beautiful places to be visited in Lucerne.
5.) Lausanne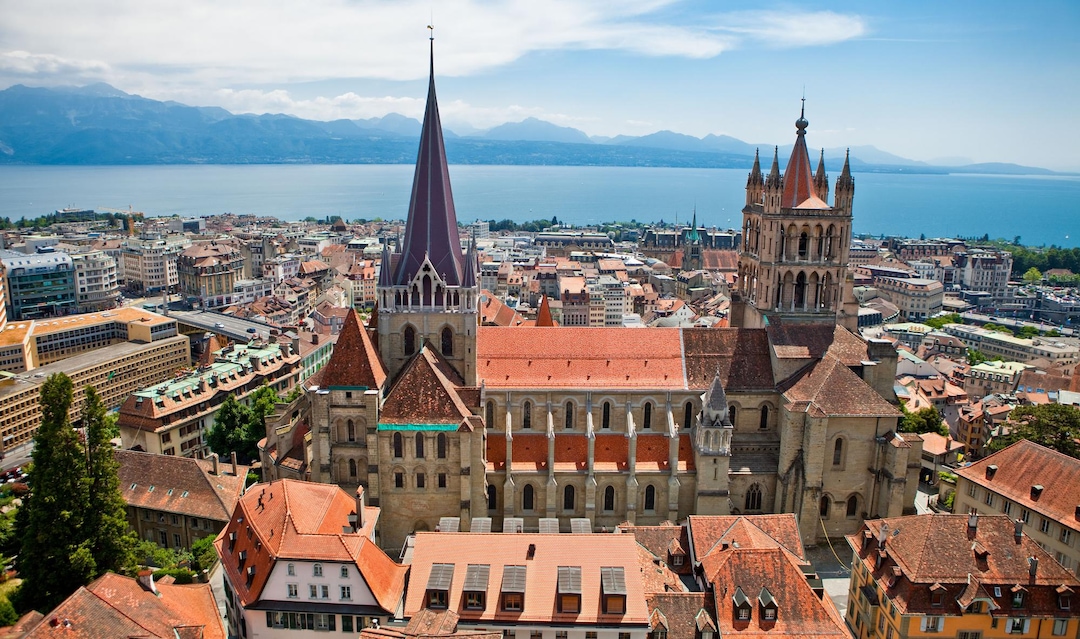 A quaint little town, Lausanne is nestled amidst vineyards, hillslopes and lake shores. Switzerland's fourth-largest city, Lausanne is small, scenic and famous. With Romanesque and Gothic architecture to its rich history and culture, Lausanne has a lot to offer to all kinds of travellers!
When to visit: The best time to visit Lucerne is during summertime in the months between June and August. You can enjoy scenic views and even the days are livelier! You can go hiking or just enjoy strolls along the waterfront.
What to see: Cathédrale de Notre Dame, Parc de Mon-Repos, Collection del'Art Brut, Olympic Museum, Place de la Palud, Musée de l'Élysée, Esplanade de Montbenon, Port Ouchy, Château de Saint-Marie and Palais de Rumine are some of the most picturesque and important places to visit in Lausanne.
6.) Interlaken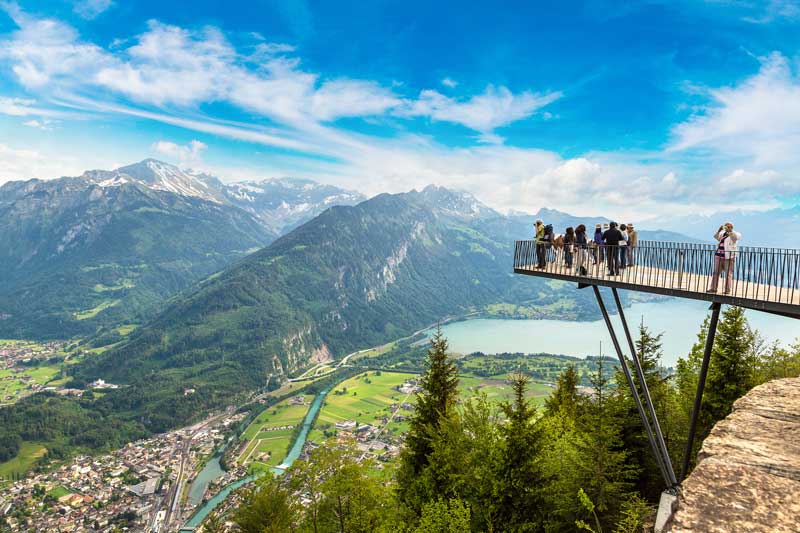 A paradox of the best kind! Interlaken is a quiet suburban town located in the heart of Switzerland and yet it is often referred to as the adventure capital of the charming country. Very characteristic to Switzerland, the city of Interlaken is replete with splendid mountain views, alpine meadows, dense forests and numerous skiing as well as hiking trails. Its strategic location in a valley between Lake Thun and Lake Brienz offers the perfect opportunity for magnificent landscape views and adventure activities such as canyoning, white water rafting and paragliding. It is also the ideal starting point for several excursions, thanks to the solid network of about 45 mountain railways, cable cars, chair lifts and ski lifts that lead to various ski slopes and hiking trails.
When to visit: Summers from June to August/September are the best time to visit Interlaken. The weather is pleasant throughout the day and provides the ideal setting for several adventure activities as well as sightseeing.
What to see: Jungfraujoch – highest railway station in Europe, St. Beatus Caves, Harder Kulm, Funky Chocolate Club, Schynige Platte, Unterseen, Hoheweg (Main Street of Interlaken), Hohematte, Oberhofen Castle, Lake Thun, Lake Brienz, Weissenau Nature Reserve and Victoria Jungfrau Grand Hotel & Spa are some of the must-visit tourist attractions of the city.
 7.) Engelberg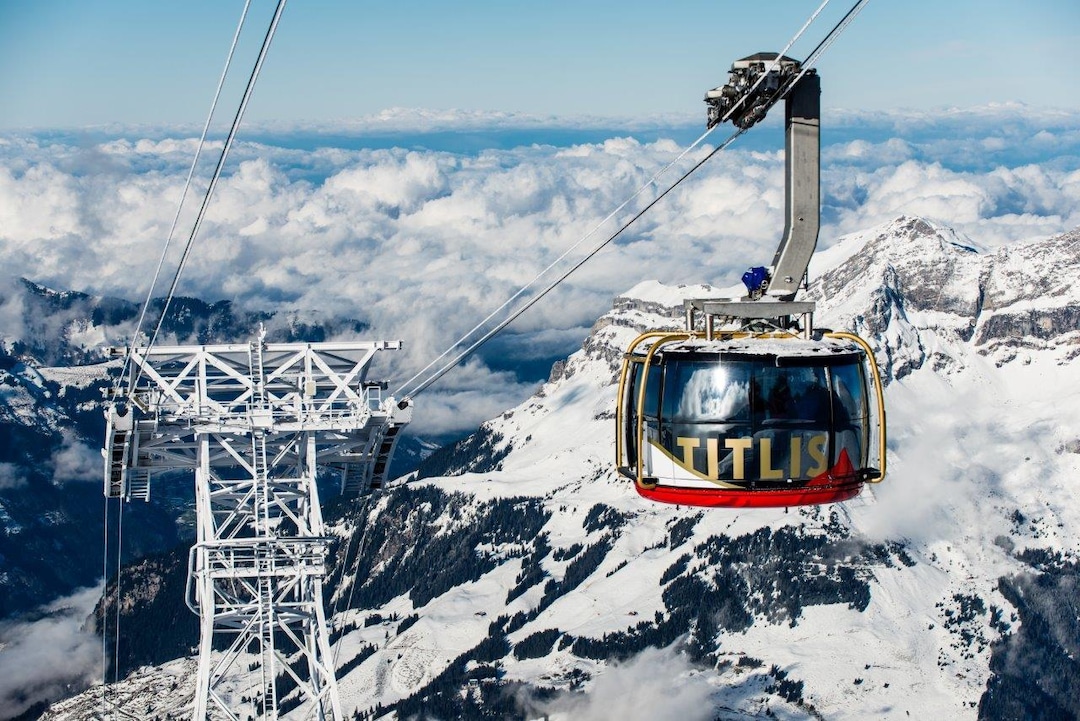 Welcome to the largest winter and summer holiday destination of Switzerland! Engelberg is an extremely popular tourist destination and offers a variety of holiday experiences for families, honeymoon couples, adventure enthusiasts and leisure travellers. The town has a quaint rustic charm due to the presence of a centuries-old Benedictine monastery that still has an influence on the daily life of the village. Engelberg, besides being home to the famous Mt. Titlis, is also well-known as one of the top ski regions of the country. A town for all seasons, Engelberg is winter-ready with its countless ski slopes and freeride areas whereas summers are picture-perfect for hiking and mountaineering activities.
When to visit: Engelberg is one town that you can visit all-round the year.  Summers between July to September are peak tourist season and ideal for sightseeing, hiking and many adventure activities. Winters from December to March are best for winter sports!
What to see: Mount Titlis (Rotair Titlis Gondola – world's first revolving cable car), Cliff Walk at Mt. Titlis, Ice Grotto at Mt. Titlis, Rhine Falls at Schaffhausen, Trummelbach Glacial Waterfall, Engelberg Abbey (Benedictine Monastery), Brunni Mountain, Trüebsee Lake, Cheese Factory, Buiräbähnli Safari Hike, Ski Jumping World Cup, Haerzlisee Lake and Stanserhorn are some of the best tourist attractions of the Engelberg town.
Besides these amazing destinations, there are many other picturesque cities and towns in Switzerland that are worth visiting. This charming country is a haven for spectacular alpine landscapes, emerald lakes and lush green meadows that are found in charming getaways such as Basel, St. Moritz, Montreux, Grindelwald, Ticino and Zermatt.
Read about these amazing places on our blog: Switzerland's 10 Gorgeous Places To Visit For Honeymoon Tourists.
Switzerland, in a nutshell, is a tranquil place with the best of nature, food, economy, business and way of life. Offering all the travellers with an array of places and activities to choose from, Switzerland is a dream destination that whisks you away to fairytale land!