Reading Time:
9
minutes
Shimla – a hill station that brings a smile to your face every time you read or hear a fascinating story about it. Snow-capped hills, horseback rides, winter festivals, and mouth-watering delicacies are just a few of the things that make Shimla one of the most-visited hill stations in India. Its culture and simple way of life have enchanted tourists to such an extent that they always come back for more! The best time to visit Shimla is whenever you want it to be. Whether it is during the winter season when everything is under a thick cover of snowfall or the summer months that are jam-packed with exciting activities, Shimla is the perfect vacation destination for people who love the mountains. Here are 10 things to do in Shimla that will make your trip simply unforgettable:
1. Enjoy a Soft Serve at the Mall Road 
Every kid who visited Shimla in the '90s can tell you the thrill they felt while walking to Mall Road. This emotion stemmed from the excitement of devouring a soft serve, popularly known as a softy from a local vendor. The sheer pleasure of eating this type of ice cream can be experienced even now! There are several shops at Mall Road selling softy in various flavours and sizes. If this is not one of the best things to do in Shimla, then what is?! You can try out freshly-prepared samosas and jalebi from any of the sweet shops at Mall Road because all of them are simply amazing!
2. Buy Wooden Handicrafts at Lakkar Bazaar 
It is almost impossible to visit Shimla and not shop at the Lakkar Bazaar. Located right next to Mall Road, this is a market area where you will get hand-crafted wooden handicrafts at dirt-cheap prices! As one of the most popular things to see in Shimla, Lakkar Bazaar has something for everyone. Be it wooden toys, walking sticks or kitchen tools, you will get top-quality wooden items in this market. While booking a Shimla holiday package, make sure you have enough time to explore Lakkar Bazaar and bring back souvenirs for your friends and family.
3. Try Your Luck at the Ice Skating Rink
While searching for things to do in Shimla on your next vacation, you should consider trying out ice skating. Did you know that Shimla has Asia's only open-air ice skating rink? That's right! One of the few good deeds the British left behind is the technique to form ice on a skating rink in the heart of Shimla. Due to weather constraints, you will only be able to try out ice skating in the winters of December, January, and February. So, you should get a little adventurous and try one of the most exciting activities to do in Shimla.
4. Reminisce Your Childhood on the Toy Train 
Bringing back warm childhood memories for more than a century, the Kalka-Shimla Toy Train is among the top-rated things to do around Shimla on a vacation. The most remarkable fact about this toy train ride is that it has never had an accident since its inception! Perfect for kids, youngsters, and the elderly, this is a joyride that will make feel like a child again. This train ride begins from Shimla and takes tourists to Kalka within 5 hours. Due to the mesmerizing views of the Himalayas and the adorable feel of this train, it is among the most memorable things to do in Shimla.
5. Have a Relaxed Evening at The Ridge 
The Ridge is one of the most iconic places to visit in Shimla without a doubt. From getting horseback rides to eating delicious snacks, there are a number of activities to do in Shimla's ridge area. Set in close proximity to Mall Road and Lakkar Bazaar, it is known as the cultural hub of this hill station. If you are lucky enough to experience a local fair at The Ridge, then you can buy the purest pashmina shawls, leather goods, and so many other items made by craftsmen from all over the state of Himachal Pradesh. What's more? The second oldest church in North India, Christ Church, is a heritage building that you can explore at The Ridge. Bookworms are in for a treat as the State Library Shimla is also set in the middle of the Ridge!
6. Take a Detour to Kufri
 Shimla honeymoon tour packages provided by reputed travel companies always include a getaway to Kufri, a resort hill station in the snow-capped mountains of Himachal Pradesh. Only 20 km from Shimla, Kufri is the ideal destination for tourists who want to relax and unwind in peace. So, when you need a break from exploring all the things to do in Shimla, book a taxi or hire a private car and drive up to this little piece of paradise. Our recommendation would be to stop at a local vendor and devour a hot cup of chai with some pahado wali maggi to truly make your Shimla vacation memorable.
7. Go for River Rafting at Tattapani 
Next up on the list of trying out the best things to do in and around Shimla is river rafting at Tattapani. Free yourself from all inhibitions and fears while rafting on the waves of the Sutlej river with your friends and family. Who knows? You might just love the adrenaline rush from this fun activity! One thing to note is that river rafting at Tattapani is open only between April to November, so it would be best to book a holiday package accordingly. Moreover, it is advised to keep a day aside on your itinerary for visiting Tattapani from Shimla for river rafting.
8. Explore the Pine Forests of Shimla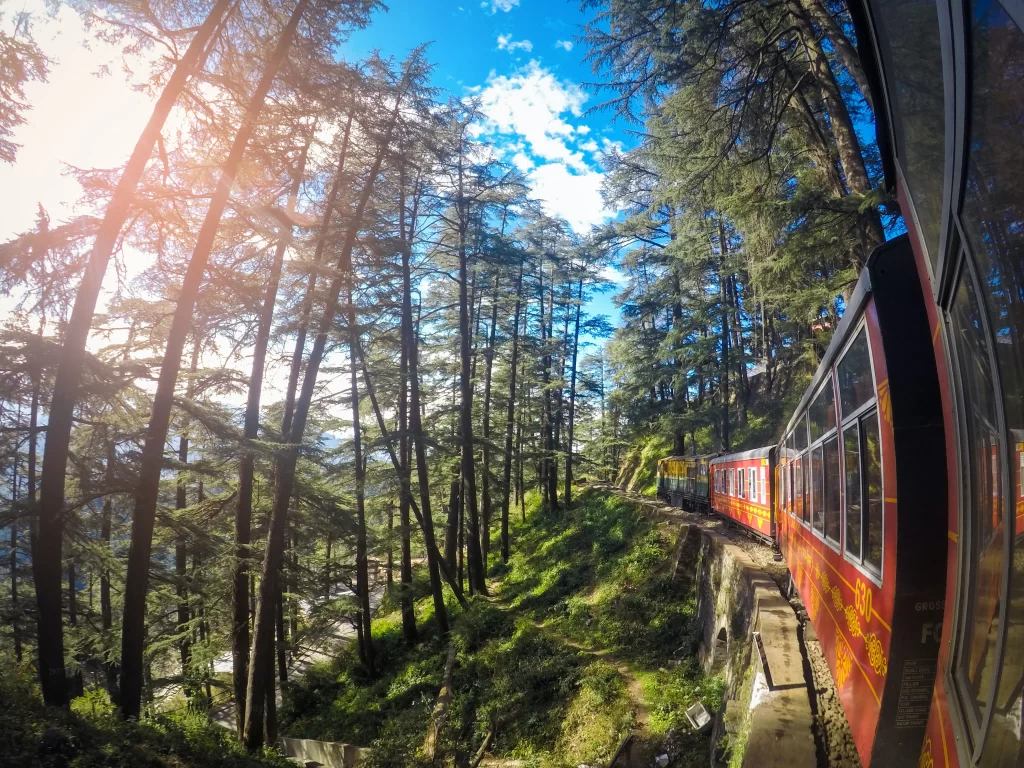 There is something magical about the forests in the Himalayas, isn't it? Even if you have not explored them till now, do not fret! The trekking trails in Shimla will make you see some of the most beautiful things that nature has to offer. For first-time trekkers, the trails to the Glen, the Summer Hill, and Kamna Devi Temple are highly recommended. If you wish to take up a notch, then Churdhar Trek, Shimla to Jalori Pass Trek, and Shali Tibba Trek are the way to go!
9. Learn Golfing at Naldehra 
Are you fascinated by the teeing-off skills that professional golfers have? You can take a swing at it too! Visiting the Naldehra Golf Course is one of the most unique things to do while vacationing in Shimla. Surrounded by apple orchards, this is the oldest golf course in the country set at an altitude of 2200 meters! The scenic views from the Naldehra Golf Course are reason enough to spend some time here with your family members or friends. It is best to visit this place during the daytime and enjoy some tea-time snacks at the clubhouse.
10. Fall in Love with Camping near Shimla
It is a known fact that most city dwellers have forgotten what a starry night looks like due to heavy pollution and night lights. If you happen to be one of them, then camping in Shimla is one of the best things to do for your mind, body and soul. There are several campsites set up in Mashobra, Narkanda, and Shogi where you can watch the stars all night long. Enchanting is the only world close enough to describe the experience of camping in and around Shimla.
With so many things to do in Shimla, there's no point waiting – the experiences are up there! Book a vacation package to this hill station and make yourself reconnect with Mother Nature.