Reading Time:
9
minutes
Sri Lanka is famous for so many things, be it a number of beautiful soft-sand beaches, lush green tea plantations, imposing mountains or rich flora and fauna. Apart from this, the country has a rich history and a treasured heritage also with its major connection to Ramayana. There are so many places to visit in Sri Lanka which can take you back to the time when those mythological events took place. The legend of Ramayana, a tale of lord Ram and his wife Sita holds a significant place in Hindu mythology. It depicts the story of Sita being abducted by Raavan, the demon king of Lanka and Ram coming to rescue her.
Famous Ramayana-related Place in Sri Lanka
To relive the epic tale, there can be no better option than booking a Sri Lanka tour package. There are a number of places in the country where most of the significant events of Ramayana took place. Here is a list of the top 12 Ramayana-related places in Sri Lanka you should cover on your trip:
Chilaw
This is a town in the Puttalam District of Sri Lanka that holds religious significance for Hindus as it houses Manavari and Munneswaram temples. These two temples are among the most famous Ramayana-related spots in Sri Lanka.
Munneswaram Temple: Being one of the oldest Hindu temples in Sri Lanka, this temple has a deep connection with Lord Ram. According to a legend, this is the place where he prayed for God Shiva after defeating Raavan. Since Raavan was a Brahmin and killing a Brahmin (Brahmhatya) is considered a sin in Hinduism. Lord Shiva suggested to Lord Ram that the only remedy for this would be to install five lingams.
Manavari Temple: This is another famous temple for Hindus in Sri Lanka as this is the place where Lord Ram erected one of the five lingams suggested by Lord Shiva as a remedy for killing Raavan.
You can always find Chilaw on every Sri Lanka travel guide as it is also famous for its connection with two freedom fighters, Charles Edgar Corea and Victor Corea. They founded the Chilaw Association and Ceylon National Congress with the help of Mahatma Gandhi.
Ram Setu
The story behind the construction of this unique bridge is fascinating enough to convince you to include it in your Sri Lanka tour package. Also known as Adam's Bridge, Ram Setu is located at Thalaimannar which is the topmost point of Sri Lanka and also the closest point to India. It is believed that when Lord Ram decided to go to rescue his wife, Sita, he built this bridge with the help of Hanuman and his army. To build this bridge, stones (which were actually corals) were used with Lord Ram's name on them and when thrown in the water, they stayed afloat.
Colombo
Being the capital of Sri Lanka, this city is home to two famous temples: the Anjaneyar Temple and Kelaniya Temple.
Anjaneyar Temple: Built by Swamy Chandrashekhar, it is the only temple in the world that is dedicated to Anjaneya and houses a chariot.
Kelaniya Temple: This temple is believed to be the place where Vibheeshan's coronation as the king of Lanka took place when his elder brother Raavan was killed by Lord Ram.
Ella  
Ella is a town in the Badulla District of Uva province, famous for Raavan Caves and Raavan Falls. Located around 2 kilometres from Ella, there is a manmade cave opening to several larger caves and is said to be inhibited by Raavan. These caves were built to go from one place to another in the country without drawing much attention. Here, you can also find a 1,080-feet-high waterfall which is named after this cave.
Trincomalee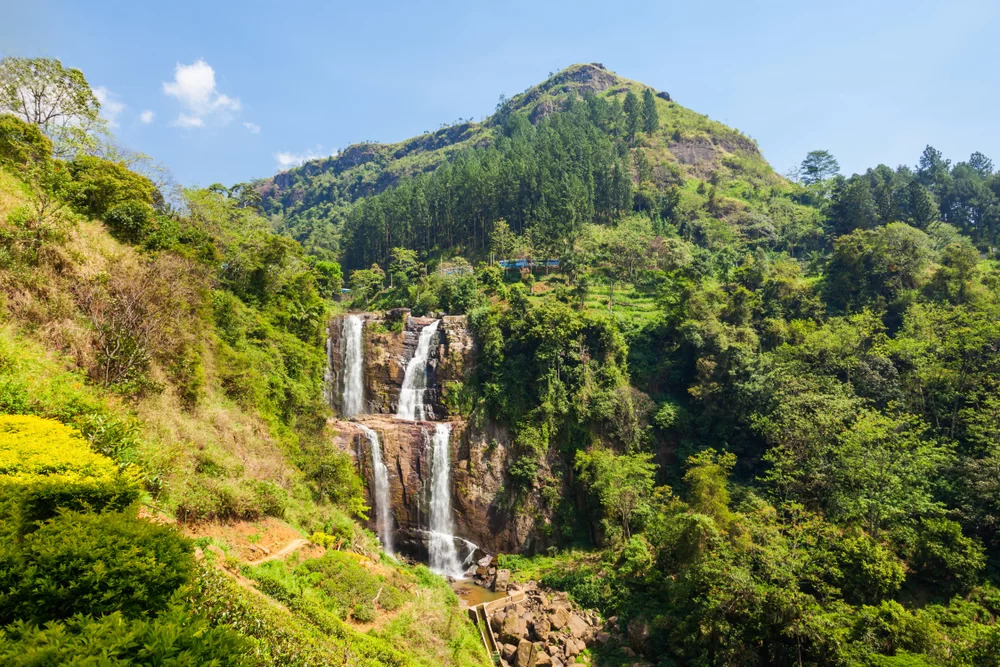 There are so many things to do in Sri Lanka and one of them is visiting Trincomalee. Famous for its beautiful beaches, this town also houses the Thiru Koneswaram Temple which is believed to have been built by Agastya Rishi on the instructions of Lord Shiva, impressed by Raavan's devotion. And, this is the place where Lord Ram erected the second lingam.
Ramboda
Being famous for its 109-metre-high Ramboda waterfalls and historical Sri Bhakta Hanuman Temple, this is a scenic village located in the Central province of Sri Lanka. This temple was built by Chinmaya Mission as it is believed to be the place where Lord Hanuman started the search mission for Sita. Here, you can also find a pond called 'Sita Tear Pond' which is said to be formed from Sita's tears, as the name suggests.
Nuwara Eliya
Also nicknamed the City of Lights, this city is located in the Central Mountain range of Sri Lanka. Being famous for a number of religious spots, it is one of the most famous places to visit in Sri Lanka.
Gayathri Peeth: Founded by Saint Murugesu Siddher in 1970, this ashram houses the Sri Lankadheeshswar Temple and is also the first temple dedicated to Goddess Gayathri. This is also believed to be the place where Lord Shiva, Lord Brahma and Lord Vishnu (also known as Tridev) appeared when Meghnad (Raavan's Son) performed Shiva Tap and Nikumbala Yagya.
Seetha Amman Temple: Located at a distance of 5 kilometres from Nuwara Eliya, this temple is believed to be the site of Ashok Vatika where Sita was held captive by Raavan.
Divurumpola: This is the place where Sita performed Agni Pariksha to prove her chastity, after being freed from Raavan's captivity.
Kothmale
This is the place where Sita dropped the rice balls, given to her by Raavan to eat. She dropped them to help Ram track her. Holding a mythological significance, this village is also one of the Ramayan-related places in Sri Lanka.
Dolukanda Sanjeevani Mountain
Dolukanda is a well-known mountain range in Sri Lanka and is famous for its strong connection with Ramayan. It is believed to be one of the five places where Hanuman dropped a piece of Sanjeevani Mountain. According to the legend, Lord Ram asked him to fetch a herb to save Lakshaman after being seriously wounded in the war with Raavan. He brought the entire mountain because it was difficult to identify that particular herb.
Sita Kotuwa
This is one of the important places to include in your Sri Lanka tour package as it is the first place where Sita was held captive after being kidnapped by Raavan. She was kept at queen Mandodhari's palace before getting moved to Ashok Vatika.
Mannar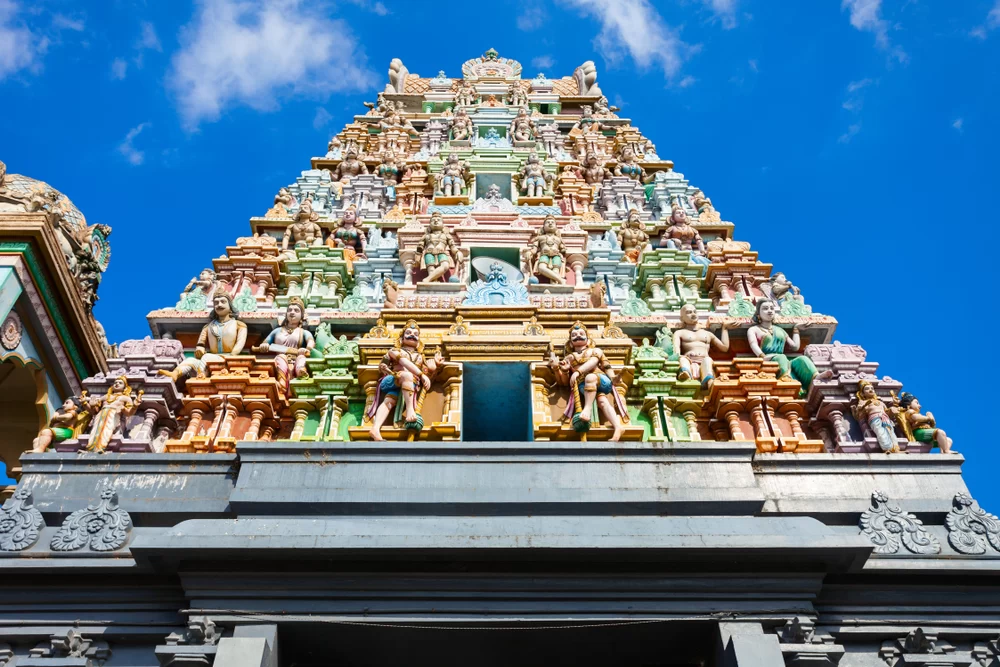 An island located in the north-western part of Sri Lanka, Mannar is home to the historic Ketheeswaram Temple. Built by Mayan (Raavan's father), it is one of the five temples of Lord Shiva, in Sri Lanka and is also believed to be the place where Lord Ram installed the third lingam that was suggested by Lord Shiva as a remedy to Brahmahatya Dosh.
Jaffna
Nilavarai is a small village in Jaffna where lord Ram shot an arrow in the ground to create a water spring for his army to deal with the water crisis during the war with Raavan. Here, you can see an underground tank and its depth is unknown till today.
If you are fascinated by the legend of Ramayana and want to take a peek into the epic tale, you should definitely book a Sri Lanka tour package. With beautiful beaches and so many picturesque landscapes, this is also a perfect vacation spot for newlyweds and you can also book a Sri Lanka honeymoon package.