Sri Lanka Honeymoon Packages
Located just off the tip of India, this island nation is a lively concoction of essences. A Sri Lankan honeymoon is all you need to set the right tone for your newly married life.
Carpeted with lush tea plantations and sprinkled with gushing waterfalls, Sri Lanka is truly a treat to the eyes. Its quaint environs, misty scenes, turquoise sea, and white sand beaches make it a great destination for honeymooners. Sri Lanka's picturesque estate bungalows give a glimpse of the lost era.
Whatever your idea of the perfect honeymoon is - adventure or unwind, Sri Lanka will never fail to impress you. Whether you sip on mocktails on the palm-fringed coastline or take a dip in the emerald ocean, your Sri Lankan honeymoon will not just meet your expectations but might even surprise you.
Packages Coming Soon!
Currently, there are no package(s) found matching your holiday request.
Please try exploring our other available options by checking out trending destinations. Our dedicated Travel Experts are on hand to offer you an expert guidance and support throughout the entirety of your trip.
Reach out to us 1800 22 7979 or drop an Email at travel@veenaworld.com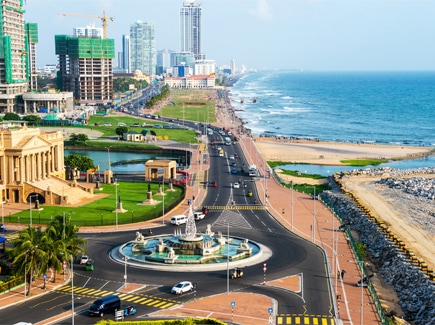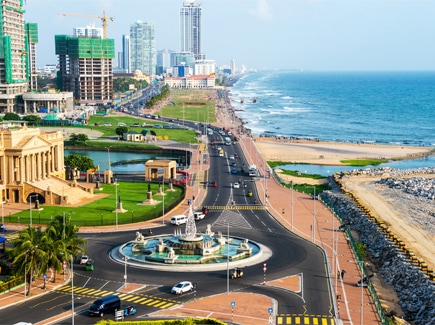 SUPER DEAL PRICE
Starts from
per person on twin sharing
Trending Indian Customized Tours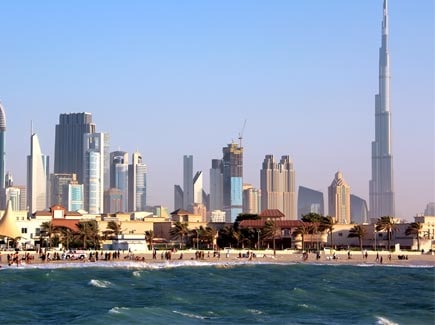 Starts from
per person on twin sharing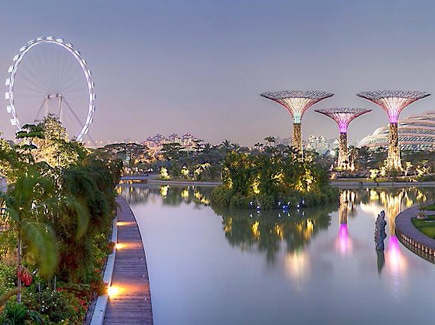 Starts from
per person on twin sharing
Get to know more about Sri Lanka before booking your honeymoon packages
Originally known as Ceylon, Sri Lanka is an island country lying in the Indian Ocean. Endowed with ancient and sacred temples in the Cultural Triangle, the metropolitan magnificence in Colombo, palm-fringed beaches in Tangalle, artist retreats in Kandy, diverse fauns in Yala National Park, and colonial-era structures in Galle, there is so much to explore in Sri Lanka. With your Sri Lanka honeymoon package, you can witness it all and a lot more.
Sri Lanka is a country with a history that dates over 3000 years back. It is also the third and the longest-serving capital and one of the oldest inhabited cities in the world. Sri Lanka is also one of the holiest cities of World Buddhists. There are several fascinating things about this island country that you can cover in your Sri Lanka tour package for couples. Right from its ancient wrecks from primaeval kingdoms, hidden rock caves, to sacred temples, unravel the implausible architecture, art, and engineering of the times of yore. Today, Sri Lanka has six cultural sites inscribed on the UNESCO Heritage list that can either be found sheltered in caves or perched on lofty peaks. And for such a small country, those are a lot of legendary sites!
Experience Sri Lanka
Since Sri Lanka is one country that is relatively small, it makes it quite easy to cover all the iconic spots. Witness the holy home of the world's oldest living human-planted tree in Anuradhapura. And you can then head to observe the sight of hundreds of elephants gathering in Minneriya that is bound to leave you spellbound. You can then explore a 2000-year-old temple and stroll across the colonial area in Colombo. And if you and your partners are beach bums, you can wander the Batticaloa Beach.
Cuisine
Other than pristine views and eccentric teas, Sri Lanka has a unique and delectable cuisine that you can relish with your beau on your Sri Lanka couple package. Sri Lankan cuisine reflects decades of colonization and influence from various countries. Right from its curry concoctions and unique loaves of bread, everything has its own distinctive taste and flavours. The cuisine is quite similar to South Indian food. So, if you are on a Sri Lanka honeymoon packages from India, you might come across some familiar flavours. Two of the staple ingredients of the dishes here are rice and coconut that are ubiquitous in Sri Lanka. Seafood also is a major part of Sri Lankan cuisine and you must include some nice eateries. Also, try keeping count of the little dishes that they serve with rice and curry!
Culture
Sri Lanka's culture is the perfect blend of modern elements along with traditional aspects. Its art and architecture are highly influenced by the heritage of Theravada Buddhism. Coming to the traditional Sri Lankan music, it comprises of the hypnotic Kandyan drums which was a major part of music in both Buddhist and Hindu temples here. If you wish to interact with the people here, English is a language that is widely spoken here. However, the Sinhalese people speak Sinhala as their mother tongue, and Tamil is also commonly spoken by some.
Things to Do in Sri Lanka
You and your spouse will be left spellbound to the playful and acrobatic nature of the dolphins. These charismatic sea dwellers are bound to bring a smile to your faces. The excitement is real when you witness those big fins circling in the water. Play with them, pet them, and even feed them for a wholesome experience!
If you and your spouse are adventure junkies, you would love to experience the thrill of crumbling rocks beneath your feet. Those head-spinning heights are bound to give you an adrenaline rush while you conquer the lofty peaks of Sri Lanka. You can even experience waterfall climbing. You should definitely try Bambarakanda waterfall, the tallest in the country!
Stroll Across Tea Plantations
Sri Lanka's quaint rolling hill country houses endless stretches of tea plantations that you and your beau can explore hand-in-hand. These are the lands from which originate some of the finest teas in the world. No wonder why Sri Lankans call it 'Green Gold'. You can even discuss the process, picking, and varieties with locals which is usually followed by a tasting session.
Whether you wish to enjoy a relaxing dip in the Indian Ocean or dive deep (quite literally!) to observe natural reefs and sunken ships, every experience in Sri Lanka is magical. Some of the most popular water sports here are snorkelling, white-water rafting, scuba diving, kayaking, and kitesurfing where you can experience your adrenaline pumping as high as the rising tides. These must be a part of your Sri Lanka honeymoon tour package.
Best Time to Visit Sri Lanka
Well, this majorly depends on which area you wish to explore. For a relatively small island, the variations in climate in Sri Lanka are quite wide. There are two monsoons that affect – the northeast monsoon and the southwest monsoon. While the northeast monsoon affects the entire island, the southwest monsoon impacts the south and west coasts. The temperature around the coast rarely drops below 25 degrees. The Hill Country can be a little cooler due to the higher altitude. So, if you are planning on a Sri Lanka honeymoon trip to explore west and south, you should plan between the months of December and April. On the other hand, if the east coast is on your Sri Lanka honeymoon itinerary, you should visit between the months of May and October.
Sri Lanka's heritage, history, culture, and scenic beauty are undeniably tempting. And we are sure that you and your spouse will fall in love all over again on this magical island. Do not forget to check out our Sri Lanka packages. Whether you are looking for a Sri Lanka honeymoon package from Mumbai or Delhi or any other city, you will come across some amazing deals from Veena World's wide-ranging packages.