Reading Time:
10
minutes
Goa, with its golden sand beaches, tangled palm trees brushing the sky, and chilled culture, stands in sharp contrast to India's other bustling metropolitan destinations. There are so many places to visit near Goa that even a brief visit to this seaside paradise seems like a vacation within a holiday. The beauty and quiet of Goa will revive you, while its full calendar of events and activities will provide you with much to do in your spare time.
Goa is one of the famous tourist destinations that offer a never-ending supply of opportunities for intense thrills and amusement throughout your holiday. From enjoying the cruise in Goa to visiting locations that are captivating to all the tourists, Goa is a great destination for a variety of stunning activities for people of all ages, including adults and children. You can enjoy the days on the beaches, admire the beautiful sunsets, take ferry rides, and visit the raw beaches. Apart from the water sports in Goa, there are so many fun activities and places to visit. In this blog, we have listed some of the fun activities to do, whether you're an adult or a kid. Goa has something for everyone.
1. Snow Park
Apart from enjoying the beaches and the nightlife, Snow Park in Goa has gained a lot of popularity with tourists. The snow theme park in Goa offers a unique experience and leisure activities for the entire family, group of bachelors, children, and couples. It is located between the two famous beaches, Baga and Calangute, which are the must-visit places included in the Goa honeymoon package. This area is a must-see for its famous attractions such as churches, forts, and beaches, and it also has some amazing amusement parks. It is a one-of-a-kind area to explore as it is entirely made of ice. The best thing about this snow world in Goa is that it offers a blend of real, genuine snow with a temperature of 5 °C, which is like the cherry on the cake. Not only can you enjoy a snowfall fight, but you can enjoy playing around in the snow and taking photos at the Snow Park Goa with the snowman, and above all, you can listen to the DJ's music with laser lights and a stunning thunder effect!
With a nominal entry fee to the Snow Park Goa, you can enjoy your time luxuriously and pleasantly. Snow Park Goa is here for you and provides indoor snow adventure, fun, and memories for friends and family, whether you're going in the winter to experience the serene beaches and lovely sunsets, or if you're going during peak season in the summer for the much-needed chill and the amazing sports activities in Goa. The snow ice park is full of adventure, and it is open 365 days a year and you can do the booking of Snow Park Goa online through their website or can visit there in person.
Snow Park Goa Timings: It is among the top 10 places to visit in Goa and is open from 11:00 am to 7:00 pm daily for 365 days.
Sow Park Goa Entry Price: The entry fee in Goa for each is Rs. 500, where you will find an ice slide, a baffling ice room, and an ice-filled space that has a lot of exciting activities.
2. Fontainhas
Popularly known as Goa's Latin Quarter, Fontainhas is located in Panjim and is bounded to the east by an old stream named Ourem Creek and to the west by the Altinho hills with springs. Many tourists skip this historic colony in favour of Goa's beautiful beaches and surf, but its colourful and intriguing attractions are well worth seeing. A trip through this neighbourhood is a must-do inclusion in the Goa tour packages. The Chapel of Saint Sebastian, erected in 1880, is a nice place to rest, reflect, and take some Instagram-worthy photos.
Fontainhas is best visited on foot, and a journey through its small cobblestone alleyways will undoubtedly take you back in time. The Latin Quarter, with its colourful Portuguese-style residences and exquisite street art on the walls, is a fantastic work of art.
Fontainhas Timings: This amazing Latin Quarter is open 24 hours a day, which requires up to 2 hours to see the beautiful houses and the art gallery.
Fontainhas Entry Fee: There is no entry fee required to visit this beautiful historic place in Goa.
3. Butterfly Conservatory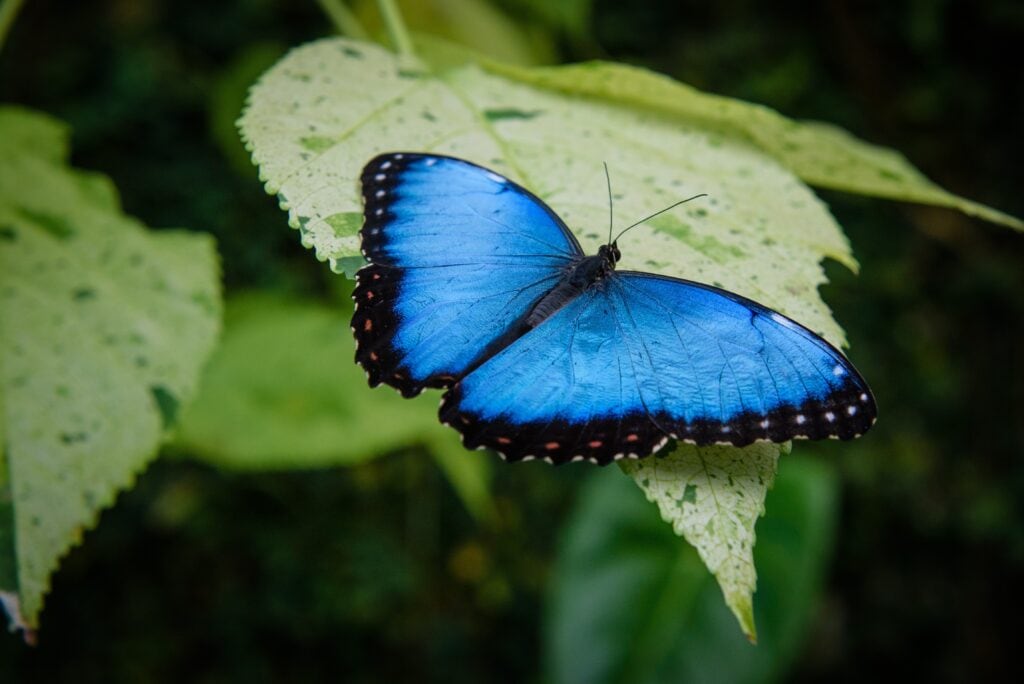 The Butterfly Conservatory is 3 kilometres from the Tropical Spice Farm and 4 kilometres from the Sahakari Spice Farm. The conservatory, which spans 4000 square metres, was created by a couple who are both nature aficionados and ecologically conscientious. When it first opened, only 25 types of butterflies could be seen here, but now 133 species of butterflies adorn the conservatory. The conservatory as a whole is created in the style of a park-like building where one may promenade and enjoy the visual delights of nature. It's a fantastic location to take youngsters to introduce them to the vibrant world of butterflies and caterpillars.
A butterfly house, often known as a conservatory, is a facility dedicated to the breeding and display of butterflies, with an emphasis on teaching. This area has tropical forests as well as indigenous vegetation. The butterflies are raised in ideal air and soil conditions. This is truly a naturalist's heaven.
Butterfly Conservatory Timings: In order to gain knowledge about these beautiful butterflies, you can visit the conservatory between 9:00 am and 4:30 pm.
Butterfly Conservatory Entry Fee: The entry price for every individual is Rs. 150.
4. Mandovi River
The Mandovi River is Goa's soul. The beautiful city of Panjim is situated on the banks of this beautiful river. Tourists like to enjoy a long and scenic boardwalk across the river that runs the length of it. A walk along the river's promenade provides a good perspective of the river's various boats, ferries, floating casinos, and cruise ships. The river is well-known for its sunset and supper river cruises, which are organised by government and commercial operators from the Patto Jetty. The cruise offers a one-of-a-kind trip on the river, as well as cultural entertainment, traditional folk dances, and a fantastic view of Panjim.
The river also features floating casinos for the benefit of a huge number of tourists, making it a highly popular attraction. A Mandovi river cruise with your family is a must-do while in Goa!
Mandovi River Cruise Timings: The cruise timings to enjoy the beautiful sunset are from 6:00 pm to 7:30 pm with a reporting time of 5:30 pm.
Mandovi River Cruise Entry Fee: The ticket is 300/- per person. There are no age-related exceptions for children. Anyone taller than 3 feet must buy a ticket.
5. Go Kayaking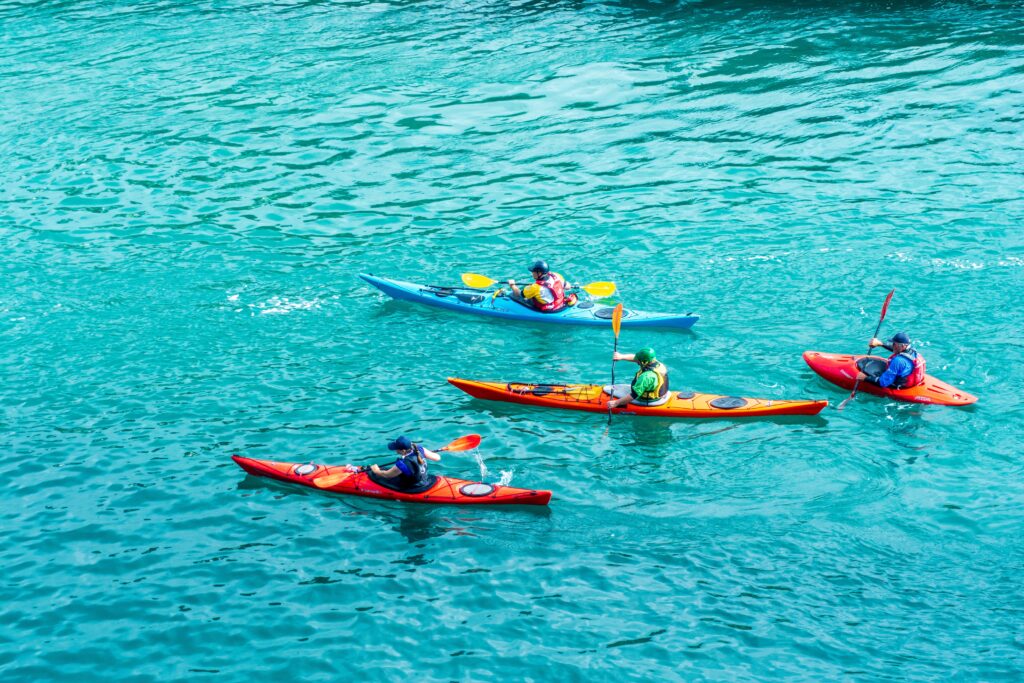 If you visit Goa, kayaking should be on your list of things to do in North Goa. Kayaking is one such activity in Goa that allows you to observe the beauty of nature for as long as you like.
Paddling around the boat at your own pace makes kayaking one of the greatest ways to appreciate the natural beauty of the area. It is one of the most popular places to visit in North Goa. These rides are completely safe and simple to attempt as you get a professional to guide you before you hit the beach, so it is a must to do as most people enjoy them.
Kayaking Timings: Kayaking in North Goa is available from 8:00 a.m. until 6:00 p.m., depending on the beach.
Kayaking Entry Fee: The price for kayaking varies from Rs. 500 to Rs. 3000 per head depending on the time limit.
Whether you are touring the place with your group of buddies or family, there is no dearth of options and you can explore the places that you like. Now that you know all the fun activities to do in Goa, what are you waiting for? Purchase a Goa tour package and bask in the beautiful scenic views to your heart's content.