Reading Time:
10
minutes
Settled at the elevation of 6998 ft in the Dindigul district of Tamil Nadu, Kodaikanal is one hill station that keeps attracting nature lovers and adventure junkies from far and wide. Also deemed as the "Princess of Hill Stations," Kodaikanal leaves travellers spellbound with its timeless charm. It is a place where many realise that nature is more than just wonderful. In case you are planning a vacay in Kodaikanal, you will have to figure out a place to stay. Fortunately, there is no dearth of options for the same. Right from budget hotels to luxury resorts, Kodaikanal has ample options to consider for accommodation so that you have the most convenient and cosy stay for a memorable hilly retreat.
To make things a bit easier for you, here we've compiled a list of hotels and resorts in Kodaikanal (in no particular order) that you must be aware of before heading to this beautiful destination.
1.     The Fern Creek
Surrounded by lush greenery, The Fern Creek is among the best resorts in Kodaikanal. Away from the hue and cry of big cities, this place is immensely peaceful, offering its guests a serene ambience and the required seclusion to allow them to rediscover and rejuvenate in the lap of nature. This 4-star, British-era summer resort is settled along the untouched Palani Hills and spread over an expansive area of 1.5 acres. With mesmerising scenic views all around, you are sure to enjoy nature's photography here. From the resort, the proximity to many popular places to visit in Kodaikanal is quite close. For instance, the magnificent Kodaikanal Lake is just at 10-15 minutes of drive. Besides, with seven Swiss luxury tents that are equipped with modern amenities, the resort promises a one-of-a-kind experience to guests. Plus, things like the recreation room, spa, and campfire, can make your stay even more enjoyable.
2.     Kodai Resort Hotel
Strategically located near Coaker's Walk, which is among the prominent points of interest in Kodaikanal, the Kodai Resort Hotel has 50 luxury cottages. Every unit of cottage covers an average area of 400 square feet and comes with a private deck, presenting intriguing views of the valley and garden. This award-winning, 4-star luxury resort is spread over 2 acres of land and in proximity to several key attractions such as the city shopping area, Kodaikanal Lake, Bryant Park, and of course, the Coaker's Walk. Of several Kodaikanal resorts for family, this one assures the guests of the best of luxury and comfort.
3.     Holiday Home Resort
Being one of the best resorts in Kodaikanal, Holiday Home Resort sits peacefully in the lap of nature and allows you to experience the true beauty of this awe-inspiring hill station. The rooms at this resort are decorated to exude homely vibes so that you feel comfortable and refreshed. Speaking of the accommodation options, this 3-star establishment offers choices that suit guests with different budget ranges. Besides, there is an in-house multi-cuisine restaurant that serves mouth-watering dishes prepared by expert chefs. Since the Holiday Home Resort, Kodaikanal has the most relaxed and beautiful location, you get the perfect ambience here to unwind and get soaked in the beautiful surroundings of hills and greenery.
4.     Sterling Kodai Lake
If there is any resort that offers the most unhindered views of the Kodaikanal Lake, it is Sterling Kodai Lake. True to its name, this 4-star lakeside resort is known for its hospitality and panoramic sights of Kodaikanal Lake. Being one of the highly preferred resorts near Kodaikanal Lake, the place not only offers a peaceful stay to its guests but also chases their blues away with its ambience, world-class amenities, and a host of activities and experiences to indulge in. Speaking of the cottages that dot the hills, they include options for different budgets. No wonder why Sterling is among the top resorts in Kodaikanal that beckons nature lovers and adventure junkies for the perfect hilly retreat.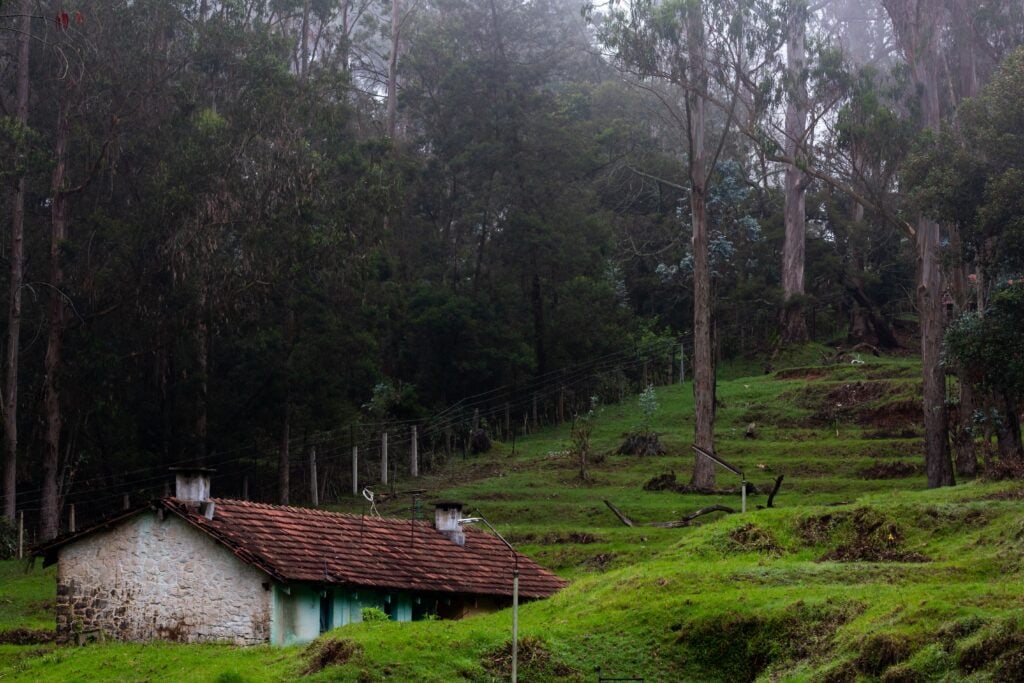 5.     Le Poshe by Sparsa
Known for its world-class hospitality and amenities, Le Poshe by Sparsa is one of the best resorts in Kodaikanal to stay in. Right from thoughtfully designed cottages with ergonomic furnishings and modern amenities to picturesque surroundings, the place has everything that you may need to have the cosiest time of your life in the lap of nature. Be its picturesque surroundings, soothing ambience, delightful spas, well-stocked kids club or delectable culinary experience, this 3-star resort ensures to provide you with an unparalleled experience. Something that you will cherish forever. For its affordable accommodation options, the resort is widely included in many Kodaikanal tour packages.
6.     Zacs Valley Resort
This 3-star resort is counted amongst the top resorts in Kodaikanal and has everything you need for a comfortable stay. Situated next to a national forest area, this eco-friendly resort gives you are a great opportunity to connect with nature and heal your mind and soul from within. The cottages of the resort are elegantly designed to give you a feeling of seclusion and tranquillity. It doesn't matter whether you are on a solo trip or with the loved one, this place with its mesmerising natural beauty will make you fall in love with it. If you are looking for one of the best honeymoon resorts in Kodaikanal, this place is to be in. At Zacs Valley Resort, you get the chance to enjoy the moments of solace in nature's lap and yes, don't forget to take your camera along to capture the captivating sceneries.
7. The Tamara Kodai
No list of best resorts in Kodaikanal can complete without The Tamara Kodai. This 5-star property is surrounded by astonishing views of hills and has the reputation of living up to the expectations of the guests hankering for a luxurious and perfect hilly vacation. The Tamara Resort in Kodaikanal has 53 exquisite and elegantly designed suite rooms. These rooms are decked up with all important modern amenities to make your stay comfortable and also offer gorgeous views of hills from the balcony. Besides, it is one of the resorts in Kodaikanal with a pool and a host of amenities like in-house restaurants, games and children's play area, spa, and more.
8. Green Pastures by Hill Country
This 4-star resort by Hill Country in Kodaikanal allows you to rediscover yourself in the lap of nature. The expansive property of Green Pastures is thoughtfully designed to let its guests connect with nature and explore many hidden treasures of the place. Encircled with lush flora, the place leads you through the meandering pathways into the hills and greets you at each turn as you move ahead listening to the chirping of birds and gushing of winds flowing through the trees. Those who have experienced it can validate the fact that there is a kind of vintage charm to this resort that compels you to forget everything and live the moments of respite and solitude for the time you are here. Besides, it has all the essential modern amenities that you need for an unforgettable holiday retreat.
9. Western Valley Resort
Breath-taking surroundings, bright spaces, and personalised services are some defining features of the Western Valley Resort in Kodaikanal. This 3-star establishment is strategically located and has everything in place that guests may need to have a convenient stay. It has a wide range of options for accommodation, including rooms overlooking the majestic mountains and lush forests and also a special suite for honeymooners. Other than well-furnished rooms that are tastefully designed and furnished to provide you with the utmost cosiness and peace, the resort is known for its great hospitality and lip-smacking cuisines.
10. The Carlton Resort
Being a 5-star establishment, The Carlton Resort exudes true luxury at every nook and corner across its length and breadth. Spread over acres of area, this grand resort is located on the banks of the famous Kodaikanal Lake and presents magnificent stills of the surroundings, making it a perfect destination for a romantic getaway. No surprise why this lake view resort is a popular attraction of most Kodaikanal honeymoon packages. Being one of the best Kodaikanal resorts for couples, families, and solo travellers, The Carlton offers the most spacious and luxurious accommodation that has best-in-class amenities for a comfortable and pleasant stay. Besides, with an in-house bar and restaurants, it caters to and satiates every taste. Also, it has terrace gardens that overlook the stunning Kodai Lake where you can just relax and lose yourself to the true beauty of nature.
Talking about the price list of these Kodaikanal resorts, it is subject to change, depending on factors like seasonal demand, room occupancy, and choice of room. To ensure, your comfort is not compromised during your visit to Kodaikanal, make your bookings in advance.