Reading Time:
10
minutes
The monsoon season is finally here and that means it's time to enjoy all the fun and excitement that comes with it! If you're looking for some great places to visit near Pune in the monsoon season, then you've come to the right place. Take a look at the 8 wonderful places to visit near Pune durign the monsoon season that will relax your senses and make your trip to monsoon places near Pune unforgettable. From stunning waterfalls to breathtaking mountain viewpoints, there's something for everyone on this list. Also, there are various things to do in Pune that you shouldn't miss. So, what are you waiting for? Pack your bags and get ready for an adventure!
Lonavala
Lonavala city is among the most exquisite getaways from the hectic rush of the cities. During the monsoon seasons, all of Lonavala's breathtaking places and attractions come alive. It is tucked away in the Maharashtra district of Pune in western India. This hill station is located 96 kilometres east of Mumbai and 64 kilometres west of the modern-day city of Pune.
Because of its excellent location on the Mumbai-Pune highway, Lonavala offers the most convenient road connectivity to both cities. The neighbouring regions of Lonavala include an unrivalled collection of waterfalls, such as the Kune, Bhagirath, Bhivpuri, and Jummapatti waterfalls.
Khandala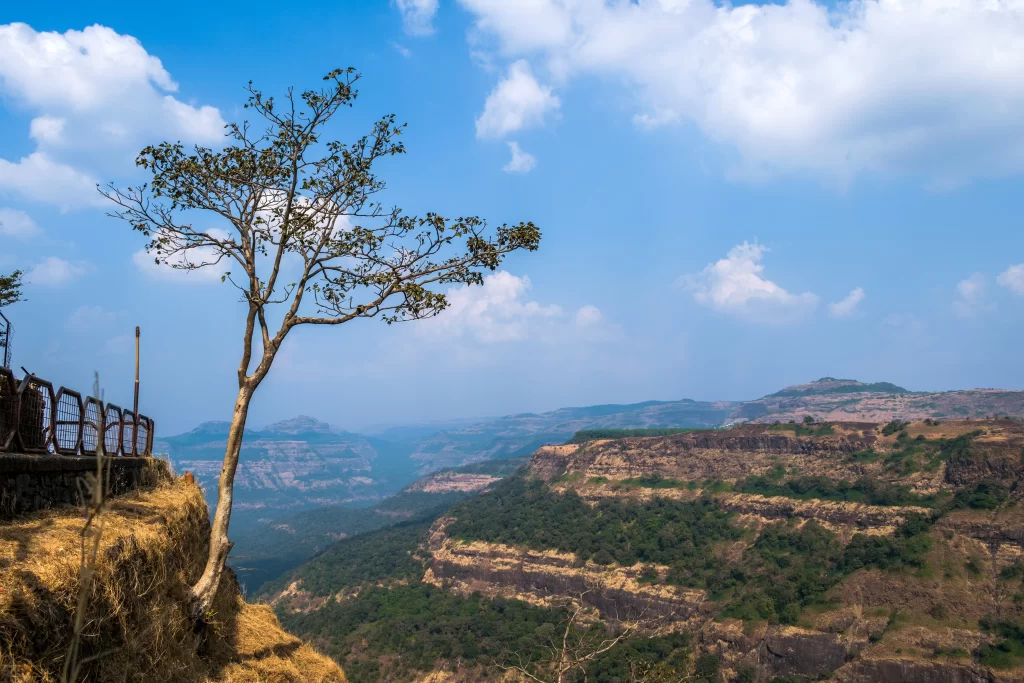 Khandala is a wonderful place with a lot of nature's captivating beauty. As it is nestled among the lush green forest, gushing waterfalls, and misty mountains, it is a perfect weekend getaway as well as an adventure destination for visitors from all over the country. Khandala is best known for hiking trails that provide spectacular views of the Sahyadri mountains and valleys in the Western Ghats.
Khandala has some of the best tourist hotspots in Western India. Visit Sunset Point and Rajmachi Point, the magnificent three-tiered Kune waterfalls, the peaceful and calm Tamhini ghat mountain pass, and the historical caves of Karla and Bhaja, which are adorned with Buddhist religious engravings.
Mahabaleshwar
Mahabaleshwar, located in the Satara area of Maharashtra, will bring you close to nature's captivating beauty. Tourist attractions in Mahabaleshwar will fascinate your imagination with its natural beauty, nestled in the beautiful Western Ghats. Mahabaleshwar is famous for its various rivers, spectacular cascades, and beautiful peaks. The city has historic temples, boarding schools, manicured and beautiful green lush forests, waterfalls, mountains, and rivers that will take your breath away during your visit. The city is undoubtedly one of the best places to visit near Pune in monsoon.
The city has British influences in its architecture because it was once the summer capital of Bombay under the British Raj. It is a prominent hill station that caters to passionate tourists and nature enthusiasts with a diversity of tourist excursions and attractions. Mahabaleshwar has a plethora of fascinating tourist attractions that reflect charm and elegance. There are various captivating tourist attractions in Mahabaleshwar, which are surrounded by a few whispering waterways, lush dense forests, mesmerizing slopes, and hills.
Kamshet
Kamshet, the paragliding capital of India, is nestled in the state of Maharashtra. This destination is a wonderland with rich flora and fauna, encircled by the Western Ghats and adorned with the beauty of the Sahyadri Ranges. Kamshet is one of the best places to visit near Pune in the monsoon. It has a pleasant ambience and a rich cultural legacy, and you will be mesmerized by its ever-captivating beauty.
The gushing waterfalls, monasteries, stunning temples, and majestic hills are emblems of serenity. Because of its pleasant weather and location, Kamshet is one of India's best paragliding destinations. As a result, it is brimming with numerous flying and paragliding schools.
Mulshi
Mulshi is a picturesque village with lush surroundings and is among the best places to visit near Pune in monsoon within 50 km. This is an ecotourism hotspot with natural tranquillity and a serene ambience. Mulshi city is regarded as one of the top-rated getaways from surrounding cities such as Pune and Mumbai due to its refreshing and tranquillizing experiences. Mulshi is a piece of paradise due to its green and clean environment, beautiful landscapes packed with lush greenery, and stunning views of the magnificent Sahyadri hills. This captivating place tempts tourists of all moods with its beautiful valleys, rugged cliffs, lush forests, and spectacular forts. 
Lavasa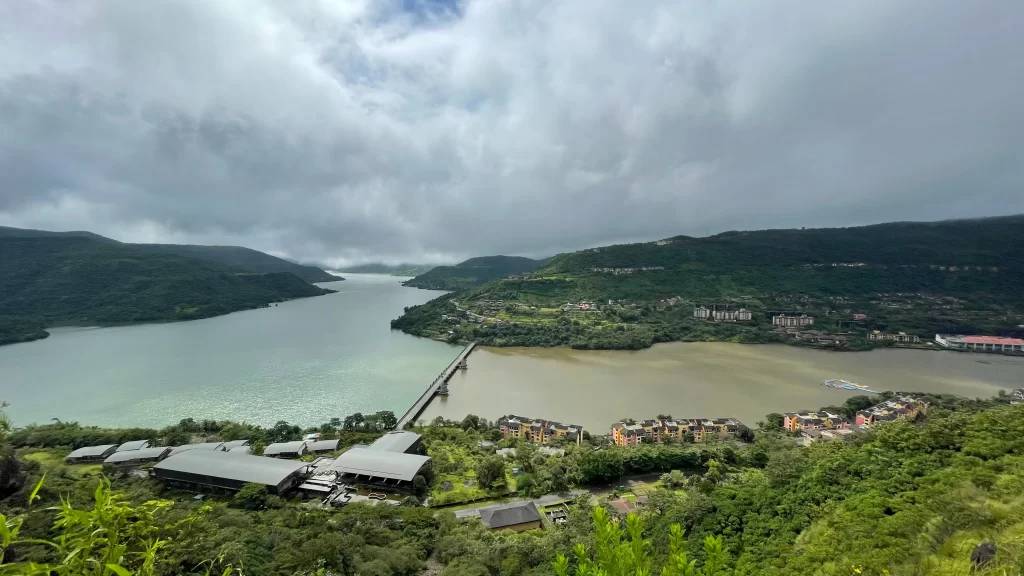 The city of Lavasa has gained immense recognition among various types of travellers due to its captivating views of hills, mountains, and lakes. The brilliance of this privately built city lies in the perfect blend of exquisite infrastructure and nature's mesmerizing beauty. There are several topographical variations nearby, such as the majestic Sahyadri range, magnificent rivers, and stunning valleys.
The peaceful environment blended with the raw natural beauty calms the soul from the hectic chaos of everyday life. Lavasa is a wonderful city with several tourist attractions. If you enjoy adventure, there are numerous fascinating adventurous options here. Rappelling, trekking, camping, raft construction, biking, etc are some of the activities to try out. However, if you prefer solitude and the chance to adore nature, you can do so as well. If you are a foodie, Lavasa will not disappoint you. You'll find a variety of local and international cuisines here.
Panchgani
Panchgani is a famous hill station in the Indian state of Maharashtra. It is named after the five majestic hills that surround it. This hill town is nestled around 1,334 metres above sea level and is surrounded by high mountains, calm valleys, flowing waterfalls, and lush forests. This town, surrounded by the Sahyadri Mountains, served as a magnificent summer getaway for British officials in ancient times. Panchgani is now visited by a large number of tourists looking for serenity, nature, romance, and adventure. The primary attractions of Panchgani include Rajpuri Caves, Table Land, Sydney Point, and Dhom Dam, which add to the beauty and elegance of the location.
One of the most important aspects that contribute to a great vacation in Panchgani is the city's availability of first-rate accommodation options. Panchgani has a variety of budget-friendly and premium resorts and hotels perfect for families, couples, and friends. These hotels are well-equipped with excellent facilities and amenities such as thrilling outdoor activities. This place, which is densely packed with various nature-friendly camping spots, also provides travellers with fantastic night camping options.
Igatpuri
Igatpuri is a small town in Maharashtra that is nestled in the midst of the Western Ghats. Igatpuri is beautifully surrounded by some of the greatest Sahyadri Ranges, making it a paradise for trekkers and nature enthusiasts alike. The small town is a perfect weekend getaway for people of major cities like Pune and Maharashtra, and it is well-known for its serene ambience. The little city is a fantastic retreat from the hustle and bustle of metropolitan life, offering an excellent retreat in the midst of nature.
The beauty of Igatpuri city is unrivalled, with its countless little hills, pristine streams, and thundering waterfalls. The charm of the small town is enhanced by ancient fort remains and historical temples. You will never run out of activities to do in Igatpuri, whether you are a nature explorer or an adventurer. Igatpuri offers a wide range of adventure activities, from river rafting in the rapids of the Vaitarna to camping beneath the stars. The area is particularly appealing to trekkers and hikers, with its hills and waterfalls providing a great setting for the activity. Because of its high elevation, Igatpuri gets beautiful weather all year, especially during monsoon season. That's why it is the perfect place to visit during the monsoon.
These places are just a short drive from Pune which becomes such an absolute treat during the monsoons and includes several lovely lakes, spectacular waterfalls, hiking trails, rich surroundings, ancient relics, and a lot more. These provide an intriguing blend of history, fun, excitement, adventures, spirituality, and mesmerizing natural elegance. During the monsoons, all of them come alive with breathtaking brilliance and are quick escapes to experience the serenity and tranquillity away from the city's bustle. So, explore various Pune tour packages and enjoy these mesmerizing places in the monsoon.