Amritsar is located in the northwestern region of India and is known as Punjab's cultural capital. It is a popular weekend getaway for both Indians and international visitors. What's more, hill stations, trekking trails, and wildlife sanctuaries abound in the areas surrounding Amritsar. The variety of these tourist places near Amritsar is such that they are ideal for both laidback vacationers and adrenaline-fueled adventurers. As a matter of fact, there are many Amritsar sightseeing places that highlight the beauty of the area and provide an incredible travel experience. Discover the best places to visit near Amritsar.
The Golden Temple
The Golden Temple, an iconic two-story architecture covered in real gold and encircled by a 5.1-meter-deep manmade lake, is Amritsar's absolute top attraction. However, this famous religious shrine is more than just a tourist attraction; it is one of the holiest places in the world for Sikhs who mostly make the pilgrimage to the temple at least once in their lives. The Golden Temple is an empowering place that you can become personally involved with if you so desire. You can engage at the Golden Temple Kitchen and socialize with the locals while preparing lunch.
Wagah Border Ceremony
A 31-kilometre drive west from Amritsar's downtown area will take you to the Pakistani border where a unique border-closing ceremony happens every afternoon at sunset. The Wagah Border ceremony is, in fact, a must-visit place to visit when in and around Amritsar. The Beating Retreat Ceremony is full of pomp and show - it involves an extravagant display of goose-stepping security officers from the Pakistan Rangers and the Indian Border Security Force saluting each other, reducing and folding their flags, and ending the border gates.
The experience allows tourists (especially those who are usually seated in a special VIP section) to see the clear differences between India and Pakistan. Men and women sit individually in stadium-style seating on the Pakistan side, and the atmosphere is a lot more subdued.
Jallianwala Bagh
Jallianwala Bagh, located behind the Golden Temple, is one of the best places to visit when you are near or within 50km of Amritsar. The public garden honours an estimated 1,500 people who were killed or badly hurt in 1919 when British troops were ordered to open fire on peaceful protesters urging the release of imprisoned rulers of the Indian Independence Movement. To this day, there are bullet spots in the walls where hundreds of victims snuck to avoid the gunfire. The Martyrs' Gallery at the memorial site features portrayals of key figures in Independence of India. You can also see an eternal flame and a surreal exhibition centred around the victims.
Ludhiana
Want to bring back some warm memories of the place you are visiting, like literally?! Then do make a stop at Ludhiana where high quality woollen apparel at astonishingly affordable prices is an everyday affair.
Besides that, Ludhiana is a must-visit for its unique blend of urban and rural culture. This city in Punjab is known as the "Manchester of India" because it is surrounded by lush green farmland on all four sides. It is known as the industrial center of Northern India because it is home to a number of industries and factories. Architectural marvels such as the Gurudwara Sri Dukhniwaran Sahib, the Gurudwara Shri Manji Sahib Alamgir, and the grand Lodhi Fort depict its history.
Ludhiana captures the culture of Punjab, right from its classical architecture to industrial stature, traditional foods to agricultural activities. The city is one of the best places to visit near Amritsar within 100-150 km, offering glorious and fascinating spots to photograph as well as activities to enjoy.
Dalhousie
Dalhousie is a serene hill retreat with deodar-dotted rolling valleys, captivating rivers, flower-covered meadows, and crystal-clear mountain vistas. This unexplored piece of paradise is rightfully regarded as one of India's best hill stations. When you step into Dalhousie's beautiful landscape, you may feel as if you've been routed to another time zone. Tucked away in nature, the area is adorned with stunning Victorian-style mansions (not to mention colonial-era churches) that express an astounding sense of a bygone era. Dalhousie is a 5.5-6-hour-drive from Amritsar and a great option for a mesmerizing retreat in the hills. This charming hill station is a favourite vacation spot for honeymooners and families alike, owing to its natural views and accessibility.
Khajjiar
Khajjiar, also known as the "mini-Switzerland of India," is a small town located close to Dalhousie (20 kilometres) and is ideal for a day or late-night trip. Khajjiar is famous for its breathtaking grassy meadows. There is a small lake in the midst of the meadow where you can relax or participate in adventure sports such as paragliding, zorbing, and horseback riding.
Khajjiar, located at an elevation of 6,500 feet, is also known for its nine-hole golf course, which is nestled amidst lush greenery and a mesmerizing landscape. Many kingdoms, including the Rajputs and Mughals, have been influenced and inspired by this place's captivating beauty over the years.
Palampur
Palampur, located at the foothills of the snow-capped Dhauladhar Range, is an absolutely stunning weekend getaway near Amritsar. This lovely hill station is surrounded by breathtaking natural scenery that is also known as North India's tea capital. A stroll through this small but exotic hamlet will reveal not only lush green, terraced tea gardens but also beautiful waterfalls, crystal-clear streams, and thick pine woods. This place has a magical quality about it that draws visitors all year. Palampur has some of the best trekking trails for those of you who enjoy the outdoors. During your visit, make sure to seek Goddess Durga's blessings at the historic Chamunda Devi Temple.
Pathankot
Pathankot is a town in Punjab that is bordered by Pakistan in the countryside in the Kangra and Dalhousie foothills. Pathankot is located on the banks of Jammu and Kashmir, Punjab, and Himachal Pradesh, with the river Chakki running through it. It is most well-known for its tranquil green beauty and rich historical past. Pathankot has a railway station that is linked to most of India's major railway stations, making it a significant location for the nearby areas of Dalhousie, Dharamsala, Kangra, Manali, and sections of Jammu and Kashmir.
For centuries, Pathankot has been known for its Loi and shawl weaving industries. Currently, it serves as a base for the Indian Army and the Indian Air Force. Pathankot also takes you to wonderful religious places such as Mukteshwar Temple, Kathgarh Temple, Nagni Temple, and Shahpurkandi Fort.
Dharamshala
With the spectacular Dhauladhar ranges as a backdrop, Dharamshala is one of the most serene destinations in North India, a perfect blend of natural beauty and culture. The enchanting city is visited by a large number of tourists to beat the summer blues and discover the best places to visit near Amritsar. It is encircled by thick deodar cedar trees and the snow-capped peaks that decorate the surroundings.
The city of Dharamshala is split into two categories: the lower section is known as Dharamsala town and the upper section is known as Mcleodganj. The quiet and relaxed hill stations, endowed with spectacular natural scenes, proudly boast of strong Buddhist influences with many beautiful old monasteries located here. Other places to visit in Dharamshala include the charming St. John Church, the headquarters of His Holiness the Dalai Lama, Dal Lake, and others that draw visitors from all over the country.
Mcleodganj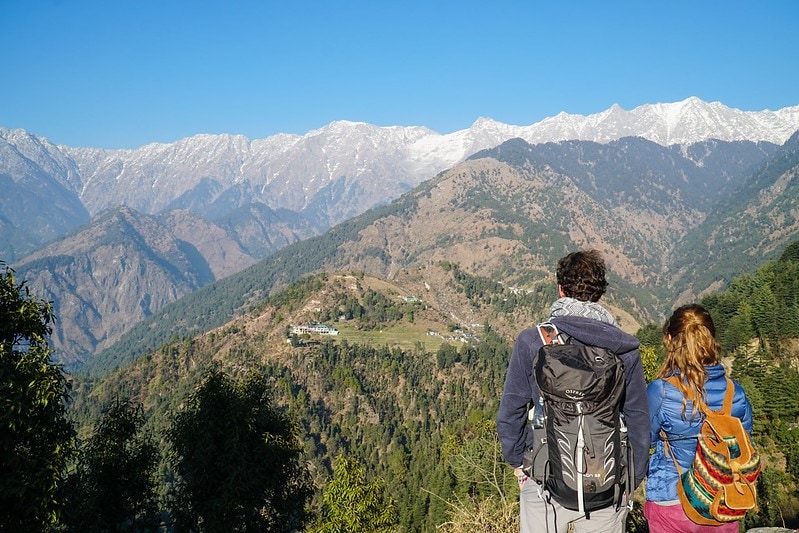 Mcleodganj, Himachal Pradesh has become one of the most popular destinations in recent years. It is located in the Kangra district and is on the outskirts of Dharamshala. Mcleodganj is sometimes termed as the Little Lhasa because it is occupied by a large number of Tibetans who moved here following China's invasion of their native land. It is also worth noting that Tibet's banished government is also based solely on Mcleodganj.
When it comes to Mcleodganj tourism, this lovely little town, which is about 3 kilometres from Dharamshala, attracts thousands of visitors each year. People visit this religious small town for a variety of reasons, including spirituality, volunteer programs, Himalayan experiences and adventures, and numerous other sightseeing, photo, and adventure opportunities.
Places near Amritsar have something for every type of traveller which is why they attract both domestic and international visitors all year. There are many tourist places near Amritsar that are ideal for those looking to get away from their daily routine. These destinations take 1-2 day(s) to visit and are ideal for a weekend getaway from Amritsar. If you haven't already, book your Amritsar tour package and see these places near Amritsar as well along the way.