Reading Time:
10
minutes
 The capital city of West Bengal, Kolkata is one of the largest cities in India. Situated at the Eastern banks of the Hoogly River, the city is home to the oldest port in India. Kolkata is called the City of Joy due to its colourful vibes, enthusiasm, and festivity all around. With many interesting sightseeing places, including museums, monuments, gardens, Authentic Bengali Food, and entertainment centres, the city invites you to have the best fun-filled experience. The unique combination of lavish past and modern advances make Kolkata different from other cities in India. It has beautifully preserved the heritage buildings and historical architecture prevalent from the British Era. Some of the best historical places in Kolkata include Fort William, Victoria Memorial, Tagore's House, Howrah Bridge, and more. Other than this, there are many shopping malls in the city, reflecting modernity and satisfying the desires of shopaholics.
Let's find out the best malls in Kolkata you should visit during your trip to this beautiful city in West Bengal.
Quest Mall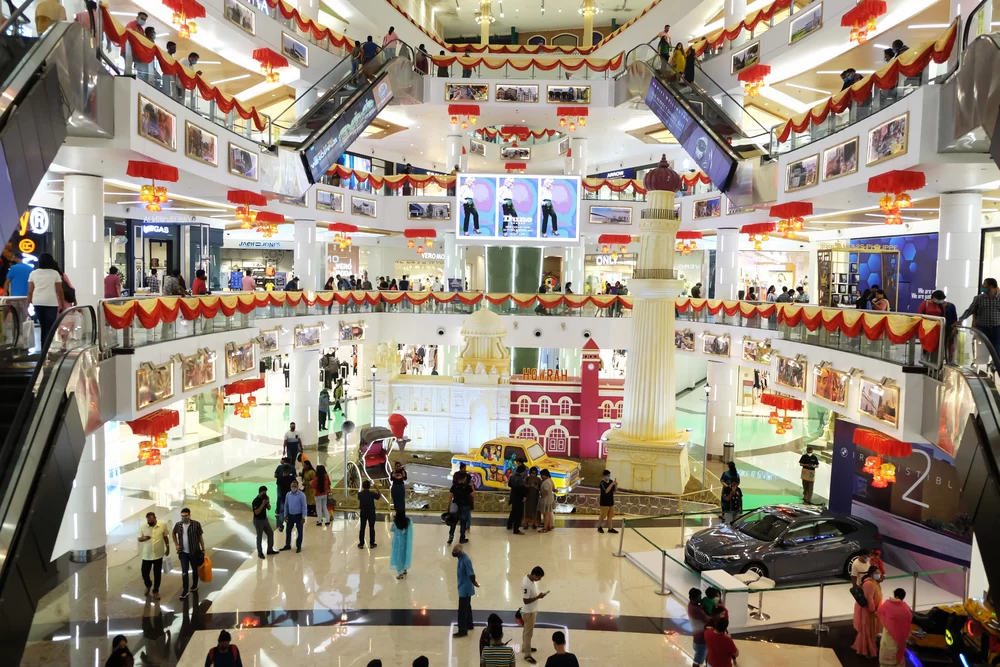 One of the biggest malls in Kolkata, Quest Mall, is quite popular among youngsters and business elites in the city. From many leading fashion brands like Gucci, Jimmy Choo, Burberry, and Armani to top-notch cosmetic brands, you can find everything here. The Mall features a 6-screen Inox multiplex, where you can watch the latest movies. Also, there is a huge food court with outlets of authentic cuisines and contemporary fast-food chains. It is also home to some of the best restaurants in Kolkata, including Chili's, Bombay Brasserie, Smoke House Deli, Serafina, etc., where you can relish some yummy food. Known as the best shopping mall in Kolkata, Quest is the ultimate place to enjoy luxury shopping and fine dining.
Acropolis Mall
If you are looking for a decent selection of some pocket-friendly brands, go to the Acropolis Mall in Kolkata. Here, you will find brands like Global Desi, ONLY, AND, Marks & Spencer, and Shoppers Stop. The options for enjoying the best dining experience are also quite impressive, ranging from a food court to many restaurants and coffee shops, including 6 Ballygunge, Subway, KFC, Domino's, Asia Kitchen, Auntie Anne's, and Cinnabon. If you want to have some sports fun, head to Timezone, want to enjoy drinks, go to Hoppipola and if you want to forget the real world through a movie watch, go to Cinepolis. At this shopping mall in Kolkata, you will definitely enjoy an amazing time with your family and friends.
Avani Riverside Mall
Located on the western banks of the Hooghly River, Avani Riverside Mall is also a big mall in Kolkata. It has a variety of options for your occasional shopping spree, leaving you spoilt for choice for sure. Avani Riverside Mall houses several brands for shopping and dining that include Biba, Big Bazaar, Archies, Pantaloons, Subway, Pizza Hut, KFC, and Mainland China. Avani Riverside makes a perfect spot to hang out with family and friends with its energetic ambience and laid-back atmosphere. Make sure to visit this mall if you are in Kolkata.
Mani Square Mall
Known as the best shopping mall in Kolkata, Mani Square Mall, has more than 250 shops from many domestic and international brands like Tissot, Raymond's, Van Heusen, Westside, and more. Nevertheless, this beautiful mall is a lot more than just a popular shopping destination. While its four-screen PVR multiplex offers a perfect setting to watch the latest movies, a 7D theatre, scary house, Demon Jungle, and a video game zone in the mall provide exciting alternatives for the game and fun lovers. This surely is one of the best malls in Kolkata, providing everything you want under one roof. When you plan for a tour to this beautiful city, your Kolkata tour package must include this mall for enjoying shopping, dining, and entertainment.
Forum Courtyard
Established in 2003, Forum Courtyard is among the first few malls to present Kolkata with the multiplex culture with its four-screen INOX theatre. It is a famous mall in Kolkata, bringing many leading brands to the city for the first time, including Rolex, Aldo, Levi's, Mango, Swarovski, etc. Apart from this, you will have a plethora of options for an excellent dining experience that spans many authentic and international cuisines. The best thing here is that you can either go to a restaurant for a romantic dinner with your better half or relish in a shared experience at the energetic and active food court. It is an ideal spot to spend your time socialising, dining, and having a great time with friends and family members. Make sure you give it a visit during your Kolkata tour package.
City Centre I
The next on the list of best shopping malls in Kolkata, City Centre I is a perfect destination with modern outlets that are intended to meet present demands. It also has some great options for dining, drinking, and entertainment. In this mall, the retail stores, restaurants, multiplexes, food courts, office spaces, and supermarkets are more precisely organised, keeping visitors' convenience in mind. One of the highlights of this big mall in Kolkata is the Kund which is a stepped plaza with a slight waterbody in the centre. This unique spot in City Centre I is the place where the city's youngsters spend hours with their friends and partners. It is surely one of the best malls in Kolkata that provides everything you want to get your shopping spree on.
City Centre II
Located in Rajarhat, City Centre II is relatively a new name on the list of malls in Kolkata. However, it is making a status for itself. The stores and shopping places are not just limited to fashion, there are supermarkets for groceries and other items as well. Apart from this, the mall hosts many events at Celebration Square, which around 10000 people can attend at one time. A four-screen INOX theatre will provide the best movie-watching experience of your life. Also, there is a huge food court as well as many individual restaurants, serving different options for cuisines. Those who want to enjoy a little sightseeing in a nearby area can head to the intriguing Kolkata Museum of Modern Art. The City Centre II has a different vibe altogether, from watching movies to shopping from your favourite brands and relishing some lip-smacking foods.
Lake Mall
One of the best shopping malls in Kolkata, Lake Mall, has everything from popular clothing brands to top restaurants to please your taste buds with some authentic Bengali foods. Here, the Cafe Coffee Day, Keventers, The Belgian Factory, and Tandoor House are amongst the favourite dining options for food lovers. If you want to shop the latest fashion for a wardrobe change, you will get some of the most sought-after brands in town here, including Forever Young, Adidas, Max, etc. Lake Mall is one of the most preferred shopping destinations for a variety of shoppers in Kolkata.
South City Mall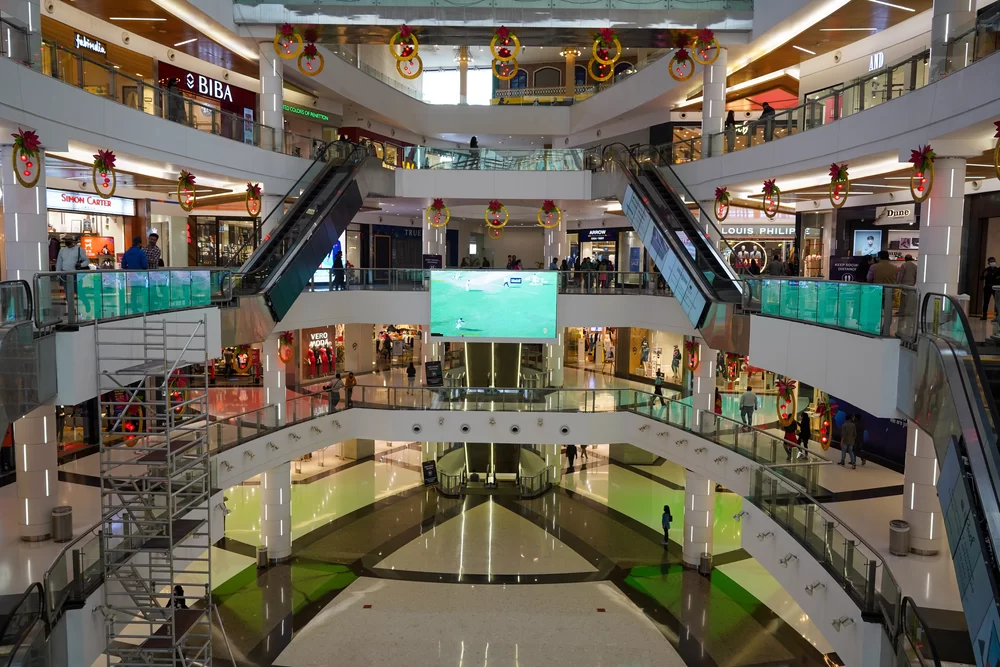 The next on the list of shopping malls in Kolkata, South City, is one of the favourite hangout spots in Kolkata for youngsters. The mall continues to draw large crowds, with its diversity of domestic and international brands. A few years back, the mall got damaged due to a fire outrage in the food court and it was closed for renovation. But now it is open to the public with all new vibes and décor. The new food court is bigger and has many more options for eateries like Mainland China, Chili's, Starbucks, and more to satiate your palate. For movie buffs, the mall also has an INOX theatre, helping them to watch the latest releases with utmost comfort. Do visit this Mall in Kolkata, if you want to shop from the famous international brands or want to have a great dining experience.
Being the cultural and intellectual hub of India, Kolkata has a lot to offer for an incredible travel experience. The city is already a famous tourist attraction for its Sarees, Bengali foods and sweets, Terracotta items, museums, gardens, and the best picnic spots in Kolkata. Explore your options for the best malls now to get a glimpse of urban life in Kolkata.