Reading Time:
9
minutes
Miami, a vibrant and bustling metropolitan area in Florida, is unquestionably the best place to plan a fun-filled vacation. This is a melting pot of culture that has managed to show its diversity through food, art, and entertainment. With a number of rooftop pubs playing good music, restaurants serving good food, and miles-long stretches of white sand meeting the turquoise seawater, Miami gives you all the reasons to fall in love. In fact, this city is known to boast some of the best beaches in Florida. Whether you want to spend a day admiring some artistic marvels or have some fun in the sun, devour some lip-smacking food or have a crazy overnight party, Miami is the place to be.
Enough about the beauty of Miami and all it offers! Let's talk about the first thing that comes to everyone's mind while planning a vacation – accommodation. Yes, the hotel or resort you choose to stay in on a trip plays a major role in how your overall experience turns out to be. Being the popular tourist destination that Miami is, it offers a large number of accommodation options. And the best thing is that most of the resorts or hotels in Miami are located close to the major tourist attractions this city offers.
Top Hotels in Miami
For your convenience, here is a list of some of the best hotels in Miami, Florida.
Hilton Miami Downtown
What could be better than staying in a comfortable room that features floor-to-ceiling windows offering stunning panoramic views of Biscayne Bay! However, this is not the only thing that makes the Hilton Miami Downtown one of the best hotels in Miami. It offers all the modern amenities, such as free WiFi, an outdoor rooftop swimming pool, a bar area, a fitness center, onsite parking, etc. This hotel features a large number of spacious and tastefully decorated family rooms and suites. The best thing about this luxury hotel in Miami is that it is located just 15 minutes away from the Miami International Airport (MIA) and five minutes from the Port of Miami.
Miami Marriott Biscayne Bay
Located along the waterfront in the heart of downtown Miami, this hotel is the perfect place to enjoy a luxurious stay. This property features a large number of luxurious rooms equipped with modern amenities. You also get facilities like valet parking, free Wi-Fi, a gymnasium, private taxi, a business centre with conference rooms, etc. Some of the major attractions of Miami, including South Beach, the FTX Arena, the Adrienne Arsht Center for the Performance Arts, etc., are in close proximity. So, you do not have to waste any time commuting while you head out into the city. Whether you choose to see the popular beaches of the city or plan on exploring some offbeat places in the neighbourhood, you can always ask for some assistance. Their concierge desk will help you with scheduling transportation as well as making reservations for water activities like scuba diving, jet skiing, etc.
Holiday Inn Port of Miami-Downtown, an IHG Hotel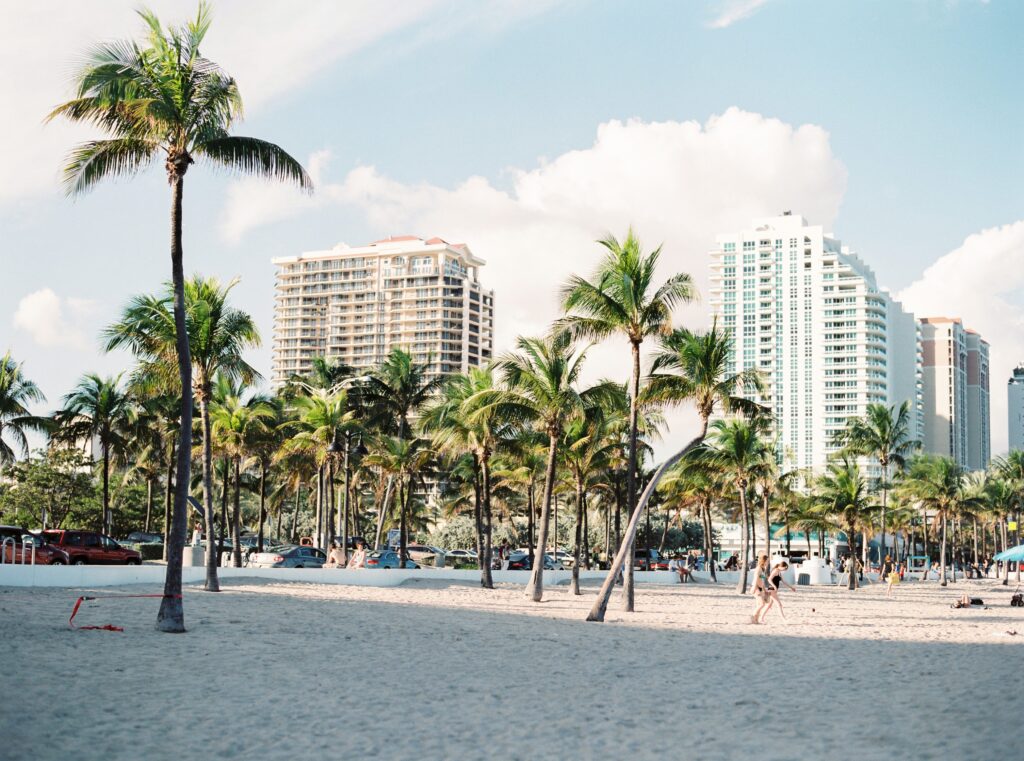 If you are looking for a hotel on South Beach in Miami, your search ends here. Located near the Port of Miami and overlooking the stunning Biscayne Bay, this IHG hotel ensures a pleasant stay for you. They offer all modern amenities, such as an outdoor pool, an on-site fitness center, free parking, a bar, etc. Also, do not forget to enjoy a meal or two in their in-house restaurant that serves amazing food.
Hampton Inn & Suites by Hilton Miami Brickell Downtown          
This is another addition to the list of luxury hotels in Miami with a 5-star rating. This property features comfortable rooms and suites that come with a number of amenities like free Wi-Fi, a fitness center, meeting rooms, EV charging, etc. You can also find connecting rooms that are more suitable when you are travelling with other family members. One thing that makes it one of the best hotels in Miami is that it is located within walking distance from Brickell, Miami's global financial hub. There you will find a plethora of restaurants, cafes, bars, and shopping and entertainment complexes.
Fontainebleau Miami Beach
This property is one of the best 5-star hotels in Miami. Designed by the famous architect Morris Lapidus, this is one of the most historically and architecturally significant hotels in Miami. If you've been looking for luxury hotels or resorts on the beach in Miami, this is the best option you have. When it was first opened in 1954, Fontainebleau was the largest and most luxurious hotel in Miami, and it still lives up to its reputation.
This property features modern, spacious rooms that offer scenic ocean views. The major attractions of this hotel include six outdoor swimming pools surrounded by private cabanas, nine in-house restaurants, an on-site spa, and a nightclub.
URBANICA The Euclid
Situated on Miami Beach, this is one of the best hotels near Ocean Drive in Miami. This 4-star hotel features a number of family rooms with amenities like free high-speed internet access, private parking, free bikes, a bar, etc. They also offer a concierge service and a tour desk, so that you can get some help on how to explore the city.
The Ritz-Carlton, South Beach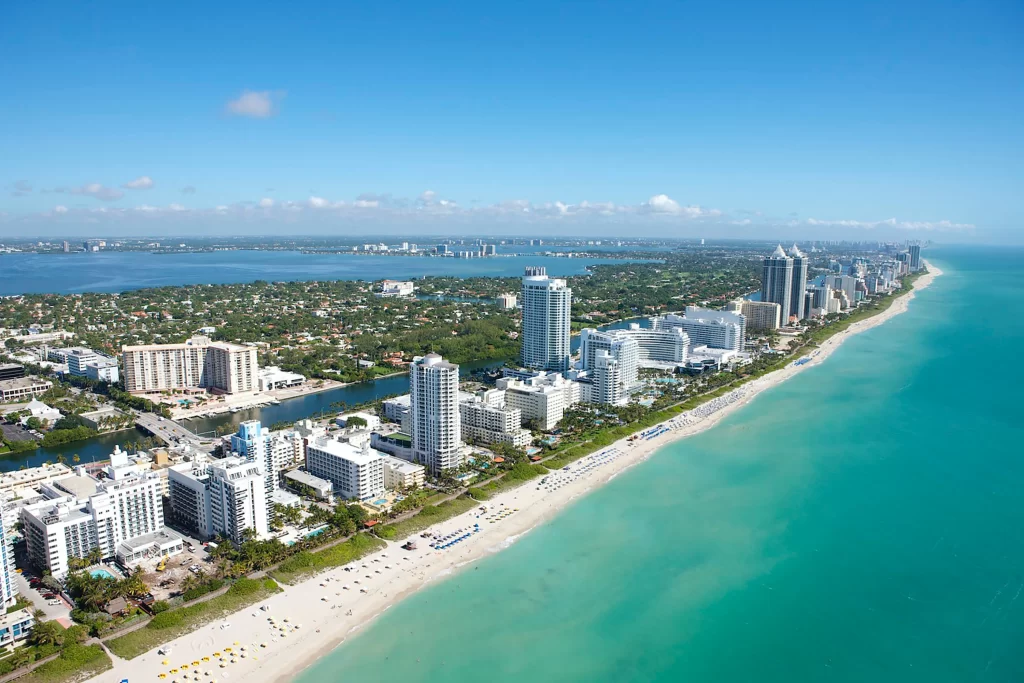 Situated along the city's waterfront, the Ritz-Carlton South Beach is one of the most famous hotels in Miami. With crisp and modern rooms and a number of amenities like an on-site spa, free Wi-Fi, an outdoor pool, and a 24-hour helpdesk, this is definitely a great option you can consider. Originally, this hotel was opened in 1953 but underwent a major renovation just before the COVID-19 pandemic. The best thing about staying at this hotel is its prime location. South Beach is a place where you can see the real spirit of Miami and how happening life can be. This property is just 2.4 km away from the Bayshore Golf Course, and 1.6 km away from the Miami Beach Convention Center.
W South Beach
In the last decade, a lot of luxurious properties have come into existence in Miami, and this is one of them. Offering 395 luxury rooms and bungalows featuring the best of resort living, it is one of the best hotels in Miami. All the rooms have subtle yet stylish decor and come with a private balcony offering stunning ocean views. Some of the rooms also have a kitchenette. Other than this, they offer facilities like a fitness center, an on-site spa, private parking, laundry services, free high-speed internet, etc. They also provide bicycles for their guests who want to explore the city.
The Setai
Located in the heart of Miami's famous Art Deco district, this is another addition to the list of best hotels to stay in Miami. This property has been tastefully designed and is housed in a restored 1936 landmark building. Featuring 3 infinity swimming pools, a business centre, 4 in-house multi-cuisine restaurants, and a luxurious spa, this hotel is very popular among both work and leisure travellers. All in all, staying here is a wonderful experience in itself.
With this comprehensive list of hotels in Miami, you can start planning your vacation now! Or, you can explore Veena World's extensive range and choose an all-inclusive Miami tour package, leaving the planning part to us.