Miami Tour Packages
Sun-kissed beaches with the ocean breeze keeping you company by day and a heady nightlife scene; explore Miami for your next vacation.
For anyone looking for online package holidays to Miami, the thought would automatically bring to mind the gorgeous beaches that are famous the world over on Miami tours. However, that's only part of the allure of package holidays to Miami. When you book your cost-effectively priced Miami tour package from Veena World, you will be able to explore so many different aspects that go beyond the beaches and the ritzy nightlife. The fabulous weather of the city is also really conducive to exploring the many facets that lurk just beneath the glamorous surface.
A lively art deco district, a magnificent stretch of beachfront, deep-sea adventure activities, the historical buildings of Coral Gables, plush shopping malls and boutiques, national parks, and a global gastronomic scene is what makes package holidays to Miami so rewarding. Even Miami honeymoon packages from India find a lot of popularity amongst newlyweds as the destination offers quite an experience. You can browse through the huge number of Miami tour packages from India online at Veena World in order to choose an option that not only suits your budget but also covers all the places of interest that you would like to visit when you go to Miami on your next vacation.
Miami Travel Packages
| Miami Packages | Day/Night | Price |
| --- | --- | --- |
| Miami Getaway | 5 Days | ₹77,432 |
1 Miami Holiday Packages
Showing 1-1 packages from 1 packages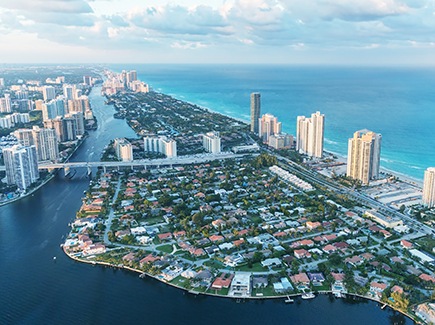 Starts from
per person on twin sharing
Miami Frequently Asked Questions
We help you prepare for your trip and ensure an effortless and enjoyable travel experience.
There are lots of things for you to do on your vacation in Miami. You can spend some time relaxing at the beach and enjoying refreshing drinks or you can head out for some shopping when you are in the city as Miami has a wide range of stores selling branded clothes, shoes, and accessories. Apart from this, Miami is also home to various nature reserves that house a wide range of animal and bird species as well. You can add a variety of activities to your Miami tour package with Veena World to ensure a fun and happening vacation.
Miami is one of the most popular tourist destinations in the world. Tourists from all over the world visit Miami to experience its happening nightlife. The city also has some of the best restaurants in the world, serving mouth-watering savory delights that will certainly satiate your appetite. If you are into adventure activities like kayaking, canoeing, and paddle boarding then Miami is the place for you. There are plenty of amazing places for sightseeing in Miami as well that you can consider visiting.
There are many popular places for tourists to visit in Miami. South Beach is one of the most popular tourist destinations in Miami. It is a hotspot for celebrities who can be spotted on the beach having a good time. Apart from South Beach, Miami Zoo is another popular place that is included in Miami tours. The zoo is home to a wide range of exotic creatures that have been brought here from different parts of the word. Last but not the least, Little Havana is a small Cuban neighborhood that has Mediterranean style houses and a festive air.
You can book your Miami tour packages from India without worry as Miami is one of the safest cities to travel to in America. One should of course always observe basic travel safety precautions like not carrying valuables when sightseeing, avoiding secluded areas, especially at night, etc. Apart from this, when you book your Miami tour packages from India with Veena World, you get the assurance of 24X7 support. If you have an emergency or even just a query, you can get in touch with us at any time during the trip and we will be happy to assist you.
It is mandatory for all the people on Miami packages from India to be fully vaccinated. Travelers may also be tested for COVID-19 at the time of arrival at the international airport in Miami. Apart from that free vaccination facility is also available for everyone in the city.
Due to the year-round tropical climate, Miami is a perfect holiday destination, no matter what time of the year you plan to book your Miami trip packages for. The city also hosts a number of festivals throughout the year, which you can consider attending, based on when you are travelling to Miami.
March-May: During these months, Miami witnesses a huge influx of visitors as the weather remains pleasant enough for beach activities. Main festivals held during this time are the Miami International Film Festival, Miami Beach Pride, etc.
December-February: During these months, Miami experiences very little precipitation and climatic conditions remain perfect for sightseeing. And you can attend a number of festivals like the Orange Bowl, Art Basel Miami, etc.
June-August: In Miami, summer season starts in June and lasts till August. Temperatures may be quite high during this time and the crowd of tourists starts to thin around this time as well. So, if you want a peaceful vacation, you can plan your trip around this time. Plus, you may get to attend a few festivals like the American Black Film Festival, Florida Supercon, and Coconut Grove Food & Wine Festival.
Ideally, you need a 4-5-day long trip to cover all the major attractions Miami has to offer. To make the most out of your trip, you can indulge in some outdoor activities or water sports on some days while utilising the remaining days for sightseeing. With Veena World, you can opt for a Customised Holiday to Miami, where you get to choose things all major aspects like the accommodation, day-to-day itinerary, as well as the duration of the trip.
Yes. Veena World gives you the chance to plan your vacation the way you want. With a Customised Holiday to Miami, you have the flexibility to choose everything, like the type of accommodation you wish to book, the duration of the trip, meals, day-to-day itinerary, etc. This way you have complete control over all the different aspects of trip planning.
Yes. Miami group tours are definitely a great option to explore all that this place has to offer. This way, you get the chance to travel with other like-minded people from different walks of life and to learn a lot of new things. With Veena World, you can explore a wide range of Miami group tours and choose the one that suits your travel plans best. With Veena World, you get the assurance of 24x7 support. Our professional and friendly tour managers are always there to help you out. You can reach out to them for any queries or assistance you require through the entire duration of the trip.
From awe-inspiring museums to vibrant streets, stunning beaches to beautiful parks, Miami has a lot to offer. However, Miami Beach is the main area, with its Art Deco District, fantastic stretch of beach front, and fun vibe, that is one of the most visited places in the city. This place is the perfect amalgamation of a quiet neighbourhood and lively entertainment-focused areas. At Veena World, you can find a Miami tour package that covers all the major attractions you want to visit on your trip. This way you can make sure that you do not miss out on anything.
Get to know more about Miami before booking your tour packages
Miami is located in the state of Florida in the United States and is a part of the South Florida region. This city is located on a broad plain between the Everglades to the west and Biscayne Bay to the east. You will be amazed to know that Miami is the only major city in the country that was founded by a woman, Julia Tuttle. Over the years, Miami has become a major epicenter for finance, commerce, culture, media, entertainment, arts, and international trade. Apart from this, the city boasts of many iconic beaches, shopping centers, museums, amusement parks, and gardens, which speaks for the popularity of Miami honeymoon packages from India.
Miami has the largest Latin American population outside of Latin America and thus, Spanish is spoken by a huge chunk of the population. The population of Miami comprises of multicultural ethnicities. However, you will witness an overwhelming Hispanic influence on Miami's culture when you visit with your Miami tour packages. Tourism is one of the major industries in this city which attracts millions of tourists every year owing to the many attractions Miami has to offer.
Experience Miami
Miami is an ever-youthful city and the many ethnic communities have made this city a truly globally cosmopolitan one. That the city's main allure is its stunning beaches is an undoubted fact. But what attracts tourists here on Miami holiday packages from India, who may not necessarily be that much interested in lazing around on beaches, is its flourishing contemporary art scene, gorgeous hotels built in the early 1900s, art deco buildings, tantalizing nightlife, adventure sports, and the scenic beauty of the national parks. And all these make Miami a great destination for honeymooning couples as well with a variety of Miami honeymoon packages being offered online as well. Enjoy a moonlit walk on the beach, dance the night away at a popular nightclub or enjoy a peaceful hike in the Biscayne National Park, a Miami tour package will unfold any way you want it to.
Veena World offers comprehensive Miami tour packages from India online, which would be perfect for exploring this exhilarating destination. Decide on the type of Miami trip package you want, check out the prices and costs and you can book your Miami package from India conveniently online.
Things to Do in Miami
The Miami sightseeing itinerary that you plan to follow will depend on your inclinations and preferences. Since there's so much to choose from on a Miami tour package, let Veena World curate customized package holidays to Miami just for you.
Miami Beach:

This beach has put Miami on the world map so much so that the city has now become synonymous with its beaches. No wonder why Miami Beach is the first choice for most Miami packages from India. Apart from the iconic beach itself, Miami is known for its plush neighbourhoods (home to many celebrities) and many entertainment opportunities. While indulging in some sunbathing would be great, do not forget to visit the Art Deco Historic District on your Miami tours. This area is known for its elegant pastel buildings, mostly built in the early 1900s. In the Miami Beach area, you are never too far away from entertainment or eateries. What better way to savour a meal than to be sitting at a beachfront restaurant, loved ones by your side, overlooking the innate gorgeousness of the unending ocean. And this is precisely the reason why Miami honeymoon packages are so popular. Although shopping here could be a little steep for your budget, window shopping on your Miami tour package is always free to indulge in!

Vizcaya Museum and Gardens:

The Vizcaya Museum and Gardens was originally the grand residence of American industrialist James Deering. Everything about his home was grandiose and it is crammed with Renaissance furniture replete with regal upholstery, expensive artwork, ornate interiors, and a staggering 34 rooms. This huge mansion is built in the classic Miami Mediterranean Revival style. The gardens overlooking the mansion are just as impressive with elaborate fountains, sculptures, figurines, and statues, all coming together to become a grand attraction on Miami tour packages from India.

Everglades National Park:

This National Park is unique because it is a really vast (1.5 million acres) swampland that is home to a variety of alligators, crocodiles, snakes, and other reptiles and amphibians. A large variety of resident and migratory bird species enhance the beauty of the place manifold. The best way to explore this park is on an airboat, making it a unique addition for Miami trip packages.

Bayfront Park:

The Bayfront is not just another green space. It is a place that offers one of the most magnificent views of Biscayne Bay. Most of this park was redesigned by noted landscape architect Isamu Noguchi. Miles and miles of clear turquoise waters, set against the sunny sky, make for an enchanting view. Bayfront Park is truly an amazing destination for your Miami sightseeing expedition.

Perez Art Museum:

This museum brilliantly showcases the contemporariness that Miami has come to be known for. And for the art lovers, it is a must-visit on Miami tour packages from India. This museum is quite unique for the fact that artwork displayed here uses unusual media such as tropical foliage, glass, concrete, and wood. The temporary exhibitions here celebrate many up and coming artists while the permanent exhibitions display a few stellar pieces on rotation.

Coral Castle:

Part crazy, part genius, the Coral Castle, built between 1923 and 1951, is the culmination of a man's hard work of twenty-eight years. On your trip package to Miami, this place will bowl you over. Latvian American artist Edward Leedskalninand built a castle out of coral rocks. He was so private about his tools and methods that he would not allow anyone to watch him work. The most notable pieces in this limestone building are a giant stone gate that opens with the touch of a finger, and the stone tables and chairs that equip the castle.

Miami Children's Museum:

If you are travelling with kids on package holidays to Miami, do not forget to visit the Miami Children's Museum, a facility built covering over 56,000 square feet. Fourteen galleries showcase and educate children on diverse fields such as arts, culture, community, and communication. There's also an open space outdoors where children can play and have a great time.
Best Time to Visit Miami
Miami summers (June to August) could be hot and humid and the hurricane season (June to November) is best avoided. However, you could also get a great deal for Miami holiday packages from India during this period. But given a choice, the best time to plan a Miami package from India is springtime (mid-February to May) when the weather is warm but not too hot.