Reading Time:
9
minutes
Most popularly known as the Venice of the North, Amsterdam is one of the most popular places to visit in Europe. Being the capital of the Netherlands, this beautiful city offers a perfect combination of history, architecture and culture. From awe-inspiring museums to a number of historical monuments and from beautiful parks to those long stretches of biking lanes, Amsterdam has a lot to offer. Justifying its nickname 'Venice of the North', Amsterdam boasts a 100-kilometre-long network of canals crisscrossing the entire city that splits it into dozens of small islands, connected by a number of bridges. There are a total of 165 canals and most of which were built in the 1600s during the Dutch Golden Age.
This city has something for everyone which makes it one of the most sought-after tourist destinations in the country, a place that you should definitely include in your Netherlands tour packages.
Now that you know all the reasons why it should be your next holiday destination, the main question is, where to stay in Amsterdam. Finding the right hotel is one of the most important factors in planning a trip, especially when you are visiting a popular tourist place where you have plenty of options flooding your mind.
For your convenience, we have compiled a list of some of the best hotels in Amsterdam that you can choose to stay in and enjoy your vacation to the fullest.
Best Western Amsterdam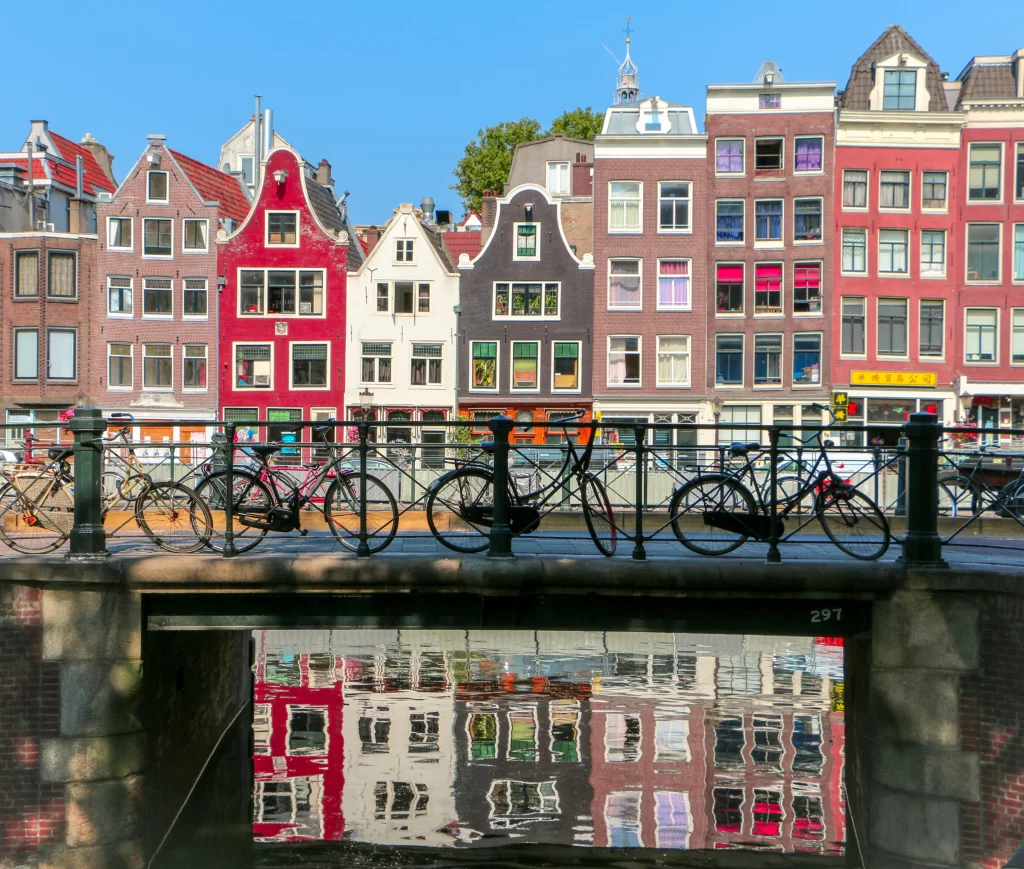 Located in Noord-Holland, this is one of the best hotels in Amsterdam. If you are planning a rejuvenating trip then this is the perfect accommodation option for you. If you are looking for some decent hotels in Amsterdam city centre or any other nearby locality, this one is perfect as you will take only 20 minutes to reach the old city centre from here. This beautiful property boasts a number of spacious rooms which are comfortable and tastefully done. In other words, this hotel is a home away from home. During your stay, you get a number of amenities including free high speed Wi-Fi, private parking, bicycle rental, baggage storage, taxi service etc. And, their superior customer service will ensure that you enjoy your stay as much as your trip.
Nova Hotel & Apartments
Nova Hotel & Apartments is one of the best hotels in Amsterdam City Centre. Situated in an authentic canal house, this property is hugely popular because of its beautiful location as it will give you a chance to experience the real Amsterdam in all its glory. The best thing about staying here is that you get to relive a completely different era without compromising your comfort. Here, you get all the basic amenities including high speed Wi-Fi, airport shuttle, 24-hours front desk etc. There are a total of 61 spacious rooms available in various different options depending on their size like single standard room, twin room, triple standard room, quadruple standard room, family room etc. You can choose any of them as per your preferences. If you've been making Google searches for cheap hotels in Amsterdam or something like that, your search ends here. This is one of the best hotels to stay in Amsterdam on a budget.
Ibis Amsterdam Centre Stopera
Located in the heart of Amsterdam, this hotel is definitely a great option, due to its prime location. Major tourist attractions like Dam Square, Rembrandt Square etc. are just 10-15 minutes away from this hotel and you can easily find a tram, bus or metro if you want to go to other parts of the city. This hotel offers all the basic amenities including free Wi-Fi, 24-hours front desk, bar, terrace etc. The best thing about staying here is that you can bring your pets with you as there are no restrictions.
Park Plaza Victoria Amsterdam
Located in a historical building directly opposite Amsterdam Central Station, this is one of the best hotels near Amsterdam airport. This property offers a rare blend of antique & modern and is just perfect for discovering the real beauty of Amsterdam. The amenities you get with your accommodation include a swimming pool, sauna bath, bar, free Wi-Fi, 24-hours front desk etc.
W Amsterdam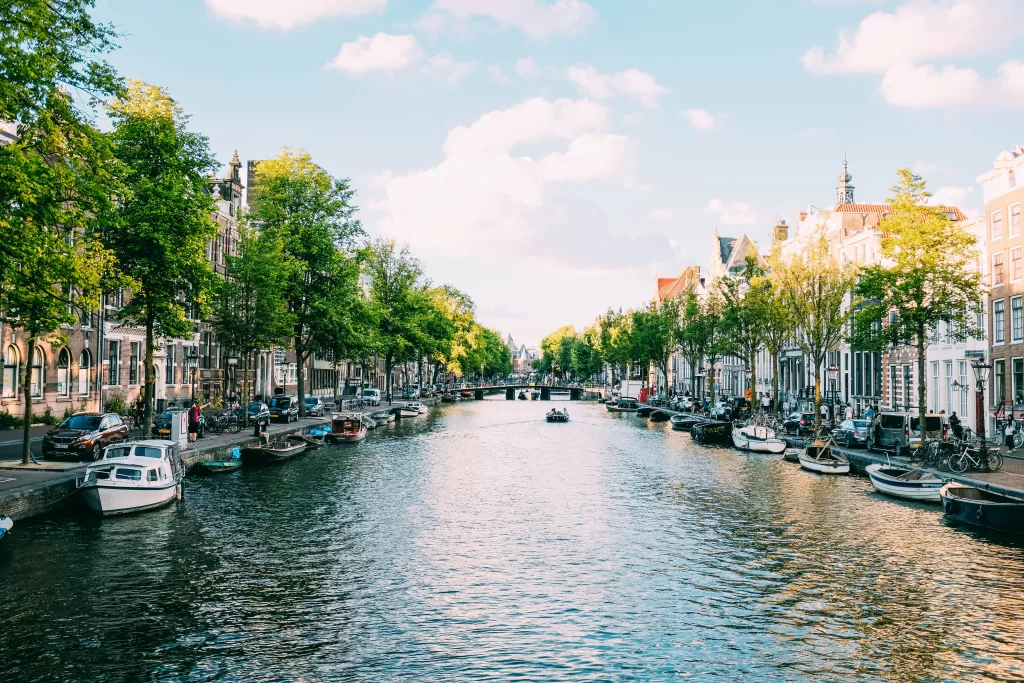 This hotel has been built in an erstwhile telephone exchange building and is popular among travellers for its rustic charm. This property boasts a number of spacious rooms and suites which are beautifully decorated. The major attraction of this hotel is a heated wet deck rooftop pool offering a stunning view of the city. And other amenities you get include free Wi-Fi, gym, spa, 24-hours front desk, conference room etc. There are 4 in-house restaurants serving delicious food that you can head out to for a meal or two.
Hilton Amsterdam
Located at the Noorder-Amstel canal, this beautiful property is in close proximity to some of the famous attractions of the city including Museum Square, Vondel Park etc. It is also known as the site of John Lennon and Yoko Ono's famous 'bed-in' protest.  The amenities you get with your stay are EV charging, executive lounge, fitness centre, meeting rooms, room service, free Wi-Fi etc. You can enjoy a meal or two at the in-house restaurant.
Hyatt Regency Amsterdam
Hyatt Regency is a famous hotel chain and it is definitely one of the best hotels in Amsterdam, Netherlands. This property boasts a number of spacious rooms with beautiful decor and a number of amenities which makes it perfect for both business and leisure travellers. The amenities you get here include a common area, 24-hour gym, bar, pool etc. And, you should definitely visit the in-house restaurant during your stay here as it serves absolutely delicious food.
InterContinental Amstel
It is a beautiful riverside hotel with luxurious, spacious rooms which are beautifully decorated. It has a grand colonnaded entrance and the regal interior features original, 19th-century staircases, grand chandeliers and elegant marble floors. With all the facilities you get, staying here is a unique experience in itself. You can enjoy your evening tea in the lounge or spend a relaxing afternoon in the Mirror Room while admiring the stunning view of the river, take a dip in the large swimming pool, take a sauna bath etc. Other amenities include an in-house restaurant, massage room, parking etc.
There can be nothing better than the thought of taking some time off from work and going on a relaxing trip but the real challenge is planning a trip. It can be a tedious task especially when you have to do everything on your own.  And the biggest task is to find a nice accommodation option. The hotel you choose to stay in is the most important aspect of your entire travel experience. At Veena World, you can find a wide range of well-curated tour packages that you can choose from. This way, you can enjoy a fun-filled vacation while leaving the planning part to us.  If you are planning to go on an extended
vacation then you can also consider choosing one of our Europe trip packages.